By Chris Williams, CycloneFanatic.com Publisher
Last week, I couldn't help but laugh when I saw a thread on CF that mentioned why Diante Garrett should redshirt next season, just so he could be able to suit up in 2011, when the Fred Hoiberg era really begins.
If that isn't counting your team out for 2010-11, I don't know what is.
But sure, that thread was harmless. It was a fan speaking his mind and this fanatic was obviously pumped up for 2011-12. I don't blame him. That's when the likes of Chris Babb, Anthony Booker, Elgin Cook, Anthony Odunsi and possibly Royce White (if not 2010) will grace the floor of Hilton Coliseum for the first time. As a whole, the talent level inside of Cyclone basketball has seen a significant upgrade over the past two months.
But that is all talk of the future.
You want to know why it is wrong to sleep on next season?
It is because of guys like senior point guard, Diante Garrett. Here's a Cyclone who has worked his tail off for three straight seasons, only to never play a game after the Big 12 Tournament.
"I use that stuff as motivation," Garrett told CycloneFanatic.com on Sunday night after his team brought home a YMCA Capital City League championship. "When the preseason polls come out, we will look at it. We will use that as motivation to get in the gym, the weight room and do whatever we have to do to get to the top half of the Big 12."
What's fascinating about the current state of Iowa State's men's basketball program is that in my mind, the Cyclone backcourt will be much better than that of a season ago. Garrett returns with the help of junior Scott Christopherson, who won't have mono (we hope) in 2011. Add to that Northern Illinois transfer (former MAC Freshman of the Year) Jake Anderson, JUCO transfer DeMarcus Phillips and an improved Bubu Palo. That is a significant improvement in the guard-court than for Iowa State. And remember, this is a guard's game (college basketball) that we are talking about here.
"Me personally, just talking to other guys, we expect to have a better season next year than we did last year," Christopherson said. "Not to say that we will have a bunch of first round draft picks like Craig (Brackins) was, but we expect to have a better season and to win more games. Everybody is excited about being able to work with Coach Hoiberg and we are all wanting to play together and prove to others what we are capable of."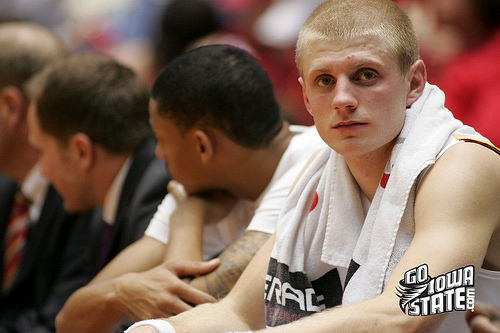 Oh yeah….the frontcourt
All of that above is the good news. It would be irresponsible to not discuss Iowa State's frontcourt, or lack thereof for next season. Right now, just to be safe, we'll just act like Royce White isn't going to play. That leaves one Jamie Vanderbeken and a whole lot of youngsters to take up space and produce for Iowa State in the paint.
Melvin Ejim will start immediately. There is no doubt in my mind about that. It doesn't look like Eric McKnight will be an impact guy right away. Calvin Godfrey still isn't on campus and nobody really knows what to expect from Jordan Railey.
For the last two seasons, Iowa State has been a frontcourt oriented basketball team. That clearly won't be the case in year one of the Hoiberg era.
"In the past, we've had the big man down low, Craig Brackins. That was one of our main scorers. Now, we have a chance to open up our guards. We have a lot of guards who can get to the basket and hit some shots," Garrett said. "Those were our main two focuses last year. I feel like the way we've all been talking, we will get up and down the court and score a lot of fast break points. That is one of my strengths, going one on one, full court, fast break stuff like that."
There are two reasons that I think Diante Garrett will have a huge senior season for Iowa State. The first is that he has no choice. This team will go as Diante does. If he's playing well, the Clones will have a shot to win some games and pull off an upset or two. If Diante is off, we all could be in for some long nights.
The second reason I see Garrett excelling under Fred Hoiberg actually has nothing to do with Fred Hoiberg. The best five minutes I have ever seen Diante play was the overtime period against Kansas State last season. That's when Brackins had fouled out.
Who took control of that team and more importantly, the game? Garrett.
This is now Garrett's team. This is a role he's been looking forward to playing.
"I to keep my head up and my leadership up to make sure that everybody is doing what they are supposed to," Garrett said. "I want to keep working hard to keep my confidence up."
Next year certainly isn't going to be easy but the good news is that the players are excited. You should be too.