By Chris Williams, CycloneFanatic.com Publisher
Follow Chris on Twitter @ChrisMWilliams
Happy St. Patricks Day/NCAA Tournament Day fanatics. Is there such thing as a more perfect day? Booze, basketball and the luck of the Irish all equal one great combination.
Let's get this mailbag started with a NCAA Tournament question from Oskyclone.
Oskyclone writes: What do you think about 11 teams from the Big East making the Dance? Do you like the idea of finishing in the top half of your conference to qualify?
CW: I have no problem with this at all. Let's face it. The Big East is the best basketball conference in America and it isn't even close. The Big East is to college basketball as the SEC is to football, times two. That might be a bit of a stretch, but this league is legit. When Georgetown and UCONN are your conference tournament's 8 and 9-seeds, that is what I call freaky-deaky good. So no, I don't like the idea of having to finish in the top half of your conference to qualify. If you take the conference tournament out of the picture and only include the top half of that league for the Big Dance, UCONN, Villanova and Marquette wouldn't have qualified. UCONN (a 3-seed) just won the league's tournament and any human being with a clue knows that Nova and Marquette are two of the top 68 teams in America. The Big East deserves 11 teams. No question.
Kentkel writes: As we begin to turn our attention to Cyclone FB, what are your thoughts on the receiving corps for this year?
CW: The guy I am most excited to watch this spring is redshirt freshman Jarvis West (pictured below). I write that because of what guys like Austen Arnaud have told me in the past. If you ask pretty much anybody within the Iowa State football program who a guy to watch in 2011 is, they often times will come back with the name Jarvis West. I don't want to put too much pressure on the young man right now. After all we're in the middle of March and he's never taken a college snap in his life. I just know that coaches and players alike are excited about what he can bring to the program this season.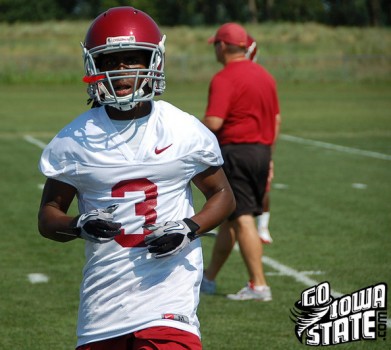 Other top storylines regarding the wide receivers include: Will the two Darius' finally play up to their capabilities? Can Aaron Horne, Steele Jantz's JUCO teammate make an immediate impact? I'll keep an eye on Donnie Jennert, for no other reason than the fact that he is 6-foot-7.
Also, have you seen American Idol this year? If so, what do you think of Scotty McCreery? (If not, you need to hear him!)
CW: This is what marriage has done to me. In the past, I've been a diehard Idol connoisseur. This year, I haven't seen an episode. No time. I will be sure to Google Scotty. I assume he is the country boy that peeps keep talking about?
Bpmcclain writes: If Steele Jantz wins the starting QB job, do you think there is a chance that Tiller could be moved to WR?
CW: I've heard in the past that Tiller doesn't have the best set of hands in the world but there's no doubt that from an athletic standpoint, he could play the position in the Big 12. I would lean towards no to directly answer your question though. I feel like I've written this 100 times. I really believe that the best-case scenario for this football team is if Jerome Tiller goes out and wins the starting quarterback job. In order for him to do this, Tiller has to have improved a lot during the offseason. If that happens, it means that his work ethic has to ahve been through the roof, now that Austen Arnaud is gone and it is "his team." Make sense?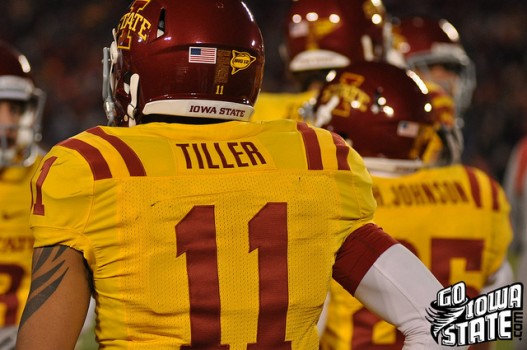 Geburgess writes: Who ya got winning the Men's and Women's NCAA Tournaments? And how far do you see our women going?
CW: I've got Kansas winning the men's tournament (Ohio State, Duke, KU and Florida in the Final Four) and Baylor winning it all for the women.
I'll put the Iowa State women past Marist but I'm not sure that they can beat Duke in Durham. This is one thing that I can't stand about the women's tournament. From an attendance standpoint, I totally understand why it has to be done. When you have to play a 2-seed on its home floor, the chances of an upset greatly decrease.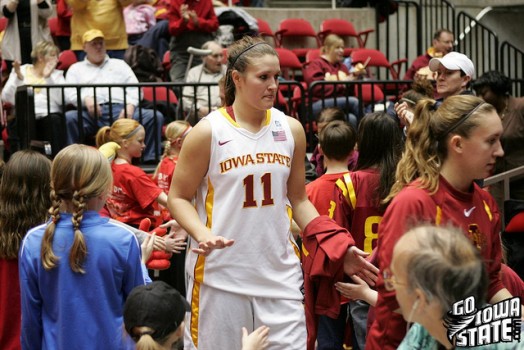 Clones21 writes: Pick a record for next year's men's basketball team, go!
CW: There is no constructive way for me to answer this question for multiple reasons. One, I haven't seen the schedule yet. Two, I have no idea who is coming back/going pro on numerous Big 12 teams. Three, I don't know who is going to be coaching at Oklahoma or Texas Tech. And four, I still haven't seen Iowa State's roster for next season. Until I know those things, I really want to hold off from making such a bold prediction on March 17.
RING4CY writes: Will a national championship for our women's basketball program ever be a legit expectation/possibility?
CW: An expectation? I don't think that any fan in America should "expect" a national championship. A possibility? Sure…I mean, they call it "March Madness" for a reason right? That's what is great about college basketball. If you can get hot at the right time, anything can happen. Just ask George Mason. The Iowa State women's program always has talent. I think that a lot of it has to do with being in the right place at the right time, with a seed that gives you matchup advantages on the way to the Final Four.
Drednot57 writes: Your thoughts on the new Big 12 TV deal if it goes through?
CW: Three times the money? I'll take it. What's not to like? When it comes to these Big 12 fear mongers, my point the entire time has been that once the details of a new TV deal were known, that scare would go away. I still believe that will be the case.
Isufan writes: What are we going to do at defensive end if Lattimer doesn't see the field?
CW: Flip a coin. Any of the following guys will have a shot at seeing significant time: Patrick Neal, Roosevelt Maggitt, Willie Scott and Rony Nelson. Nick Kron's name should also be in the mix. I really liked the way that Maggitt ended last season. We really don't have a clue as to where Rony Nelson is and by now, it is clear that Patrick Neal isn't an every down type of guy. Really, who is anymore? Depth, depth, depth. Iowa State needs more of it here.
ISUCubswin writes: Any more word on the Mitt? Or has this been shot down?
CW: No news here. Gary Payton's kid is not coming to Iowa State. I have no idea why he said that on national radio. That was a very odd deal.
Cystheman writes: If Ivan Drago and Clubber Lang Ever fought in a Rocky spinoff. Who would win?
CW: Ivan Drago man. Ivan Drago. Maybe this is a bit too bold of a statement. I don't believe it to be though. Is Rocky IV the best sports movie of all-time? The Mighty Ducks disagree, but I say yes fanatics. Yes it is.