By Chris Williams, CycloneFanatic.com Publisher
Same game. Different day. Iowa State's 82-75 overtime loss to Oklahoma on Saturday night was a brutal reminder of a nasty tendency that we've seen from this basketball team all season long. That's its inability to close out games. Only this time, the crime went down in Ames.
After last night's game, we had a great CycloneFanatic.com/Wilson Toyota of Ames postgame show from Es Tas on 1460 KXNO. If you haven't yet, I highly recommend listening to the podcast that you can FIND HERE. Tron Smith and I had some great callers that provoked some quality Cyclone basketball conversation.
Here are some of my final thoughts on the game as we now turn our attention to Colorado on Tuesday night.
CF PLAYER OF THE GAME
Melvin Ejim – Ejim had what we at CF refer to as a "screw it" game. For only the second time this season, Ejim came off the bench for Iowa State. The freshman led the Cyclones in scoring and rebounding with 19 and 12.
I think that Fred Hoiberg is onto something here. The other game that Ejim came off the bench in was against Creighton back in November. Ejim had 22 points in that win over the Bluejays (more on this in Three Up).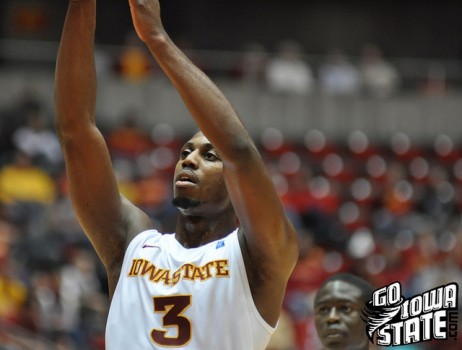 THREE UP
Rebounding – Iowa State 45, Oklahoma 34. That's a refreshing stat to see but the loss kind of wipes away the excitement that comes with it.
Starting lineup switch – Calvin Godfrey started on Saturday night over Ejim and it worked out well for both parties. Godfrey only played 11 minutes in the loss but he was efficient by going 2-of-4 from the field for five points and five rebounds. Should Godfrey stay in the starting lineup on Tuesday night at Colorado? It depends on how you look at it. Hoiberg rewarded Godfrey for his recent play by giving him a chance to start. Ejim went out and dropped 19 and 12. Shouldn't you reward him for that? But maybe Ejim is a guy who thrives off of coming off the bench? This is a situation where Hoiberg knows these guys better than anybody on the outside. I'm confident that he'll go the route that is best for this team in the long run.
End of the first half – Diante Garrett picked up his third personal foul with 8:02 to play in the first half. At the time, Oklahoma had a 26-17 lead. When Garrett went out of the game, the Sooners went on an 8-0 run and increased their lead to 34-19. With Garrett out of the game, the Cyclones ended the first half on a 11-4 run that only put them down eight at the half. Obviously Iowa State didn't win, but because the guys didn't fold with their leader on the bench and because of that, Iowa State at least had a chance in the second half.
THREE DOWN
Can't finish a game – Iowa State had a six-point lead with 3:20 to play and lost. Do I really need to elaborate?
End of regulation – The game was tied and Iowa State had the ball with 35 seconds to go. The Cyclones never got a shot off.
3-point shooting – Iowa State had another cold night of 3-point shooting on Saturday. The Cyclones went 5-of-24 from behind the arc. Over the last three games, Iowa State has gone 13-of-67 from 3-point range. On Saturday night, Iowa State's ace marksmen Jamie Vanderbeken and Scott Christopherson combined to go 1-of-11 from long range.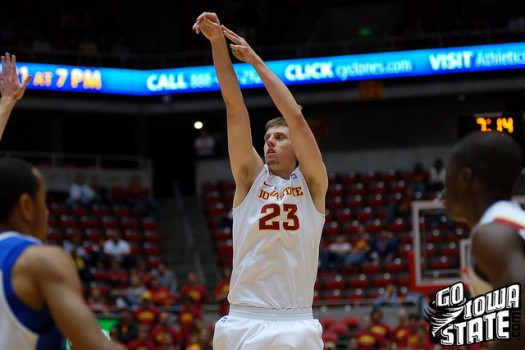 TWO QUICK HITS
–       The most surprising thing to me about this was loss was how Iowa State started the game coming off of Wednesday's night's game. Oklahoma jumped out to a 14-3 lead in the first four minutes.  As Fred Hoiberg alluded to in his postgame press conference, once again, this team struggled to put together a full 40 minutes of basketball.
–       My apologies go out to Oklahoma's Steven Pledger. On Friday, I wrote that the Sooners didn't have a guy capable of going off for 33 points like Texas Tech's Mike Singletary did last Wednesday. Pledger took those words and shoved them straight down my throat with his 38 points and seven 3-pointers. Pledger's career-high going into Saturday night was 23 points. He was averaging 11.2 points per game prior to this outburst.