By Chris Williams, CycloneFanatic.com Publisher
In journalism, it is a general rule to not begin your story with a question or a quote. It happens from time to time, but you don't see it very often.
I believe that this quote is fitting though.
"Our mission and goal is to win game to get on a roll for the Big 12 tournament," Jamie Vanderbeken said after last night's 95-90 Iowa State win over Colorado. "If we play spoiler, sorry."
Uhhh, Jamie…I'm not sure that Baylor, Nebraska or Colorado will be too crazy about accepting that apology.
There is one game left in the Big 12's regular season Iowa State has punked every one of the three teams that are considered to be on the NCAA Tournament's bubble.
Beating Scott Drew is always a good time. Sending the 'Skers and Buffs packing onto their new leagues is purely priceless.
Here are a few more thoughts on last night's win.
CF PLAYER OF THE GAME
Calvin Godfrey – On last night's postgame show, I described Godfrey as a "man amongst boys." I've seen the word "beast" thrown around describing this freshman. My radio partner Tron Smith referred to Godfrey as "one bad mammajamma."
Call it what you want to call it. The dude was ridiculous (that's a good thing for those of you who aren't down with my lame slang).
Godfrey's improvement from game one until now has been staggering. Last night, he went off for 23 and 11 in only 23 minutes of play. Godfrey was 10-of-11 from the field and I'm pretty sure that he got the rebound on that miss and dunked it back in.
"Those are huge numbers," said Iowa State head coach Fred Hoiberg. "He has put up some pretty big numbers for playing 20-25 minutes. It is in him."
There's no question that Calvin Godfrey was last night's player of the game.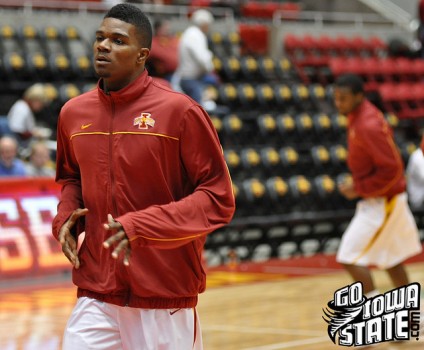 THREE UP
JVB's return – Two games back from an ankle injury…Two double-doubles…Two Cyclone victories. Not bad Jamie Vanderbeken. Not bad at all. JVB had 15 and 10 last night by the way.
Seniors – Iowa State's seniors scored 15 of the team's final 17 points in the win. Diante Garrett ended up with 16 points and seven assists, while Jake Anderson had 16 points and seven rebounds in the contest.
"They all made big plays," Hoiberg said. "I'm very happy for all of them to go out with a better night than I had."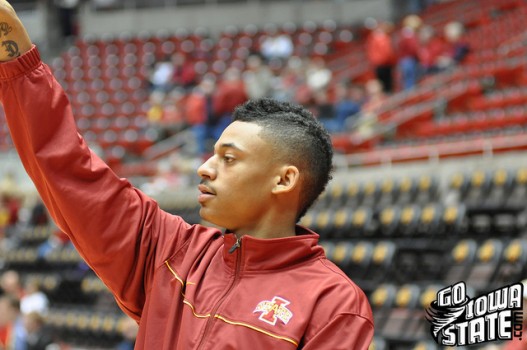 Second half shooting – The Cyclones shot 70 percent from the field in the second half, including a 7-for-10 performance from 3-point range. Not too shabby.
"That shows confidence," said Hoiberg. "The guys are out there playing free and having fun."
THREE DOWN
Boyle's Buffs – If you're a loyal listener to the Cyclone Fanatic podcast, you know that I owe my partner Brent Blum a case of his favorite beverage. We made a bet in November. I said that Colorado would play in the NCAA Tournament. He disagreed. As Charlie Scheen would put it, Blum is a winner. I am a loser.
Turnovers – Iowa State 14, Colorado 7. It isn't a big deal when you win, but hey, cut me some slack. It is hard to come up with downers after a game like that.
Jordan Railey – The freshman hasn't played in two straight games. Jamie Vanderbeken's return probably has a lot to do with that. I thought this was at least worth noting.
QUOTE OF THE NIGHT
– Fred Hoiberg after the win…

"The big thing that I continue to stress to them is if we go out and continue to play with the energy that we've been playing with, the wins will come. Sometimes it is tough when you lose close game after close game to keep your confidence up and continue to play with passion and energy. Our guys have done that. They come to practice and work every day with positive attitudes. That has been the biggest thing. I saw from day one with this great that it was a team that was going to go out and play hard and give ourselves a chance just because of the character that they have and how much they believe in each other."