By Chris Williams, CycloneFanatic.com Publisher
That was fun. I do realize that Iowa State lost to Kansas on Wednesday night. We're not supposed to be into "moral victories" right?
Fred Hoiberg can preach that to his team. Diante Garrett can say it. Jamie Vanderbeken can believe it. That's all fine and dandy. Last night's 84-79 loss to third-ranked Kansas put a big smile on this guy's face.
Of course I wanted Iowa State to win the game. But I can count at least four times in that contest when I thought the thing was over. The rout was on. ROCK CHALK JAYHAWK was in full effect.
But those pesky Cyclones kept hanging around. It is tough for us to see, but Iowa State is that annoying team that nobody wants to play. The Cyclones are like Northwestern to Iowa in football. They shouldn't compete with you, but they just making you scratch your head.
To write that Iowa State was undermanned in last night's contest would be a colossal understatement. Seven minutes into the game, Kansas had already gone nine deep. Iowa State still had its starters in the game. Four Cyclones played 37 minutes or more, while seven Jayhawks played more than 19 minutes.
With Scott Christopherson at 50 percent (that's a guess), Iowa State had no business even being in the same building as almighty KU.
Last night's loss encouraged me on so many different levels about the future of this program.
Fred Hoiberg proved to me that no matter how monumental a task might be, his teams are going to fight like hell.
The 2010-11 Iowa State Cyclones showed me that they can play with anybody in the Big 12.
Most importantly, the Cyclone Nation showed me that you all still really care about hoops. Hilton really was magical on Wednesday night.
LISTEN: Iowa State's postgame press conference
Here are some more of my thoughts on the game, in a more organized fashion.
If you didn't get a chance to listen, CLICK HERE to download Wednesday's installment of the Cyclone Fanatic/Wilson Toyota of Ames postgame show on 1460 KXNO.

CF PLAYER OF THE GAME
Diante Garrett – There is no other way to go here. Diante led Iowa State in scoring with 27 points. Once again, we saw that Garrett truly is the man driving this bus that we know as Cyclone basketball.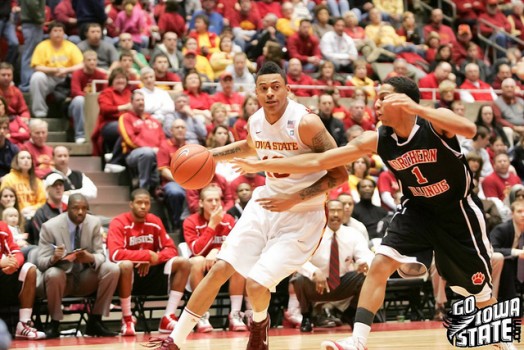 THREE UP
Turnovers – Kansas 16, Iowa State 12. Iowa State took advantage of this stat too, scoring 17 points off of turnovers, compared to Kansas' eight.
Free throws – Iowa State was 10-of-10 from the free throw line. As a team, the Cyclones are shooting 70 percent from the charity stripe on the season. This stat can be turned around as a negative though, when you consider that KU went to the line 31 times.
Vanderbeken – JVB scored 19 points and added eight rebounds to his stat sheet in the loss. He's playing very well right now and has shown exactly how important he is to this team. If he wouldn't have fouled out against Nebraska, Iowa State would probably be 1-1 in the Big 12.
THREE DOWN
Scott Christopherson's health – If this were football, I'd give Scott Christopherson a helmet sticker for his performance on Wednesday night. Christhoperson's effort against the Jayhawks didn't get him in "Three Down." His right elbow injury did. "Big Shot Scott" only had two points at halftime. He ended the evening by going 4-of-13 from the field, with nine points. He just didn't look good while doing it though. That's a shame too when you consider how well he was playing before the injury. Hoops junkies, now would be a good time to say a few prayers to the basketball Gods, asking that this doesn't linger much longer.
The trenches – We all saw this coming. We probably didn't imagine it being this bad though. KU's Morris twins literally beat the crap out of the Cyclones down low and that's okay. Asking Jamie Vanderbeken to physically go toe-to-toe with those "beasts" (Fred Hoiberg's descriptions) isn't fair.
"They are really good," Vanderbeken said. "They're probably the best frontcourt in the nation."
Marcus had 33 and 13. Markieff had 17 and 11. Get used to this fanatics. Baylor will likely use this same recipe when the Bears come to town on Saturday. Perry Jones is licking his chops right now.
Rebounding – Kansas 47, Iowa State 34…More importantly, that stat led to 17 KU second chance points. The Jayhawks also outscored Iowa State in the paint 42-26.
MORE MUSINGS
–       Somebody needs to tell JVB to quit putting the ball on the floor. Nothing good happens as a result of that. Ever.
–       Jordan Railey played three minutes on Wednesday night, where he picked up four fouls. He's done this a couple of times this season. Having said that, I like where Railey's game is at right now. I have a feeling that we'll see more and more of him as the conference season rolls along.
–       Calvin Godfrey fouled out in nine minutes of play. Godfrey entered the game like a bat out of hell in the first half. The dude really is a bruiser. Now, he needs to learn how to contain all of that energy.
–       "Uncle" Jake Anderson looked like a mid-major player in the first half of Wednesday night's loss. In the second half, the gamer in Jake came out again. Anderson's 3-pointer with 7:22 to play (that pulled ISU within three) was as clutch as they come. Through the first 17 games of his Cyclone career, it is obvious that Anderson loves taking the big shot.