By Chris Williams, CycloneFanatic.com Publisher
Iowa State (13-3, 0-1) vs. Kansas (15-0, 0-0)
Wednesday, Jan. 12 * 7 p.m. @ Hilton Coliseum
ESPN2/ESPN3 – Cyclone Radio Network
Remember to tune into the CycloneFanatic.com/Wilson Toyota of Ames Postgame Show on Des Moines' Sports Station, 1460 KXNO at the conclusion of the Cyclone Radio Network's broadcast tonight's game.
This one has "upset" written all over. Johnny Orr will be in the house. Hilton will be hopping. The third-ranked Kansas Jayhawks have yet to play a Big 12 game and are fresh off of an overtime road win against an average Michigan team. Heck, on Tuesday night, an ESPN analyst put the Jayhawks on "upset alert."
Anything can happen. Just ask KU head coach Bill Self how tough it is to win away from home.
"It is hard. League play is just different," Self said in his Big 12 teleconference. "What people perceive as being a bad loss or a big upset isn't anymore. There is too much parity and teams are too evenly balanced. Some teams that can dominate their leagues will still do that. In some of those top BCS conferences, you are going to see winners with three or four losses when you haven't in year's past. I just don't see much of a separation."
Will the Cyclones do a little bracket busting tonight? Here's your breakdown.
BREAKING DOWN THE CYCLONES
Iowa State's probable starters
G: Diante Garrett, 6-4 Sr. – 17.1 PPG, 5.8 APG
G: Scott Christopherson, 6-3 Jr. – 14.5 PPG, 2.9 RPG
G: Jake Anderson, 6-2 Sr. – 11.3 PPG, 8.5 RPG
F: Melvin Ejim, 6-6 Fr. – 12.7 PPG, 7.1 RPG
F: Jamie Vanderbeken, 6-11 Sr. – 10.8 PPG, 5.7 RPG
We all know that Iowa State doesn't stack up to the Jayhawks from a talent standpoint, but expect an emotionally charged Cyclone roster to take the floor at around 8 tonight. Besides Jamie Vanderbeken, Diante Garrett and Scott Christopherson, nobody else on Iowa State's roster (the guys who can play) has seen an atmosphere even close to the one that they'll experience tonight. What will the youngsters do with that emotion? Will their eyes pop out of their heads or will they feed off of it?
"I think that they will feed off of the energy," said Iowa State head coach Fred Hoiberg. "I was fortunate enough to be a part of four games against Kansas in Hilton Coliseum and there is a little bit extra to it. They are always ranked in the top 10 coming in here. Them and Duke are the best two teams in the country right now so for us, it is a great opportunity to go out and see where we are. We are going to have to play almost a perfect game to go out there and win."
That's storyline number one to follow tonight. The second one might more important. How healthy is Scott Christopherson? As of Monday, the answer to that question didn't appear to be positive. At that point, Christopherson still couldn't extend his injured right elbow or even flex his bicep muscle
"He is tough," Hoiberg said. "He always finds a way to get in the gym. He wants to practice. He is a creature of habit. He wants to get in there and continue to work on his game. He is going to continue to battle."
We know that Christopherson will play. The dude competed with mono throughout nearly all of last season. But in order to win this game, Iowa State needs him to do more than just show up and be a warrior. They need him to stretch the Jayhawk defense, hit some of those magical Scotty threes and ultimately be a major factor. Christopherson traditionally plays well against the Jayhawks, as he's 6-of-11 from 3-point range in two games.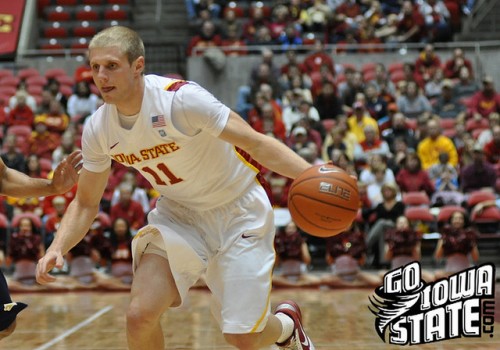 I've got one more key for you all today. That has to do with Jamie Vanderbeken and foul trouble. Going up against KU's hulking Morris twins will not be pleasant for Iowa State's thin front line. Picking up dinky fouls will be tempting for JVB, Melvin Ejim and Calvin Godfrey too. While the Jayhawks have the liberty of going 19 deep ( hyperbole alert), Iowa State does not. Even if he has to give up an easy layup once or twice, Vanderbeken cannot get into foul trouble tonight. He just can't.
JVB fouled out in Saturday's 63-62 loss to Nebraska.
"He couldn't stay on the floor there at the end of the game and I don't think that it was the silly fouls that he was committing early in the year," Hoiberg said. "It looked like he was trying to get out of the way of a few of them and he got a couple of tough whistles. That's how it is, especially when you go on the road."
BREAKING DOWN THE JAYHAWKS
Kansas' probable starters
G: Josh Selby, 6-2 Fr. – 13.3 PPG, 3.8 APG
G: Tyrel Reed, 6-3 Sr. – 9.3 PPG, 3.0 RPG
G: Tyshawn Taylor, 6-3 Jr. – 9.7 PPG, 5.4 APG
F: Marcus Morris, 6-9 Jr. – 15.7 PPG, 6.3 RPG
F: Markieff Morris, 6-10 Jr. – 12.9 PPG, 8.6 RPG
I'm no Doug Gottlieb. I'm not Jay Bilas. I can tell you one thing though fanatics. Kansas is really good. That's the type of hard-hitting analysis that you've come to expect from us here at CycloneFanatic.com. Hey, you get what you pay for right?
The Jayhawks are one of only five teams in America with no losses on its slate. Some notable Kansas wins from its 15-0 non-conference mark came over Arizona, UCLA, Memphis, USC, California and Michigan. Not too shabby.
You've probably heard of Kansas freshman guard Josh Selby. Since he became eligible on Dec. 18, the rookie has averaged 13.3 points and 3.8 assists per game.
"The kid has a heck of a stroke. He's a big time talent," Hoiberg said. "He's quick. He's strong. He has a Big 12 body as freshman. He just shoots the heck out of it. We'll have our hands full with him."
The frontcourt is where Kansas has the real advantage over Iowa State. Twin brothers Markieff and Marcus Morris are beasts down low. Together, they average around 29 points and 15 rebounds per game.
NOTEBOOK
–       Two players will return tonight after serving suspensions for their respective schools. Iowa State's freshman post Jordan Railey has missed the last two games for violating team rules. For Kansas, senior forward Mario Little will be back after sitting out the last six games.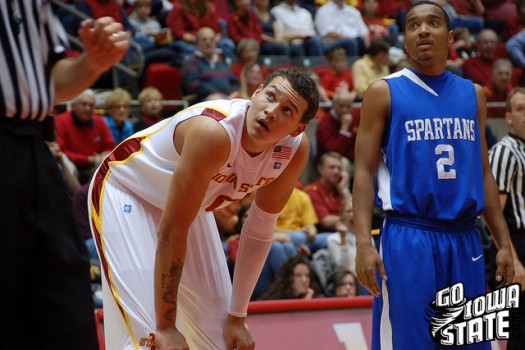 –       If you're going to the game tonight, please wear gold. It is "Gold Rules" day and trust me, you don't want to be that guy wearing red. Nobody wants to be that guy.
–       Kansas leads the all-time series against the Cyclones 168-58. In games played in Ames, KU leads 65-36. The Jayhawks have won 10 straight games over Iowa State. The last time the Cyclones beat Kansas was on Feb. 19, 2005 in Lawrence.
–       Here's an interesting Fred Hoiberg-Bill Self tidbit. The pair is among five Big 12 coaches who competed in the fomer Big Eight Conference. The other three men are Mark Turgeon (Texas A&M coach, played at KU), Tad Boyle (Colorado coach, played at KU) and Travis Ford (OSU coach, played at Missouri).
PREDICTION
Vegas has tabbed Kansas as a nine-point favorite in tonight's game. Something tells me that if they knew more about Scott Christopherson's injury, that number might shoot up to 12 or 13. But like Self said in his teleconference, it is hard to win on the road in the Big 12. That's especially the case when you factor in the unusual scenario that the Jayhawks will walk into tonight. I have a feeling that Hilton's pregame performance will be at a level that my 26-year old eyes have never seen before. Translation: It is about to get nutty.
That's going to help Iowa State's chances and yes, I do believe that the Cyclones have a fighter's chance in this one. My concern comes back to depth though. Due to Iowa State's lack of it, I see KU making one of those 12-2 runs at some point early in the second half that will ultimately put the Cyclones away.
THE PICK
Kansas 80, Iowa State 72