By Chris Williams, CycloneFanatic.com Publisher
Iowa State (14-10, 1-8) @ No. 2 Kansas (23-1, 8-1)
Saturday, Feb. 12 * 3 p.m. @ Allen Fieldhouse
WOI (Ames/DSM), Cyclone Radio Network
BREAKING DOWN THE CYCLONES
Iowa State's probable starters
G: Diante Garrett, 6-4 Sr. – 17.9 PPG, 6.0 APG
G: Scott Christopherson, 6-3 Jr. – 14.2 PPG, 3.2 RPG
G: Jake Anderson, 6-2 Sr. – 11.9 PPG, 7.8 APG
F: Melvin Ejim, 6-6 Fr. – 10.8 PPG, 6.9 RPG
F: Jamie Vanderbeken, 6-11 Sr. – 11.5 PPG, 5.4 RPG
The last time an Iowa State team defeated Kansas was on Feb. 19, 2005. That one was in Lawrence, as a Wayne Morgan led Cyclone team upset the Jayhawks 63-61 in overtime. Since then, Kansas has won 11-straight against the Cyclones.
As far as success in Allen Fieldhouse goes, Iowa State surprisingly nears the top of the Big 12. The Cyclones are 3-11 in Lawrence since the Big 12 formed in 1996. The rest of the league is 5-97 during the time span.
Unfortunately, tomorrow's task at hand appears to be a bit on the daunting side for a depleted Iowa State team. Ever since Iowa State's 72-57 route of Baylor on Jan. 15, the Cyclones have lost six in a row and will play top 25 teams in their next four games, with three of them being on the road.
What went down last time?
When Kansas beat Iowa State by four points back on Jan. 12, Diante Garrett led the way with 27 points and five assists. Jamie Vanderbeken knocked down four 3-pointers to score 19 points and Jake Anderson chipped in with 16. The difference was down low. I'll get to the Morris twins in a minute but as a whole, the Jayhawks outrebounded Iowa State 47-34. On top of that, KU shot 31 free throws compared to Iowa State's 10.
It's a long shot but…
I get the fact that Iowa State is 1-8 in the Big 12 heading into Saturday's game with Kansas. Not good. Let's get hypothetical here for a second though. Give the Cyclones just two of those six close losses. Put them at 3-6 with the possibility to win five or six games in the league. In that scenario, Diante Garrett should be a legitimate first-team All Big 12 candidate.
Here's why.
–       Garrett leads the Big 12 in assists with an average of 6.0 per game. He's fifth in the league in scoring at 17.9 points per game.
–       Garrett is one of only two players in America who is averaging over 17.0 points and 6.0 assists per game. In case you're curious, Ohio's D.J. Cooper is the other.
–       With Garrett's official averaging of 5.9 assists per game, an interesting note is that the league's second best in that category is Baylor's A.J. Walton, who is averaging 5.09 dimes per contest. Garrett is blowing away the competition.
–       Garrett is fourth in the Big 12 in steals with an average of 1.88 per game.
–       Garrett ranks fifth in the Big 12 in assist-to-turnover ratio with an average of 1.83.
–       Last but not least, Garrett leads the league in minutes played with an average of 35.92. It's noteworthy that Scott Christopherson is third in that category with a 35.22 average.
Christopherson eyes history
– No pressure here Scott, but if you make one 3-pointer in tomorrow's game vs. Kansas, you'll be tie a school record. Christopherson has hit a trey in 26 consecutive games that he's played in. Make Taylor currently holds the record at 27, a mark that he nailed down during the 2006-07 season.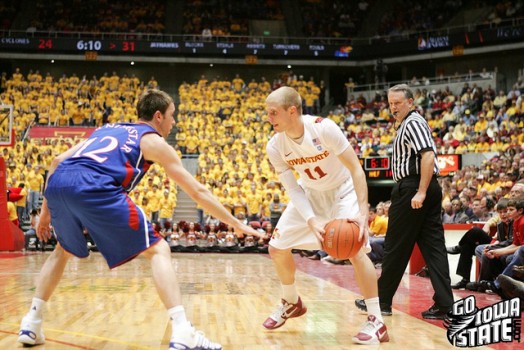 BREAKING DOWN THE JAYHAWKS
Kansas' probable starters
G: Brady Morningstar, 6-4 Sr. – 6.0 PPG, 2.9 APG
G: Tyrel Reed, 6-3 Sr. – 9.6 PPG, 3.0 RPG
G: Tyshawn Taylor, 6-3 Jr. – 8.6 PPG, 4.8 APG
F: Marcus Morris, 6-9 Jr. – 16.9 PPG, 6.8 RPG
F: Markieff Morris, 6-10 Jr. – 13.2 PPG, 8.4 RPG
The Morris twins have to be licking their chops in anticipation for tomorrow's game. In Kansas' 84-79 win over the Cyclones on Jan. 12, the duo combined for 50 points and 24 rebounds. Iowa State simply didn't have an answer. On top of that, freshman phenom Josh Selby had a big night going for 14 points.
Speaking of Selby, he's missed the last two games for Kansas due to a "stress reaction" in his right foot. Surprise, surprise Cyclone fans! On Thursday, Bill Self announced that Selby will play on Saturday against Iowa State. CLICK HERE for more on that.
The second-ranked Jayhawks have a legitimate chance to win out. After tomorrow's date with the Cyclones, Kansas gets Colorado, Oklahoma State and Texas A&M, with road trips to Kansas State, Oklahoma and Missouri. Where's the loss?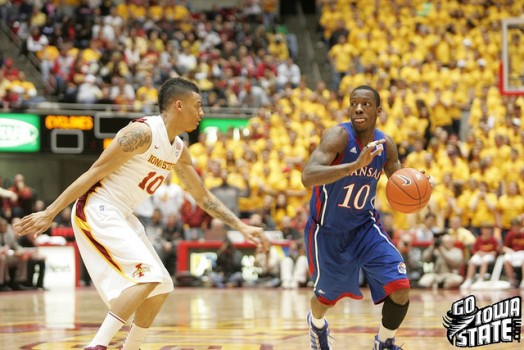 PREDICTION
Here's the good news. Historically, Iowa State has played some decent basketball in Lawrence over the years. On top of that, Kansas has seemed to struggle with non-marquee opponents at home all season long. Use a three-point win over Nebraska as just one example.
Regardless of those two optimistic facts that I listed above, this doesn't feel to me like a game that Iowa State will have much of a chance in.
Even if the Cyclones get hot from 3-point range (which is very possible), I'm just not sure how Iowa State can stop Kansas' big boys down low. That's not hard-hitting analysis. It's just the truth.
THE PICK
Kansas 87, Iowa State 69