By Chris Williams, CycloneFanatic.com Publisher
It seems like I just got done writing one of these things.
Nonetheless, it is mailbag time once again here at CycloneFanatic.com. Let's begin today's column with a festive question from IcSyU.
IcSyU writes: If your wife got you supper with a current ISU coach for Christmas, which coach would you want to join you?
CW: I'd opt for Bill Fennelly. If you've ever watched the man coach basketball, you'll understand why. Fennelly spews entertainment. Can you imagine what it would be like to have a few cold ones with the cornerstone of the Iowa State athletic department?
StevieISU23 writes: What would you rather do?
1. Watch Hawks bowl game
2. Watch paint dry
3. Watch sister-in-laws Christmas Concert (and why hasn't a video of this been posted yet?)
Go State.
CW: Interesting…It is almost as if you know me StevieISU23?!?!?
I will surprisingly choose watching the Hawkeyes. Football is football is football is football. Do you smell what I'm cooking?
I'm actually really looking forward to tonight's Insight Bowl. It is an interesting December bowl game. Those are hard to find these days.
Isucy1234 writes: Do you ever wish your name was more unique? There are a lot of Chris Williams' out there…
CW: Oh yeah? Well there are also a lot of Isucy1234's out there too. Just kidding. I happen like my name. My parents once told me that if I would have been a girl, my name was going to be Kristina. Knowing that now, I'm very happy with the hand I was dealt.
Pyrocyz writes: Who is the best sideline reporter?
CW: Ben Bruns is the world's best sideline reporter. I have to write that or Ben will beat the living pulp out of me. Seriously.
Oh, you mean on television? Well Erin Andrews is, duh. Jenn Brown is very talented too. Samantha Steele is and up and comer. All of these ladies are very good at what they do. Sarcasm aside, I really do appreciate Andrews. She's very polished and does a nice job. She's on ESPN's A-crew for a reason.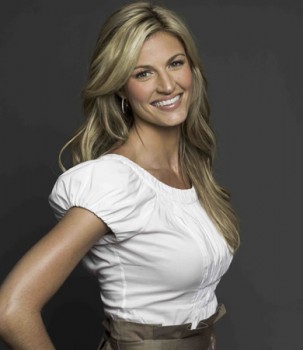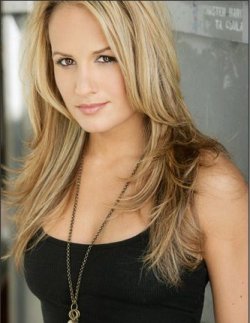 How many times have you been asked who the QB for next year will be?
CW: One-hundred billion times.
CRcyclone6 writes: Will the Vikings try and trade up for Andrew Luck if he comes out? If not, please tell me they won't go after McNabb.
CW: If the Vikes can actually get their hands on Andrew Luck, that would be outstanding. That's one reason why I hope that the Vikings lose out and yes, I am one of those fans. In the NFL, beyond pride, there is no point to try to win after you're out of playoff contention. That's how I view it at least. Yes, the Vikings are my favorite team and no, I don't like watching them to get their tails kicked, but a better draft pick this year (likely a quarterback) can dictate the franchises success or failure for years to come. Just ask the St. Louis Rams. So tonight, I'll be rooting for the Eagles so that McNabb will never, evvvvvver, wear a purple uniform.
RedBlooded writes: Will we see Jeff Woody again? How big of a role will he play next year?
CW: Yes, you will see Jeff Woody again. Why wouldn't you? Am I missing something? Think back to the games in the middle of last season when Woody was consistently getting carries (before his fumble against Nebraska). That's the role I think that we'll see from Woody during his entire career as a Cyclone. Before anybody out there takes that as a slight towards the young man, hear me out. I am actually complimenting Jeff with this take. Woody is very good at what he does. He takes care of the little things that nobody else wants to do. Woody will be a quality short-yardage, blocking, pound it out, change of pace running back that doesn't come around very often. Plus, he's one of the brightest young men I have ever interviewed. Woody is a leader and he's a guy who Paul Rhoads wants in his locker room.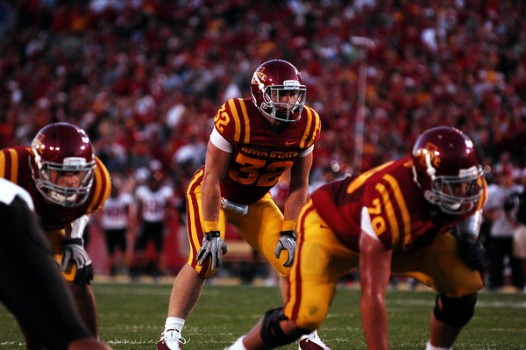 SuperCy writes: What was the last good movie you saw in a theater?
CW: Ever since Netflix came around, I don't get out to the theater very often. My wife and I do frequent the dollar theater in Ames every once in a while though. That always makes for a good time. The last movie we saw there was "The Switch," the featured Jennifer Aniston and Jason Bateman. The plot was a little on the loopy side but what sane man can turn down an Aniston flick that makes your wife happy, all while costing you a measly two bucks? It was money well spent.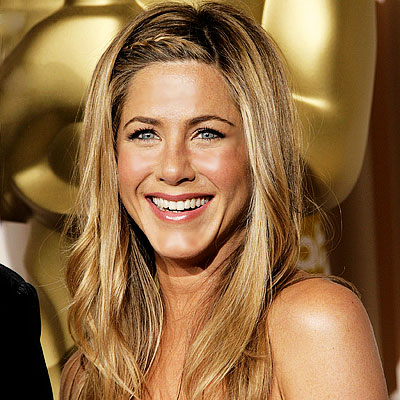 The last movie I saw in a real theater was "Paranormal Activity 2." I'd give that one a five out of 10.
I do plan on going to see "True Grit" later this week. I love westerns.
Isufan writes: I know it has been discussed before, but what are your standards for a successful conference season for the Men's Basketball team? Is it successful if we are .500? Is it successful if we win 4 games? Maybe if we win our home games? In my opinion, I'll be happy if we beat who we probably should beat (maybe Oklahoma, Tech, and Nebraska at home) and win a couple games against better teams at home.
CW: I'm going to write a Big 12 Conference preview column here sometime next week that will address this post but here is a quick preview.
My tone on the season really hasn't changed much. Back in early November, I picked Iowa State to go 12-3 in the non-conference. The Virginia game is 50-50 so that prediction is still very possible. Back then, I picked Iowa State to go 3-13 in Big 12 play. I like wins over Nebraska, Oklahoma and Texas Tech at home for sure. Winning at Nebraska isn't out of the question. Iowa State matches up well with Colorado. One of my big predictions for the season is that the Cyclones will upset either Kansas State or Missouri in Hilton later on this year. So I'd say right now, the Cyclones will win anywhere from five (worst case) to seven (best case) Big 12 games. Eventually, Iowa State's major weakness in the frontcourt is going to catch up to them. It is inevitable. But as long as Diante Garrett, Jake Anderson and Scott Christopherson are hitting shots, they'll certainly have a chance every time they lace up at home.
What will make the season a success? To me, it all hinges on momentum. When the season is over, how will you feel about the future of Cyclone basketball? Will the roster stay in tact? What will we see from Fred Hoiberg (as an actual basketball coach) in the middle of February? It should be a fun ride.
Wesley writes: Who was your best interview to date?
CW: Paul Rhoads, Dan McCarney and Bill Fennelly are all great. None of the above are very interested in "coach speak," which I appreciate. The best interview on Iowa State's current football roster is Ter'Ran Benton. There's a little nugget that you might not have known.
The worst interview that I've ever conducted happened around three years ago with Tony LaRussa. I was covering Cardinals spring training down in Jupiter, Fla. and was doing radio shows from there for a week. LaRussa either hated me or he's just a jerk. I'd put my money on the latter. After that experience, I made a vow to myself that I never wanted to cover professional sports.
RING4CY writes:Say someone got you a snuggie as a gift for Christmas. What would you do with it? What if it was an Iowa State snuggie?
CW: I actually got an Iowa State Snuggie for Christmas a couple of years ago. I am proud to say that I've never worn the thing. Actually, the wife and I use it as a blanket. She takes it to home games at Jack Trice when the weather starts to get cold. Our cat "Smoke" has become awfully fond of it as well.
Angie writes: What is the correct meat to serve at Christmas dinner? Turkey? Ham? Roast? Tofurkey?
CW: My family does a little bit of everything Angie. Turkey and ham are always staples. This year, my in-laws made a roast, which was delicious. I don't think that you can go wrong with any of the above meats.
Cloneswereall writes: When will Ames get another Hardee's? I'm tired of driving to Marshalltown or Des Moines for my Monster Burger fix.
CW: Listen, I appreciate you writing into the mailbag and I know that we get a lot of off the wall questions on here from time to time but this is a stretch. I have no idea. Try the tacos at Es Tas.
Cyhiphopp writes: How many failed drug tests/arrests can we have before we are perma-banned from the site?
CW: ZING!
CloneFan4 writes: Have you heard anything about Curt Maggitt? There has been no info on him from rivals and he's been keeping everything on the down low. I know it's a long shot but my hopes are getting the best of me.
CW: I really don't have any information on Maggitt. I'll keep plugging away but for right now, I've got nothing.
Chuckd4735 writes: Which is less likely to happen next football season? ISU goes to a bowl game or the U of Iowa goes an entire season without a player being arrested?
CW: Another zinger! I'd say the latter is least likely to happen. That's not even a cheap shot at Iowa. I'm just looking at track records here. Iowa State has to be mediocre to go to a bowl game. Over 100 athletes have to stay out of trouble for a program that has had 36 arrests (according to Brent Blum) since 2005. This is a no brainer in my opinion.
Cyclones500 writes: What is the most pleasant surprise so far about this season's MBB team? (Be specific)
What, if anything, is most disappointing?
CW: Scott Christopherson has been the biggest surprise in my opinion. I thought that we'd see a different Diante Garrett. I assumed that Jake Anderson would lead the team in rebounding. I figured that Melvin Ejim would be the team's third leading scorer. If you had told me that through 13 games, Christopherson would be shooting 53 percent from 3-point range, I wouldn't have believed you. It is amazing how much easier this game is to play without mono right Scott?
Most disappointing? That goes to Jamie Vanderbeken. He's shooting the ball okay but JVB is going to have to be more consistent if Iowa State wants to surprise many people in the Big 12. Iowa State literally has no depth at all down low. The Cyclones cannot afford to have Vanderbeken on the bench in foul trouble early on in games. He has got to clean that up. Thursday night's date with Virginia will be another great test.