By Chris Williams, CycloneFanatic.com Publisher
Happy Monday fanatics. After a tough weekend in Cyclone athletics, I figured I'd start the workweek out with a mailbag. I'll be posting updates from Fred Hoiberg's weekly press conference later on today. Let's start this bad boy started with a question from ItsCyence.
ItsCYence writes: Oklahoma and Texas Tech this week. Over/Under of 1 win. Whatcha got?
CW: I'd take the over. Based on what we have seen throughout the early Big 12 season, there is no reason to think that Iowa State will lose to either one of these two teams at home. Both of those teams did pick up their first conference wins over the weekend, but I still see Iowa State as a five-plus point favorite in each game. Texas Tech is 0-7 in games not played in Lubbock this season. Oklahoma is 0-8 in games not played in Norman. They'll have to play better than they did on Saturday in Columbia, but I like Iowa State escaping this week with two much-needed Big 12 wins.
Having said all of that, it is important to note how crucial Wednesday game is for the rest of the season. Win and you've bounced back after your first big loss of the season. Lose and you've let Missouri beat you twice.
Jsb writes: -Is there anything worse than watching the Bears and Packers in the NFC championship? It literally almost makes me sick.
CW: I can't imagine a worse sporting event to have to watch than that and in case you didn't know by now, I am a passionate fan of the Minnesota Vikings. I don't think that it is possible to care less about a football game than my thoughts during that one. I was rooting for the Bears because I do hate the Packers worse. I'm actually thinking about purchasing a Steelers shirt to wear at Tron Smith's (Wilson Toyota, shameless plug, holler) Super Bowl Party. Ah forget that. I'll be rocking my purple! Skol.
What one thing will you be looking for from the men's basketball team the rest of the way?
CW: Why can't this team win out at home? Iowa State's remaining home games are against Texas Tech, Oklahoma, Kansas State, Missouri, Nebraska and Colorado. Granted, it will be TOUGH to beat the Tigers on Feb. 19. But sweeping the rest of the games in Hilton Coliseum is my goal for this team. You're supposed to set goals high so that's what I'm doing here.
To answer your question a little more directly, I just want them to keep things interesting. Saturday's 33-point loss to Missouri was not interesting. Wednesday's overtime contest with Oklahoma State was. Do you smell what I'm cooking? Stay competitive, keep some momentum and build for 2011. That's what I want to see. Any sort of a postseason tournament would be outstanding as well.
What's the best sporting event you've ever been to?
CW: By "best," do you mean biggest or my favorite? The memory that I will cherish the most was the 2009 Iowa State football game in Lincoln. I hadn't quite started here at CF yet and went with my dad into the sea of red. Not a soul (including me) had given Iowa State a prayer in the game. Sitting in Memorial Stadium, looking at all of the 'Sker fan faces was priceless. I'll never forget that.
Honorable mention: The 2009 Minnesota Vikings win over the Cowboys in the playoffs. The Metrodome was off the hook. That was probably the most fun I've ever had at a sporting event. The game was never really in question so needless to say, we partied like it was 1999.
Clones21 writes: Do the % of carries on what running back you think will get the most/least this upcoming football season.
CW: It wouldn't even be constructive for me to put numbers next to these players here in the middle of January. First of all, I have no idea who the quarterback is going to be. That will determine a lot. I'll guess that Shontrelle Johnson will lead the team in carries with Jeff Woody coming in second. I've heard that Duran Hollis is legit and then you have this bulk of true freshmen who will likely make things interesting.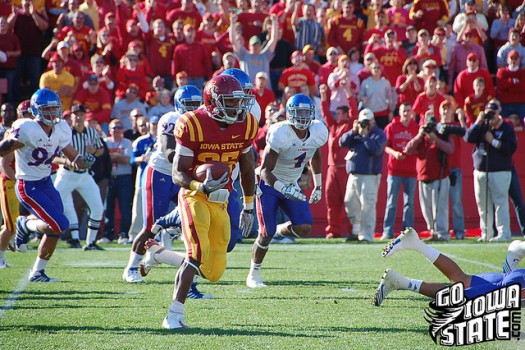 Alarsen writes: Say you've got a time machine and can use it to attend one game, any sport, in the past. What game do you go to?
CW: I would go with Game 6 of the 1998 NBA Finals…It was Michael Jordan's last game as a Chicago Bull. Jordan scored 45 points and hit a game winning shot. The only thing that could have made this moment better was if it was in Chicago.
Honorable mention: Game 6 of the 1995 World Series when the Braves beat the Indians.
RedBlooded writes: Will this years women's basketball team make it to the Sweet 16?
CW: CycloneFanatic.com's Ian Smith would probably be a better guy to answer this question as he's seen the team play much more than I have. I'll take a shot at it though and say it is going to be tough to make the Sweet 16. The Cyclones are currently 13-5 overall and 1-3 in the Big 12. I still believe that they are an NCAA Tournament team but instead of positioning themselves with a four or five seed, it appears that Iowa State will be around the eight or nine range if they get in. That obviously means that their second-round opponent will be much tougher than in recent years. Again, I'd say no but heck, nothing surprises me when it comes to Bill Fennelly's basketball teams.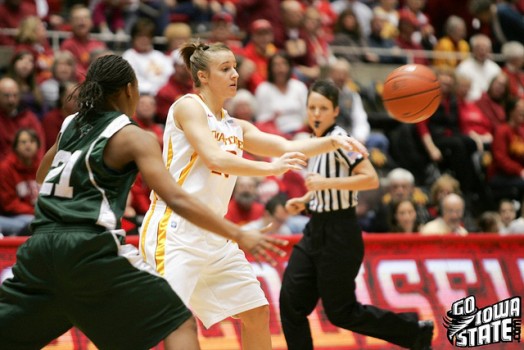 Isugcs writes: In one of the many previous the sky is falling defensive line threads, someone mentioned we have not had great recruiting classes for the defensive line, but we seem to do OK as a defensive unit. This year, Lattimer was the surprise/difference. Who in this year's incoming class do you see as a potential defensive line impact player?
CW: As far as incoming recruits go, no, I don't have a guy to point out to you. I will however remind you of Rony Nelson, the JUCO defensive end who signed with Iowa State last February. He had to redshirt last season and he would be the obvious "keep an eye on" guy heading into next year.
SammyDaBeast writes: Do you see CFH pulling in a 4 or 5 star in the year of 2012?
CW: He could. It really is too early to tell as those prospects haven't been assigned stars yet. I think that Nkereuwem Okoro has a shot to be a highly touted prospect. Daniel Dingle and Kamari Murphy could see four-stars as well. Stay tuned. I'll try to do some 2012 recruiting updates here over the next few weeks.
Cyman1189 writes: If we still have Justin Hamilton… what is our record?
CW: Big Ham wouldn't have made the difference against Missouri but he sure could have in any of the other Cyclones losses this season. They would have beaten UNI for sure. Probably Cal too. KU would have still been a toss-up. I know. The attrition is frustrated. Just hope for a more stable program going forward.
Thanks for your questions everybody!