By Chris Williams, CycloneFanatic.com Publisher
I've got one doozie of a mailbag in store for you all today and I'm not just saying that. Let's start things off with a question from Ist8er.
Ist8er writes: Can/Will Hoiberg look for more walk-ons to fill the bench, and if he does will he go to the football team again or hold try-outs for students? Will Mitchell and McBeth remain with the team the rest of the season, or were they just a quick fix since Scotty was hurt and Railey was suspended?
CW: Monday was insane. Not only did news about the two football players joining the basketball team break, but word of the Jordan Railey situation surfaced, as did information about Scott Christopherson's "bruised elbow." All of this news literally broke within the span of about 30 minutes.
I don't see Fred going after any other walk-ons, unless more injuries plague the Cyclones. I I haven't asked Fred about this. It is only my opinion. And yes, I imagine that the two (McBeth and Mitchell) will stick around for the rest of the season. That's how I understand this situation at least.
GeronimusClone writes: What do you think about the "suspended" OSU players winning that game last night? Should The Sweater Vest have sat them himself?
If this is same scenario, but it's ISU in the Insight Bowl last year. Do they play?
CW: I lost a lot of respect for Jim Tressel last night. I don't see how anybody can defend that situation. So these five players did something bad enough to get them suspended for nearly half of the 2011 regular season, but not some meaningless exhibition (that is how some people view bowl games)? If somebody can actually defend that, I'd love to hear it. This is just another example of how the NCAA is a joke. And that's the thing, I've always really respected Tressel as a coach and a man. I didn't put him on the same level as Bobby Petrino (that's ironic), Rich Rodriguez, Pete Carroll, etc. Tressel could have used the Sugar Bowl to make a statement about the integrity of his very proud program. He went the other way and that's a shame.
I've got a big problem with what went down after the game, when Terrelle Pryor essentially refused to answer if he was going to come back for his senior season (like he reportedly told Tressel). I have a feeling that Tressel might have been played by his own guys, but only time will tell there.
What irks me the most is when I look at a situation that we had here in Ames just not too long ago with Jiri Hubalek. The Lucca suspension was inconsistent. Those were very minor infractions (depending on who you ask) equaled very stiff penalties. With the Ohio State story, you had five marquee players commit a huge crime, (in collegiate sports, not legally) and they were allowed to play in their biggest game of the season.
I wish that the NCAA would just admit what they are. That is a big business. Period.
I loved what Mark May had to say about this, the day that the story broke. Here's a look if you didn't get to see.
As for your Iowa State part of the question, I don't believe that Paul Rhoads would have had to even make a decision. If five Iowa State players would have done the same thing, they wouldn't have been eligible for the Insight Bowl. It is as simple as that.
Is it true that Coach McCarney tried to recruit Aaron Agnew to walk on to the football team when he was here?
CW: I've never heard this one…I assume it is a joke right? My hard-hitting analysis is that Agnew was probably a little too soft for the sport of football…Just a hunch.
Pyrocyz writes: If you were the AD at a BCS school, would you hire Mike Leach for a head coaching position?
CW: Absolutely. Mike Leach is a genius. In 10 seasons at Texas Tech, Leach compiled a 84-43 record and led his team to bowl games in every campaign (he was 5-4 in bowl games and did not get to coach the 2009 Alamo Bowl). Not only is Leach going to win you football games, but he automatically makes a program big time. Leach has the charisma that a BCS program should constantly be looking for out of their head coach. Here are some more classic Mike Leach YouTube clips to back my analysis.
Now tell me that you wouldn't want that guy as your school's head football coach. Leach is hilarious! College football is a better sport when he is coaching. For Iowa State's sake, I hope that he never gets back in the Big 12.
MNCyGuy writes: If he was healthy, do you think Austen Arnaud would be suiting up for Hoiberg right now, or would he be focusing on attempting to continue his football career somehow? How crazy would the reaction in Hilton have been if that situation had actually come to fruition?
CW: Brent Blum and I talked about this in the podcast that we recorded yesterday. After reading your question, I picked up the phone and called Austen. The truth is, even if he wanted to, he couldn't have played. Arnaud has already graduated. Therefore his eligibility is up. He did tell me that if he wasn't training for the next level and the basketball team was desperate for bodies that he would have considered it.
ItsCYence writes: Why am I on Cyclone Fanatic?
CW: I'm going to throw this one right back at you ItsCYence. Why wouldn't you be on Cyclone Fanatic? As Billy Madison once put it, "everybody is doing it." You're not cool if you're not on Cyclone Fanatic.
CYdTracked writes: Did Santa bring you any great gifts this year?
CW: Santa brought me the best gift. My wife was on call at the vet school over the holiday so we couldn't go home. Well all week long, the weather looked terrible. It didn't appear as if my family was going to be able to make it to Ames for Christmas. Luckily, everything chilled out on Christmas Eve morning and the Williams' found a way to make it to God's Country. We had a great time. My wife never got called in either. We packed 15 people into a crappy two-bedroom apartment, but it was awesome. We'll definitely never forget Christmas 2010.
Galactawitz writes: How many wins in the conference season do you think it will take for the men's team to make the NCAA tournament?
CW: I think that nine with a win in the Big 12 Tournament would do the trick. It is tough to know due to the NCAA Tournament taking 68 teams now. That kind of messes with things a little bit. Iowa State's non-conference strength of schedule is ranked 308th in America. I don't think that 8-8 will cut it.
SuperCy writes: Have you ever been in a bar fight? If so, what did the other guy look like when you were done with him?
CW: No, I have never been in a bar fight. Does this make me less of a man? Answering this question probably wasn't a good thing. Some Internet tough guy from Hawkeye Nation might be reading. This makes me an early target. It is a good thing that Tron Smith is my bodyguard. Are you Tron approved?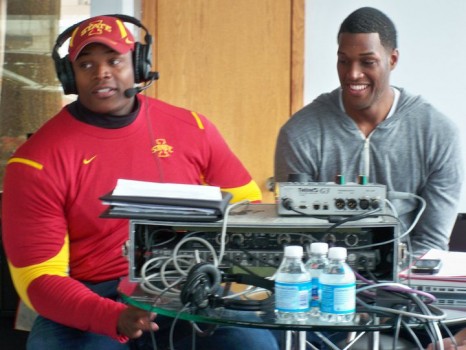 Above: That's Tron on the left and former Cyclone QB Bret Meyer on the right. This photo was taken from our final CycloneFanatic.com/Wilson Toyota of Ames pregame show this past football season.