By Chris Williams, CycloneFanatic.com Publisher
Scott Christopherson couldn't miss in Iowa State's 91-43 spanking of the Drake Bulldogs on Wednesday night. No seriously. Christopherson literally didn't miss a shot. Christopherson tied two Iowa State records by going 11-for-11 from the field (Mark Baugh in 1989 vs. Western Illinois) and 5-of-5 from 3-point range (Ron Bayless in 1992 vs. Colorado), while scoring 29 points in the Cyclone victory.
"I was hoping that I could touch him and get a little bit of that," Christopherson's teammate Melvin Ejim joked after the game.
I'll touch more on Christopherson's filthy game in just a bit. As you can imagine, the junior bringing home some serious CF hardware for this performance.
Back to the game as a whole for a minute…Drake head coach Mark Phelps summed things up perfectly with the opening line of his postgame presser.
"That was a good old fashion whipping," Phelps said. "They beat us in every way from both ends of the court."
Yes it was coach. Yes it was. In fact, I'd probably add a three letter word that rhymes with grass in front of "whipping" to that statement.
BOX SCORE: Iowa State 91, Drake 43
PLAYER OF THE GAME
Scott Christopherson – In last Friday's 78-64 win over Northern Arizona, Christopherson went 1-of-10 from the field. At that point, what would the chances have been that after three games, he'd lead Iowa State with a field goal percentage of .563?
Here's another Christopherson tidbit for you. With nine minutes left to play, he had more points (29) than Drake's entire team (28).
"It was just one of those nights I guess," Christopherson said. "Even in warm ups today, it was one of those things where I felt like no matter what I threw up, it felt like it was going in."
Christopherson could have set both records had his coach not taken him out of the game with just under nine minutes to play. Hoiberg said that at the time, he didn't know Christopherson was on the brink of Cyclone history.
"Somebody came and told me that he was tied," Hoiberg said.
Obviously Hoiberg didn't put Christopherson back in at that point. There's no need for the Mayor to develop a Bret Bielema sort of reputation this early on in his career.
THREE UP
Calvin Godfrey's Energy – With just under 10 minutes to play, freshman Calvin Godfrey committed a turnover. It was a bad pass that he never should have attempted.
At that point, Godfrey had two options. (Keep in mind that at this time, Iowa State was leading the game by 46 points). Godfrey could have let the Bulldogs get the easy two while saving himself some energy at the same time. If you've ever seen Godfrey play, you realize that's not what this guy is about. Godfrey proceeded to pick himself off the ground and sprint down to floor to create a Drake turnover.
There are hundreds of players in America who have a lot more talent than Calvin Godfrey. That certainly isn't the case when it comes to hustle though. Though he is borderline out of control at times, Godfrey is the type of guy who you just want on your team. Now, let's just pray that this style of play doesn't get him hurt by the time conference play rolls around. But having said that, I'll NEVER complain about a guy who plays as hard as this freshman does.
"He has been great," Hoiberg said. "He knows his role. He doesn't try to go outside of who he is. He goes out and makes plays for our team."
Godfrey ended the night with 14 rebounds in 18 minutes of work. He's averaging 7.3 rebounds per game on the season.
Melvin Ejim's dunks – I must admit, I am a sucker for highlight reel jams. I love Sports Center top plays. Up until the Drake game, I had yet to see freshman Melvin Ejim really throw one down. After a first half layup, I commented to Brent Blum that Ejim needed to just say, "screw it" and hammer one down. It was almost as if Ejim was listening to our conversation and two boom shaka laka's later, here he is on my 'three up' list from Iowa State's win. Congrats young man. Hopefully there will be plenty more where this came from.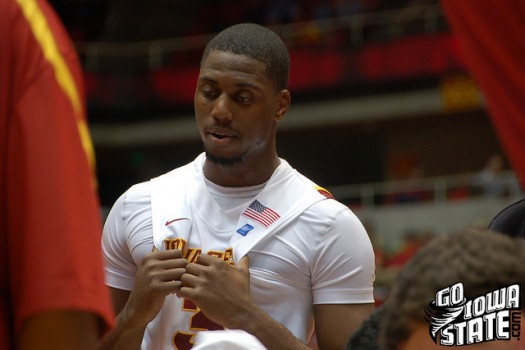 Chemistry – You think that this team likes playing together much? Chemistry is an easy thing to spot. This roster has it.
THREE DOWN
Mark Phelps – I'm starting to wonder how good of a coach Drake's Mark Phelps actually is. Going into Hilton Coliseum and losing a basketball game to a Big 12 team isn't a big deal. In all reality, that is what is supposed to happen. But being demolished by 48 points is something else. We all know that Phelps can recruit. But can he coach? Drake is a young basketball team. They have a lot of room to grow and I'll withhold my judgement on Phelps until the end of the season. But embarrassing losses like this are simply unacceptable, no matter who you are playing.
Don't get too high yet – I realize that nobody wants to read this but it needs to be thrown out there. Let's not all start talking about NCAA Tournaments and Big 12 championships just yet. Yes, Iowa State has outscored their first three opponents 243-154 and yes, you have every right in the world to be amped up.
But I still need to see two things before I'll officially be sold on this team. The first is how they'll respond against a team with a legitimate post threat and no, Seth VanDeest didn't pass the eye test for me. The second is how this team will play away from Hilton Coliseum. We'll at least learn one of the two on Sunday at Wells Fargo Arena.
Student attendance –
Dear Iowa State students,
You stink.
Sincerely,
Chris Williams
I don't want to be too hard on the students because I do realize that most of them never saw Fred Hoiberg play basketball when they were growing up. They don't really get it.
They also didn't follow a winning Iowa State basketball program when they were kids. They're still asleep from the last five years. So wake up kids! This is your final mulligan. I'm tired of looking your way and being put to sleep. It is time to take it up a notch.
NOTEBOOK
– Jake Anderson gets my "Mr. Trooper" award in this game. Anderson scored seven points, ripped down five rebounds and played out standing defense with the flu on Wednesday.
"If you would have seen Jake this morning, you wouldn't have thought that there was any way that he was going to come out here and play this game. He was throwing up all night. He threw up all morning. He still went out and battled his way through," Hoiberg said. "The guy is a warrior, an absolute warrior."
–       Lost in all of the scoring was Diante Garrett's 10 assists. Garrett had 14 points as well, in his 67th consecutive start at Iowa State. That ranks him sixth all-time. With those 10 dimes, Garrett moved past Jamaal Tinsley for seventh all-time on Iowa State's career assist chart.
–       Iowa State's 48-point win was the largest margin of victory in this series ever for the Cyclones. The previous high was 38 on Jan. 27, 1993.
–       Every Iowa State player who got in the game scored at least a point.
WHO'S NEXT?
The time has come. Iowa State and Creighton will go at it on Sunday afternoon at Wells Fargo Arena in Des Moines and yes, Greg McDermott will lead the way for the Blue Jays. Don't pay any attention to Creighton's margin of victory in their first three games of 2010 either. This game will go way deeper than checking out a few box scores.
"Coach Mac knows these guys inside and out," Hoiberg said. "He knows their strengths and he knows their weaknesses. I am sure that he's going to try to expose that."
Creighton defeated Louisiana on Wednesday night by a 63-58 final. The Blue Jays are 3-0 leading up to Sunday's showdown with Iowa State.