By Chris Williams, CycloneFanatic.com Publisher
The 2010-11 Iowa State men's basketball team is a work in progress. When the competition increases, this team just can't seem put 40 full minutes of basketball together. That pretty much sums up Saturday's 76-73 loss to California.
Below is video from Fred Hoiberg's post game press conference, along with notes, quotes and analysis from the loss.
CF's PLAYER OF THE GAME
Scott Christopherson – Scott Christopherson was listed as "questionable" heading into Saturday afternoon's contest. Can you imagine what the game would have been like without him?
Christopherson hit big shot after big shot but it ultimately wasn't enough. Still, his 7-for-13 3-point performance and 25 points made him worthy of being CF's Player of the Game.
Christopherson is now averaging 15.4 points per game for Iowa State. He's 27-for-46 on the season from 3-point range.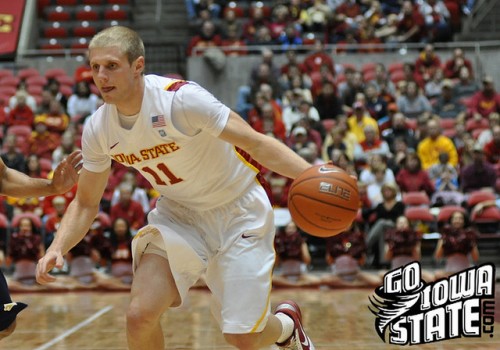 THREE UP
Jordan Railey – Correct me if I'm wrong, but true freshman Jordan Railey has played some pretty decent basketball in Iowa State's last two games.
Railey's box score of four points and two rebounds won't jump out at you, but the Oregon native might be Iowa State's most improved player since the start of the season.
"It is a credit to him," Christopherson said. "I've seen him in the gym working with assistant coaches. I know that he's been in the weight room doing extra workouts and stuff. He's really come a long way. This week, he really grew up."
Railey played 19 minutes in the loss.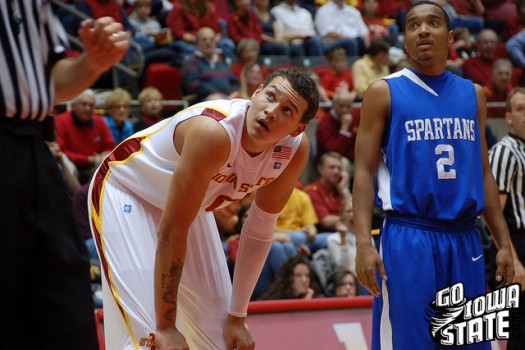 Rebounding Effort – If you would have told me before the game that Cal would only out-rebound Iowa State by three, I would have taken that in a second. I liked the effort that Iowa State showed on the glass Saturday afternoon, with Cal only winning the battle on the boards 37-34. But Scott Christopherson put it best after the game when he said, "I think that we are doing a really good job of playing hard and bringing effort. It's not just enough at this level, just to play hard."
Atmosphere – Hilton was packed on Saturday afternoon and for the most part, the crowd was rocking. The student section was full. The fans were passionate and it felt like a Big 12 atmosphere. Props to all involved.
THREE DOWN
The ability to finish – Jake Anderson summed things up nicely after the game.
"We need to have more of a killer instinct," said the senior guard.
Iowa State didn't produce a bucket in seven of their first eight second half possessions.
"You have to go out there and control it in those first five minutes of the second half," Hoiberg said. "We did a great job of getting back in the game and taking the lead at halftime. We just didn't come out with any urgency at the beginning of the second half. That was the disappointing thing to me."
"We just had some careless turnovers. You have to find a way to at least get a shot off the board to give yourselves a chance."
Jamie Vanderbeken – This guy is hurting in a bad way right now. Jamie Vanderbeken has had four fouls in each of the last two games for Iowa State and he's no longer a consistent scoring threat. Am I crazy to think that both true freshmen Jordan Railey and Calvin Godfrey are better defenders than Vanderbeken right now? If Vanderbeken isn't scoring, what good does he do on the floor for this team? I haven't given up on the big man. Something has to change though. He was 3-of-5 from the field on Saturday and had a couple of beautiful fade-a-way jumpers that make some pros blush. But enough with the silly, dinky fouls JVB. You can't score if you're on the bench.
Ejim's growing pains – Is freshman Melvin Ejim in a funk right now or is he just finally playing like a freshman? Ejim scored his first point with 2:42 to play in Saturday's loss. He produced a similar type of performance against UNI on Wednesday. After the game, Hoiberg alluded to the fact that Ejim might have just set the bar extremely high earlier this season. We're seeing that Ejim is indeed a rookie and for the first time in his life, he's going up against bigger, stronger and more physical players.
"You don't learn in an exhibition game," Hoiberg said. "You don't learn in some of those games with teams that have similar sized post players. Now he is going against grown men. He's going against upperclassmen who are bigger than him. He is going to be a check of a ball player. He has a very bright future."
Ejim went 1-of-9 from the field on Saturday. He scored four points and recorded nine rebounds.
NOTEBOOK
–       Scott Christopherson's seven 3-pointers were a career-high. His previous best was this year's Drake game, when he went 11-for-11 from the field and buried five threes.  He's made at least one 3-pionter in 11 straight games.
–       The Cyclones made 10 3-pointers in Saturday's loss. That's the fourth time this season that Iowa State has made 10 or more treys.
–       Diante Garrett's six assists on Saturday moved him into a tie for fifth all-time at Iowa State with Will Blalock. It was his 50th career game with five or more assists.
–       Jake Anderson had six steals in the game. That was his career-high.
WHO'S NEXT?
Southeast Missouri State – Monday at 7 p.m. – Hilton Coliseum