By Chris Williams, CycloneFanatic.com Publisher
Iowa State (5-5, 3-3) @ Colorado (3-6, 0-5)
12:30 p.m. kick @ Folsom Field
FCS, Cyclone Radio Network
Iowa State is good enough to beat Missouri in Ames on Nov. 20. BUT, it shouldn't have to come to that.
Right now, things are simple for the Cyclones. Take care of business against a tumultuous Colorado team on Saturday.
Unless you've been hiding in a cave for the past four days, you know that Colorado canned Dan Hawkins on Tuesday. (For the record, when you get "relieved of your duties" in the middle of the season, you don't get fired. You get canned.)
Colorado is 0-5 in Big 12 Conference play. They're not only winless, but they gave up a 38-17 fourth quarter lead to the hapless Kansas Jayhawks last week.
Meanwhile, Iowa State's three Big 12 wins have been against two teams from the state of Texas, while taking the Big 12's best (Nebraska – just my opinion) to overtime.
Zero excuses are in play with this one. Iowa State should win this football game.
The Cyclones need to step on this stressed Colorado program's throat tomorrow. Kick Colorado when they are down. Flex your muscles Cyclones. Dominate. Send the Buffs to the Pac-10 in style.
Let's break this thing down.
IOWA STATE'S OFFENSE VS. COLORADO'S DEFENSE
Alexander Robinson has run for over 100 yards in each of Iowa State's last three football games. In that stretch, the Cyclones were 2-1 and nearly upset a top 10 team last week. See the parallel?
Run the football. Run the football. Run the football. The running game is Iowa State's baby. It will once again be important tomorrow against Colorado's 55th ranked rush defense that gives up an average of 147 yards per game on the ground. Here's the kicker though and the reason why it might be extra important for the Cyclones on Saturday.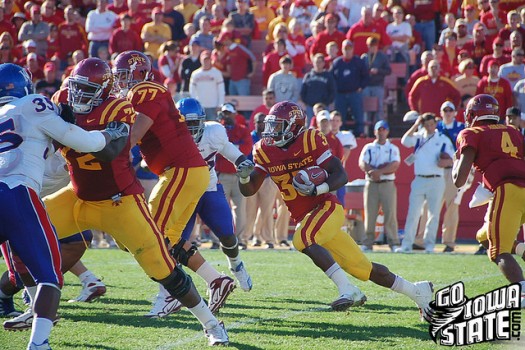 Colorado's pass defense is bad…Really bad. The Buffs rank 112th nationally in pass defense and pass efficiency defense alike. They're giving up over 270 passing yards per game. This is a defense that allowed Kansas' Quinn Mecham (yes that Quinn Mecham) go 23-for-28 against them. If Iowa State comes out firing with any sort of a rushing game at all on Saturday, it could be a field day for Austen Arnaud, Collin Franklin, Jake Williams and others.
IOWA STATE'S DEFENSE VS. COLORADO'S OFFENSE
Colorado's offense is ranked 76th nationally. The Buffs have lost five football games in a row. Things are not well in Boulder. But here is the thing. I don't think they're that bad. Hear me out.
Colorado's running back, Rodney Stewart, is averaging over 100 rushing yards per game. He's racked up 912 yards on the season (which is more than Alexander Robinson by the way) and he's playing behind one of the Big 12's best offensive lines.
"They have a tremendous offensive line," said Iowa State defensive coordinator Wally Burnham. "They have a first round draft choice in there. They probably have a second round draft choice in there. They will be as good of a looking offensive line that we have played against since Iowa."
Regardless of how inconsistent Cody Hawkins is at quarterback, this team can run the football. Iowa State's 103rd ranked rush defense will have their hands full tomorrow.
Speaking of Hawkins, he is literally the only quarterback option that Colorado has at this point in the season. Junior Tyler Hansen started the season. He's out right for the rest of the season with a ruptured spleen (that sounds painful).
The Buffaloes haven't won a game since Hawkins took over the starting job. He's thrown for 916 yards, six touchdowns and three interceptions on the season.
KEY STORYLINES
–       How does Colorado respond to their coach being fired earlier this week?
–       What does Cody Hawkins play like without his father on the sidelines? Does he play looser without the old man breathing down his neck?
–       Brian Cabral is Colorado's interim head coach. He was previously the team's defensive coordinator. Does he elect to spice things up a little bit? Do the Cyclones need to be prepared for a little trickery?
–       How many people will show up at this football game? If Hawkins were still the coach, I have to think that the crowd would be less than impressive. Now that he's gone, does the Buff Nation step up to support this group of athletes?
–       Iowa State is searching for its sixth win of the season. Obviously, a lot is on the line for the Cyclones. Iowa State's opponents from this season have a combined record of 55-29. That is the toughest schedule in America.
FINAL TAKE
After Saturday's loss to Nebraska, Paul Rhoads said that the Colorado contest would be the biggest game in his coaching career. I just got off the phone with one of CF's owners, Matt Lazear, who told me he thought this is maybe the biggest game in Iowa State football history.
I won't go that far, but these are definitely intriguing thoughts. Both men are spot on with their analysis.
Nobody gave Iowa State a chance this year. With this schedule? Give me a break. No way. But here the Cyclones are on Nov. 12, with an opportunity to gain bowl eligibility against a Colorado team that has yet to win a league game.
We all saw how much bowl win did for recruiting and overall program momentum last season. If you're Iowa State, you do not want to push this thing back another week. Win now.
Colorado isn't as bad as their 3-6 record leads you to believe. They should have won last week. Texas Tech only beat the Buffs by three in Boulder. Keep in mind that this team took a solid Baylor squad to the wire back on Oct. 16.
All week long, all everyone has discussed is Colorado's coaching situation. How will that affect the Buffs? Is that a bad thing for Iowa State? Does it help the Cyclones?
Here's what we should be talking about. How will Iowa State respond after one of the most heart-breaking losses in school history?
Games like this are when coaching and leadership are most important. That's why I like the Cyclones in this one. I have a lot of trust in Paul Rhoads and the senior leaders on this football team.
PREDICTION
Iowa State 27, Colorado 24