By Chris Williams, CycloneFanatic.com Publisher
Iowa State vs. #15 Missouri
Saturday, Nov. 20 – 6 p.m., Jack Trice Stadium
Fox Sports Net – Cyclone Radio Network
The 2010 Iowa State football season has been a doozy. The craziness all began back in July. Despite a wealth of experience returning on the offensive side of the football, very few gave the Cyclones much of a chance to do anything this year. A bowl game was a pipe dream. I picked Iowa State to go 6-6 back in August. Many called me a homer.
Heading into week 12, the 15th ranked Missouri Tigers are Iowa State's only obstacle from returning to the promise land that is college football's post-season for the second season in a row.
The Cyclones are due for a win right? Or maybe they are simply out of gas after last week's debacle in Boulder.
We all saw what emotion can do for a football team last week. Colorado played its best game of the season all because of Dan Hawkins got canned (not fired) earlier in the week.
Iowa State's emotional leader (Austen Arnaud) is down. This team has bounced back when you least expected it in the past. It is Senior Day in Ames and I'll guarantee that you'll see a passionate fight from the Cyclones tomorrow night.
But will that be enough?
This resilient bunch has one more chance to sock you sideways. What will they do with it?
Tiller's Time
I'm going to step away from my regular "final look" model today. This specific storyline for tomorrow's game is too big to not give its own section to. You all should know by now that Austen Arnaud is out with a serious knee injury. That means that it is redshirt sophomore Jerome Tiller's time to shine.
Tiller is an intriguing story. Here's a guy who led the Cyclones in one of the program's biggest wins of all-time last season in Lincoln. Despite that, many (including myself) still question if he is the right quarterback to lead the program going forward.
I'm not sure if that is Jerome Tiller's fault either.
Let's be fair to the young man here.
Tiller has seen plenty of action over the last two seasons. But it seems like every time he is out there, offensive coordinator Tom Herman keeps a tight leash on the potentially elusive sophomore. Is that because of feelings that the staff has about Tiller's game or has it been that Tiller has never truly been the man in Ames?
He is the man now. Austen Arnaud will continue to be an emotional leader from the sidelines, but that only takes you so far.
How will Tiller respond to finally being THE guy? Will he flourish or will things stay the same? Most importantly, what will Iowa State's coaching staff allow him to do? How much do they actually trust Jerome Tiller?
Telling Tiller to go out and manage the game won't work against Missouri like it did in Lincoln a season ago. In that game, Nebraska's offense was pitiful. This Missouri offense is legit with arguably the Big 12's best quarterback at the helm.
I don't want to put too much pressure on the young man but we could all learn a lot about the future of this football program, at least at the quarterback position, on Saturday night inside of a cold Jack Trice Stadium.
Having said that, the only way that Tiller will be successful is if his teammates play the game of their lives. He's going to need some help and that all starts with running the football.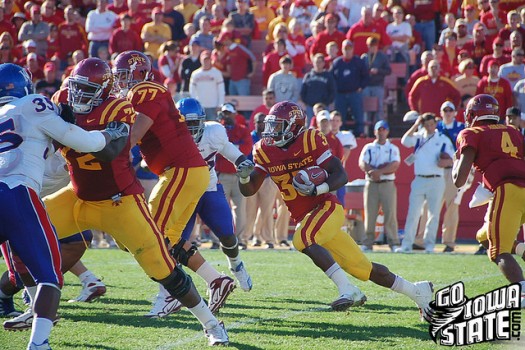 IOWA STATE'S OFFENSE VS. MISSOURI'S DEFENSE
A lot of things went wrong for the Cyclones offensively last week in Boulder. It all started up front though. Iowa State couldn't run the football against a very average (maybe below) Colorado defensive line. I still have no clue how things went down the way they did. The Cyclones netted 157 rushing yards against Nebraska but got shut out for -6 against the Buffs? Iowa State's quarterbacks were sacked eight times in the loss and the game as a whole was nothing short of a disaster.
Right tackle Brayden Burris got dinged up in the loss and heading into tomorrow, I can't help but wonder how healthy Iowa State's offensive line actually is. If they are going to struggle, it might be a bit of a blessing that Tiller will be the quarterback. Tiller ran for his life during his time in the ball game last Saturday and I firmly believe it was the best football we have ever seen him play. It'd be advantageous for all to not make a habit of that though.
Here is the issue folks. Missouri's defense is a lot better than Colorado's. In fact, it might be the best D that Gary Pinkel has ever had during his tenure in Columbia. The Tigers are athletic. They create a lot of turnovers and they put a lot of pressure on opposing quarterbacks.
For Jerome Tiller and this offense to have any success at all, the offensive line has to play their best game of the season. Ben Lamaak and his boys need to dominate Missouri's front four. Alexander Robinson needs to run for over 100 yards and Tiller needs to chip in with 50 or more.
At the end of the day, Iowa State's offense needs to go out and win this football game. Missouri's offense will score points. That is a guarantee. The Cyclone offense needs to take the game. This is where Jerome Tiller has a lot to prove.
IOWA STATE'S DEFENSE VS. MISSOURI'S OFFENSE
Like most quarterbacks, Blaine Gabbert doesn't play well when he is under pressure. Iowa State's defensive line essentially took a week off last Saturday in Boulder (they didn't record one quarterback hurry) and for this team to have a chance at an upset, we'll need to see a reemergence of Jacob Lattimer and that group of mad men who made their debut in Austin a little over a month ago.
That's how Texas Tech beat Missouri back on Nov. 6. The Raiders made Gabbert uncomfortable in the pocket and in return, he went 12-of-30 in the game for 95 yards. This made the Tigers a running football team as they racked up 260 yards on the ground in that contest. That's all fine and dandy for most programs but not this Missouri roster. They are a passing team. That is their bread and butter.
If Blaine Gabbert is having an off night, Iowa State's chances of pulling this upset will skyrocket.
KEY CYCLONE STORYLINES
–       Missouri has lost their last two road games to Nebraska and Texas Tech. This is only their fourth true road game of the season.
–       Alexander Robinson ran for 120, 117 and 114 yards against Texas, Kansas and Nebraska. Iowa State played well in every one of those football games. Last week, Iowa State's senior running back ran for a whopping 24 yards at Colorado. We all know what happened there. A-Rob needs 113 yards to reach 1,000 on the season and with a backup quarterback at the helm, his production is that much more important.
–       Will Iowa State blitz more than normal in an attempt to pressure on Blaine Gabbert?
–       How does Jerome Tiller play? Even if Iowa State loses the game, does he show potential for the future? What is the play calling like with Tiller in the game?
PREDICTION
I'm not going to pick Iowa State to win on Saturday. There are just too many questions on offense for me to go that route. However, I will say this. I guarantee you that Paul Rhoads will have this team fired up and ready to play. Games like these are when Rhoads and his staff shine the brightest. They'll prove that again but unfortunately, I see us all spending New Years in Iowa.
THE PICK
Missouri 27, Iowa State 20