By Chris Williams, CycloneFanatic.com Publisher
Fred Hoiberg is undefeated as Iowa State's head basketball coach. Smile. Maybe even laugh. That was supposed to be a joke.
The 2010-11 Cyclone basketball season tipped off adequately on Friday night. Jamie Vanderbeken led the way with 23 points and the Cyclones defeated a team who some are picking to win the Big Sky Conference in Northern Arizona, 78-64.
When I wrote my preview for this game on Thursday, I tabbed Iowa State to win by only five. I was pleasantly surprised with what I saw from the Cyclones in this one. Northern Arizona started five seniors and Iowa State made them look like a bunch of rookies.
Below are my awards/notes from the contest.
LISTEN: NAU Post Game Press Conference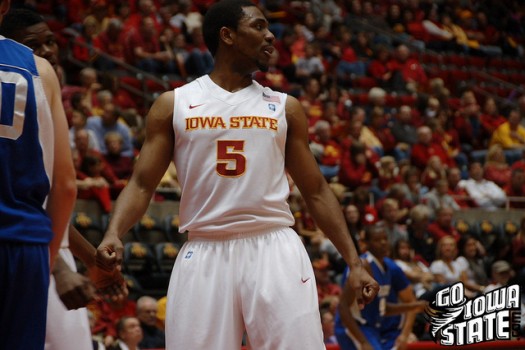 PLAYER OF THE GAME
Jake Anderson (above) – He didn't score a point in the first half but Jake Anderson was Iowa State's most valuable player in this win. Anderson accomplished something major that didn't show up in the box score. He was in charge of defending Northern Arizona's best player, Cameron Jones (a unanimous All-Big Sky pick), who didn't score a single point in the first half.
"He just did a phenomenal job," Fred Hoiberg said after the game. "He was all over the place. He took one shot at halftime and you could argue that he was our most valuable player."
Anderson finished the game with 15 points and eight rebounds, all while going 7-for-9 from the field. He dished out five assists too.
THREE UP
Diante's Jump Shot – I was a little freaked out while watching the first half of this basketball game. It was almost as if Dwyane Wade somehow snuck into Diante Garrett's body. Not only was Garrett 6-of-9 from the field during the first 20 minutes of play, but Diante tacked on some additional style points as well. Garrett ended the game with 19 points and seven assists. Color me impressed DG.
Vanderbeken – Going into Friday night's game, Jamie Vanderbeken's scoring career-high was 15 points. The 6-foot-11 senior had 20 points at halftime. Vanderbeken led Iowa State in scoring with 23 points, while going 6-of-11 from the field. Don't plan on JVB being that wide open much this season. But as he proved tonight, if you give him that shot, he will make you pay.
First Half Defense – Iowa State held Northern Arizona to 7-of-26 from the field in the first half. The Lumberjacks were 1-of-7 from 3-point range and turned the ball over 12 times during that 20 minutes of play.
THREE DOWN
Attendance – The crowd wasn't bad on Friday night but I thought it would be better for the Mayor's first game as Iowa State's head coach. I'd say that Hilton Coliseum was half full. The announced attendance was 12,886. Having said that, I was impressed by the energy that the fans who were there brought to the arena. Friday nights are tough for a lot of people and I bet a good chunk of season ticket holders are in Boulder for the football game. Hopefully this place will be hopping when Drake comes to town on Wednesday.
Frontcourt Offense – I love watching Iowa State sling 3-pointers as much as the next guy but eventually, this team is going to have to develop some sort of a frontcourt threat. Only four of Iowa State's 35 halftime points came inside the paint. When you're feeling it from downtown in the season opener against Northern Arizona, go for it. It is exactly what Fred Hoiberg told us to expect. Going forward though, I'd like to see some of these frontcourt guys start to develop just a little bit. I'm not expecting much. It was one game. Here's the positive spin to this. Iowa State had four points in the paint in the first half. Keep in mind that during that half of hoops, Melvin Ejim only played three minutes because he was in foul trouble. The Cyclones got better in the second half as they scored 24 points in the paint. You are who you are. This is a backcourt-oriented basketball team. They will shoot a lot of 3's this year. Get used to it.
Northern Arizona – I sincerely apologize for telling you all week long how tough of a game this was going to be for Iowa State. If I caused you to have any sort of an anxiety attack at all, this is my apology. The fact that Northern Arizona started five seniors scared me and I wasn't alone.
"I was very worried about this game," said Hoiberg. "They have grown as a team. Cameron Jones is a great player. That kid could play for anybody in the country. He is that good. I was concerned about this game. It is a team that I think has a chance to win that league this year."
NOTEBOOK
–       Diante Garrett and Jamie Vanderbeken combined to score all of Iowa State's 35 first half points.
–       Iowa State is now 9-1 all-time vs. Big Sky opponents.
–       Melvin Ejim is the 19th freshman in Iowa State history to start his season-opener. Ejim had 10 points and four rebounds in his debut.
–       Diante Garrett's three 3-pointers tied a career high.
–       Fred Hoiberg has never lost a game as Iowa State's head basketball coach (though true, this was a joke).
–       Northern Arizona out-rebounded Iowa State 37-35.
WHO'S NEXT?
Iowa State (1-0) vs. Alabama State (0-1)
Sunday, 1 p.m. @ Hilton Coliseum
Alabama State lost to former Iowa State head coach Greg McDermott and the Creighton Blue Jays on Friday night by a 71-57 final. Creighton only led that game by three points at halftime. In the loss, Alabama State didn't have one player reach double-digit points. To learn more, I'll have a preview for the Iowa State – Alabama State game up on the site sometime on Saturday.