By Chris Williams, CycloneFanatic.com Publisher
Okay, so I realize that this mailbag is a week late and I really am sorry about that fanatics. To say that the last 14 days have been crazy would be a massive understatement. Still, that is no excuse. You want your mailbag and you want it on time. I promise to try harder from here on out.
Anyway, kickoff is tomorrow. I'm jacked up. I'm sure that you are too. I'll answer the questions from last week that are still relevant today. Sound good? Let's rock.
CRcyclone6 writes: Other than ISU vs Northern Illinois, what game next weekend are you really looking forward to and why?
CW: If the Cyclones weren't playing at the same time, I would tell you Pitt-Utah. I'm just really interested in watching that Utah team play to see how they'll stack up against the Clones in October. But since I won't be able to watch that, let's dive into Saturday's games. Obviously, I'll keep a close eye on Iowa's pillow fight with Eastern Illinois. I doubt that we'll learn much about the Hawks though. UCLA @ Kansas State intrigues me for obvious reasons. For the record, I hope that the Bruins absolutely destroy Kansas State. Selfishly, I am looking forward to Samford @ Florida State. A Seminoles game without Bobby Bowden will be a tough thing to watch. Oregon State @ TCU should be good and on Monday, we'll all be tuning into Boise State and Virginia Tech as national title implications will be on the line. It should be a great opening weekend.
GeronimusClone writes: Has the flooding totally washed off the stench of the previous coaching era at Hilton?
CW: Let it go man. Just let it go.
Wesley writes: What is the real scoop on Jeff Grayer? He wanted a bigger role than he would be allowed? He was not allowed to recruit?
Will we be recruiting Michigan now?
CW: Greg McDermott originally hired Jeff Grayer as an assistant coach. As I understand it, Fred Hoiberg moved Grayer to an administrative role and no, he wouldn't be able to recruit in that capacity. I'm not slighting Jeff Grayer here. The man is a Cyclone legend. But he also had nothing to do with Chris Allen coming to Ames, contrary to what many people might think. If he wants to coach and recruit, then no, Iowa State isn't going to be the best place for Jeff right now. It is a shame that things didn't work out but hey, maybe someday they will. I have no idea about your Michigan question. I imagine that you'll see a healthy dose of Wisconsin, California and other areas that we've seen in the past with T.J. Otzelberger still on board.
ISUFever writes: Who would you want to be for just one day?
1.) Massage therapist for Taylor Swift
2.) NASCAR pit reporter at Bristol
3.) Kenan Thompson in the What's Up with Dat skit
4.) The man known as SPARTACUS
CW: Let me ask you a question ISUFever. Do you believe that is the best question in the history of the CF mailbag? Easy answer. It absolutely is the best. Congrats. Okay. Let's break this down.
1) That is very intriguing. Two issues immediately come to mind though. The first is the fact that I am now married. While my wife is very aware of my very transparent crush on T-Swift, I don't think that she'd be too understanding of me rubbing the country star down for a massage. The second reason I'd have to opt for one of the others is the fact that if I went with this option, it would be a tad bit creepy would it not? I don't want to be that guy. Let's move on.
2) True story. That used to be the dream. When I went to college, I wanted to work in the racing industry. Being a pit reporter at NASCAR's top level used to be the big thing for me. However, things change. NASCAR stiffed during the summer of my sophomore year of college. In my mind, I was clearly more qualified for this internship down in Daytona than a girl who got it. The fact that I was a white male didn't exactly help me out in this situation if that makes sense to you. So just a little while later, I happened to meet the people at CycloneNation.com. They got me going with that and bam. Here we are today. I am pretty happy with this too so I might have to pass. We'll see.
3) Half of the people reading this probably have no clue what this is. Here's a video for those of you who aren't SNL regulars like myself.
I don't care who you are. That's funny.
4) YES! Now we have a winner. I think that it is every man's dream to be Spartacus. Is it not? I do see a few issues. The first is the fact that I literally could die, every single moment of every single day. That is a heck of a lot of stress. The second issue I see is that his wife is dead. I wish that upon no man. BUT, he is still SPARTACUS. Rumor has it that the God's favor him. Again, we have a winner. Of the four, I choose to be Spartacus. Thanks for writing.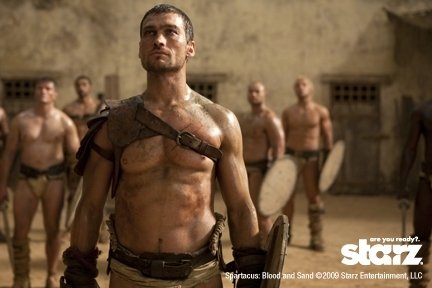 Ms3r4ISU writes: What are the rules for designating a CF thread as official? Do you get extra credits for starting an official thread? Coupons? A free CF tee-shirt sporting Jimlad?
I'd like to see one of those "skylight" kind of things (think Batman) with the CF symbol during night football games. Any chance of that happening?
CW: You have outdone yourselves today fanatics. Here's another zinger. Well done Ms3r4ISU. I freaking love the CF symbol (like Batman's) over Jack Trice Stadium during football games. That is awesome! I am going to put a note into Jamie Pollard right now. Don't worry..I'll give you the credit Ms3r4ISU.
As for the official rules of making a CF thread official, there are none. That's what makes the official threads so unofficial. Anybody can start one. However, I prefer and official thread to be marked with these things ***. Get it? Then, it stands out more. The real question is, who will start tomorrows official game thread, officially at CycloneFanatic.com? What do you think?
ZJohnson writes: Godfrey made it to campus, has/will the NCAA clear(ed) him to play?
CW: No ruling has been made yet but I'm hearing that Iowa State should know something "any day."
Wesley writes: Who will score the first TD this year?
CW: Bo Williams. (JIMLAD) I'll go with Austen Arnaud on 11-yard touchdown run.
JCloned writes: Thursday night game = compressed tailgating time. What is on the grill for the first game of the season? Follow up? New Iowa State item will you be bringing for this years tailgating or wearing this year?
CW: Solid questions. I have a couple of issues though. I don't really get to tailgate anymore. I walk around the lots a lot. I'll be doing the pregame show before every home game except for tomorrows. I'll also be doing promotional stuff with Wilson Toyota quite a bit. I'll pretend for a minute that I could tailgate tomorrow. I'd go with ole reliable JCloned. The bratwurst. To me, the key to a good bratwurst is a good bun. You can't go with a cheap bun while eating a brat. It has to be a good, thick wheat bun. Mustard is also a key. That's what I'd do. I will be sporting some new CycloneFanatic.com gear that you'll too be able to buy in the CycloneFanatic.com online store here in a matter of days. (Shameless plug.)
MNCyGuy writes: What single-game ticket is going to be the best bang for my buck this year? The ticket office has apparently shut down the long standing tradition of band alumni getting current members to buy them student tickets and I am forced to buy actual grown-up tickets now. I'm for sure going to UNI as it's been designated the official roommate reunion tailgate, but if I can only swing one other game this year, what's the one to see?
CW: I would go to the Texas Tech or Utah game. Both programs bring an exciting brand of football to the table. With Tech, you have their coaching change storyline to follow. With Utah, that's a prominent national power coming into town. Like I wrote last week, I think that Iowa State absolutely has to win one of those two games to get to a bowl game. Don't sleep on the Nebraska game either. Upsetting the Huskers in what is possibly the last time the two teams meet would be a great memory that would last a lifetime.