By Chris Williams, CycloneFanatic.com PublisherFollow Chris on Twitter @ChrisMWilliams  
Happy Friday Cyclone Nation. It's mail time! You all submitted some really good questions this week so I don't have time to mess around with some fancy and/or lame intro. Let's start with the obvious one from Clonecones.
Clonecones writes: Who has the best shot of landing the QB job after the spring game?
CW: I honestly have no clue. I went into the spring thinking without much doubt that Jared Barnett would be the man. However, the longer that the spring went on, the more I started to think that Steele Jantz has a legitimate shot to be the guy. Gun to my head right now on April 20? Give me Jantz, but I'm at about 51 percent to Barnett's 49. They both have different strengths. I think that Jantz has a higher ceiling physically but I love Barnett's leadership ability. At the end of the day, they both have to be better decision makers and turn the football over less than they did a year ago.
Kfitzy87 writes: Does Shontrelle Johnson ever lead the team in yards during his career here with his injury problems and the talented newcomers in the system?
CW: Yes. Yes he does. People who would know tell me that Shontrelle is without a doubt the best back on Iowa State's roster. If he comes back, he'll be at 100 percent. Shontrelle and Paul Rhoads won't have it any other way. Now that's not saying that DeVondrick Nealy and Rob Standard won't have great careers at Iowa State. I think that over the last three years, we've seen that Rhoads and running backs coach Ken Pope love the running back by committee approach. More and more programs are doing this anymore and that will probably always be the case at Iowa State but as long as Johnson is healthy, he'll lead the team in rushing every year he is in uniform. That's my opinion at least.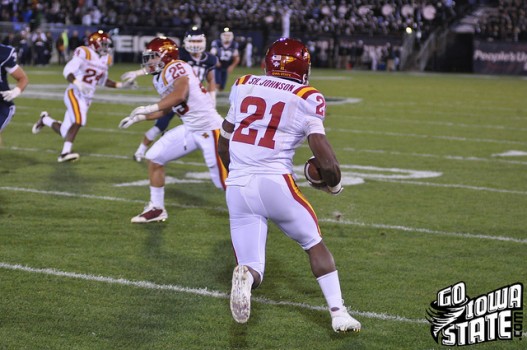 CloneFan32 writes: Do you think the Athletics Department should do more to advertise the Spring Game, or are they wise to downplay it?
CW: This is a fantastic question. It's so great that I don't even know the answer to it (I'm a know it all, I know). I've never understood this either. Any time that you can get thousands of people together to celebrate Iowa State football outside of the season itself, it's a great opportunity to grow the fan base. It's free to get into the spring game. Think about some less fortunate families in the area who can bring the kids for an afternoon of football who just can't do that on a fall Saturday? Those could be future Cyclones who then become students and then wealthy members of society who can donate the big bucks in 20 years! I know. I just took that too far but you get my point. I've never understood why Iowa State doesn't draw more fans for the spring game. I'm not saying that Iowa State should try to compare itself to Nebraska or any of those fanatical institutions in the game but still, 10,000 plus shouldn't be a hard number to hit.
Having said all of that, Iowa State's marketing department really is fantastic. When you think about all of the outside the box type of things that Iowa State does like Cy's House of Trivia, the tailgate tour, etc., it's hard to come down on them for much of anything, especially something as minor as the spring game.
That's where we come in though. For CycloneFanatic.com, the spring game represents a huge day. We put on an hour and a half pregame show for God's sake! Don't worry diehards. We're hear for you. Next.
Erikbj writes: Are the last 2 basketball scholarships going to be used? If you had to bet $1,000, who would you bet on getting them?
CW: A thousand bucks huh? What exactly do you think that I get paid by this site anyway?
I'd bet decent money that Bubu Palo is one of those guys. The other? Heck, I don't know. Trent Lockett is just dangling out there but I still think that's a 50-50 situation at best. Other than Norvel Pelle, there really aren't many 2012 names floating around out there. Actually, I think there's a better chance that Jarrod Uthoff ends up at Iowa State than Pelle, which leads us to…
WallenIzBallin writes: Someone has to do it… Chances we last Norvel Pelle?
CW: I'm trying to figure out the best way to put this………..Simmer down fanatics. Simmer. Down. There's no question that Norvel Pelle is an extremely talented basketball player. You don't become as highly ranked as he was out of high school without having some serious game correct? Think about this though….Why doesn't a player that talented have more offers?
Could he end up in Ames? Absolutely. In fact, I'm hearing that he plans on visiting in June. He's got to get his academics in order though. If he cleans that area of his game up, then it we'll see. But at this point in time, do yourself a favor and don't get too worked up over this story.
ISUKing writes: Its been posted on here quite frequently but have there been any real rumblings of bringing back a Midnight Madness for basketball?
CW: Iowa State should have done this last year. As far as I know, there were talks but this dialogue obviously didn't go anywhere. You want to know why Iowa State is the perfect school for Midnight Madness? It's because a large number of fans at Iowa State care as much (in some cases more) about the women's team as they do the mens. That's a stone cold fact too. Iowa State could incorporate the women's program and the fans would love it! With coaches as beloved as Fred Hoiberg and Bill Fennelly, this seems like a no-brainer from where I sit. Unfortunately, my opinion doesn't mean much.
brentblum writes: Better Drama…"The OC" or "Spartacus"? 2nd part of the question: If The OC characters were gladiators on Spartacus, who would be the first to get "eliminated"? I'm going with Marissa Cooper, she was softer than Kwame Brown. Thoughts?
CW: This question could be the end of me. I could write an entire book about this debate. Is that really awesome or really sad? Anywhoo, I'll get it out of the way now by stating that the Spartacus on Starz is the greatest series in the history of television. I dare you to debate me on that too. This third season with the new Spartacus (rest in piece Andy Whitfield) started off a little slow but ended with a serious vengeance (get it?).
Better drama? As life changing as "The OC" was (groups of friends used to gather during college to watch this amazing television show), Spartacus is better.
Now to the second part of your question (by the way Blum, if you're reading this – this is podcast material). Give me a minute while I Google "The O.C." cast (Googling…..).
Seth Cohen would be the first one eliminated. He's always been a weak link. He was a crowd favorite but I never really cared for the guy. Ryan (who just might win the whole damn thing) would do everything in his power to protect his best friend but in the end, it all means nothing once you step inside the arena.
Second out is Luke Ward from season No. 1. Remember that guy? He was Marissa's boyfriend. What happened is that Luke went straight for Ryan's (the guy who stole his girl) heart and hunted down Seth from the start….Seth had no chance. Ryan didn't take this well and…
Third out is Julie Cooper. Her daughter (who always had it out for her mother) Marissa took mom out the first chance that she got.
Next out is Caleb Nicole…He's an old man and couldn't hack all the violence. He had a heart attack in the arena.
See ya Summer. She just got eliminated by Taylor (she showed up in season 3), who was then knocked out by Marissa, who was seeking revenge on behalf of her best friend (Summer).
We're down to the final four. Ryan, Marissa and Sandy/Kirsten Cohen. What's Ryan to do? It's the people who took him off the streets and his girlfriend…Ryan is clearly the strongest, experienced and most rugged of the four. He could win this with both arms tied behind his back…
But surprisingly in one fierce movement, Marissa eliminates both Cohens, beheading Sandy along the way…That ruthless vixen.
It's now down to Ryan and Marissa. How fitting. The crowd is chanting "Ryan, Ryan, Ryan." He's street tough. The Titanic was once thought to be incapable of sinking. Ryan is incapable of losing in the arena. He is to "The O.C." as Crixus is to "Spartacus." A true warrior.
Wrong. While Ryan is acknowledging the crowd (as all champions inside of the arena do), Marissa (who I never trusted to begin with) stabs him in the back to become champion.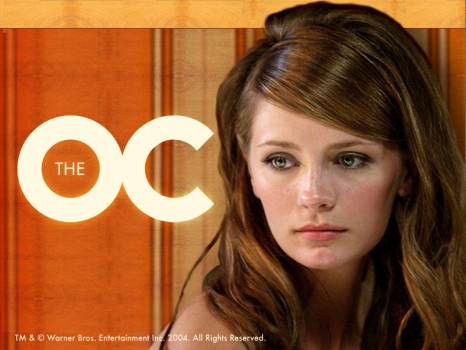 VikesFan4Ever28 writes: This is my first off season on CF. What tips do you have for me?
CW: There's no such thing as an "offseason" in college athletics my friend. That's the cool thing about CycloneFanatic.com. You want to advertise with us? We never go off the air. We never close. 365-24/7, CycloneFanatic.com is always open. Who else can offer that?
ISUCubswin writes: Any vacations planned this offseason?
CW: I'll be heading to the Lake of the Ozarks with my family in July. We do this every year. Love it. I think I might go kayaking in Minnesota with some friends at some point too.