By Chris Williams, CycloneFanatic.com Publisher
Happy Thursday Cyclone Fanatics! I can tell that we are in the middle of summer by your questions this week. A lot of country music and football questions were tossed my way. I assume that the country music inquiries are here because you are bored. The football? Well that's because you are amped up for Sept. 2. Let's start things off with a Royce White comment from RhoadsRage.
RhoadsRage writes: In your opinion, does Royce White play 0,1,2,3, or 4 years at ISU?
CW: This is my theory on Royce. If I had to guess, I would anticipate him being in Ames for two seasons, regardless of his eligibility this fall. So if he has to sit out a year, I see him missing one season and playing the other. If he can participate in the 2010-11 campaign, I see him playing in a Cyclone uniform for two seasons. From what I hear, he is that talented. He's an early-entry type of guy. Look at it this way. If Royce White ends up playing for Iowa State and has the opportunity to go pro early, that means he is doing something right which in return, would be a great thing for the program.
Isuaggie writes: Why do you think there is still a job posting for an Associate/Assistant Mens Basketball coach? Is Grayer still going to be an assistant or be on the staff "in some capacity" as we've heard Coach Hoiberg say before?
CW: I don't know any specifics about this, other than the fact that Grayer is listed as an assistant coach on cyclones.com and that he is in Ames. Could the staff be reshuffled at some point? Sure. Fred Hoiberg can do anything that he wants. It is his program. Really, that is all I can tell you. I know that Hoiberg is going to lean on Grayer to mentor Royce White. He mentioned that in a teleconference on Monday.
Azn4cy writes: CW, What's your take on "The Decision"? And also, why didn't you run a one hour special to announce The Ridgemont as the new CF sponsor? You screwed the Boys and Girls club out of some serious dough.
CW: My thoughts on the "decision" have gone back and forth for the past week. At first, I was angry. I originally thought that this "super team" in Miami would be terrible for the sport. But then, I pondered this a little bit more. I thought to myself, "could the NBA really get any worse?" The answer to that question is no. I then thought about how I have watched more NBA related program over the past two weeks than I have in the past two years. This stuff interests me. So does this new Miami Heat roster. In the past, I've loved the Chicago Bulls and everything else in that league has been irrelevant to me. Now, I hate that Heat team so much, it is going to make me care about the NBA again. So is this really a bad thing for basketball? My mind has sort of shifted on the issue.
Rworkman83 writes: Assuming you don't have them already, what would you get as your customized Iowa State License Plates?
CW: I actually already have some. My parents gave me these plates as a Christmas gift like four years ago. PM me and I will tell you what they are. Something about telling everyone about my license plate information makes me uncomfortable.
Coachdags writes: Excluding Cy and your love for the Philly Phantic….What Mascot could we ever expect you to jump into a costume and perform…..? Professional or College
CW: First of all, I despise the Philly Phanatic.
This is a fun question for me to answer. Here's a quick story about when I interned with Keith Murphy at WHO-TV 13 back in college. Well one night, Keith gave me a pretty common assignment of heading over to Principal Park to shoot some Iowa Cubs highlights. Normally, I would be sent there to you know, shoot the actual game. Not this night.
"The San Diego Chicken is in town," Murphy said with an elated look on his face. "Just shoot the chicken."
"What do you mean, just shoot the chicken?" I asked, frazzled and confused.
Murphy repeated his instructions to film the chicken, and only the chicken.
Sure enough, I went to the ballpark and got about 20 minutes of the San Diego Chicken doing his thing. As a matter of fact, I think it was some of the best work I did all summer long. We put together a hell of a feature on that giant orange bird. Murphy's passion for the San Diego Chicken rubbed off on me. Besides Cy, the San Diego Chicken is what I strive to be in the Internet journalism world, every day here at CycloneFanatic.com.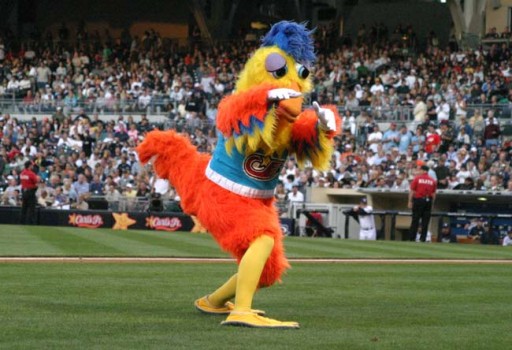 Istater7 writes: favorite/best Eric Church song?
CW: This is a no-brainer for me. "Guys Like Me" has been one of my favorite songs since the first time I heard it. It is classic Church. A little trendy? Maybe but to me, that song never gets old.
Clones21 writes: What's your favorite part of JTS Game day Festivities?
CW: I love like 20 minutes before kickoff. Iowa State's band is awesome. Just the atmosphere before kickoff gets me jacked up. The team entering the stadium, J-Squared with his "LET'S GO CYCLONES" chants on the 50-yard line. All are good times in my opinion.
MNCyGuy writes: Did you do gifts for your groomsmen? My fiancée thinks that I need to, but I have no ideas. Any suggestions? Not necessarily looking for something Cyclone related, but they are all recent ISU-grads so that is an option.
CW: I actually got my groomsmen mason jars with their names on them and the wedding date for a gift. I also purchased like 20 Busch Light 40's for the night before the wedding for the boys to take down, responsibly of course. I don't remember what site I used to order the mason jars but just Google it and over a dozen of them will pop up. It is a cool, affordable gift that went over very well.
Chadm writes: Since you are a newlywed, any suggestion for cycloneworld on the wedding since he just got engaged?
CW: Don't take the planning too seriously. Regardless of how prepared you are, something is going to go wrong. My boy Brent Blum and I spend like six hours making a slide show for before the wedding. It worked at the rehearsal. We got to the church the day of the wedding and bam, their video board went out. Just try to have fun with it. Oh yeah, one more thing. Thanks to one of the owners of this website, Matt Lazear, I did get my wife a card/gift for the day of the wedding. I knew nothing about this. I said to Matt, "you mean the ring isn't enough?" Thank God Matt decided to text me the day before to hand out this tip. She got me like five cards and a gift. If it weren't for Matt (who got married last October), I would have been in some serious trouble.
What is your prediction for ISU football this year?
CW: I will give my official prediction sometime in August. I don't have all of the information needed to go out on a limb at this point. Thanks for asking though.
SuperCy writes: I'll admit that I haven't followed this or even know if there is anything to follow. What, if anything, is the next renovation to Jack Trice or Hilton?
CW: I honestly do not know the answer to this question. I haven't heard anything as of late.
Isucyfan writes: Women bodybuilders…attractive or repulsive?
CW: Repulsive.
MLawrence writes: Do you think the Cyclone offense for this upcoming season is built for a power running game or more of a finesse style throwing? Last year, I like how the coaching staff was smart enough and didn't try to fit a square peg in a round hole by sticking with the running game and not forcing the passing game. Maybe it is a good thing to have a Mensa member as an offensive coordinator.
CW: I think that this offense is set up to be very balanced. Iowa State was the third best rushing team in the Big 12 last season, averaging 180 yards per game in that category. That ranked the Cyclones 35th nationally. Scott Haughton and Reggie Stephens are gone. There is no question in my mind that Ben Lamaak will fill in for Stephens and not miss a beat. Haughton is a big loss, but sources tell me that Hayworth Hicks will step in admirably. Really, Iowa State's rushing attack isn't missing anybody else. The group of running backs is much deeper and hopefully, Alexander Robinson will stay healthy.