By Chris Williams, CycloneFanatic.com Publisher
Greetings Cyclone fans! Happy Friday. I've got a lot of little notes/thoughts to get to today after attending Iowa State's one and only open football practice yesterday. Let's get going with a football personnel update.
Nelson to redshirt, a look at 2011
Yesterday, we got the news that Rony Nelson is being forced to redshirt this season. That means that he'll be a junior, with two years of eligibility starting in 2011.
Before I get to my point, I need to go on a rant here for a minute. How a guy is "academically eligible" but not able to play really messes with my mind. Rony Nelson did everything that Iowa State and the NCAA asked him to do. But the Big 12 swooped in the day camp started and said that he can't play and that he has to prove himself in the classroom? Wait a second here. Didn't he prove himself over the summer when he got caught up academically? By saying that he is academically eligible, aren't you saying that he has done everything asked of him to participate? I don't get it.
Nonetheless, it is now time to look ahead. Tell me if I am crazy by asking this okay.
Is Iowa State's defensive line going to be a strength in 2011? Rashawn Parker and Taylor Mansfield are the only members of the current two-deep that the program will lose.
Here's a look at what your defensive line could look like for Iowa State when the 2011 camp begins. These are just potential starters, not going any deeper than that.
LE: Patrick Neal (Sr.) or Roosevelt Maggitt (Jr.)
DT: Jake McDonough (Jr.)
NG: Stephen Ruempolhamer (Sr.)
RE: Rony Nelson (Jr.)
With another year of development, that line wouldn't be that bad, especially if McDonough and Ruempolhamer turn into the players that I've heard they can potentially be.
And don't sleep on Patrick Neal fanatics. In a way, Neal reminds me of former Cyclone linebacker Jesse Smith. The talent level isn't there compared to many. But hard work and dedication will pay off in the end. Numerous people have told me that Neal is one of, if not the hardest working guys on Iowa State's roster. He doesn't get a lot of credit, but I predict Patrick Neal to turn a lot of heads this season.
Sims focused
David Sims will miss the Northern Illinois game. This is old news. I happened to stand right beside the Big 12's defending Defensive Newcomer of the Year at one point during yesterday's workout. Would you believe me if I told you he has gotten bigger? Really, he has. Sims' arms sizes rival that of Buff Bagwell of the old nWo. I bet you've never heard that reference on CF. He looked focused out on the field yesterday afternoon. Just based off of his track record, I'll be surprised if Sims isn't 100 percent focused and ready to go come Sept. 11 in Iowa City.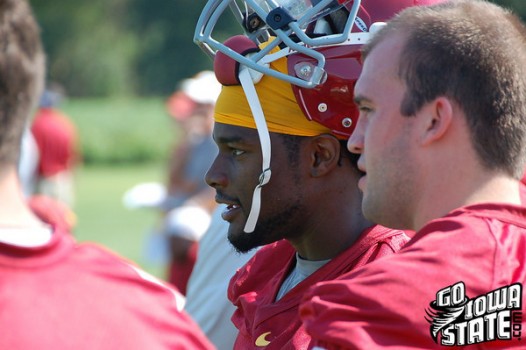 Quick hits from yesterday
–       Shontrelle Johnson will grab all of the headlines. That is to be expected. But yesterday, I kept a close eye on the other running back in Iowa State's 2010 recruiting class, Duran Hollis. I liked what I saw. At the very least, he passed the eye test. I'm not really sure if that means anything or not. Only time will tell.
–       I think that we are all getting too hung up on who the backup to Alexander Robinson will be on Sept. 2. Sure, there has to be a guy at number two on the depth chart, but I fully expect Iowa State to run three or four players out there to platoon, giving A-Rob some rest that just might keep him healthy. Whether if it is Jeff Woody, Beau Blankenship, James White, Johnson or Hollis, it doesn't really matter. Ideally, one of the two freshmen will redshirt. But if they're better than the others, they should play. Depth will not be a problem at running back for Iowa State.
–       The same goes for the wide receiver position. That was very clear to me at practice yesterday. Behind Robinson, Jake Williams might be the most underrated player on Iowa State's roster in my opinion. Darius Darks, Darius Reynolds and Sedrick Johnson all looked to be back to their old, healthy selves again. Josh Lenz has proven to be a contributor. Meanwhile, Keith Blanton, Lonzie Range and Donnie Jennert are all waiting for opportunities. Don't forget about Albert Gary, Chris Young and Jarvis West
. I could see any of those three getting playing time this season in Ames.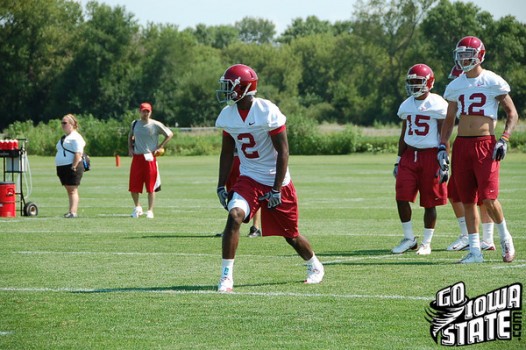 –       I will be surprised if Jeremiah George isn't on the two-deeps at linebacker by the time Sept. 2 rolls around. Rhoads called him a "future captain" on Wednesday. That's high praise right there considering George had never even completed a practice at the time.
–       I'm not surprised that Jon Caspers is going to redshirt this season. He told media members on signing day that this was his intention. Rhoads confirmed it on Wednesday during his press conference. Caspers is the first JUCO prospect I've ever talked to that openly said he looks forward to redshirting.