By Chris Williams, CycloneFanatic.com Publisher
Good day Cyclone fanatics. Have you backed away from the cliff after last Saturday's loss? I hope so. That was a pretty epic meltdown we encounter here on the site after the Kansas State game. It was borderline ridiculous. Don't worry about it though. I totally understand and love you for it. Unfortunately,  that negativity has carried over to this week's mailbag too. I guess we'll get things going with a question from Clones85'.
Clones85' writes: We are now in year 2 of the Coach Rhoads era. Is this how you expected Coach Herman's offense to run? Are you surprised with how vanilla our offense is? Do you think he is holding back on the offense? If so, is it because of personal or because that is what Rhoads wants him to do?
CW: First of all, no, this isn't what I expected from this offense. But unlike the majority of Iowa State's vocal fan base, I refuse to point fingers at one or two guys. I think that it all starts up front. Cyclone fans across the map should all realize how much this team misses Reggie Stephens and Scott Haughton right about now. Reggie is in the NFL. In my opinion, Haughton would have been a pro had he stayed on the team. That's just where it starts though. The line isn't as good. Therefore the running game has suffered. And, Alexander Robinson sure isn't surprising anybody this year as defenses are keying to stop him.  When you can't run, you have to pass and obviously that's not working out too well. I think that it is more of a personnel thing. Look up and down Iowa State's offensive depth chart. How many of those players did this staff recruit? Not many. The players Iowa State has now aren't bad. I'm not saying that. But they're not exactly what this staff wants. Give it time and step away from the ledge 85. It's not worth it man.
MNCyGuy writes: Chris, I think you've been too hard on people asking JoePa fight questions. There is a brilliant idea in there and somebody should be taking a page out of Shaq's playbook and launching a reality show called "JoePa Vs.". That being said, we'll set up a more fair fight this week: JoePa vs. Bill Snyder, who do you like?
CW: My God. Another Joe Pa fight question? What is it with this? Why are you fanatics so fascinated in watching a 115-year old man get his butt kicked? You're sick I tell you. You're sick. Do you want to watch Lou Holtz wrestle a tiger while you're at it?
To the question. Snyder vs. Joe Pa? Snyder in an easy one. Why? Because he can walk.
Let me just end it this way. There isn't one coach in college football who Joe Pa could beat in a fight. He's old. He's just too brittle. Just let the man go out peacefully will you?
ISUser writes: The coaching staff is saying Arnaud is our best QB (despite his struggles), and I'm not going to dispute that. I'm sure the coaches know what they're doing, and I'm by no means giving up on Arnaud. But the question then becomes if our best QB is struggling, where does that leave us next year? Does this mean we will likely see a significant downgrade from what we already have now at the QB spot?
CW: Not necessarily. None of us have a clue as to how good Jared Barnett is. It is pretty unfair to judge him as a quarterback considering he's only been on campus for like two months. The same goes for James Capello. James has never taken a snap in a game. It is still WAY too early to write of Jerome Tiller as a good quarterback. Austen is a fifth-year senior. If the coaches thought that he was terrible, he wouldn't be playing. They'd be building for the future and would play the guy with more upside. Just like I told 85, time to step away from the ledge dude. A couple of bad games by the Iowa State offense does not equal Armageddon for the Paul Rhoads era in Ames.
Isufbcurt writes: What nights are going to be at the Late Model Knoxville Nationals? How much would Cyclonfanatic be willing to pay to have a logo on my car so they can get exposure on Speed Channel? LOL
CW: Let me throw that back at you ISUFBcurt. How much are you willing to pay Cyclone Fanatic to get your car exposure on one of the highest trafficked sports websites in Iowa?  You like that comeback? Plenty more where that come from. I will be there on Thursday night for sure. I actually plan on camping too. I might be there on Friday but that will all depend on how my week goes leading up to it. Got a shirt that I can wear? If so, PM me. I'll wear your colors proudly.
AlleyAddict writes: Would you want Royce White to play this upcoming year if he is granted the eligibility, or would you rather save the year for when he has a chance to be part of a great team when all of our other transfers can play?
CW: I hope that he can play. Brent Blum made a great point on our CycloneFanatic.com podcast Wednesday night. Royce is so talented of a basketball player, he'll more than likely only be here for two years, regardless of what happens with his eligibility this year. Why not put him on the court this year to see if the Clones can make a few games interesting? Plus, he won't be rusty for 2011 when the other big dogs step onto the floor. I hope that he can play but I don't think that he will.
RING4CY writes: Chris, you and I had predicted for the Cyclones to win the exact same 6 games this season, Kansas State being one of them. Which game do the Cyclones need to win as a "makeup" and which game are they likely to win (if any) that was marked a loss in the preseason to get to 6 wins and a possible bowl game?
CW: I think that game has to be Missouri. The Tigers have been less than impressive so far in 2010. They barely beat San Diego State last week. They struggled with Illinois in week one. They are having serious personnel problems. The thing that I like the most about the game is the fact that it is on Nov. 20 in Ames. Let's do a hypothetical here. If that goes down and Iowa State has to win that game to go to a bowl, how big of a crowd would turn out? You tell me.
SuperCy writes: Should Shamus wear pants?
CW: Just like I did with RING4CY, I'm going to pose you a question Super. Look at this picture and you tell me if Shamus should wear pants.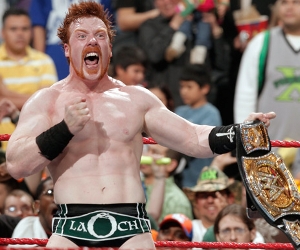 GeronimusClone writes: If George Straight handed you a guitar and told you to play one of his songs, and you had to battle him "Devil Went Down to Georgia" style for your soul, what song would you choose?
CW: First of all, you ought to be ashamed of yourself GC. Do you realize that you spelled the King George Strait's name wrong? Do you also realize that doing that sin is illegal in 48 states? Luckily for you, it is legal in Iowa. One song huh? My personal favorite to strum is "Guys Like Me" by Eric Church.
Sawyer writes: I think we need to give Woody more snaps seeing how A-Rob hasn't been the guy we hoped he would be. Do you agree?
CW: I actually love exactly what the staff did with Jeff Woody last weekend and hope that they don't change it. Woody is a great change of pace to Alexander Robinson. I think that he's more effective in that role than if he would be the primary back at this point in time. I'm not saying that he won't or can't be in the future, but right now, Alexander Robinson is the guy. There's no doubt about that. Sprinkling  Jeff Woody in here and there will give the redshirt freshman the best chance to be successful, and help this team in 2010. Just my thoughts.
Wesley writes: What do you think of the Sports Nation Beadle gal? Is she on topic and informative?
CW:
I like her. There's nothing better than an attractive female who can talk about sports. I especially think that she does really well holding her own with Colin Cowherd, who is my personal favorite sports talk host in America. Now keep in mind that the majority of that stuff on Sports Nation is heavily scripted so it isn't like she's coming up with stats off the top of her head, nor is Cowherd. But she still has to nail the delivery. If you look at her resume, she's a very accomplished sports journalist.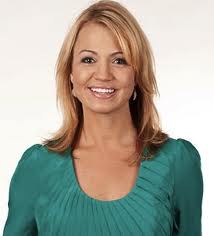 Ms3r4ISU writes: Name three things that must happen Saturday to keep our kicker from being team high scorer again. (I have nothing against Grant.)
CW: 1) Clean up the penalties. 2) Turn the ball over fewer times than the opponent. 3) Clean up the penalties.
I really believe that the dumb penalties in the opposition's territory have been the biggest problem to plague this offense this season. Clean those up and this offense can score some points.