We've nearly made it to the best time of year.
I'm not talking about the holidays. I'm talking about the start of college basketball, which will arrive in full force next week.
It should be an interesting season for college hoops as we start to understand the fallout of the ever-changing landscape with the transfer portal and name, image and likeness.
It will also be one last go-around for the Big 12's double round-robin format, which will be retired once the league expands to 14 (or potentially 15) teams next season.
That will mark the end of an era of Big 12 basketball that will always be remembered fondly. You couldn't hide from any team or any arena. You had to go everywhere and you had to play everyone… twice.
I'm going to miss it, and I strongly suggest we all enjoy it while we can.
Time to go on the record with my predicted final standings for the league along with my Big 12 first, second and honorable mention teams and major award winners for the 2022-23 men's basketball season.
---
1 – Baylor
What we know: The Bears are going to be national championship contenders again. Behind returning stars Adam Flagler and LJ Cryer, plus the addition of stellar freshman Keyonte George, Scott Drew's team could have the Big 12's best backcourt. They're deep on the wings with the additions of West Virginia transfer Jalen Bridges and BYU transfer Caleb Lohner. They'll be able to score in bunches and they're going to get after you defensively.
What we don't know: How does the frontcourt rotation shake out? Flo Thamba will be the anchor in the middle for the Bears, but redshirt freshman Langston Love, a former five-star recruit, will factor in as well after missing all of last season with an ACL tear. My concerns about this group are minimal though. This team is going to be really damn good.
X-Factor: George averaged 22.8 points per game during Baylor's run through the World University Games over the summer. We know what the Bears will get from Flagler and Cryer, but it is George who can put this team over the top and make them a national title contender again.
2 – Kansas
What we know: Jalen Wilson and DeJuan Harris will be the steadying forces for Bill Self's team as they look to win a second consecutive national championship. They're the only two returners from Kansas' top-eight last season and expect each of them to make significant leaps in bigger roles. There's a lot of talent here though with the additions of Texas Tech transfer Kevin McCullar and five-star freshman guard Gradey Dick.
What we don't know: Like Baylor, I'm curious to see what the frontcourt looks like. David McCormack was an X-Factor for Kansas last season, and should have been the Final Four's Most Outstanding Player, in my opinion. When Kansas has a good big man in the middle, Self has his best teams. Freshman Ernest Udeh seems like the most likely traditional candidate to fill that role this year.
X-Factor: Dick was one of the best shooters in the 2022 recruiting class and has drawn rave reviews since joining the program over the summer. He'll be expected to carry quite a bit of weight behind McCullar, Wilson and Harris. He's got the tools to be one of the best snipers in college hoops.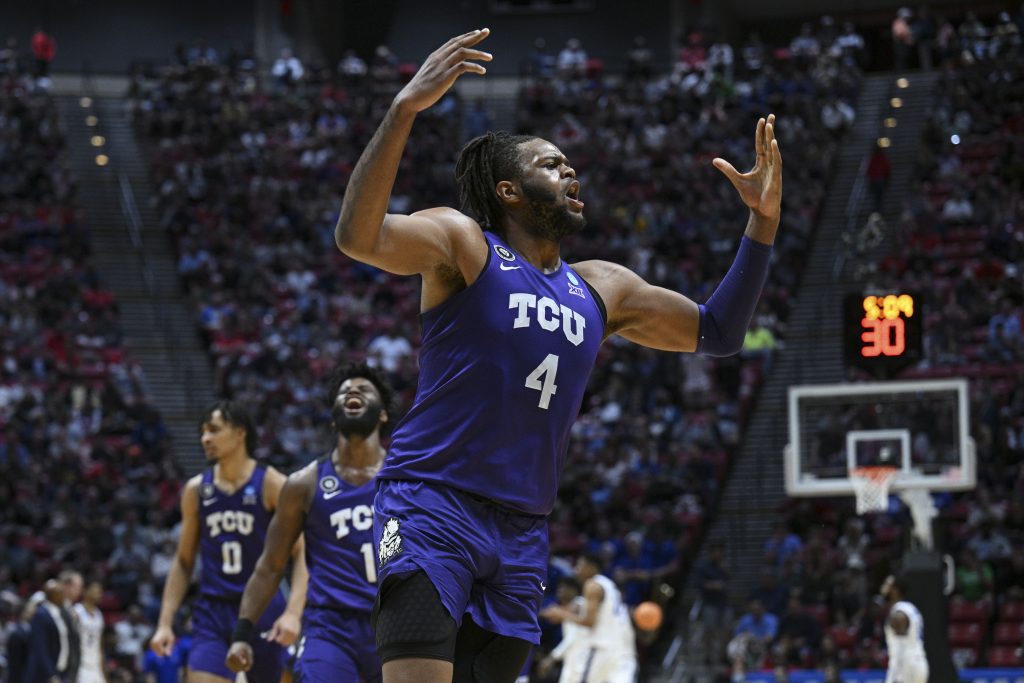 3 – TCU
What we know: There might not be a team in college basketball more experienced and veteran than this one. Mike Miles is back as the preseason Big 12 Player of the Year and is an All-American candidate at the point guard spot. Eddie Lampkin seems poised to make the leap to being one of the best big man in all of college basketball. Chuck O'Bannon and Emmauel Miller are back as rotational pieces for Jamie Dixon. This team is talented enough to be a second-weekend team in the NCAA Tournament and could make a run at the Big 12 title if things broke their way.
What we don't know: What's the status of Damian Baugh? The 6-foot-4 senior will be Miles' running-mate in the backcourt as long as he's not suspended by the NCAA for briefly hiring an agent last spring. He averaged 10.6 points, 4.5 assists and 4.5 rebounds per game last season. If he's available, this team very well could win the league.
X-Factor: Baugh's availability will play a huge role in what the Horned Frogs' ceiling is going into the season. With him, they're as talented as any team in the league with a backcourt pairing that rivals any other. Without him, they're still a good team with contributors at every level of the court, but they might not have the same level of backcourt explosiveness that could push them into true contender status.
4 – Texas
What we know: This team is as veteran as any other in college basketball. Timmy Allen and Marcus Carr are back as the headliners, while Iowa State transfer Tyrese Hunter comes in to spearhead Chris Beard's always-stingy defense. Dylan Disu and Christian Bishop are veteran players back for another go-around, as well. This team might not be overly deep, but they're experienced and talented enough at the top to compete for the Big 12 title.
What we don't know: Can they put it all together? That's been the question for Texas basketball for basically a decade. The Longhorns have never been devoid of talent, but they've never been able to put it together well enough to make a deep run in March. There's often been a feeling of too many cooks in the kitchen in Austin. Some of the guys on this team need the ball in their hands a lot to be impactful offensively. How those players mesh will dictate if this team can be a contender.
X-Factor: Hunter wanted a situation where he didn't have to be "the guy" all of the time. He certainly won't have to in Austin by sharing the ball with Carr, and this will give both of them opportunities to play off the ball more than they did last season. If Hunter thrives in that role, he could elevate Texas to a top-10 team and a Final Four contender.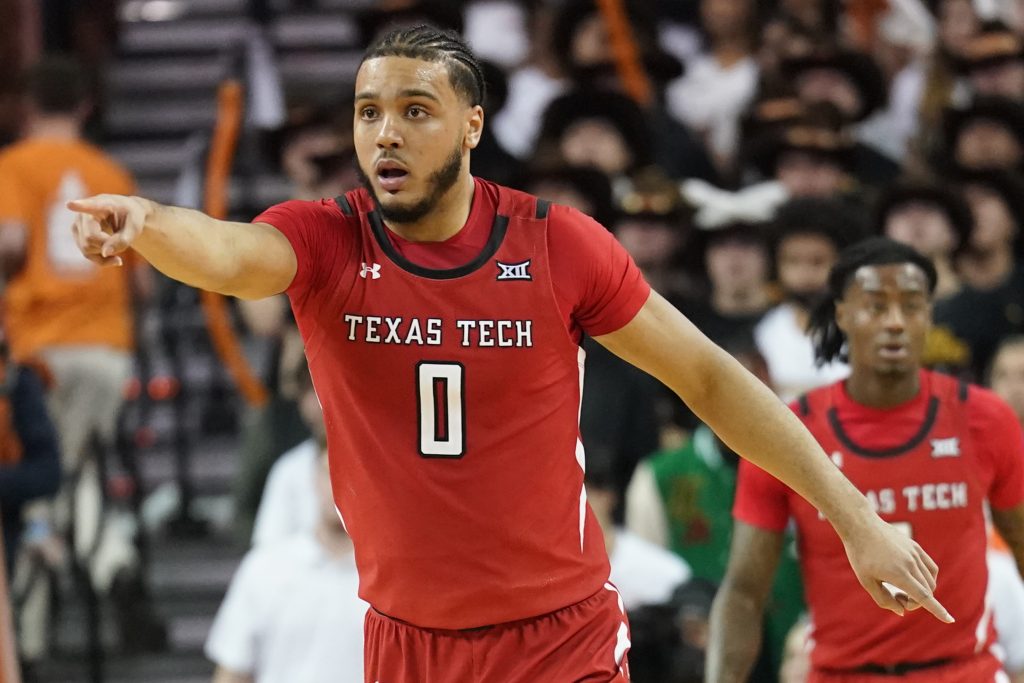 5 – Texas Tech
What we know: The Red Raiders are going to guard you. That's about the extent of what we know about Mark Adams' team at this point with only one major contributor returning from last season. That one player is significant though as Kevin Obanor, who averaged 10.5 points and 5.5 rebounds per game last season, is as versatile as any player in the league. He'll have to raise those averages a few points each to be the leader for this team.
What we don't know: How does the team gel together? Adams brought in some high-level transfers with former Oklahoma and Oregon guard De'Vion Harmon and former North Carolina win Kerwin Walton. Utah Valley transfer Fardaws Aimaq was the biggest prize of the offseason though after leading all of college basketball in rebounding last season.
X-Factor: Aimaq suffered a broken foot during the offseason and is targeting a midseason return in time for the start of Big 12 play. The Red Raiders will need his presence in the middle to maximize what they do defensively. If he gets back healthy and smoothly makes the leap to the Power 5 level, the Red Raiders will be just as stingy and difficult to score on as every other team Adams has been a part of in Lubbock.
6 – Oklahoma State
What we know: This is my Big 12 dark horse. Mike Boynton's squad is probably flying under the radar after being forced to sit out the postseason last year, but the Cowboys return four starters, including backcourt standouts Avery Anderson and Bryce Thompson. Moussa Cisse is back as one of the Big 12's best defensive players in the middle.
What we don't know: Who plays point guard? Boynton brought in High Point transfer John-Michael Wright and Texas State transfer Caleb Asberry in to fill that role. They'll need to play steady basketball in order to let the tandem of Anderson and Thompson cook offensively.
X-Factor: Anderson can fill it up with the best of them in the league when he's right, but he and his teammates had a tendency to go cold shooting the ball at times. If he can be right on more nights than not, this team has a chance to be really, really good, and could jump up into the league's top-five.
7 – Oklahoma
What we know: Everything will run through the Groves brothers — again. Tanner and Jacob are back after helping Oklahoma finish No. 30 in last season's KenPom ratings, which made them the highest-ranked team to miss the NCAA Tournament. Jalen Hill is back, too, and gives the team a solid trio of returners as a foundation.
What we don't know: How good is Grant Sherfield? The Nevada transfer averaged 19.1 points, 6.4 assists and 4.2 rebounds per game last season for the Wolfpack. If he puts up numbers like that again, Oklahoma will be a very dangerous team.
X-Factor: Sherfield making the leap in competition and maintaining production can elevate this team from a bottom-half of the league squad to a top-half team and an NCAA Tournament lock.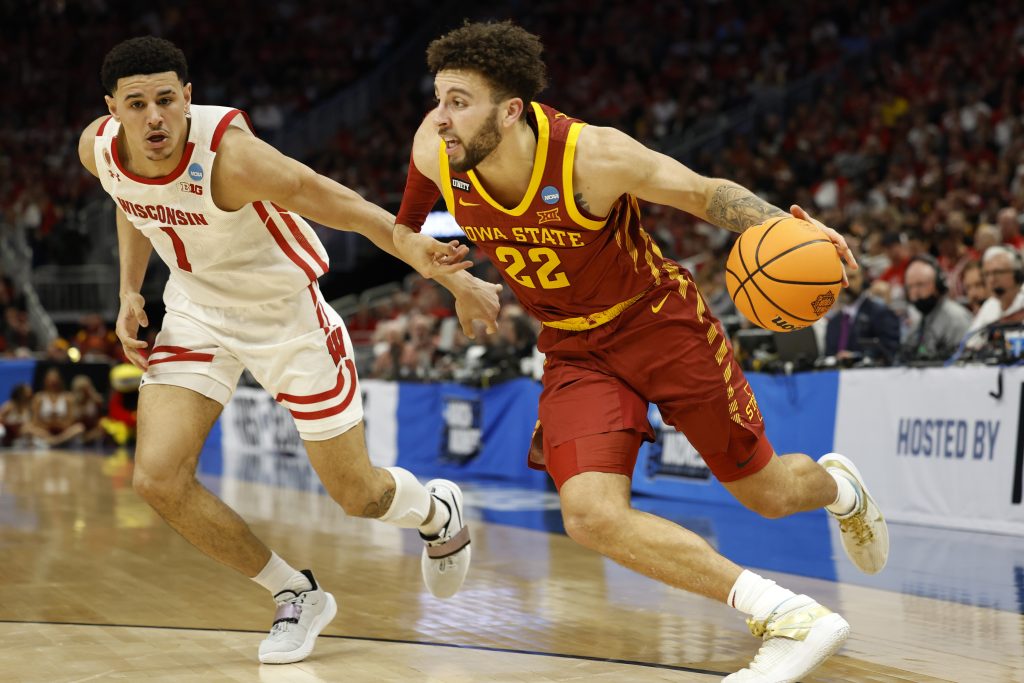 8 – Iowa State
What we know: The Cyclones are going to get after people defensively. In fact, T.J. Otzelberger's team might be even better on the defensive end after adding St. Bonaventure transfer Osun Osunniyi and VCU transfer Hason Ward to anchor the paint. St. Bonaventure transfer Jaren Holmes gives Otz and his staff another gritty guard option who will get after people on the perimeter. The guys are going to make life hard on anybody tasked with beating them.
What we don't know: Where will the scoring come from? Osunniyi has shown the ability to be an impact player offensively, but he'll need to make a jump as Otz and his staff give the big man more freedom to make things happen all over the floor. Gabe Kalscheur is back and could be Iowa State's leading scorer if he's able to replicate his good performances from last season and cut out some of the bad ones. There's just not enough proven consistent scoring on this roster to feel really good about where they're at on that end to start the season.
X-Factor: Kalscheur finding consistency in his shot elevates this team's ceiling significantly. He's going to be looked to as a leader and someone who can put this team on his back when he's hot. The key will be raising the floor for his game on the nights when he's off.
9 – West Virginia
What we know: Not much! The Mountaineers might be the most difficult team in the Big 12 to peg. They lost eight of their top-10 players from last season and the only returning starter, Kedrian Johnson, averaged 5.3 points per game. This team has the capacity to be one of the Big 12's worst or to put things together and be a top-half team.
What we don't know: A lot! Bob Huggins' first season as a Hall of Famer will put his coaching ability to the test. He's got a lot of holes to fill and brought in high-level transfers Tre Mitchell (Texas), Joe Toussaint (Iowa) and Emmitt Matthews (West Virginia then Washington and now back to West Virginia). This team will be one of the more interesting groups to track during the nonconference portion of the schedule.
X-Factor: There's a case to be made for everyone on this team as an X-Factor. I'm going to reserve a lot of my judgment on this team until I get a chance to watch them play. They're just too difficult to predict with the number of changes to the roster.
10 – Kansas State
What we know: This team should be interesting, at least. Mississippi State point guard transfer Cam Carter led the team with 13 points during its exhibition win earlier this week. He'll need to make a leap in his second season of college hoops. This team is full of transfers and we'll need to see them play some games against real competition before we know a whole lot.
What we don't know: Again, how does it all come together? Jerome Tang hit the transfer portal hard in order to fill what was basically an empty roster after Bruce Weber was fired last spring. This is his first go-around as a Power 5 head coach. I think he's going to be a good one, but I don't know how good his first team in Manhattan is going to be.
X-Factor: Florida transfer Keyontae Johnson is back on the floor for the first time in two years after a heart ailment held him out of action in Gainsville. He was a first-team All-SEC player before collapsing on the court on Dec. 12, 2020. If he gets back to that level, Kansas State could be good enough to beat anybody on any given night.
First-Team All-Big 12
Kevin McCullar, Kansas (Player of the Year)
Mike Miles, TCU
Timmy Allen, Texas
Keyonte George, Baylor (Freshman of the Year)
Adam Flagler, Baylor
Second-Team All-Big 12
Marcus Carr, Texas
LJ Cryer, Baylor
Jalen Wilson, Kansas
Damian Baugh, TCU
Avery Anderson, Oklahoma State
Honorable Mention All-Big 12
Tanner Groves, Oklahoma
Tyrese Hunter, Texas
Osun Ossuniyi, Iowa State (Defensive Player of the Year)
Moussa Cisse, Oklahoma State
Fardaws Aimaq, Texas Tech
Kevin Obanor, Texas Tech
Eddie Lampkin, TCU
Grant Sherfield, Oklahoma