March 18, 2022; Iowa State's David Carr walks off the mat after losing a match at 157 pounds during the second session of the NCAA Division I Wrestling Championships, Thursday, March 17, 2022, at Little Caesars Arena in Detroit, Mich. Mandatory Credit: Joseph Cress / USA Today
After a disappointing start in Detroit, three Cyclones brought life back to Iowa State.
Yonger Bastida, David Carr, and Marcus Coleman earned All American status on Friday night of the NCAA Championships.
Carr kicked the night off for the Cyclones. He faced off against NDSU's Jared Franek, a rematch from this year's Big 12 Championship match. Carr came out on top with a 4-3 decision.
Carr became a three-time All American.
Coleman and Bastida followed up with a solid performance to bring Dresser with a total of three All Americans for the 2022 season.
Bastida battled so hard to earn his All American status that he left it all on the mat, including a tooth.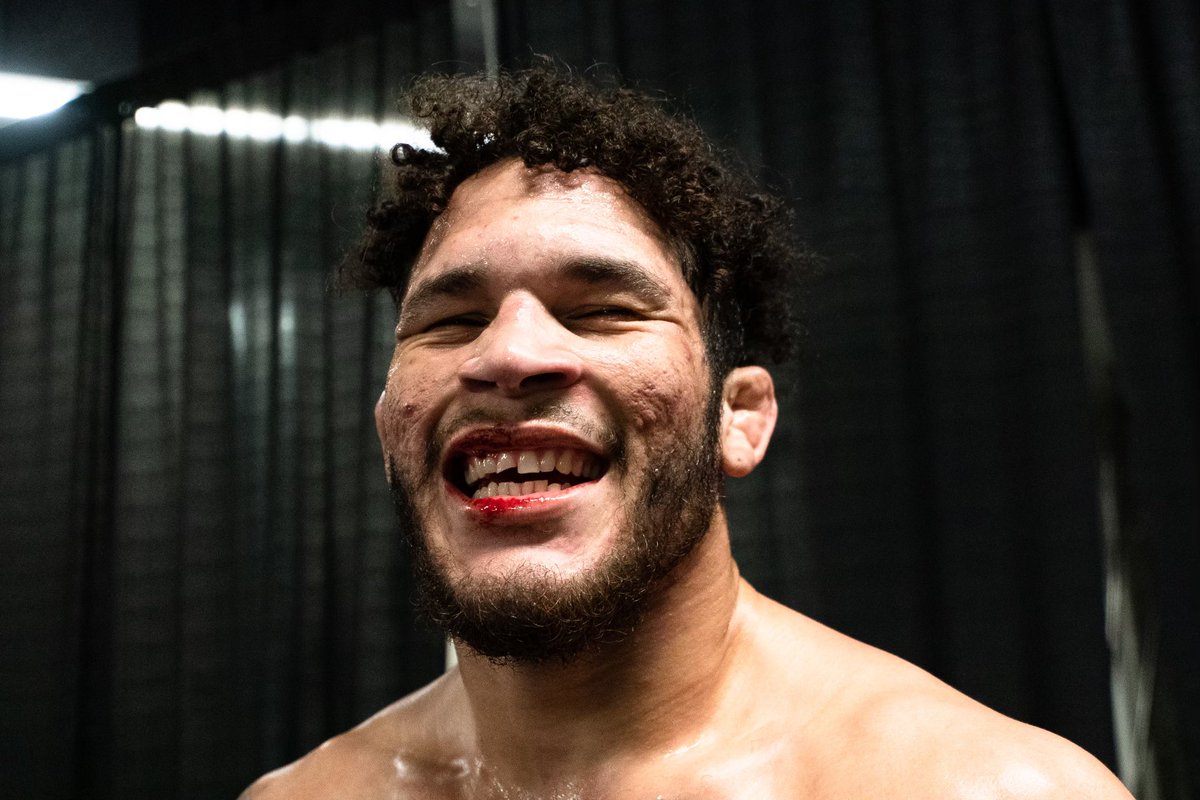 All three Cyclones went for a combined 10-0 increasing the total number of wrestling All-Americans at Iowa State to 304.
Carr and Bastida advance to the consolation semifinals on Saturday morning with a chance to still wrestle for third after back-to-back wins. Coleman will wrestle for seventh place on Saturday morning after dropping his second match.
The medal matches begin at 10 a.m. (CT) on ESPNU.
Full Match Results:
157: No. 1 David Carr
First Round: W-TF, 21-6 (7:00) vs. No. 33 Derek Holschlag (UNI)
Second Round: L-D, 2-1 (TB-1) vs. No. 17 Hunter Willits (Oregon State)
Consolation Second Round: W-D, 3-2 vs. No. 31 Wyatt Sheets (Oklahoma State)
Consolation Third Round: W-D, 5-3 vs. No. 9 Kaleb Young (Iowa)
Consolation Fourth Round: W-D, 4-3 vs. No. 6 Jared Franek (NDSU)
Consolation Quarterfinals: W-MFF vs. No. 11 Austin O'Connor (North Carolina)
Consolation Semifinals: vs. No. 8 Will Lewan (Michigan)
184: No. 8 Marcus Coleman
First Round: W-MD, 10-2 vs. No. 25 Michael Battista (Virginia)
Second Round: L-D, 3-1 (SV) vs. No. 9 Zach Braunagel (Illinois)
Consolation Second Round: W-D, 6-1 vs. No. 23 Travis Stefanik (Princeton)
Consolation Third Round: W-D, 18-14 vs. No. 16 Dakota Geer (Oklahoma State)
Consolation Fourth Round: W-MD, 13-2 vs. No. 6 Trey Munoz (Oregon State)
Consolation Quarterfinals: L-MD, 13-4 vs. No. 7 Kaleb Romero (Ohio State)
Seventh Place Match: vs. No. 11 Jonathan Loew (Cornell)

197: No. 10 Yonger Bastida
First Round: W-D, 3-2 vs. No. 23 Braxton Amos (Wisconsin)
Second Round: L-D, 1-0 vs. No. 7 Rocky Elam (Missouri)
Consolation Second Round: W-D, 11-4 vs. No. 25 Jaron Smith (Maryland)
Consolation Third Round: W-D, 4-2 vs. No. 16 Kordell Norfleet (Arizona State)
Consolation Fourth Round: W-D, 5-4 vs. No. 13 Jake Woodley (Oklahoma)
Consolation Quarterfinals: W-D, 4-3 vs. No. 14 Greg Bulsak (Rutgers)
Consolation Semifinals: vs. No. 2 Stephen Buchanan (Wyoming)