In no particular order, here are 10 thoughts on the latest in the biggest story in the history of Iowa State athletics.
1 – Responding to today's story from The Athletic about a potential partnership between the Pac-12 and the Big 12 …
Any news is good news.
These two leagues should have discussed working together years ago, as both were seen as weak links compared to their Power 5 brethren.
But better late than never.
What can the Big 12 offer?

That's simple. The central time zone and access to the football rich state of Texas.
Remember the stories last year about Pac-12 fans being sick and damn tired of the "after dark" kickoffs?
This is one solution. It would help their network grow too.
My biggest question to come from this news is what FOX thinks of it?
And let's not sit back and act like things are find and dandy out west. The Pac-12 has been vastly underperforming the other Power Five leagues in revenue as of late and rarely makes the College Football Playoff. Their television network has been nothing short of a disaster and with a Grant of Rights coming up in just a few years, some stability out west is needed.
At the end of the day, keeping Iowa State in a conference that has access to the College Football Playoff – however it may look – is the key to the next few years. If that happens, the rest will fall into place.
2 — How many times over the last week have you heard about the value Texas and Oklahoma bring to the Big 12 and how worthless the eight refugees are in terms of value?
We get it.
But there is another side of this that nobody is talking about though. Take the top two programs away from any other league. Let's test it out?
Big Ten
Ohio State and Michigan
SEC
Alabama and LSU
ACC
Clemson and Florida State
Pac-12
USC and Oregon
……..
How valuable are any of those leagues without their two top-brands?
The Big 12 is the smallest Power Five league in the country (with 10 schools) and absolutely, it consists of mostly rural institutions. But the point here is that across the freaking country, college football is full of haves and half nots.
This is where the Angry 8 are getting a bad wrap.
3 — Matt Campbell is more important than ever to the future of Iowa State athletics.
And one might even say Iowa State University.
I was having a discussion with somebody earlier this week about the impact of all of this on recruiting and we both came to the same conclusion. As long as Matt Campbell is committed to Iowa State, things will be fine.
Matt often talks about wanting to create, mold minds and be bold.
That was before all of this hit the news. Think of what Campbell's legacy would if he leads Iowa State through all of this and sees things out on the other end…
4 — It feels to me like the pressure just got ratcheted up on Steve Sarkisian.
After the last two weeks, it's going to be hard for Sark to "win the conversation."
Right now on the recruiting trail, he doesn't know which conference to pitch prospects that they will be playing in (to be fair, nor does anybody in this league).
The SEC is a different brand of ball than the Big 12. So if, let's say in two years, Texas is in the SEC. Well that's a massively different scenario than what he signed up for during the offseason.
What if it takes the full four and like the last decade-plus, Texas underperforms? Chances are, Texas will do just that. After all, really since Darrell Royal, the only coach to max out that program was Mack Brown.
The jokes will write themselves if Texas keeps finishing in the middle of the pack in the Big 12. Sark better have thick skin.
It just feels to me like of all people stuck in the middle of this down south, Sarkisian would have benefitted perhaps the most by this staying a secret longer than it did.
5 — Let's talk about recruiting and Iowa State.
I cannot spin this in a positive light. Nothing that has happened over the last two weeks is positive for Iowa State Football on the recruiting trail.
Having said that, multiple sources have indicated that Iowa State has yet to feel any sort of hit from the scare. Those same sources also indicated that while it hasn't impacted them yet, the conference situation is already being used against them.
Campbell is the key here and would be difficult for anybody to convince me otherwise.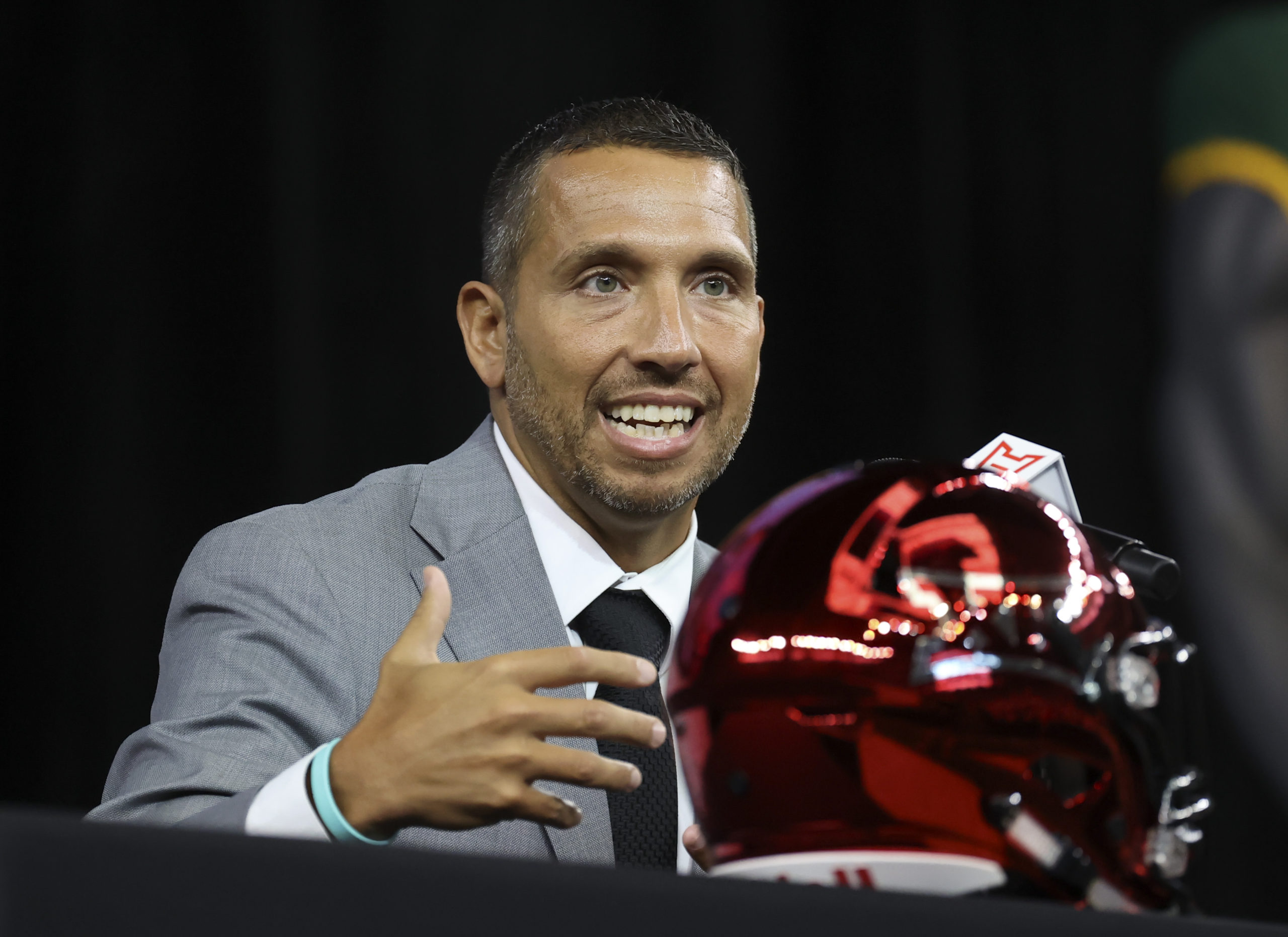 6 — Let's talk about basketball and the NCAA Tournament…
If this SEC Super League or anything of that nature forms – even the four 16 team power conferences – the greatest event in American sports could be in jeopardy.
This is where I feel like the adults in the room have to stand up for the good of the whole.
Right? Right?
But honestly, if the goal of whatever this new-look league is to replace the NCAA, then how can the tournament be administered in the future?
How boring would "March Madness" be with 64 "power" schools duking it out, just like they did for the previous three months of the regular season?
Awful. Just awful.
7 — What about Iowa State basketball in general?
As long as Iowa State doesn't get squeezed out of the ability to play at the highest level of the sport (which I do not believe will happen), Cyclone basketball will be just fine. You guys are still going to fill Hilton and as long as relationships are strong and the games are easy to watch, I have zero worries about hoops in the future, and that's coming off of the worst season in school history.
8 — What about basketball and the future in general?
Remember a few years ago when in an attempt to get folks to sign up for its newish streaming platform, ESPN started putting Big 12 games on ESPN-Plus?
Which programs did they match up very early on in the cycle?
Iowa State and Kansas.
Why?
Because those are the two most passionate basketball fan bases in the Big 12 and the world-wide leader knew it would result in the largest amount of subscribers.
I understand that football is king. I'm not trying to argue that in the slightest. But the more that online subscriptions become relevant and cable networks lose steam, I feel like the more value college basketball will hold in all of this.
It means little to nothing right now. But if we are talking strictly subscriptions, there are a hell of a lot of college basketball fans out there. I guess I'm not as quick to write the sport off as worthless to media companies as many are nationally.
But I'm just a dumb hack from Iowa.
9 — Real quick on Bob Bowlsby …
I think he has been a fine commissioner since taking over at the Big 12.
Not perfect, but who is?
A couple of weeks out, while he doesn't look great in the present day, I just don't think there is anything he could have done to prevent all of this.
I believe his greatest legacy could be left here in the next couple of years, hopefully a positive one.
10 — Where I have mentally landed with all of this.
I barely slept the first 10 days of all of this drama.
For one, I was working.
In addition to that, the best way I can describe it is I felt like I was watching a family member die. I am sure that many of you can relate. The uncertainty breeds so much anxiety.
After hours of deep thought and hundreds of conversations, I have come to somewhat accept the current scenario that everybody is in regarding the future of college athletics.
It's like I tell my six-year old daughter this all of time … that we can't always control the situation that we find ourselves in but we can't just quit. We have to do our best to climb out of it and hopefully either learn and make things better on the other side.
Iowa State didn't do anything wrong to end up here (which is why it's so frustrating). Mississippi State and Rutgers (just two examples) just happened to be born into trust fund families. Iowa State and Kansas State have had to bust their ass and work their way through college.
I can't explain it, but I am much more at peace with things today than I was even a week ago.
I hope that you all somewhat feel the same.