Sep 26, 2020; Fort Worth, Texas, USA; Iowa State Cyclones running back Breece Hall (28) runs for a touchdown in the fourth quarter against the TCU Horned Frogs at Amon G. Carter Stadium. Mandatory Credit: Tim Heitman-USA TODAY Sports
After watching it a second time, the best thing about Iowa State's 37-34 victory at TCU on Saturday is that there is so much room for this Cyclone football team to grow. And the Cyclones still won a Big 12 road game. And the Cyclones hung 37 points on a loaded Gary Patterson defense.
The steps taken from game one to game two were awesome. But I firmly believe that wasn't even close to being the best game this team can play. 
It was a juicy victory filled with a lot of fun tidbits and areas to analyze. We have so much to talk about in the coming week here at CycloneFanatic.com and on the Cyclone Fanatic Podcast Network, but here are my notes on a day when we saw an Iowa State team that lost its opener to Louisiana by 17 move to 1-0 in league play with a primetime, stand-alone national television showdown on ABC with Oklahoma (6:30 p.m.) next week.
Three Up
1 – Bounced back: It couldn't have been easy being an Iowa State football player over the last two weeks. It's been brutal out there. I am a beaten and bruised man and I am simply a talk radio/fan site minion.
As I wrote earlier in the week, this wasn't a "must-win," but it was a game that the Cyclones sure needed…
Had Iowa State played a perfect game and snuck out of Fort Worth the way that they did, I wouldn't be as optimistic. Honestly, I think that might be a five or a six (out of 10) for this team. There are so many spots where the Cyclones can – and will – get better in the weeks to come.
It was a huge step, and still provides momentum leading into next week.
All positives, especially when you consider everything else that happened in the Big 12 on Saturday.
Oklahoma lost as a 28-point favorite – at home – to Kansas State. 
Texas had to have a fluke onside kick and overtime to win as an 18-point favorite at Texas Tech.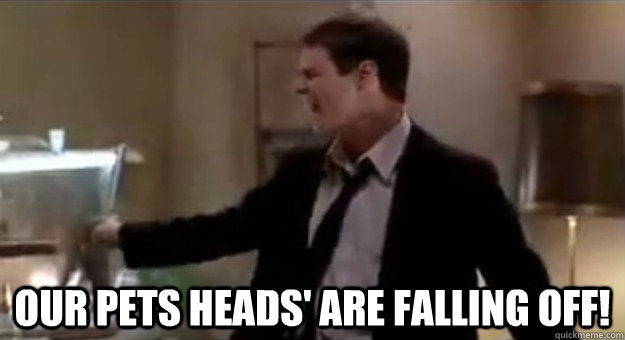 If Iowa State continues to grow, which it has every season under Matt Campbell, there is no reason why the Cyclones still can't compete for a spot in December's Big 12 championship game.

Call me a homer. I don't even care (seriously, I dare you). This is the same guy who picked Iowa State to go 7-5 last year when much of the country had them in the 10-win range. I was high on this team all summer long and I still am today. No doubt, the Louisiana game was a setback. A disappointment. All of that stuff. But this coaching staff didn't become a group of idiots overnight and the talent on this roster is easy to spot.
— Last point here … A tip of the cap goes to linebacker Mike Rose. His interception that essentially locked up the game is a big difference between Iowa State last year and this year. Iowa State loses this game last year.
It seems like an eternity ago (2020 is the worst), but how many interceptions did Iowa State drop last season? Fifty?
The Cyclones had a bunch of opportunities to win games in 2019 but didn't make the big plays when they fell right in front of them. That was a big-time play made by a big-time player in a big-time moment. And it very well might have been the difference in a win and a loss on the road.
Game ball, Mike Rose.
— By the time you are reading this, it is likely Sept. 27. Mark your calendars. Brocktober is coming.
— Last positive on the "bounce back." Drops were a theme from Game One. I didn't count a single dropped pass from an Iowa State receiver in the TCU win.
2 – The defensive line: I will analyze the soft parts of the defensive effort vs. TCU later on but let's put our hands together and applaud perhaps the best overall unit on this Iowa State football roster, the defensive line.
They have been downright awesome in the first two games of 2020.
JaQuan Bailey – who broke Iowa State's all-time sack record on Saturday – recorded 3.5 of them IN THE FIRST HALF.
I'm a huge Latrell Bankston guy. We are just getting to know him.
Will McDonald.
Eyni Uwazurike.
Joshua Bailey.
Zach Petersen.
Bankston.
Lee.
Tucker Robertson.
Iowa State is playing eight deep from a primary three-man front.
This group is going to be a problem for every opponent it faces the rest of the season.
3 – The running game: With 154 yards and three touchdowns on 8.6 yards per carry, Breece Hall looked like an All-Big 12 running back when his team needed it the most. The sophomore – who (deep breath) I believe is a better NFL prospect than David Montgomery was at this point in his career – was phenomenal.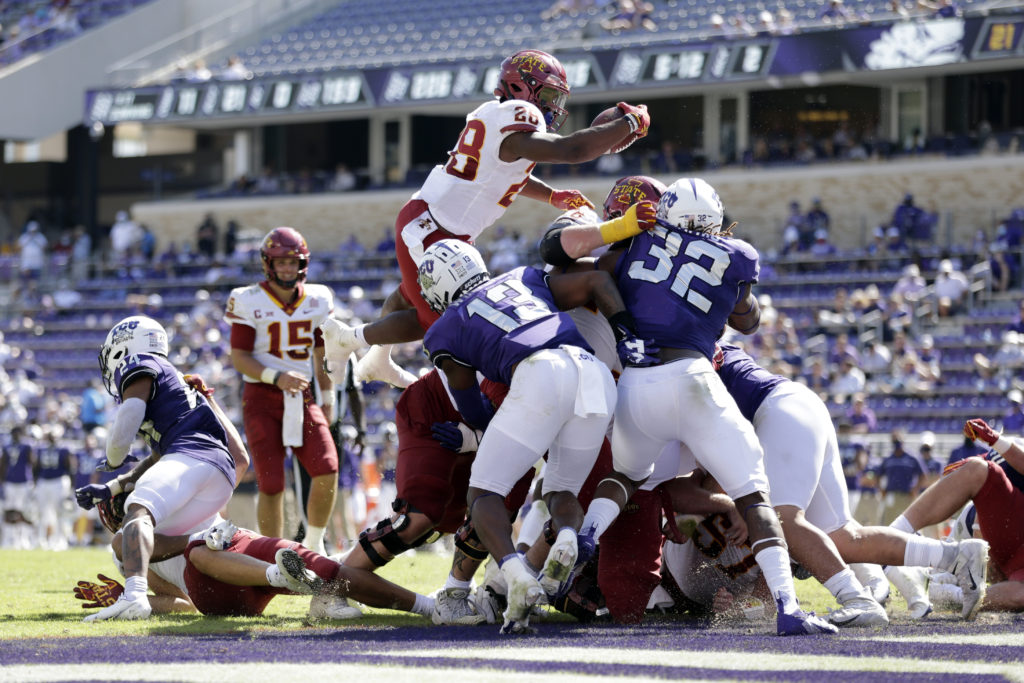 But so was the improving offensive line in front of him.
The guy who really popped for me was redshirt freshman Darrell Simmons.
Trevor Downing, arguably Iowa State's best offensive lineman, did not play. Nor did another starter at guard, Robert Hudson.
I'm not going to sit here and pretend to be a genius offensive line analyst because I'm not. But knowing who is out – and that Iowa State averaged 7.6 yards per rush against Gary Patterson – I am encouraged. Very encouraged.
— Offensive coordinator Tom Manning did a nice job of incorporating the tight ends into the running game more this week.  
Breece Hall is special.

— A quick shout out to Kene Nwangwu for one of the all-time great stat-lines … one carry for 49 yards and a touchdown. I love it.
Three Down
1 – Third down offense: It wasn't all sunshine and rainbows for Iowa State's offense in the win. If the Cyclones want to beat Oklahoma next week, they will most certainly have to be better than 3-for-11 on third down.
2 – Soft middle of the defense: After a dominant defensive performance in the first half, TCU sophomore quarterback Max Duggan took the field (six weeks after heart surgery) to go 16-for-19, throwing for an impressive 241 yards and three touchdowns against Iowa State's defense.
That obviously needs to get fixed. The middle of the field was wide open in the second half as inexperienced members of Iowa State's secondary often seemed confused.
But that can be improved upon through tape.
You know what can't? Studs on the defensive line.
Iowa State has dudes. Now they need to be put in the right spot.
I would much rather be solid up front with work to do on the back end than the other way around, a spot that Iowa State football has been in way too much over the course of its painful history.
— One more note on the defense: 65 points have been scored against Iowa State so far in 2020. However, 14 of them came on special teams. Seven came from Brock Purdy's "fumble" on Saturday and seven were off of a hail mary.
You get the point.
On special teams: This was so much better than the Louisiana game but does a missed PAT fire up anxiety within the soul of anybody else like it does me?
I was positive that would cost Iowa State the game.
Thankfully, it didn't.
3 – Oklahoma: Why did you have to lose to Kansas State?
Who knows. Maybe the Sooners just aren't nearly as good as everybody thought they were.
For the record, I actually love the matchup of Iowa State's defense vs. a young quarterback like Spencer Rattler next week.
But Oklahoma doesn't lose back-to-back league games often.
Perhaps that will change next week in Ames.
Stay tuned. We will preview the hell out of it for you guys.