Nov 3, 2016; Ames, IA, USA; Iowa State Cyclones defensive end Jhaustin Thomas (8) intercepts a tipped pass between the Oklahoma Sooners defense at Jack Trice Stadium. Mandatory Credit: Reese Strickland-USA TODAY Sports 
AMES — For a couple of seconds late in the second quarter, it looked like Iowa State was going to give No. 12 Oklahoma a serious scare on a Thursday night at Jack Trice Stadium. Joel Lanning had just streaked for a 41-yard touchdown. The Cyclones led 17-14 and were set to get the ball at the half.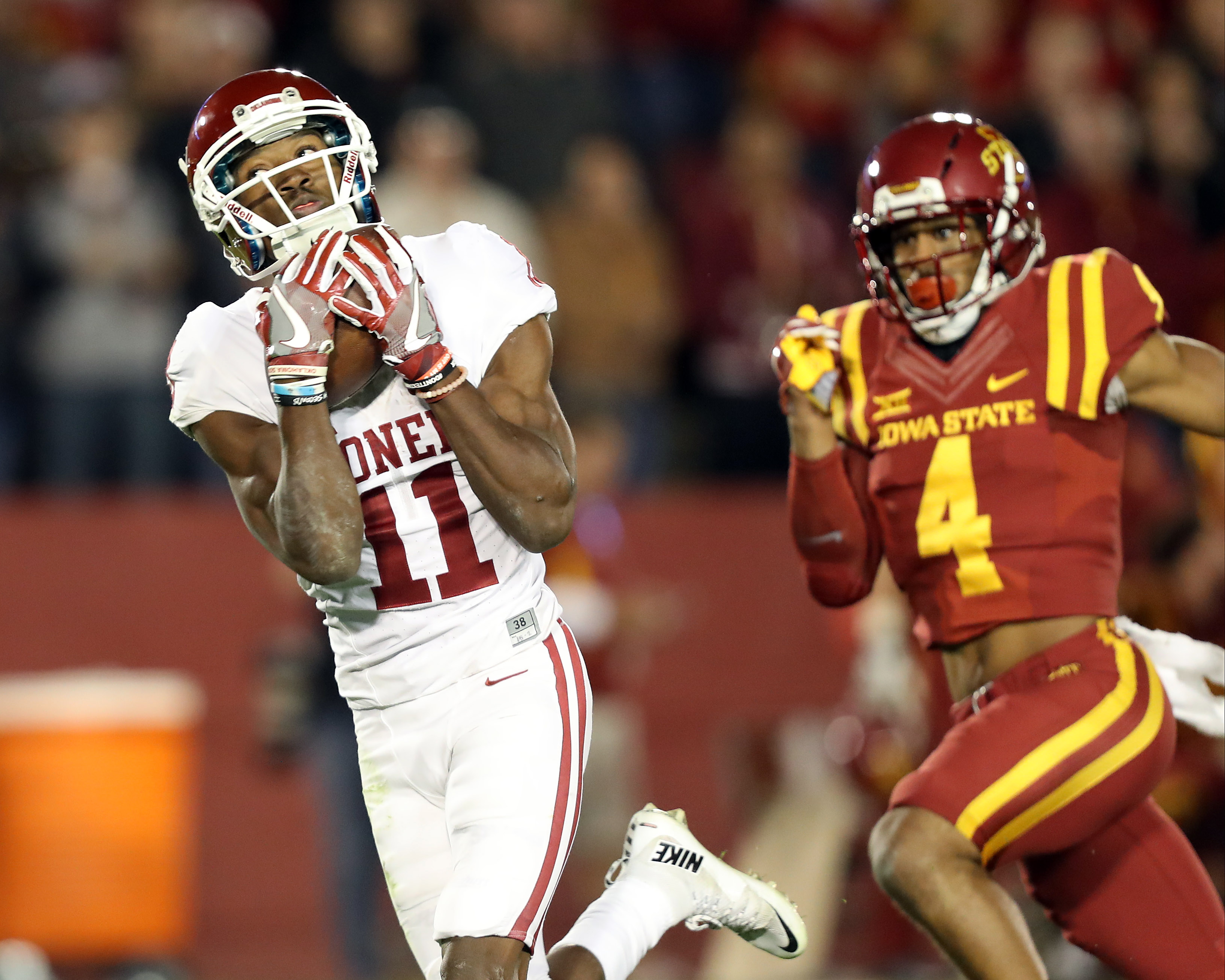 On literally the next play from scrimmage, Baker Mayfield hit Dede Westbrook (as he did seven times for 131 yards) on a 65-yard touchdown pass. The Sooners never trailed again, ultimately putting the Cyclones away by a 34-24 final.
Check out CycloneFanatic.com all day on Friday for comprehensive coverage of the game but for now, here are some quick thoughts.
Three takeaways
1 – How can you not be excited about the young skill talent on this team?
Sophomore running back Mike Warren did not play. According to the Des Moines Register's Tommy Birch (who spoke to Warren's mother), Iowa State's leading rusher from a year ago was not medically cleared, even though he suited up.
That opened the door for true freshman David Montgomery, who averaged 4.4 yards per game in the first half before he went down with an injury that ended his night.
He was replaced by another true freshman, Kene Nwangwu, who also showed burst with an average of 4.2 yards per carry (for 26 yards).
True freshman Deshaunte Jones currently leads this team in touchdown receptions (with five).
Despite the loss, I think Thursday night confirmed what most of us knew – that the young skill players on this team are very talented.
I'll throw redshirt freshman receiver Hakeem Butler into the conversation.  Freshman tight end Chase Allen has supposedly been great on the scout team.
Obviously though, building this team's bulk in the trenches is the key to this program taking a real step forward in 2017.
2 – I loved the different looks that we saw on offense.
This is Iowa State's new quarterback reality: Park in the middle of the field with Joel Lanning coming in on short yardage situations and sometimes in the redzone.
Park was ok but not great on Thursday going 16-for-29 for 160 yards and two touchdowns.
Lanning only attempted one pass on the night (incomplete) but once again led the Cyclones in rushing with 61 yards (and the touchdown).
Iowa State's final of 290 yards on the night was disappointing against a battered Oklahoma defense, but the Cyclones put some real drives together against a quality opponent.
3 – Defensive coordinator Jon Heacock called a heck of a game.
I'm just glad that Iowa State tried something different defensively.
Oklahoma put up 477 yards and I would have taken that in a heartbeat had it been offered up before the game.
The main point here is that we saw the Cyclones bring more pressure than we have seen all year sacking Mayfield three times with eight tackles for a loss.
FINAL TAKE
I'm trying to come at this realistically. Iowa State was a 21-point underdog against a program that it usually fails to even compete with.
Because of that, I am as happy as possible after a 10-point loss. The Cyclones played their butts off and legitimately had a chance to win this one in the fourth quarter.
Up next is Kansas. Thank God for Kansas.
Having said that, the Jayhawks are getting better and Iowa State isn't good enough to just show up and beat anybody.