Sep 12, 2020; Ames, Iowa, USA; Iowa State Cyclones running back Breece Hall (28) celebrates with his teammates after scoring against the Louisiana-Lafayette Ragin Cajuns at Jack Trice Stadium. Mandatory Credit: Reese Strickland-USA TODAY Sports
Rule No. 1 that I try to remember each and every moment while covering the Cyclones for you guys but admittedly sometimes fail at: Never be overly emotional. Too much emotion breeds sloppiness when it comes to capturing proper perspective on the event and human beings that we are chronicling.
The great Eric Heft taught me a lesson almost a decade ago. It was towards the beginning of the Hoiberg era, perhaps that Royce White team. I don't really remember. But Heft came on a radio show I was hosting where I asked him if the night's game was a "must-win."
"I never call things a must-win because what happens if you lose?" Heft wisely said.
He's right, you know? If Iowa State loses to TCU on Saturday, which is certainly possible, the season isn't over. Eight games will remain with countless goals still in front of what we believe to be a very talented 2020 Iowa State football team.
But doesn't this feel like a swing game at an abnormally early part of the season?
Of course, COVID has a lot to do with it. Usually, game two is Iowa week and all of the insanity that comes with it. But without a handful of non-conference games ahead of you to right the ship, yeah, coming off of a surprise season-opening loss to Louisiana, Saturday's game feels massive to me.
That's because the goals surrounding this team were higher than most in the past. Two weeks ago, I really believed (and still do) that this version of Iowa State football has a chance to play for a Big 12 championship in December.
And here we are.
Beat TCU and you righted the ship, are 1-0 in league play with a road win under your belt against Gary Patterson with a high profile showdown with Oklahoma looming.
Lose and wow, 0-2 looks really bad (two games you were favored in) with a "sure thing" loss coming when the Sooners invade Jack Trice Stadium on Oct. 3.
Big game coming up on Saturday. As the great Dan McCarney would say, "No doubt about it."
With that, here are five more musings on what I am basically calling a "must-win but not exactly" for the 2020 Iowa State football program and some other stuff.
…….
1 – Matt Campbell is 4-0 ATS against Gary Patterson and the Horned Frogs.
TCU is a program that Iowa State has played well against under Campbell. The Cyclones are 2-2 vs. TCU with Campbell leading the way but 4-0 against the spread.
Why?
I put it on TCU just as much as Iowa State.
Patterson has had quarterback problems in Fort Worth for a while now. That too will be the case on Saturday when Max Duggan will maybe play, but maybe not? Hard telling. Remember that about six weeks ago, Duggan, who Iowa State once fiercely recruited out of high school, discovered an underlying heart condition during COVID protocols. He had surgery and it was announced on Monday that he's been cleared to play.
But will he?
I could see three quarterbacks playing for TCU on Saturday.
On the surface, I do like that matchup for Iowa State's defense, a unit that should be itching to get back on the field after playing quite well – despite the loss – in the season opener.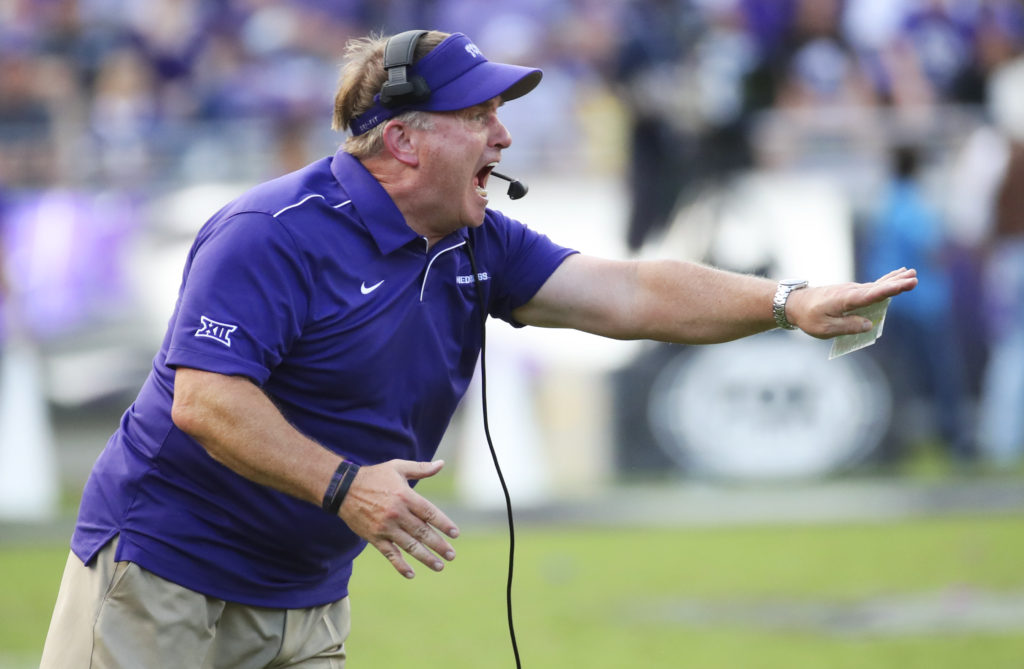 2 – Let's talk about the offensive line.
I'm sick.
I've watched Iowa State's offensive possessions from the Louisiana game four times now (pray for me) and every time, I felt better about the ceiling for this offensive line. But it needs to be healthy.
With Trevor Downing and Robert Hudson at guard, I really, really, really, really, really like this group.
Without them … it's below average.
Having a healthy Charlie Kolar – one of the top tight ends in college football – wouldn't hurt either.
Matt Campbell is an absolute stone when it comes to letting news about injuries out of the program so I honestly have no clue how this will play out on Saturday. However, if the two guards and Kolar are back, I'll feel a lot better about Iowa State picking up a road win to start its Big 12 slate.
3 – Open up the freaking playbook already.
When you factor in a bad fumble at a bad time, a million dropped passes and injuries, it might not be entirely fair to crush offensive coordinator Tom Manning for the sluggish start to the season. But some of the blame has to fall on Manning, who is back with Iowa State for his second season now following a brief stint with the NFL's Indianapolis Colts.
Whatever that was vs. Louisiana needs to be tossed.
It seems to me like Iowa State just expected to be able to run the ball all over Louisiana, which it somewhat did early on. When the Cajuns adjusted at halftime, Iowa State did not and the rest was history.
We know that Manning has it in him to call brilliant games. Iowa State's offense has set school records with Manning at the helm and he is thought of as one of the top young coaches in college football for a reason.
But Iowa State's offense looked like a boring bowl of vanilla ice cream in the opener. I'm craving some rainbow sherbet.
I suspect that the program knows this is a problem and will adjust accordingly.
Maddeningly but also assuringly, this seems to happen every year.
4 – I think that Iowa State, Kansas State and Oklahoma State will all be just fine.
Rightfully so, beating up on the Big 12 has been a fun thing to do across college football over the last few weeks.
Totally deserving. The league went 0-3 vs. the "Fun Belt" in week one and Oklahoma State damn near lost to Tulsa in week two.
I'll go on record here and say that all three of these programs will be just fine though.
Kansas State, who travels to Norman this weekend, had a ton of guys out due to Rona in its season-opening loss to Arkansas State.
Oklahoma State lost its starting quarterback in the first quarter against Tulsa. The Cowboys are loaded with talent and will be just fine.
I just believe in this Iowa State team, and Louisiana is one of the best Group of 5 teams in the country.
With that, here are my Big 12 picks for this week.
Iowa State 24, TCU 13 — Assuming that Iowa State has cleaned up its act on special teams, I'm banking on the Cyclone defense shutting down the Horned Frogs. Also guessing that Iowa State's offense continues to grow but takes a few weeks to hit full stride in 2020, based on evidence from recent years.
Oklahoma 34, Kansas State 17 – The 27 point spread in this game feels like way too much. I'm anxious to see Sooner freshman quarterback Spencer Rattler vs. a Power 5 opponent. Like Iowa State and Campbell, I fully expect Chris Klieman to have K-State in better shape after a week off following a loss.
Texas 50, Texas Tech 20 – Watch out Tom Herman haters. The Longhorns are for real. Plus, Tech barely snuck past an FCS foe in its opener.
Oklahoma State 31, West Virginia 27 – No fans in Morgantown is big. As noted above, I just feel like Oklahoma State will really bounce back in a positive way following the closer-than-expected bout vs. Tulsa.
Baylor 35, Kansas 6 — Baylor is used to feasting on cupcakes in the month of September and nothing will change with the Jayhawks coming to town. Could be one of the worst KU teams we have ever seen, which is saying something. Notably Dave Aranda's debut as Baylor head coach.
5 – Gary Patterson, the musician
Did you know: That TCU head coach Gary Patterson is also a country music musician?
I didn't know this until reading through TCU's media notes for the game where it noted his "two singles" that were released in the offseason.
Enjoy!