Former ISU star receiver Todd Blythe blasts through a Kansas State defender. (Photo courtesy ISU Athletics Communications)
[Author's note: During these many sports-less weeks because of the COVID-19 pandemic, Cyclone Fanatic has been re-running many of my "Where Are They Now" features. Typically, we like to include an update at the end of these reissued articles, but that's not always possible. Fortunately, I was able to catch up with star receiver Todd Blythe recently, so please find an updated story on how he's handling self-quarantine at the bottom of this "Where Are They Now" piece. —RG, April 8, 2020]
AMES — Aggies don't cheer — they yell.
Those words appear on Texas A&M's website and help describe the football program's venerable and often intimidating "12th man" tradition.
But one day, some 11 years ago, all the 12th men and women could do was whine and whimper. That's because the John Walters-bellowed phrase "Meyer to Blythe" all but drowned out the other noise as Iowa State stunned the Aggies 42-14 on Oct. 29, 2005, in College Station.
Blythe, the subject of this month's Cyclone Fanatic "Where Are They Now" installment, set a remarkable and still-standing single-game benchmark with four touchdown catches.
All flowed from Bret Meyer, his four-year roommate, who went 20 of 32 for 371 yards as Coach Dan McCarney beat A&M for the first time in his ISU tenure.
"I remember in the locker room beforehand, Coach Mac telling the whole team that when they do that 12th man on the cheers (er, 'yells') and stuff, if he caught anybody turning around and looking at the stands while the stands, he's going to send you back to the locker room," recalled Blythe, who also holds ISU records in career touchdown receptions (31), receiving yards as a freshman (833), receiving touchdowns as a freshman (nine), career receptions (176), and career receiving yards (3,096). "And I think was soon as that stadium started swaying and all the fans started going off in the direction, rocking back and forth, I think all of us to a man were turning around and looking at the stands when they were doing that. Luckily he didn't send anybody back to the locker room."
Hell no, he didn't. Not until the Cyclones had put a serious hurt on A & M tradition while sending 86,172 fans back home shouting coarse words instead of "yells" of encouragement and uplift.
"It was just an electric atmosphere that day," said Blythe, who is well aware that senior-to-be Allen Lazard could eclipse most of his records. "We came out early and made some big plays early in the ball game and were able to continue it all day, I guess."
All day — and all the way to a Texas Bowl berth that ended in a three-point loss to then-upstart TCU.
Blythe, a former three-sport star at Indianola High School, played in two bowl games and helped the Cyclones win the 2004 Independence Bowl, 17-13, over Miami of Ohio.
But the A & M performance stands out to fans, coaches and players alike because of its utter dominance.
"(It) was one of the most dominant games by a wide receiver I ever witnessed," McCarney — who is in New York City today for Troy Davis's induction into the College Football Hall of Fame — said in a text message. "Todd represented all the values and talents we were looking for when we went to recruit more outstanding Cyclone student-athletes."
He was — and is — a coach's son. His father, Jim, led Indianola to 542 wins as the school's baseball coach. One of Todd's favorite memories is being a bat boy for those teams — a 10th man of sorts on the diamond — as a youngster.
"It was really special," Blythe said. "I looked up to those guys. As far as I was concerned, as a little kid, my dad's high school teams, those were my heroes. I used to go to practice and hang out and watch them hit batting practice, take infield and outfield. That was — my dad's teams, those were the only teams I was concerned about when I was little."
That wound change. Blythe was nearly a four-sport star in high school, but gave baseball up to focus more on offseason football camps and summer basketball opportunities.
"I about got kicked out of the family when I gave baseball," joked Blythe, who was inducted into the Iowa High School Athletic Association's Hall of Fame last fall along with fellow Cyclone great Sage Rosenfels. "It was one of those things I look back on and wish I'd continued to play baseball and played for my dad, but at the time it seemed like the right move for me and obviously football-wise it worked out all right for me."
Sure did.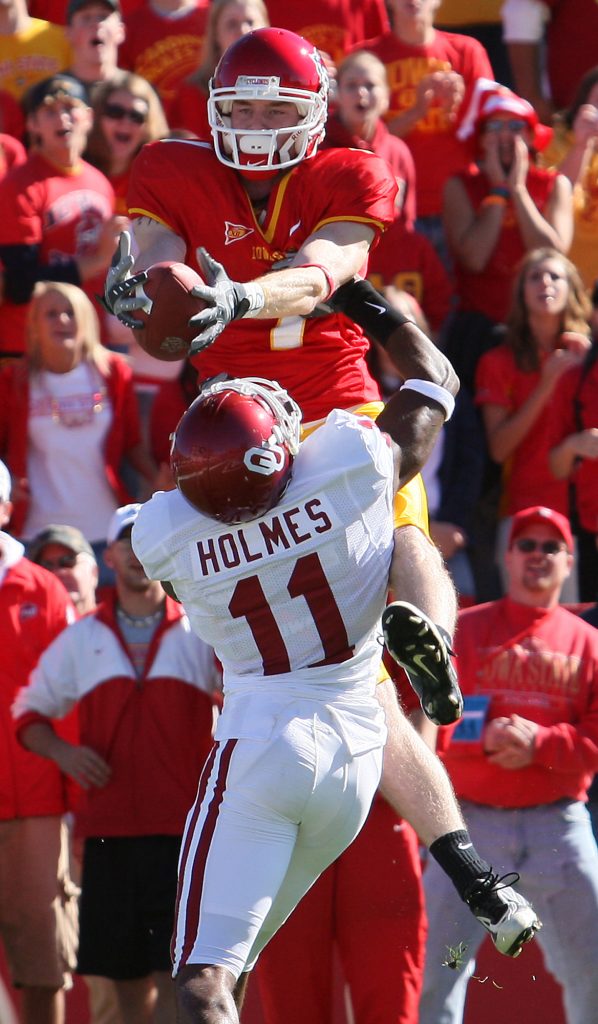 Blythe flashed speed and athleticism for four years as a Cyclone, averaging an eye-popping 17.6 yards per catch in his sterling career. He signed a free agent contract with the New Orleans Saints in 2006, but didn't stick with the team for long. The 6-5 star then signed with the CFL's Saskatchewan Roughriders, but a severe ankle injury ended his budding career up north too soon.
"It was one of those things that after every practice it would blow up and swell up on me and I'd have to sit out a few practices, which as a new guy up there, obviously it doesn't help," Blythe said. "Ultimately, it came down to (after talking to coaches there), 'Well, obviously, you have a degenerative ankle injury that's not going to get any better.' So they let me go and I came back here and actually Tom Greenwald, the team doc at Iowa State, ended up doing surgery on my ankle and removed some bone chips and it was great after that."
Blythe starred for two seasons with the Iowa Barnstormers before joining Northern Iowa as an assistant coach. He spent three seasons with the Panthers before hanging up his clipboard and entering the business world.
"I loved a lot of things about coaching," Blythe said. "I loved being on the grass on Saturdays. I loved being around the players in practice and in meetings. There's also a lot of it that I felt I didn't like that much and the sacrifices I would have to make family-wise just got to the point where it didn't seem worth it."
Blythe married his wife, Brittany, on March 14, 2015. The couple is expecting its first child on March 1 — near their second anniversary, he proudly noted.
No name's been cemented yet, but they do know it's a boy.
"So if you see coach (Matt) Campbell, tell him I'll be expecting an offer letter anytime soon," Blythe said.
Never too soon to go out an a limb based on Blythe's personal and family history.
But before that happens, he'll be rooting for Lazard to break most if not all of his records as a 12th man of sorts at Jack Trice Stadium.
"Allen Lazard is a stud," said Blythe, who became a season ticket holder this past season. "Flat-out, period, end of story, he's a stud. If it's third and short or third and medium, I'll be looking for number five all day and every day. He can make plays that I couldn't dream of making when I was a player. We're both around 6-5, but you've got to weigh my senior year compared to what he is and he outweighs me about 15-20 pounds. He's a grown man out there, so he's going to take down some of my records. There's no doubt about that. The catches record, he's already within seven early next year. The yards, if he has another year like he had this year, he'll take that down. The touchdowns, he'll need a little help, so he needs to to talk to (Jacob) Park and talk to (Joel) Lanning and tell them to throw it to him a little bit more in the red zone a little bit, but he's going to take down quite a few of my records and he deserves it. He's a heckuva player."
So was Blythe. Lazard's memories of his speed and athleticism are somewhat hazy, but his records speak for themselves.
"I've just always looked up to him and always tried to chase after his records," Lazard said recently.
Blythe sees better days on ISU's horizon with Campbell at the helm and Lazard serving as a leader in the locker room.
"You know you've got a good team and you know your program's headed in the right direction when the players police themselves," Blythe said. "When coaches don't have to feel that they're a coach and a cop, that's a good thing for a program."
Blythe experienced that as a Cyclone when Ellis Hobbs emerged as the chief accountability officer. No one slacked off. If they did, they risked drawing his ire.
"We went into summer and winter conditioning when he was going into his senior year and (the strength staff), they didn't have to say a word, because if we weren't doing something right, Hobbs was going to jump us and he was going to let us know about it," Blythe said. "So when you have leaders like that that kind of take over a program from a players' perspective, that's when you know you've got things going the right way and that's what sounds like is happening."
Fond memories dovetail with hopes for the future. ISU's one constant is its bedrock-solid fan support. There's no "12th man" yelling tradition, but the steadfast devotion never goes unnoticed.
"I was fortunate and blessed to be able to play at Iowa State," Blythe said. "The fans there are unlike anything in the country."
****UPDATE STORY BELOW****
ANKENY — If you happen to be out and about — social-distancing, of course — on the North side of Ankeny, you may see a flash of swift movement out of the corner of your eye. That would be three-year-old Jace Blythe — son of former Iowa State star receiver Todd Blythe and his wife, Brittany — blazing new, home-bound paths on foot or on his bike.
"He actually throws the ball really well," said Blythe, who owns the Cyclones' record for career touchdown receptions with 31. "(But) he doesn't catch real well yet, which just hurts my heart as a receiver. But he's getting better that's for sure. He's crazy. He's awesome. He's at that age where his personality has really come out. He just wants to be outside riding his bike — on training wheels, of course. But riding his bike, or running up and down in the yard and throwing the ball around or hitting the ball off the tee with a bat. He's all about sports right now and just being an absolute lunatic and running around."
Blythe — like his good friend, former quarterback and frequent good-natured Twitter foil, Bret Meyer, is working from home. Both work in the medical device field and even worked for the same company for a few years.
"He's doing the same thing Im doing , which is just sitting at home and working the phones and the email right now," said Blythe, whose four touchdown receptions from Meyer in a 2005 rout of Texas A&M remains ISU's single-game benchmark.. "Because we're both kind of bored throughout the day, we probably talk every other day if not every day right now. Just to check in — 'Hey, man, what are you up to? Because I'm really not doing anything besides having Zoom calls.'"
Blythe's wife, Brittany, is expecting the couple's second child — a daughter — in June. All is well, Blythe said, while acknowledging these uncertain times can be "scary" regardless of one's personal circumstances.
"As a dad, it's scary anyway when you're told you'll have a daughter, so pray for me," Blythe joked. "But on top of that, with everything that's going on in health care and all that with hospitals, it definitely adds an extra amount of worry and stress. But we're kind of just going day by day. My wife is in health care. She's a nurse practitioner, so she has kind of an inside line on what's going on really with the hospitals moreso than just what you get out of the media, so it's not ideal but it's the way things are. There's nothing we can do about it, except have a good positive attitude. We're excited to meet the little girl in June."
Blythe also has been impressed by Iowa State Director of Athletics Jamie Pollard's proactive approach to financial challenges wrought by the current health crisis. Pollard announced last week that coaches and certain department staff will take a temporary pay cut to help offset a $5 million shortfall in revenue caused largely by the cancellation of postseason basketball tournaments.
"You'd be hard-pressed to find any Iowa State fan — ex-student, ex-athlete, anybody affiliated with Iowa State — that can find any fault in what he's doing now or what he's done in the past as an AD," Blythe said. "We are so lucky as a university to have him leading our athletics department. He's been outstanding since the day he got there and obviously he's making great steps right now as well."