Former ISU standout linebacker Marc Lillibridge making a tackle (Photo courtesy Iowa State Athletics Communications)
Marc Lillibridge stood on the sideline wearing a T-shirt and a neck brace instead of shoulder pads and a jersey. A devastating injury during camp with the New Orleans Saints in 1999 had robbed him of his best chance of playing in the NFL. So the former Linn-Mar and Iowa State standout simply watched as the Saints played their first preseason game against the Carolina Panthers.
Sometime during that game, an "iron" hand gently clutched his shoulder — and its owner delivered encouraging words that both warmed his heart and stung his pride.
That hand belonged to legendary Hall of Famer Mike Ditka, then the Saints' head coach.
"'I just want you to know that I know that if you're not hurt, you'd be my starting middle linebacker for the New Orleans Saints," Lillibridge recalled Ditka saying. "And you talk about bittersweet. You talk about, I was that close. One of the greatest of all time — a Hall of Fame coach, Hall of Fame player, one of the toughest guys who I looked up to … for him to say that to me, it meant a lot, but at the same time it hurt. Because I was right there and that was a tough pill to swallow for a long time."
It had been five years since Lillibridge — who helped Linn-Mar to a Class 4-A state championship — had suited up as a Cyclone, and now his pro career was ending just as it was finally getting its legs.
But Lillibridge still loves the game. The former Iowa State walk-on is now an NFL Draft analyst and serves as the Director of Football for Lou Fusz Athletic in St. Louis. And his adoration of the brutal and beautiful game wound through Ames during the twilight of the forlorn Jim Walden era.
"I thought we had a chance to turn it around," Lillibridge said of his time at ISU from 1992 through 1994. "We didn't. We were horrible, but I'm still proud of my time at Iowa State and I'm proud to be a Cyclone."
Once a Cyclone, always a Cyclone. Once a football player, always a football player. Lillibridge's journey at ISU ended with an 0-10-1 season, but that pride shines through nonetheless.
"We all know that our sacrifices didn't pay off in the win-loss column," Lillibridge said. "And if you go look at the archives of Iowa State (football), we sucked. We were crappy. But there's so much more behind that one stat line in the program. There are so many more stories and feelings and emotions and love and bitterness and happiness and joy. It just means more and I think we all know we wanted to be better. But at the same point, we're all better human beings for having gone through it. You never appreciate the top of the mountain until you've been in the valley."
****
The Early Years
 Lillibridge was born in Vermillion, S.D., and lived in Sioux Falls until he was 12. His family moved to Marion when he was in the seventh grade and he quickly rose through the ranks in football.
His high school career began at Cedar Rapids Regis — where he played alongside a guy named Kurt Warner. Yes, that Kurt Warner.
"We've known each other forever," Lillibridge, a 2020 inductee into the Linn-Mar Athletics Hall of Fame, said. "Now I'm here in the town that he built."
Lillibridge said Regis actually beat Linn-Mar his freshman season. But Regis was 3-A. Lillibridge longed to play at the state's highest level, so ended up being a Lion — and helped guide them to one of their three state titles.
 He played fullback and, because of a stacked linebacker group, volunteered to play nose tackle.
"The last four or five games of my senior year I was pretty much unblockable," Lillibridge said. "Not tooting horns, but we played Bettendorf and I wore them out. I think I caused seven turnovers in that game. Well, their center was giving away when he was going to hike the ball, so as soon as I knew he was going to hike it, I'd just shoot off the ball and knock the ball out before he could get it the quarterback in the exchange."
 Lillibridge's collegiate road didn't immediately lead to ISU. He spent his first season starring at Northeast Missouri State (now Truman State) — and ran into an, ahem, old friend: That very same center from Bettendorf he had blown up the previous year.
 "He told me, 'My dad wouldn't let me sleep in the house for a week,'" Lillibridge recalled. "'Worst game I've played in my life.' (He told his dad), ' You go block the guy.'"
Lillibridge once again yearned to level up, so he started looking for a Division I school to join. The finalists? Wisconsin and Iowa State. The Badgers had a new coaching staff led by Barry Alvarez. One of his assistants? An up-and-coming coach named Dan McCarney.
Lillibridge chose the Cyclones and walked on. One big reason: A former fellow Shrine Game star from Aplington-Parkersburg named Jay Jordan. Yes, that Jay Jordan — our favorite college football analyst at Cyclone Fanatic.
 "He fit," Jordan said. "I thought he was the same type of player that I was. I wanted somebody like him on our team because we needed people like him. And yes, I went to the coaches. I told them to bring this guy in and they wouldn't regret it and they did not."
*****
Life at ISU
The Walden-led Cyclones won seven games in Lillibridge's three seasons. They won zero and lost 10 when he was a senior captain. The lone non-loss: A 31-31 tie at Oklahoma State.
That season had started with such promise. The entire offensive line returned. So did talented quarterback Bob Utter and most of the defense. Lillibridge and his teammates thought they could make a bowl game. Instead, injuries decimated the team.
"We were a MASH unit," Lillibridge said.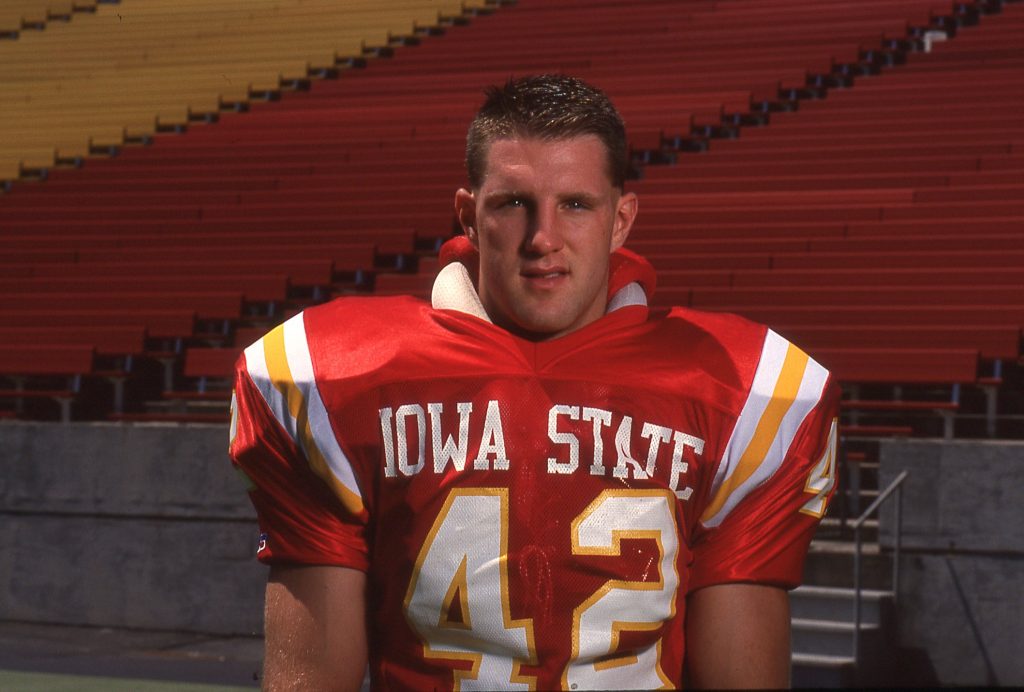 At one point, he added, they had 10 seniors in the huddle. By the time they tied the Cowboys, he was the lone senior in that group.
"So, that makes it tough, but at the same point, we sucked," Lillibridge said. "I was proud to be a captain, though. Especially to be honored by my peers and teammates. I will always be proud of that. Would I have liked to have won more games? Of course. Who wouldn't have? But, at the same point, where we were — some of that could be blamed on coaches, some of that could be blamed on recruiting. some of the blame's on injuries…"
Lillibridge is especially fond of his linebackers coach, John Fabris. Jim Burrow, whose son, Joe, won the Heisman Trophy and was the No. 1 pick in this month's NFL Draft, served on that staff.
"We gave them everything we had every day. Maybe we weren't the most talented, maybe we didn't have the best schemes or whatever else, but the one thing we did is we worked hard every day. I know that's cliche, and oh, people work hard, but there's a different level of working hard. I know it when I see it, what hard work is and what's not — and that team, we worked really hard. We just didn't get the results that we deserved."
Lillibridge contemplated quitting several times. Fabris — who told him if he worked hard, he'd play for him — kept him on track.
 One such moment occurred during a practice in his redshirt year. The old Astroturf at Jack Trice Stadium was unforgiving, to put it mildly. Lillibridge wore the number 91 as well as those old Pony-band turf shoes. He'd spent an entire practice on cut blocking and it took its physical and mental toll.
 "I'm getting my head jammed into the ground," Lillibridge said. "I can barely lift my hand, my legs, up. I'm beat up. I'm mentally drained, emotionally drained, spiritually drained. And I go into the weight room and I'm like, 'This is it. I'm done.' I'm walking away. I'm going to quit. I'm crying, on my knees, and that's it. And Coach Fabris walks up behind me, puts his hand on me, and says, 'That's the effort that I was talking about when you signed here. I know it sucks. But if you do that, you can be all-conference — not only can you start here and get a scholarship, but you can be all-conference. Just bring that to me every day.' That was a turning point. All right, that's all I needed. From the point of 'I'm leaving' to all of a sudden now, that word of encouragement — and I think most players are that way, right?  
"I never, ever mind hard coaching. I actually thrive with it. But you need to have a point where you have a shot and you can see the light at the end of the tunnel and that was it. From that point on, I knew I was going to be at Iowa State, and I knew I was going to play a lot and I could be productive and I (was)."
Still, Lillibridge didn't always receive uplift during his Cyclone journey.
"Jim Walden, when he ended up giving me a scholarship after my sophomore year, he even said, 'Listen. I'm not sure you deserve a scholarship, but there are some guys on this team — some coaches on the staff that think you deserve a scholarship, so we're going to give it to you now, but it's year to year and we'll see what happens,'" Lillibridge said.
Few wins happened. But a lot of other "winning" did occur. Lillibridge said a season-ending injury to Utter was too much for the team to recover from. He added that they probably should have won the game they tied in Stillwater — but took pride in how the team battled in season-ending losses to No. 15 Kansas State, No. 1 Nebraska and No. 7 Colorado.
 "I always will take pride in that and I always will be proud of that group of guys," said Lillibridge, who recorded 88 tackles, including two sacks and 10 for loss, as a senior. "The things we had to overcome that year (including the tragic loss of fullback Jeff Soucie in a car accident during Thanksgiving break) were just tough. It was not only mentally draining, physically draining, emotionally draining, but we did it and I will always have a great affinity for all those players."
*****
His "shot"
 Lillibridge rocked around NFL camps with the Philadelphia Eagles and Buffalo Bills for a few years but began to see some hope as a member of the Miami Dolphins. In 1997, they allocated him to the Amsterdam Admirals of the now-defunct NFL Europe and he made all-league.
 "I absolutely loved it," said Lillibridge, who played home games at the then-brand-new Johan Cruyff Arena. "One of the favorite football experiences I ever had. I wish I could have done it again."
 He wishes he'd done more sight-seeing when he spent that summer in the Netherlands, but he was there to play football — and for the love of the game.
His efforts abroad helped make him finally wanted, this time by Ditka and the Saints — until that final injury sustained while making a tackle ended his career just as he was getting set to shine.
 "I'll take the credited seasons," Lillibridge said. "I'll take the money I'm going to be getting for my retirement, but there's just something about knowing you arrived … I made it. I was there and I arrived. To know that it wasn't because of a lack of effort or work — it's just that my body couldn't do it; wouldn't let me do it. I think I held on to that. Honestly, I think it was something I struggled with, depression-wise, and I didn't want to admit it because guys don't but I think it bothered me a lot longer than I would have liked to have admitted. But I let that slide and let it go. It was one of those situations where you're that close and you taste it and for it not to happen was pretty tough."
Just weeks earlier, Lillibridge had celebrated after the Saints drafted former Texas star running back Ricky Williams. Just weeks earlier, he had beamed because they hadn't selected any middle linebackers. The top job would be his — until it wasn't because of the neck injury.
"I'm just walking around like a cock with the walk and (teammates are) like, 'Why are you so happy?'" Lillibridge said. "I'm like, 'They didn't draft a linebacker to take my job. Why would I not be happy?' Everybody's laughing. Everybody got it at that point. It was really kind of funny."
But then the freak injury occurred and Lillibridge found himself on the injured reserve list. In a T-shirt. On the sidelines, instead of on the field where he knew — as did Ditka and many of his contemporaries — he belonged.
"We're at the (NFL) Combine or the Senior Bowl four or five years ago, and we're sitting there, it's Dan Morgan, myself, and (Jack) Del Rio and Scott Studwell. We're sitting there and Del Rio says to Studwell and to Dan Morgan — all guys who work in personnel — 'Hey, listen. If Lillibridge doesn't get hurt, he's not as good as any of us, but he would have been our guy. He was one of my better linebackers and one of the smartest guys I've ever been around.' To have those guys still talk about that, that know the game, say positive things about you, you appreciate it — because I know I was a good football player and I earned it. But to not ever have lived it the way I wanted to, you know, sucks. But at the same point, I can never, ever complain. God has blessed me with a phenomenal life and the way it worked out has gotten me to where I am today and I can't complain."
*****
Here and Now
Lillibridge, like most of us, is spending a lot of time working from home. His son, Hutson, is a guard/center with offers from schools such as Illinois, Indiana, Kansas and "a bunch of MAC schools." His daughter, Eveigh, is 12, and also is active in sports and other pursuits.
Lillibridge, like not quite as many of us, is still living out his dream with a wonderful family, jobs he loves, and a football-centric life.
 "I love it," Lillibridge said. "God gave me the eye for finding talent. I'm very proud of it and good at it  — and not bragging about it, because it's something he gave me. I honor him by going out and using it to the best of my ability. It's really fun. Those breakdowns of players is really fun for me — to scout players, to find players."
Lillibridge is active on social media (@BridgesFootball) and appreciates all the engagement. He craves debate. He wishes people would be less strident when arguing online — but that's life. He enjoyed the privilege of sharing is Draft knowledge a few weeks ago, and most of the debates he respectfully engages in with strangers and colleagues alike are a little bit like that tap on the shoulder from Ditka more than 20 years ago.
They like him. They respect his knowledge. They know he's got that God-given eye for talent — both internally and externally.
 "I was really excited about it," Lillibridge said of the 2020 Draft. "I think it was one of those situations where I was able to dedicate a lot more time to it because I was home and there wasn't a lot going on with my other job. It was unique and I think we saw that with the broadcast and we saw that with what was happening just in with the country — and where the guys with their families. I thought it was very unique and very awesome. I think there'll be parts of it that they'll be (continuing) for years to come because so often we lose sight of — I know for me, for sure, I think very much who I was as a man was my job title. And that identified me. It's been probably the last year that I figured out that that's not that important. No matter what job I have. There's a lot of great people that have, quote, unquote, "lesser" jobs that I respect, that I'm friends with and everything else. So I've come to understand that a little bit better and I think a lot of people this year have seen that."
Winning takes many forms. Lillibridge's injury-riddled, but doubt-defying career is a testament to that often-obscured truth. Even that 0-10-1 senior season is rife with examples of togetherness, brotherhood, and a commitment to excellence that shines a light, even in "the dark."
"You're running the same gassers," Lillibridge said. "You're running in those same practices. You put up the same hours in the weight room. You're dedicating yourself to the classroom. You're doing all these things for one common goal and for (winning games) not to happen, it sucks. It's miserable. But to know that you could count on those guys, that you looked to your left and looked to your right and you could sit and say that, 'I would do everything for you. I love you. You mean everything to me because I know what your sacrifice meant to me, personally — that you were doing it for your own glory and the glory of the team, but you did it for me, too.' I know that's why football's the greatest sport of all time."