Three 20-win seasons. Six trips to the NCAA Tournament. The development of one of the greatest players Iowa State University has ever seen.
It's been quite the eight years for the current coaching staff of the women's basketball team at Iowa State.
"We've been together a long time so when families or potential players look at our staff, they see a consistency," Iowa State head coach Bill Fennelly said. "There's no drama. Everyone knows their role. Everyone believes in what each other is doing."
The group of associate head coach Jodi Steyer, assistant coaches Billy Fennelly and Latoja Schaben, along with director of basketball operations Josh Carper will help the head coachtry for his 21st postseason birth at Iowa State this year.
It's no wonder why Fennelly's staffs have seen so much success over the years.
"We have a good mix of skills, recruiting, youth, how they react being a male or female…" Fennelly said. "We can check off all of the boxes. I think our players sense that."
The current group is the longest tenured staff in the nation, tied with Tulane and Texas A&M at eight consecutive seasons.
The staff has all been involved with Iowa State for some time, but none more than a former player of Fennelly's in Coach Schaben.
Schaben ended her career playing with Toledo in 1994, playing under Fennelly before advancing to the professional ranks overseas.
After her career came to an end, she returned to help Fennelly out – who eventually walked her down the aisle during Schaben's wedding day.
"He's been there since I was 16," Schaben said. "Now, I'm 48. I feel like he is that father that every girl wants."
Fennelly, on top of being a stand-in father for Schaben, was confident that she would stick with him the longest. He hired her right out of her professional career and she has been on Fennelly's staff ever since.
Aside from a couple of seasons here and there, the same can be said for the others.
"I think it's the best thing ever," Schaben said. "It's like hitting the lottery and winning $1 million. It's very nice to have all of us together. We know each other. We know the ins and outs. We can complete each other's sentences. It's like growing up in a family."
Had it not been for one of those odd seasons apart, the same could be said for Coach Steyer.
Steyer was with Fennelly when he started at Toledo, but stayed there after he left for Ames.
A year later, she moved to Iowa with her husband because of a job he received and knew she needed to be on the staff at Iowa State as well as reuniting with the head coach.
Fennelly had the same thought.
"I was thinking that I was going to beg him to come back on staff," Steyer said. "He called me before I was even able to call him."
Steyer and her family since made Iowa State home and her son, Eric, is a member of the men's basketball team, too.
Like the others, they aren't leaving any time soon.
"We're so used to it, and it's hard to explain," Steyer said. "We're really comfortable with each other. We know each other, so the ups and downs and drama or emotions that maybe some other staffs have – we've been through it together."
Fennelly's son, Billy, credits the city for helping created the familiar, family culture that resonates throughout the staff.
After he graduated from ISU in 2007, he accepted a position to coach at Maryland while they were in the ACC before moving on to Northwestern for the next two years.
He thought he was missing something, being away from Ames. So, Billy came back.
"It's rare that you find a place where they all care this much," Billy said. "It's a great place to live, and a great place to raise a family. It's one of those places that once you come, you're like 'OK, well where else are we going to go? What's better than this?"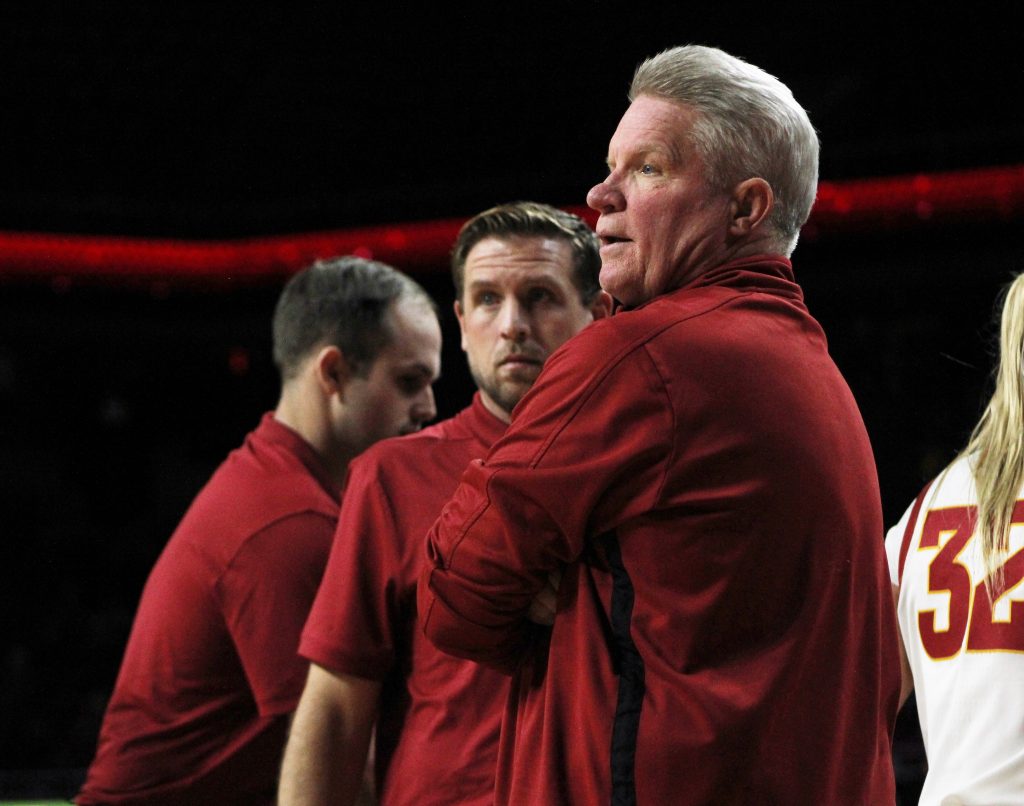 One of Billy's good friends when he was in his college days in Ames, too, was the current director of operations in Josh Carper.
While Billy was a student manager for the women's basketball team, Carper was helping manage the men's team. Each of them graduated in 2007.
"That's how we even got to be in a position [for me to be on staff] – because of Billy and I's friendship in college," Carper said. "I would watch the [women's] practices. I would see how they run things and how they do things, and I was intrigued by it. It made it an easy transition."
Since then, Carper has helped instill that 'Iowa State way' slogan that Fennelly wears proudly on his sleeve.
That's how the Cyclones are going to compete as things move forward – like they always have tried to do.
"Every year we go into [the season] hoping to put a product on the floor that is good enough to compete with the Big 12 and the highest level of teams in the country," Carper said. "We want to play harder than anyone else."
It makes it integral to have a coaching staff that's on the same page as each other, when trying to teach how to do things on and off the court.
It's how Fennelly and company have been able to teach what they call the Iowa State Way.
"It goes back to everyone knowing each other and on a given day," Fennelly said. "Who is doing what? It's like a good team. They know how to share the ball, get people open, and play off of their skillsets. Our team is our coaching staff. It's the exact same thing."
The team will try and use all of this to their advantage this season, as they were picked to finish fourth in the Big 12.
They start their 2019-20 season on Thursday as they welcome Southern for a 6:30 p.m. tipoff at Hilton Coliseum.
 "I have the best coaching staff in the country," Fennelly said. "When you talk about stability and consistency in college sports – those things don't [normally] go together. I thought that this is a group that was going to stay together and one that was connected collectively and individually.
"We've been lucky."