I have a running gag on Twitter that I am one of 15 NBA fans in Iowa. I increase this number by one or two each year as interest in the NBA "sky-rockets" in the state. Anecdotally, it does seem as if the league is picking up interest in our great state, specifically in Iowa State circles, as the Cyclones pipeline to the NBA becomes more prevalent.
Just this week, The Daily Oklahoman had an article titled, "How Iowa State became a Launchpad for NBA Talent." On opening day last season, Iowa State had five players on opening night NBA rosters (Georges Niang, Monte Morris, Naz Mitrou-Long, Deonte Burton and Abdel Nader). This number was the 20th best of any school. Kentucky led the way with an obscene 30 players. For reference, Iowa had zero.
Iowa State is likely to add to that total eventually with Talen Horton-Tucker's selection in Thursday night's NBA Draft. Lindell Wigginton, Marial Shayok, Nick Weiler-Babb and Cameron Lard are also draft eligible but longer shots to hear their names called.
Horton-Tucker burst into NBA conversations following his fantastic performance in Maui in November. He picked a fantastic time to put on a show in front of nearly every significant NBA decision maker. By all accounts, THT didn't have intentions of pursuing the next level this soon when he arrived in Ames, but those few days in Hawaii put him on the map. The Illinois game specifically was the best he played all year, displaying great skill, length and position-less, play-making ability that the modern NBA is morphing into. His uneven play the rest of the year is why he remains a wild card.
Experts have THT all over the board and he could go as early as the late teens to twenties in the first round or fall entirely to the mid-late second round. Teams love his length/wing-span and creativity at the rim, but do not love his inefficient shooting and lack of elite athleticism. Sentiment around NBA circles is THT's "stock" has fallen some in recent weeks, but draft noise is often just noise.
Regardless, THT will likely spend some time developing in the G-League and won't be expected to get instant playing time in the NBA. Keep in mind that only first round picks are guaranteed contracts in the NBA so for his sake, a first round selection would be a big boost.
Wigginton has been a bit of a mystery this draft season. He did not get an invite to the NBA Draft combine and had much more NBA buzz last off-season when he decided to return to Iowa State.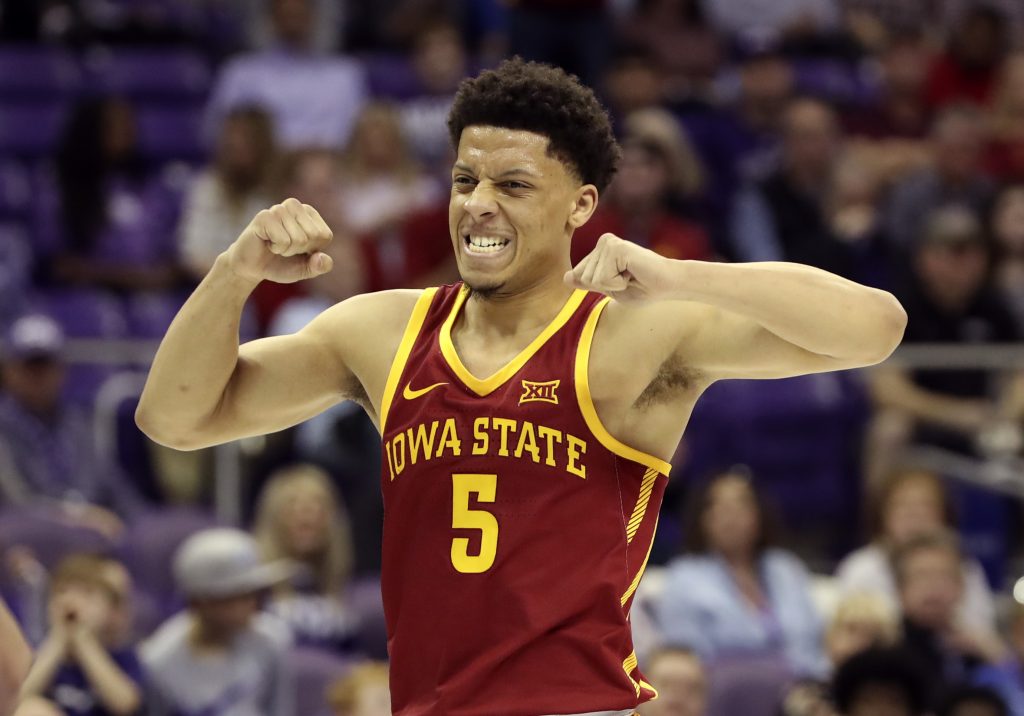 The problem for Wigginton is his game did not develop to a degree NBA folks wanted to see this season and now he is a year older. The tools are still there. Wigginton is as good of an athlete at the guard position as you will find and he does have NBA range on his jumper. The issue is he did not display the natural play-making ability at the guard spot that is necessary for someone to stick in the NBA at his size. The flashes are there and if Wigginton can ever slow down to a degree to be an effective play-maker, he has a chance. For now though, he is likely a late second round pick or go undrafted entirely. He will be a very attractive target for a franchise to add to its Summer League team and ultimately a two-way contract like the one's Naz Mitrou-Long and Deonte Burton signed.
The undrafted/Summer League/two-way route is also the most likely scenario for Shayok, Weiler-Babb and Lard.
Shayok has turned some heads in the weeks leading up the Draft and did receive a much-coveted invite to the Combine thanks to his strong performance in April and May in pre-draft camps. Shayok has a couple great NBA traits: length and solid NBA range. With the trend towards 3-point shooting, he could make a good living as a "Three and D(efense)" guy. His age and ball handling are the factors holding him from climbing the draft boards.
Weiler-Babb is more of an NBA prospect than most Cyclone fans realize. I think he is one of the most under-valued Cyclones in recent memory. He has great size for his position and was very efficient in his two years as the de-facto point guard for Iowa State. He is a good enough athlete and showed NBA range as well. He is never going to be an NBA All-Star, but Weiler-Babb is definitely going to be given an opportunity to play in the Summer League. I would not be surprised one bit if he shows well and eventually plays in the league down the road.
I have no idea what to think of Cameron Lard's chances to make the league. He has worked out for a number of NBA teams this month and showed well with his athleticism against other potential NBA talent. Lard has actually played well against elite big men in the past. It's easy forget that Lard put up 21 points and 16 rebounds against Texas and Mo Bamba, a lottery pick in last year's draft. If he can corral his energy into production and stay engaged, his raw talent should allow him to have a chance to climb the professional ladder as a rebounder and energy dude.
These five former Cyclones will see their professional basketball dreams come true in the coming weeks. In time, I am betting more than one will add to the Cyclones in the NBA total. The amount of NBA fans in the state may push the thirties before you know it.
Predictions on the lottery so I can be incredibly wrong and amused:
Zion Williamson (Duke)-Pelicans
Ja Morant (Murray State) -Grizzlies
RJ Barrett (Duke)-NY Knicks
Darius Garland (Vanderbilt)-Pelicans
Jarrett Culver (Texas Tech)-Cavs
Coby White (UNC)-Suns
Cam Reddish (Duke)-Bulls
DeAndre Hunter (Virginia)-Hawks
Sekou Doumbouya (France)-Wizards
Jaxson Hayes (Texas)-Hawks
Brandon Clarke (Gonzaga)-T'Wolves
Tyler Herro (Kentucky)-Hornets
Kevin Porter (USC)-Heat
Rui Hachimura (Gonazaga)-Celtics
Happy Draft night, all.