May 8, 2019; Milwaukee, WI, USA; Milwaukee Bucks forward Giannis Antetokounmpo (34) dunks during the third quarter against the Boston Celtics in game five of the second round of the 2019 NBA Playoffs at Fiserv Forum. Mandatory Credit: Jeff Hanisch-USA TODAY Sports
Hola, amigos. Hope everyone had a great Cinco de Mayo.
Since I last left you, Iowa State football has added the services of former Arkansas wide receiver La'Michael Pettway and the basketball team has picked up the commitment of Caleb Grill. Those are two great additions if you ask me, especially when you see things like this come up in your Twitter feed:
Congrats CG on signing to play 🏀 at Iowa State…your dream school!! You always told us that one day you'd be a cyclone.Sure you grew up a WSU & KSU fan, but we vividly remember you watching Iowa State as a kid & loving their style of play. #proudmom #cyclONEnation ❤️💛🌪🏀 pic.twitter.com/kmqobaPfQy

— Lena Grill (@grillfamilyof5) May 9, 2019
That'll tug on the ol' heartstrings as a Cyclone fan!
Now, onto the mailbag…
CloneGuy8 (forums) asks: If you were sent back to May 6th and found out another recruit did not pick Iowa State, would the appropriate response be to pout like a child, or wait and see how the rest of the Spring played out? Hypothetically speaking of course.
SpokaneCY (forums) asks: Follow-up question – exactly how close were we to closing down the basketball program? I heard it was literally hours before the moving trucks were to arrive.
Funny how fans' perspectives can change in an instant.
Many people seem especially testy this basketball off-season given the inconsistency of last year's team and the amount of contributors that will not be returning this fall. I understand it to an extent… There are certainly plenty of question marks surrounding the program. Which of the returnees are going to make strides this summer and be ready for an increased role? Are any of the incoming freshmen going to be able to contribute immediately?  Will the current roster be able to hold up in the Big 12 without a more proven scorer?
What's annoying is when that portion of fans (you know the one I'm talking about) lose their minds over every little thing that doesn't go Iowa State's way, such as Clarence Nadolny signing with Texas Tech and Sahvir Wheeler committing to Georgia instead of the good guys. It's perfectly normal for programs to not get every "priority" recruit. Do you think Duke or Kansas fans melt down when the latest and greatest 5-star decides to take his talent elsewhere? Nope.
I realize that's not a perfect comparison since those programs usually have enough talent regardless, but the guys that ISU had "lost out on" up until Grill announced his commitment a couple days ago were hardly program-changers. It was borderline embarrassing to see some of those fans act like Hilton Coliseum had just crumbled to the ground.
There's no denying that Cyclone basketball can still benefit from finding another player or two to add to its roster, either in a role that will contribute in 2019-20 or as a sit-out transfer. But getting too down or angry after every little thing that doesn't go our way makes some people look pretty foolish. Trust that everything will turn out alright in the end, one way or another. If it doesn't, then the powers that be will react accordingly.
Miller_Cy_Life (forums) asks: Expectations are a *****. Which team underperforms and which overperforms in conference play this year? (in football — a lot to still be shaken out for basketball)
Under-performs: Oklahoma
Bold pick, I know. I'm just not convinced that Jalen Hurts is going to be able to commandeer the offense that Lincoln Riley wants to run as well as Baker Mayfield and Kyler Murray were able to do the last couple years. Maybe I'm underestimating Riley's ability to adapt his offense to the strengths of his players, but I think the Sooners are going to have a couple "WTF?" offensive showings this season. They'll still be brilliant occasionally simply because they have so much talent, but I don't think they're a lock to win the conference like so many pundits seem to think. Especially if their defense doesn't turn things around.
Over-performs: TCU
Last season was a disappointment for the Horned Frogs after being picked to finish 3rd by the media before the season. Injuries and suspensions proved to be obstacles that were too big to overcome and TCU wound up at 7-6 overall and tied for 5th in the conference with Baylor at 4-5. I'm not exactly sure where Gary Patterson's team will be projected to finish this year, but my expectation is that they will bounce back. They've finished the season ranked in the top 10 of the AP Poll three times since 2014, after all. Patterson knows how to get it done.
mdk2isu (forums) asks: In the spirit of the incredible comeback by Liverpool yesterday in the Champions League Semi-Finals, what are the greatest comebacks you have witnessed? ISU related and non-ISU related.
Thanks for giving me a reason to post this:
Erasing a 21-point deficit in five minutes of game time? That's honestly incredible. The only thing that would have made it better would be if it came at the end of the game and finished on a buzzer-beater.
As for non-Iowa State, the game that immediately comes to mind is the New England Patriots rallying back from being down 28-3 in the 3rd quarter of Super Bowl LI. I dislike the Patriots as much as the next guy, but that pretty much cemented Tom Brady's status as the greatest quarterback to ever play football.
Cycsk (forums) asks: Is it okay to serve the Impossible Burger at a tailgate?
I'm strictly pro-choice* when it comes to food menus at tailgates. If you want to serve Impossible Burgers at your tailgate, then that is your right. Just don't get all offended when any all of your farmer friends rib/berate you about it.
* Definitely not an attempt to get this article to pop up in obscure Google News searches.
Brandon (forums) asks: What is your favorite side dish for bbq season? I'm torn between potato salad, coleslaw, and pasta salad.
I really love a side of Impossible Burger to go along with my barbecue. (Hehehe…)
For real though, coleslaw has grown on me as I've aged. I like the way its cold temp and crunch complement the warmth and softness of most kinds of barbecue. A good 'slaw is also a food that you can eat and use to convince yourself that you're being healthy as you also shove copious amounts of smoked/sauced meat down your gullet.
If I want to completely indulge, a good mac & cheese can't be beat. My wife is convinced Kue'd Smokehouse in Waukee has the best mac & cheese she's ever had. That's nice for me because if I ever get the hankering for their barbecue, she's happy to go so she can get her favorite side dish. I tend to agree with her too – I'm not sure if it's the cheese they use or the spices, but that stuff is addicting. Maybe the secret ingredient is crack cocaine. That would actually make a lot of sense.
SCyclone (forums) asks: Who's your odds-on favorite to be NBA MVP?
Personally, I'd go with Giannis Antetokounmpo over James Harden. The Greek Freak is more efficient overall and I think some voters will be turned off by the referee controversy that Harden has brought on recently in the playoffs. I don't watch enough NBA to know if Giannis complains about the refs a lot too, but I'm pretty positive he does it less than Harden if he does.
ZZZ (forums) asks: With it being finals week at Iowa State, what was your worst class you've ever taken and the worst grade you ever received on an exam that was a "welcome to college" slap in the face?
The worst class I took at Iowa State was Math 151. Some of you who are in STEM fields will probably chuckle at me saying that, and I'm not saying you shouldn't, but the factors that made it the worst class for me weren't entirely related to the course material itself. The lecture portion of the class for me was in the big auditorium-sized room in the basement of Carver Hall, which I'm almost certain was kept at a balmy 80 degrees year-round with no windows or relief of any kind. Additionally, the professor for that lecture had the most monotone voice of any professor during my four-year stint at ISU.
So, when you added up the trifecta of a subject material that I already disliked (math), a warm and uninteresting room in the basement of Carver Hall, and a professor that made math even more boring than I already considered it, it was a recipe for personal disaster. That class was definitely a factor in my decision to switch to a journalism & mass communication major instead of marketing or accounting. (Naturally, I do marketing for my full-time job now. Go figure.)
Worst grade on an exam? Hmm… I want to say I bombed a test in Psychology 101 my first semester and that was the wake-up call that I wouldn't be able to just show up and do well on tests like I could in high school. Believe it or not, you actually have to put forth effort to do well in college. Who woulda thunk it?
Sigmapolis (forums) asks: Why does the Cave have like five times as many posts as the sports boards?
For those of you who may not know what the "Cave" is, it's referring to the section of the Cyclone Fanatic forums that is dedicated completely to politics.
CCC – Controversy Creates Content. Has that phrase/motto ever been used before? If not, I might be getting it trademarked soon. Nothing is more controversial than politics. About the only time that the sports forums can equal the Cave in post frequency is when Iowa State loses or gets hosed by the refs – AKA: controversy.
Daserop (forums) asks: Have you ever eaten spicy enough food that it came out the other end with a burning sensation?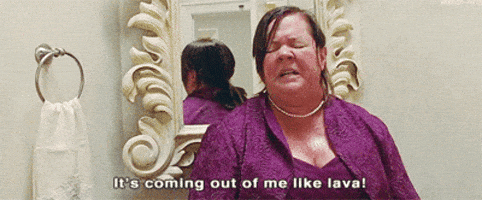 Thankfully, no. I can handle spicy every now and then, but I don't actively seek it out and never eat more than a bite or two of very spicy food. That's allowed me to avoid the buttburn to this point in my life. (Heartburn is a medical term so I feel like buttburn should be a real diagnosis as well. May have to get that trademarked too.)
jcyclonee (forums) asks: Is the song Earth the dumbest and worst song ever?
Not the dumbest and worst song ever, but not as cool as it was hyped up to be and certainly not a good song unless you're also getting the visuals from the music video. I heard it played on 107.5 in central Iowa one time and it felt completely out of place.
I'm not sure what the dumbest and worst song ever actually is. There are far too many country music songs to pick from.
derpyherky (forums) asks: FMK Marvel Edition – Black Widow, Scarlet Witch, Captain Marvel.
FMK? Gonna assume that stands for "have Fun with" and "Make friends with" and "Kindly ask to leave."
I'd have fun with Scarlet Witch, make friends with Black Widow, and kindly ask Captain Marvel to leave. Scarlet Witch is great, but she can literally mess with your mind, so you don't want to have her around long-term. Black Widow has a soft side to her that would make her a great friend. That leaves Captain Marvel as the odd one out.
Glad we could close out this mailbag with an entirely uncontroversial answer! See you next week, friends.