Matt Campbell recently spoke about his spring practice impressions as presented on Cyclone Fanatic. Coach Campbell will certainly throw out some coach speak from time to time, but can also be very candid if you know what to listen for.
For instance, in the offseason, when he mentions a player by name, it is a pretty good indication that you will see that player in a significant role as identified by the head coach.
When I listen to a  specific interview relating to significant offseason events, I try to pick out a few things that confirm thoughts about the team and indicate what we may see in the upcoming season. Then, I add a pinch of my own analysis and thoughts, toss it with some national analysis, mix thoroughly by bouncing things off folks like Jeff Woody, and then serve chilled with some speculative predictions.
Below, I have picked out a few quotes from Coach Campbell's post-spring presser and added a bit of my analysis below it.
Offensive Line
"You even look at the bowl game and obviously you take some of the false starts out, physically imposing our will on somebody, its the first time we have done that since we have been here. And you hope that that's the growth, you have guys that are juniors and now seniors and I really think that the growth that group has made in the off season in January and February, we're bigger and stronger. We look like what a real offensive line looks like. 
That part is exciting and to watch them, that's the group that's kinda the leadership group right now in terms of what we're doing and how we're doing things, that's fun to watch again. I feel like I haven't seen that for four or five years.
So, you know, I think that group is really growing immensely. A lot of credit to Julian, to Knipfel, guys that have been anchors starting a lot of games here and playing a lot of good football. You know I think Collin Newell has had an unbelievable spring, he's really made great growth, what you'd like to see. 
Had to play a redshirt freshman at center last year, for the most part that young man had a – did some really good things and his growth you've seen confidence after a year under his belt. Really fun to watch.
Collin Olson, but then you talk Trevor Downing, you talk Joey Ramos, and now all of a sudden you're like real competition. Rob Hudson has had a transformational winter and spring as well, I would call it. You know there is a lot of competition there right now. and that is going to play out now in fall camp. And, when there is real competition and you come everyday to fight for your job, then all of a sudden you see real growth." (emphasis added)
There is a lot in here. About 15 to 20 percent of the interview consisted of comments about the offensive line, which I find to be significant. As you will see in the second quote below, the offensive line is a primary area of concentration for the improvement of this team.
I agree that while the mental lapses were debilitating, the offensive line played its best football in the Alamo Bowl. At times, there were some real holes created by physical domination. It is interesting that the effort came after a series of bowl practices. Therefore, you have a series of practices, a solid performance, and now another series of practices. Upcoming is another series of practices in fall camp before the 2019 season kicks off. I like the pattern.
With the returning group and with another full year of work by the contenders, there are the makings of a cohesive unit with a baseline of success. The cohesion and ability to "dance" together up front is what leads to a game where physical domination manifests. Practice, dance, practice practice, dance is a good formula especially when the first dance indicates an upward trend.
A key element in evaluating your offensive line potential is the leadership exhibited by the unit as a whole. Campbell indicates that the leadership is generating from the experienced offensive line. The right to lead is earned among the players. It is earned by working hard and playing well. If the coach is noticing a team that accepts the offensive line as a leadership source, then it is an indication of a unit that is playing well and working hard.
If the leaders in play and work ethic are the offensive line, then your team has a chance to not only improve, but be really good.
We have an indication here also of the names we will see on the field. The starting five from last season plus Downing, Ramos, and Hudson. Importantly, in mentioning the players that will play on the offensive line, competition is mentioned alongside it.
The final highlighted portion of the quote is the key to developing a unit and a team. Iowa State has progressed, through the recruiting efforts of the staff, to a point where there are eight for five positions. Quality players working to earn their place results in not just growth, but measurable development. Teams that perennially win eight-plus ball games have positions that are earned by a level of excellence, versus a default level. I believe that is what Campbell is referring to here. He is indicating that there is a turn occurring in the talent level and the play of the talent along the offensive line.
I believe these comments indicate that Iowa State will field a functional to better than average offensive line in 2019. Doing so is critical to their success and for an unproven set of running backs.
I find these comments to be credible and honest versus spring puffery. An indication of the reliability of the comments is found in the following:
"That offensive line area and certainly, I'm not hiding it, that's an area that hasn't been where we wanted it, or close to where we wanted it until really I felt like at times in the mid part of last year. I'm not saying it is perfect, we still have areas to grow. I finally think we are getting a lot closer to where we want to be in those areas."
An admission that the offensive line has been a limiting factor is stark honesty. A statement indicating that moving closer to the mark is a very bullish comment and very important for the 2019 prospects.
QB Development
Brock Purdy had a successful first foray based on wins and losses. A large part of that success was based on his ability to improvise and utilize the extraordinary abilities of a special player. The test now is whether he can settle down, read a progression, and deliver the ball on time in a more rhythm based passing game.
The Kansas State and Washington State games provided a glimpse of Purdy's progression. Iowa State utilized more play action than earlier in the season and it served to settle down the young quarterback and he was effective in getting the ball out accurately and on time.
Therefore, impressions of Purdy's development within the offense are a major indicator for the competitiveness of the Iowa State team in 2019.
"It's really fun to watch great quarterbacks start to take ownership of their craft. And Brock is beginning to do that."
Taking ownership of the craft is a phrase with meaning. For a quarterback, that means understanding coverage and pressure, checking plays based on pre-snap reads, influencing coverage with your eyes, delivering passes on time and in the right place, and elite preparation for your opponent.
Last season, Purdy survived on simplicity and instinct, which was pretty good. To be a long term solution at the position, he must develop his craft just as Coach Campbell indicated he is starting to do.
So, now let's put together a developing Purdy who is more capable of dictating a game with his mind and athletic talent with an offensive line that has the potential to provide physically dominant plays. That begins to be a recipe for consistent offensive success and something to be excited about for 2019.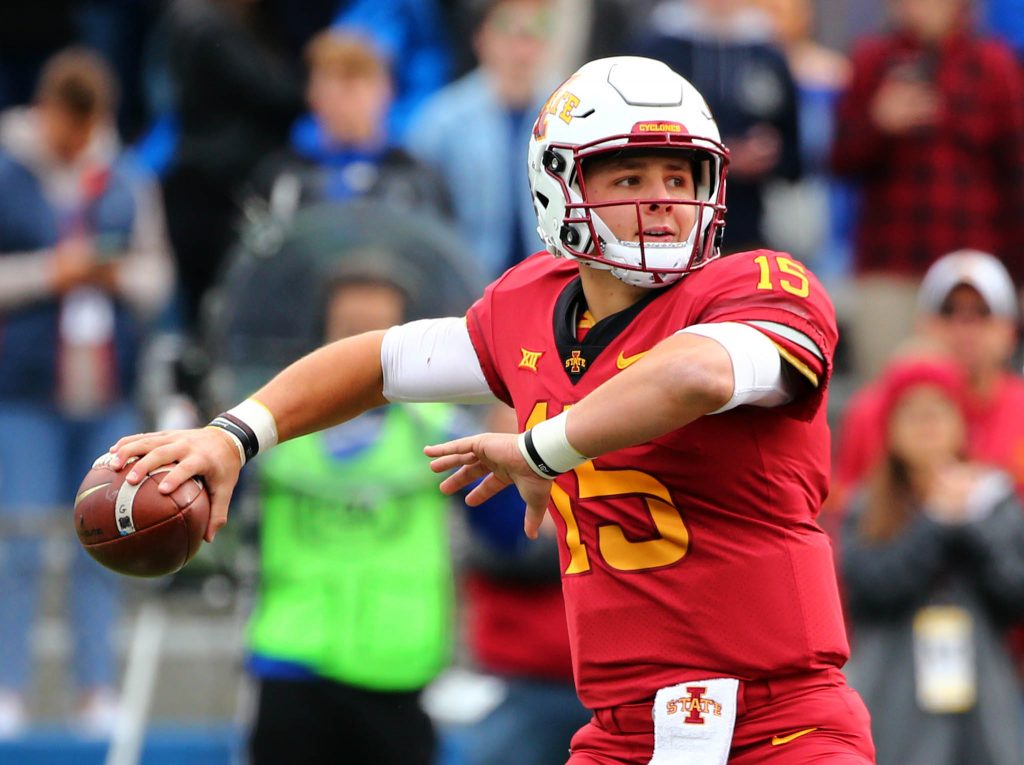 Scheme Hints
"Again, offensively, its just like defense, the reality of creating matchups within your offense is really important. Where we haven't had some of the pieces that we could really create real matchups with — tight ends, um backs you know multiple backs that can go in to games and do different skill sets, um — multiple offensive lineman. There are a lot of things that we have wanted to do and I think we have continued to evolve a bit every year.
'…we certainly got a few of those pieces."
I find this fascinating. For those tired of me discussing the need to utilize the tight end in the offense and to work the middle of the field more while threatening the edge more in the running game…this hints at why I say that.
The Iowa State offense has had a singular dimension over the Campbell years. It has attacked inside in the running game and down the vertical seams to its large receivers. It has relied on quick, short passes to threaten horizontally and the tight end has been absent except for its utilization as an extra man in the blocking game.
Now, I understand why it has developed in that manner. Campbell is ordered in his approach to say the least. It makes sense to build from the inside out and concentrate focus with raw numbers where the talent balance may favor the opponent. With a primary focus (which is the intent of the motion) to create matchup issues, the offense has relied heavily on utilizing its size advantage on the outside at receiver to make contested catches and to block in the horizontal passing game. That is where the matchup favored Iowa State's talent the most and where they felt they had the highest percentages in making plays. The running game was stilted to the inside where they hoped to have a man advantage with the F back and tight end which is what we have seen in the Lanning package and the unbalanced zone running plays.
Coach Campbell points out that the defensive philosophy is similar to the offensive philosophy. In a previous article, I pointed out that the "Professor" (Jon Heacock) was free to create in 2018 because of the solid play of Peavy, Harvey, and Lima. In 2019, the pivot point will be Lima, Rose, and Eisworth and creativity will orbit their range capabilities. Think about how in the NFL, us old guys discussed the advantage of Deion Sanders controlling half the field in the passing game. This freed up others to gain an advantage because the areas that are defended are reduced for the other defenders. Iowa State's defensive talent and depth has created an opportunity to create difficult match-ups that offensive coordinators have had trouble adjusting to.
Campbell points out tellingly that they have not had the pieces in place to accomplish the same type of dynamic on the offensive side of the ball. But, he also identifies where that dynamic will come from — tight end, running back, and offensive line. With quarterback now reasonably stable, the tight end position offering multiple skillsets and mature bodies, and eight viable offensive line pieces, there is a greater opportunity to create mismatches at each level of the field and with multiple play designs.
Consider that there are five lineman who are very adept at a pull sweep and screen concept, but they are not the same five lineman who start the game. With eight available and additional depth developing, a certain drive or play sequence may feature a different set of offensive lineman. Then, the road grading unit subs in for an inside run attack. There may be one or two replacements in the sets, but the option may arise.
Consider a two back set with speed in a Kene Nwangwu and receiving skill in Breece Hall that attacks overmatched linebackers in coverage to the edge and play side seam in a half roll or play-action scheme. Then, an RPO attack to both the speedy outside receivers and the bulky tight ends in alternating in and out route combinations.
A little imagination placed in to the concept articulated by Campbell sets the ground work for what they want the offense to evolve in to and what may begin to manifest in the fall. The addition to the established base package we have seen develop over the last couple of seasons is the exact type of wrinkle that will continue to move the offense forward. In this quote, Coach Campbell confirms the direction and gives me confidence that the evolution will continue in an effective manner.
In the Campbell era, the offense has taken four games to sort itself out and settle in to its capability ceiling. That has cost the Cyclones early season wins but resulted in solid league play. I believe the quarterback stability, the experience on the offensive line, and the returning defense set the stage for a much more cohesive start to the season in 2019. Iowa State will need it and you will begin to see the vision Coach Campbell hopes to realize for his program.
I would challenge you film nerds to take some time to review Toledo under Campbell. I am confident 2015 and 2014 games can be found. I have been perplexed by the disparity between the offense in those games versus what we have seen at Iowa State. Now, I am a bit more clear on the direction and I believe that some of the things you see in those films will begin to manifest in Ames.
Nasty MLB
"I think Mike Rose is a guy that easily could have took his foot off the gas and said, 'Man I had a great fall.' But, now he is 240 pounds and he is running down hill and he is confident and he is taking great ownership of what we are doing on the defense."
When I put my linebacker pants on and think about a confident, free, 240 pound Mike Rose running around — those pants start to fly all around like a weatherman covering a hurricane.
If Mike Rose is who Coach Campbell presents him to be, then the tone is set on defense to become NAS – TEE. Mike Rose does not like to give any ground. His play indicates a mindset that wants to exit the field at 4th and 10 or more. That can be contagious and often generates from the linebacker corp.
It indicates to me that Iowa State intends to exhibit a less pliable approach while maintaining its ability to force long drives and many decisions. Mike Rose sits at the forefront of that shift and for the next two years will lead that charge.
Prospects
I always wear cardinal and gold glasses and put out a lot of flavored drink when I write about Iowa State football. I have stated and continue to maintain that the challenges for this team in reaching its previous high water mark are significant in the 2019 Big 12 race. There are significant obstacles in their way.
However, based on these comments and the 11 minutes of time he spent making public comments, I believe Campbell is moving in the right direction schematically and in the development of his players. A quicker start is required and Iowa State will still look for plays and playmakers to emerge throughout the season, but those emerging will be from a more mature and better developed base of talent than in years past. This portends an easier route to successfully replacing lost production and exceeding expectations.
At the very least, obstacles such as predictability, talent disparity, stability, offensive line improvement, and moving from a superstar-centric source of playmaking to a team/match-up-centric source of playmaking, are being mitigated and in some instances overcome. That colors my preseason view of the prospects for 2019 in to a more brilliant shade of cardinal and gold.