A developmental program creates its margin of improvement in the span of January to August. The young players mature and the gains of the veterans accelerate creating a basis for optimism in the upcoming season.
Spring practice is key in that developmental process. The practices are a focused opportunity to develop fundamentals, work on new schemes, and to instill a mental approach for the team that will matriculate in to the fall program.
There are always questions to answer in the spring and I wanted to weigh in with some of my questions and thoughts about what faces the 2019 Iowa State Cyclones.
A self-scouting note…as I thought about the team and what I would like to see develop in the spring, I noticed that most of my thoughts were related to the offense. This seems logical because the two largest losses are on the offensive side of the ball. However, upon reflection, I believe I gravitate to that side of the ball because it is where there is the greatest margin for and need for improvement in order for this team to elevate above an 8 win margin. Do not take from that comment that I am not thrilled about an 8 win threshhold…I am. I simply believe there is an opportunity in 2019 to exceed that should certain developments manifest in these months of preparation.
Two Larger Questions
Speed and the Option
Quarterback Brock Purdy brought an added dimension to the Iowa State offense in 2018. The ability to run a true read/option and to escape the pocket for meaningful yardage. The addition of a modest run threat occupied a defender and opened lanes for the runners and coverage advantages for the receivers.
Approaching the spring, there is an opportunity to fine tune the option looks to expand the running scheme deployed by Iowa State. That process starts with Purdy, but extends to Re'al Mitchell and Easton Dean. Both backups have run ability on par, or better, than Purdy.
In particular, will the team decide to develop an option package using the unique skill set of Mitchell? It seems logical to do so given that they developed a package for Lanning in 2017. Mitchell brings REAL running ability to the table and underrated passing capabilities. I envision an option based run/pass package that has less predictability than the Lanning package had. Not only would such a package be effective in the red zone, but it would save a hit or two on Purdy throughout a game.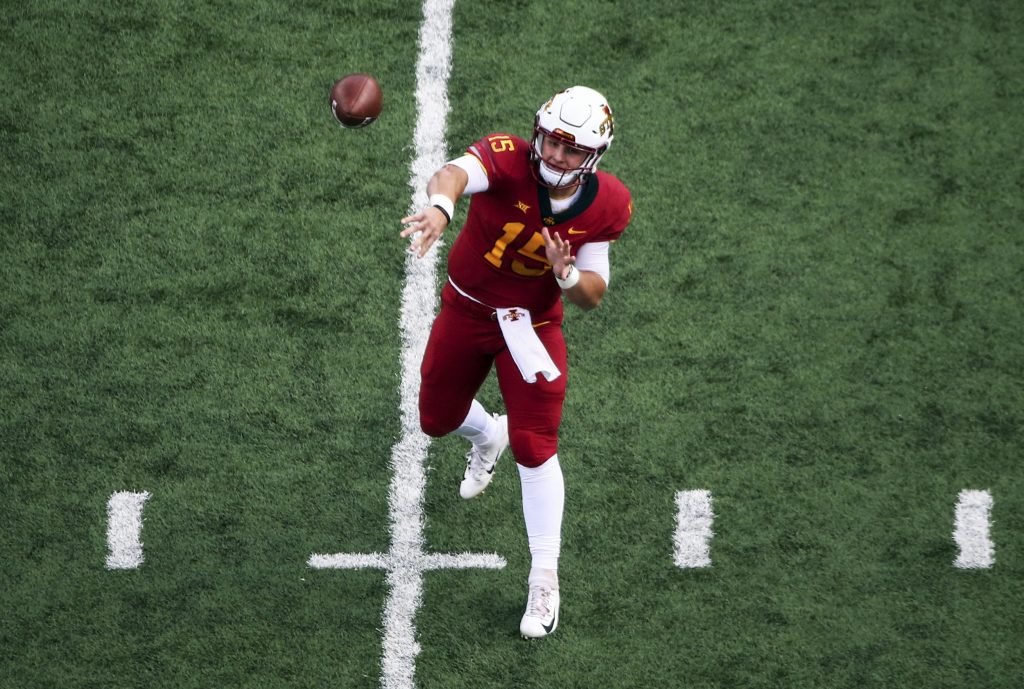 The change of pace at the quarterback position would be an issue for coordinators, especially with a pass element involved. The example here would be how Kansas State would use Alex Delton (now at TCU) to change pace and focus in 2017.
Tangentially, the expanded use of an option scheme would aid the skill set of the returning running backs. The running back room has solid speed and less power than in the past. Though Breece Hall brings a power element, Jirehl Brock, Johnnie Lang, and Kene Nwangwu bring speed as their primary skill. Nwangwu in particular.
An edge focused and creative play set where Nwangwu and the quarterback become edge run threats has solid potential for increasing the efficiency of the running game (which must be done to improve). A "chase and space" attack also takes some pressure off of a beleaguered offensive line. Wide receiver blocking will be key in making a decision, but I am curious to see if a shift in this vein develops during the spring.
Speed comes in to focus in the passing game as well. Heretofore, Iowa State has deployed a receiving core with average separation ability and one speedy player. In 2018, Tarique Milton and Landon Akers added to the speed element, but a majority of receiver sets had a narrow speed variant across the board.
I believe the sets for 2019 will be more varied and the speed element will be amped up. Josh Johnson runs well. Milton runs well. Jones is sneaky fast. Carson Schleker is lightning quick. Leonard Glass creates separation, and Joseph Scates may bring that element as well.
The tight ends, Dylan Soehner, Charlie Kolar, and Chase Allen, figure to be more involved in the passing game (or at least should be). None are slow, but they create a speed factor that is disparate from that of the edge receivers in the set. It is that disparity that I find intriguing.
As a defender, eye discipline is a key element. Offensive design is often focused on changing the eye discipline of the defense. It simply means that a defender must read a key correctly and react appropriately to the key given. The keys (movement of a particular player or group of players) lead you to your responsibility and often the football.
Where there is a speed disparity in the route development, it is easy to let your eyes either lead you to the speed element or to become focused on the slower element while the speed runs past you. This is why the delayed back-side route by the tight end works so well in the red zone.
Iowa State has an opportunity to utilize deceptive speed disparity among its route tree for the first time in the Campbell era. It would be a nice wrinkle and one I hope they are developing in to their repertoire.
Defensive Pressure
So, I have been busy and have not heard much chatter out of the spring conditioning sessions. But, I perked up when I read that Will McDonald would be playing outside linebacker this spring.
First, he is big for the position, or should I say tall. Length in a space coverage position is a major asset. Second, it indicates that his speed and change of direction ability is solid not only for a down lineman, but for the linebacker position as well.
Willie Harvey covered space very well. Iowa State was able to provide unique pressure packages from the inside linebacker and the safeties because Harvey was able to cover space beyond expectation behind them. In my opinion, the pressure packages deployed in 2018 pivoted around the anchor that was Willie Harvey.
This leads to my question…does the move of McDonald to linebacker indicate a dynamic pressure variant and what does it say about the defensive end group in the same vain?
Taking a pass rush talent away from the defensive line is risky and counter-intuitive. However, it becomes dynamic when the pass rush talent is abundant.
JaQuan Bailey has the opportunity to become a true force on his edge of the defense. He progressed nicely in 2018 and I believe if he develops one additional pass rush move we will see a threat that will have to be accounted for. Enyi Uwazurike has almost unlimited upside on the other edge, however, Enyi is most adept as a penetrating run-stopper due to his length and size. Those two are solid, but I figured the rotation depth with a specialist like McDonald would be key in ramping up the pressure.
I think that the move of McDonald out of that role indicates that Zach Petersen and newcomer Blake Peterson are going to be expected to provide an impact beyond expectation. In fact, I have a hard time finding an alternate explanation. Both have the ability to make an impact, but I think this move indicates they are ahead of schedule. There may be another player or two that figures in that mix as well, but clearly, there is a strong confidence in the improvement of the edge pass rush.
Now, I get really excited when I think about the possible pressure packages that can deployed with a player like McDonald sitting behind Enyi and JaQuan. You now have a forth, line quality rusher in a move position. The OLB can be moved and angled in a rush or drop position that is hard to account for out on the edge. Protection may slide to his side, which would leave a vulnerability on the opposite edge for a DE or to drop the OLB and blitz away from the slide. There are loop opportunities and a straight four man rush ability with the three most talented rushers on the field at the same time.
A shift in the pressure generation points will be needed for the defense this year. In 2016 and 2017, Iowa State pressured with the corners and outside linebackers. In 2018, Iowa State pressured with the middle linebacker and the safeties (Lewis, Rose, Eisworth). In 2019, I believe this position move indicates that there will be pressure packages from a free flow player on the edge.
This makes sense because your defensive anchors in 2019 are the middle field players — Ray Lima, Mike Rose, Greg Eisworth. Last year, your anchors were Lima, Brian Peavy and Harvey which freed up the safeties and MLB to provide that fourth and fifth penetrator.
A wrinkle in the pressure look with more effective pass rushers will cause continued struggles in attacking the defense. Texas and Iowa will remain a challenge because they are capable of moving the anchor players, but it is my opinion that a linebacker rush option with enhanced edge presence will be effective against both.
I am looking forward to seeing how this position manifests if it carries over to the fall.
2 Smaller Questions
Special Teams
I could really discuss this in one sentence. Will they be a plus factor or a negative factor?
It is anyone's guess. The spring is a time to put some real work in to special teams. Coverage is solid and has been throughout the Campbell era. Kickoff returns are all but eliminated from the game and there are capable returners should one arise in game play. I am looking more at the kicker, punter, and punt returner.
I do not think there is a lack of skill at the punt returner position. Matt Campbell is a behind-the-chains coach who prefers a solid fair catch. However, there is opportunity in the return game there to pick up a first down.
In addition, if you are going to play conservatively in the return package, then it follows that you should take some chances at the line and in going for a block. There are some quick players available for this role. The counter would be the threat of a roughing penalty, however, that is easily brushed aside with attention to detail and preparation. If the punt return is to continue as a catch-only option, then I would like to see the development of some creative block schemes and the widespread use of them.
Kicker is interesting. Connor Assalley was not bad. But, with Campbell's preferred offensive style (play behind the chains and rely on defense and field position), the kicker must be lights out and be a factor from distance. He simply was not a factor from distance and gave a little heartburn from closer in. I suspect he will develop in the offseason.
I am also interested in the scholarship kicker, Brayden Narveson. It is reasonable to assume that he should ascend and be in heavy competition for the this crucial role. The kicking competition is a key position to watch in the spring.
Punting was a negative factor for ISU in 2018. Not only the clearly negative plays, but the general inconsistency was a detriment to otherwise dominant positioning throughout a game. The punter needs reps, like a million of them. It was extremely obvious that he was not accustom to the pressure and did not have enough repetitions under his belt to compensate for the expected nerves associated with his role.
I am unconcerned about who punts. I am only concerned that the punts are consistent and within collegiate distance parameters.
I speak little about special teams but make no mistake, the 30 special teams plays per game are significant. Not only is field position established, an explosive play has the effect of a turnover. Unaccounted for points or yards to gain are difficult to overcome in a league that will tightly contested. Iowa State needs to make strides here and the spring is the time to do it.
Offensive Line
This should probably be in the big question section. But, I have written about them extensively in the past so a more brief discussion is warranted.
In my opinion, there should not be a single position on the offensive line that is locked in due to experience. The performance was shaky enough to warrant a whole scale competition for each and every position.
It is important to note that each and every offensive lineman in 2018 showed stretches of solid play. However, the stretches of football where all five made solid contributions to the play called were few and far between. As I have charted their play throughout 2018, a trend surfaces. On a familiar running sequence, three, and sometimes four, of the players will make adequate blocks. However, one or two will utterly fail causing play disruption.
The failures are rarely mental in the sense that someone blows an assignment. Instead, they are physical via poor technique and a lack of physicality. There remains a gap between the physical preparedness and mindset of a solid collegiate offensive line. There is a near absence of dominant plays made by the offensive line.
The goal here is to find five physical, technically sound, lineman who can fit a run block and hold it through its mid-play, and occasionally finish the block. There are two redshirt freshman and two true freshman who I believe have the ability to accomplish just that. There is only one of the returning lineman that I believe has demonstrated an ability to consistently play at that level.
The likely result of the spring is that the same five lineman will remain in their roles with an "or" slapped on a couple of contenders. If so, then I will be forced to assume that progress has been made and the returners are showing consistency and ability that they have not shown before. That MUST be the case, otherwise, younger players must be given the opportunity to take those spots.
This position may seem harsh, but the truth of the matter is that Iowa State cannot expect to maintain its current level of competence while rushing the ball for less than 3.7 yards per carry. Montgomery erased negative plays with his unique ability, but the current cast is unlikely to do so. Not only does the scheme need to shift, but the proficiency of the blockers must as well.
Iowa State can mask its deficiencies with an option oriented running game, however, they must become a threat in Campbell's preferred inside zone run game. The run game has been an inhibitor to efficient offense and the offensive line must progress in order to take the next step.
Pass blocking has been superb and I expect that to continue, but the run blocking is where the bread is buttered. I would like to see two to three "Newells" emerge this spring and fall. We will see, but I believe the success of the 2019 season hinges on the development of the offensive line.
Big 12 Thoughts
So at this time of year, I begin to line up my thoughts about the general prospects of each Big 12 team. Last year, I utilized a quarterback turnover factor and built an article around those thoughts. This year, it is coaching turnover that has caught my eye.
Four of the 10 teams have new coaches who are proven, high-level winners. Three of the programs leave a bit to be desired, while the fourth (West Virginia) is in good shape for its new coach. Iowa State now has a coach who is the tied for the third longest tenured head coach in the league. Consider that? The coaching talent is significant in the league with 8 coaches who are considered up and comers.
To close, I give my opinion of how the league shakes out heading in to the spring practice phase of preseason preparation.
1 – Texas — Have holes at MLB, DE, and RB, but have stocked the cupboards with talent. Texas gained an identity behind Ehlinger and finally succumbed to Herman's physical style of play. Ehlinger has a chance to be transcendent and Eagles and Johnson will make him look brilliant. Playoff contender.
2 – Oklahoma State — Yes, a second year with a first-year quarterback, but also a second year with their new defensive coordinator and first year with a brilliant offensive coordinator. The coaching changes are solid here and they will be back in the 10+ win position next year.
3 – Oklahoma — Jalen Hurts. I am not sold on his ability to do what the last two quarterbacks have done. He is not a 1.1 draft pick. They will have to switch to an option based run attack which could propel them higher. Defense will get better, but I think Hurts is a downgrade.
4 – Baylor, Iowa State, TCU, West Virginia, Texas Tech – All of these teams are interchangeable and their head-to-head proficiency will determine their finish.
a. Baylor — They return players at key positions and high level recruits will start to take prominent roles. Baylor still needs to "learn to win" but I believe that started last year. The talent is high level and unfortunately the coaching is as well.
b. TCU — There are questions at quarterback, but the options are plentiful. Experienced Alex Delton, frosh Max Duggan and my pick, Justin Rogers, are all more talented than the players at the position over the last few years. If they can get better quarterback play then a 2017 run will be possible for the leagues most established and best coach.
c. Iowa State — Big questions to answer as the league will dial in on what has made them effective over the last couple of years. Offensive efficiency and a defensive pivot are required. The talent is available to challenge the top three, but the tests come from Iowa and their fellow occupants of this tier. The margin will be very slim and schematic changes will be the difference.
d. West Virginia — There is talent. Particularly, defensive talent. Neal Brown is an outstanding coach and he is dealt the best hand of the first year coaches. Troy played dominant defense and wide open offense. That is a good formula for the Big 12 and I think he has the possibility of fielding a solid team in his first year.
e. Texas Tech — Matt Wells is good coach. Utah State played a complimentary offense and solid defense at a lower level. He is a disciplined coach and if there is one thing Tech needs, it is discipline. With his approach, I think Tech can rise above the deficiencies of the Kingsbury era.
9. Kansas State — Though the new coach is cut from the same cloth, I do not believe the step up from FCS will be kind to him. It will take some time for KSU to adjust to a similar, but new program, and the loss of Risner and Barnes will have a debilitating effect.
10. Kansas — Yeah, just not seeing it. They are better. Miles is a good coach. But, more of the same.