TULSA, Okla. — I won't lie. When I first started hearing rumblings of mutual interest between Fred Hoiberg and Nebraska in the middle of February, I wasn't crazy about the idea. 
In fact, I hated it. 
You have to realize that I was raised on the western side of the state. I'd say that back in the 90's, 50 percent of the folks in my hometown were Nebraska fans (Many of them – not all were front-runners and incredibly obnoxious.). Iowa probably had 30 percent with Iowa State, Missouri and the Kansas schools filling out the rest (I'd say that Division II Northwest Missouri State had a bigger following during those days than the Cyclones.)
To be completely honest, I am still not crazy about "The Mayor" wearing scarlet and cream, but I've come around to the situation. 
Here's why:
My little girl turned four last month. I read to her every night before she goes to bed. We have our routine. Cinderella and then another book of her choice. We pray and then we have a similar talk. We discuss the importance of kindness, loyalty to family and how the world is at her fingertips. Eventually, she will get tired of my lectures but at this age, she genuinely loves spending time with dad. It's special.
She can do anything she wants.
Like her mother, a beautiful and strong woman (she has Dr. in front of her name) who I do not deserve to call my wife, Cami can grow up to be a, lawyer, astronaut, surgeon or sports writer (although I would prefer she stays out of this line of work). 
We talk about dreams a lot in our house. 
It's why at 39 weeks pregnant in 2015, my wife allowed me to take on a second job (my daily radio show on 1460 KXnO). She knew it was a career bucket list item for me and that I would regret passing on the opportunity. 
It's why this summer, my wife allowed me to commit to calling Iowa State women's basketball games. 
It's why a year ago, with an already very full plate, I encouraged her to take the Medical Director position at her hospital.
You. Only. Live. Once.
Back in 2009, a lot of people thought I was an idiot when I left a really good job launch an independent Cyclone-only media outlet with some guys from Ankeny. 
Professionally (every day I am fulfilled by what I do) and personally (my partners are now like brothers and you fans are so important to me), it was the best gamble I've made in my 34 years of life. 
Dream. 
That's what Fred Hoiberg did when he left Iowa State to become the head coach of the Chicago Bulls. 
According my people in Nebraska, the next head coach of the @Huskers basketball team will be Fred Hoiberg. This is firm and final.

— Lars Anderson (@LarsAnderson71) March 20, 2019
It didn't work out. 
At least he tried.
The thing is, Iowa State's golden boy is now unemployed. If you know anything about Fred Hoiberg at all, it's that sitting around on the couch is not in his DNA. The man has to work. 
He has family connections to Nebraska. Without talking to him, I assume it feels like a second home to him. 
Most importantly though, Iowa State is doing just fine without him. Steve Prohm has a program right now that if the offseason goes well, could realistically be ranked in the preseason top 15 next season (seriously). 
After last week's run in Kansas City, many national analysts are projecting Iowa State to make a deep run in this year's NCAA Tournament. 
Prohm isn't perfect. But neither was Hoiberg. 
Nobody is perfect. 
Steve Prohm is a really good fit for Iowa State.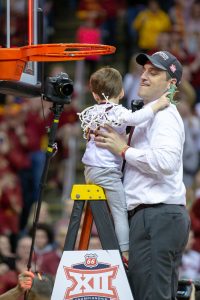 Fred chose to move on five years ago. We should have all applauded him for chasing his dream. That is literally what I tell my kid to do every night. 
Fred, unfortunately, got fired from the Bulls but it isn't fair for Iowa State fans to expect him to sit around and never coach again. 
Is there hostility in Manhattan for Lon Kruger coaching at Oklahoma?
What about from Oklahoma State fans and Bill Self winning all of those championships at Kansas?
Iowa State fans generally view Hoiberg not as a man – but an icon. That's accurate. He is one. We also see Nebraska as a program that has literally never won an NCAA Tournament game in its entire existence.  
On the surface, this job seems beneath him. That's how I felt initially at least.
That isn't our decision to make though. 
He brought Iowa State basketball back from the dead. We will always be indebted to him for that. But this is Steve Prohm's program now and I'm hopeful that he can take Iowa State to even taller heights in the next couple of years. 
Not that he needs it, but if Fred wants to coach at Nebraska, he has my full support and I wish him well. I really hope that Cyclone Nation follows suit. 
You will never see me in a Nebraska shirt though.