Well well well… In the first year of the Mid-Week Mailbag's existence, Iowa State has gone to the Alamo Bowl in football, won the Big 12 Tournament in men's basketball, and secured a 3-seed in the NCAA women's basketball tournament.
Coincidence?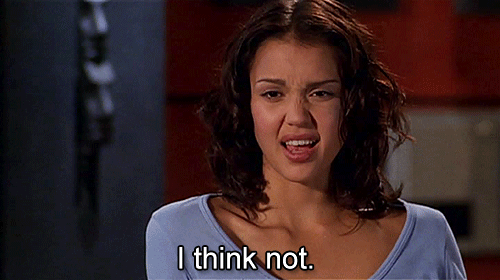 We're drumming up some good juju every week in here and must continue forward in our quest to take Iowa State athletics to the top.
Let's get to this week's pre-NCAA Tournament edition of the MWM.
GTO (forums) asks: Should I work on Friday and get out in time to watch the ISU game? Or take the whole day off and enjoy the potential Cincinnati beatdown of Iowa?
The Thursday and Friday of the first round of the NCAA Tournament are the best days of the entire year to take off if you're a fan of college basketball – period. If you have PTO to use and can get the all-clear, then do it. Plopping down in front of the TV(s) with multiple games going is about as good as it gets. The potential enjoyment of watching Iowa get destroyed by Cincinnati is simply the cherry on top.
On a related note, the two days of the Round of 64 have to be the least productive work days across the entire country, right? People will be streaming games while working, checking scores constantly, taking long lunch breaks to catch specific games, etc. I don't know about the rest of you, but I'd give up a day off on Labor Day and, say, New Year's Day in order to get the first two days of the NCAA Tournament classified as official federal holidays. Maybe someone should start a Change.org petition and we can get things rolling. Who's with me?
FinalFourCy (forums) asks: Did we get a good draw?
PizzaTheHutt (forums) asks: With the Midwest region looking to be this years toughest region top to bottom. How do you feel about ISU's draw in Tulsa and their road to the Sweet 16 when comparing Ohio State and Houston to other 11 and 3 seeds in other regions?
All things considered, I like this draw for Iowa State. The name brand of Ohio State won't be a first round opponent that the team will overlook. Additionally, the potential to play in the Sprint Center should the Cyclones advance to the Sweet Sixteen is the perfect opportunity to once again make #HiltonSouth a factor.
Compared to the other 11-seeds, I like playing Ohio State for the name brand as mentioned above and also because I think they're far less threatening than Saint Mary's, who just knocked off Gonzaga in the West Coast Conference Tournament finals. In fact, I have the Gaels upsetting Villanova in the South region as one of my Round of 64 picks. I also think Belmont (who I picked to beat Temple in their play-in game) has a great chance to upset Maryland in the East.
Meanwhile, the only 3-seed I would have preferred to play over Houston is LSU, due to the off-the-court distraction they're going through with their head coach Will Wade. Since Iowa State couldn't get paired with 3-seed Texas Tech (they aren't allowed to meet until the Sweet Sixteen), the only other 3-seed left is Purdue, and the Boilermakers are a top five offensive team in the nation per KenPom. Don't get me wrong – Houston is going to be a tough team to beat if Iowa State gets past OSU and the Cougars aren't upset by Georgia State, but I'd be far more worried about another round of 32 game against Purdue after getting bounced by Matt Painter and Co. in Monte Morris' senior season.
cyclones500 (forums) asks: Now that bracket is set, who's in the Final Four, with an additional darkhorse and your tournament champion?
Predicting anything about the tourney is a giant crap shoot, as most everyone is aware. However, these are the teams I'm picking to make the Final Four this year: Duke, Texas Tech, Tennessee, North Carolina.
Duke? They are just so good when Zion Williamson plays. I'll be very surprised if they don't represent the East region in the Final Four.
The loss to West Virginia surprisingly makes me higher on Texas Tech going into the tourney because I think Chris Beard is going to hang that loss over his team's head in a major way and, as Iowa State fans have seen firsthand, that team has the ability to be tough as nails closing games out. I think they'll actually have a harder time potentially beating Michigan than Gonzaga, and I think if UM wins that potential Sweet Sixteen match-up instead of the Red Raiders, then they'll go on to beat the Zags and make the Final Four.
I'm probably least confident about my Tennessee pick, though I will go on record and say that I predict the South region to be the one that blows up the majority of people's brackets this year. Especially after last year's loss to UMBC, no one can trust Virginia, and a few of the mid-tier teams in that region (K-State, Wisconsin, Villanova) have the potential to go on a run if they get hot.
Cyclone bias aside, I think the Midwest region is the toughest this year from top to bottom. North Carolina is the safe pick for sure though. I like their experience over Kentucky's for the likely Elite Eight game.
My national champion? Duke. Boring, I know. It's just so hard to pick against a team with that much talent and arguably the greatest college basketball coach ever at the helm.
My dark horse for a run to the Final Four and beyond? That would be none other than Kansas State. There are certainly questions about their offense being able to keep up, but good guards can carry a team and Barry Brown gives off a Kemba Walker-esque vibe. The Wildcats can play D. They only need to do *just enough* on offense to survive and advance.
Doc (forums) asks: Other than Iowa State, who has the best mascot in the tourney? Other than Kansas, who has the worst?
Best: Wofford Terriers. D'awwww.
Worst: Syracuse Orange. Orange isn't a mascot, it's a color. Be better, Syracuse.
NWICY (forums) asks: How far do you have the ladies going in the tourney?
I like the Cyclone women to win their first two games in Hilton Coliseum before falling to Stanford in Chicago in what should be a close game. Stanford's Tara VanDerveer is one of the best coaches in women's basketball and should formulate a good game plan to contain Bridget Carleton as much as her team can. Though hopefully the proximity to Ames will mean plenty of the cardinal and gold will make it over to "Hilton East" and propel the Twister Sisters on to the Elite Eight to prove me wrong!
CoKane (forums) asks: Would you rather have Hoiberg go to Nebraska, Kansas, or Iowa?
Nebraska and it's not even close.
Iowa State plays the other two schools every season. How much would I (and the rest of the fan base) enjoy squaring off against Hoiberg? About as much as pouring milk over a bowl of thumbtacks and eating that for breakfast.
I understand the question though. Those three schools are probably the three that the ISU fan base hate the most universally. I'd just rather The Mayor be completely removed from the schedule and off doing his own thing so he doesn't directly affect Iowa State in a bad way. (Never mind the whole recruiting against him every year thing.)
Let's just hope that if Fred ends up back in a college coaching position, it's somewhere outside the Midwest.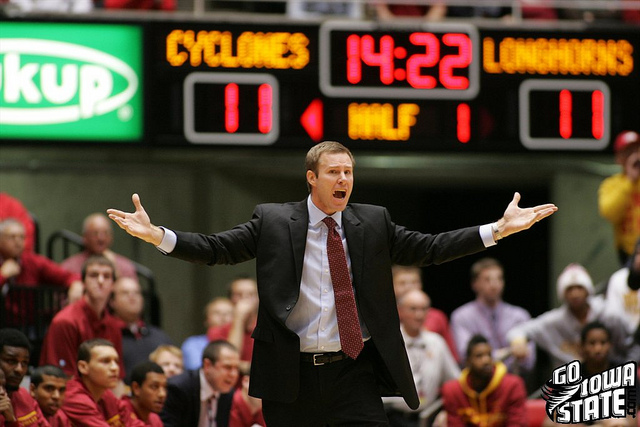 Cyched (forums) asks: Who's your dark horse contender in Campbell Madness?
For those of you who aren't connected at the hip to the Twitterverse, Campbell Madness is the bracket that Ya Boy Matt Campbell (@NotMattCampbell) ruins concurrently with the NCAA Tournament. It often includes random stuff mixed with things that Iowa State fans enjoy.
#CampbellMadness 2019 edition!!! pic.twitter.com/u5Irb2h5Nv

— Ya Boy Matt Campbell (@NotMattCampbell) March 17, 2019
My dark horse pick this year is definitely 4-seed Jon Heacock. That guy got shafted by the committee. I also like 6-seed Buschhhh to make a run since Busch Light is all the rage for Cyclone fans these days. Tough match-up looming against Dogs in the second round, though.
discydisc (forums) asks: What is the best meat?
Beef. It's versatile and two of my favorite meals (steak, cheeseburgers) directly involve it. 2A and 2B are pork (shout out to Iowa Pork Producers) and chicken. You really can't go wrong with any of those three meats though. I'll never be a vegetarian.
jcyclonee (forums) asks: Why don't more people speak in a pirate accent?
Great riddle. Maybe we needs t' make a point o' tryin' t' brin' back pirate speak by immediately adoptin' it into our everyday routine.
This weekend durin' th' NCAA Tournament, natter t' yer hearties 'n family exclusively usin' a pirate accent. I'll do it too. Together, we can return pirate speak t' th' forefront o' popular language trends.