Everyone is 0-0.
That was the message from Iowa State women's basketball coach Bill Fennelly this week at practice as his team gears up for the upcoming Big 12 Conference Tournament.
After a historic season that included 23 overall regular season wins and a school-record 13 conference victories, the No. 2 seeded Cyclones return to an equal playing field with their conference rivals.
"The Big 12 Tournament is always fun," Fennelly said. "Like all of us who love basketball, March, and the postseason. There's nothing better – [except] maybe grandkids. This group has done such a good job all year."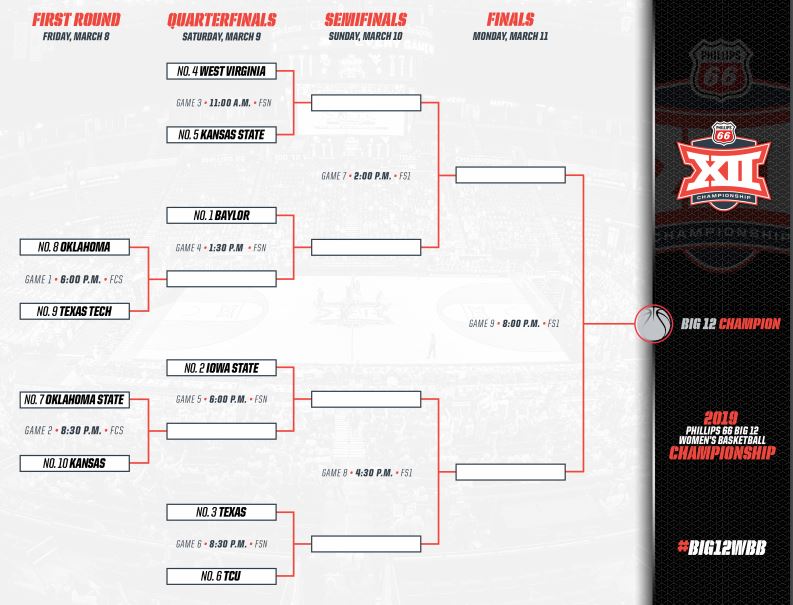 Part of what made the season so historic was the play of Bridget Carleton and Kristin Scott. The pair of Cyclones appeared on the all-Big 12 First and Second teams while helping Iowa State to its best finish in conference play since the 2012-13 year.
Carleton recently became the first player from Iowa State to earn Big 12 Player of the Year, as well.
"Obviously, there's a lot of great players in this league and the debate will go on forever," Fennelly said. "I don't know how you can say [Carleton] didn't deserve it. Whatever measure you put out there, whether it's team success, her numbers… I'm really happy for her. I think it says a lot about [Carleton]."
The Chatham, Ontario, Canada native has scored at a 21.9 point-per-game clip this season, including a 24.6 mark in the same stat since the turn of conference play.
Carleton, however, being the player that she is, credited her teammates with the award.
"I'm really excited about it," Carleton said. "It's a huge honor to be recognized by the league coaches. It's been a great year for it to be capped by that. [My teammates] were just as excited as I am. They know that they were a huge part of it, too. I don't get that award if we're not second in the league."
Scott emerged right as conference play came around to provide some support for the team on the offensive side of the ball. One of her highlights this season included a perfect shooting night in the team's road matchup with Oklahoma State. Scott corralled 31 points, making all 11 of her attempts, and canning seven 3-pointers to help Iowa State come away with a victory.
"When you looked at our team, one of the things we needed to create was some offensive balance, especially from the No. 5 position," Fennelly said. "To go from most people not knowing she was on our team to a second-team all-conference player, is a great tribute to her and the staff on how hard they worked to put her in some positions to have some success.
During her freshman season, Scott shot just 7-51 from the 3-point line, which strongly contradicts her remarkable 39.8 percent mark from this season. Her teammates knew all along, though, that Scott was a phenomenal shooter. She showed it in practice day in and day out.
"We saw it in practice every day" Carleton said. "I was confident every time she shot the ball. She believes in herself this year. She's worked at it."
The two will help lead the Cyclones into Oklahoma City for the Big 12 Tournament this weekend and although Iowa State only has one win there in the past five seasons, things are looking good for the team heading into it this year.
Iowa State will face the winner of No. 7 Oklahoma State and No. 10 Kansas in the quarterfinals after earning a bye in the first round.
If the Cyclones can earn a victory – as they should, after sweeping both teams during the regular season – the No. 3 Texas Longhorns will await them in the second round.
Texas is one of two teams – the other being No. 1 Baylor – that took down Iowa State at Hilton Coliseum this year.
However, Iowa State walked away with a commanding win over the Longhorns in Austin.
"Playing Texas again would be great," Scott said. "Losing that first one close at home was [tough], so getting another chance to try and beat them again would be good for us."
Not to mention, the Longhorns knocked the Cyclones out of the Big 12 Tournament last season, ending the team's year.
Carleton went as far as to say the Iowa State – Texas series is turning into a sort of mini-rivalry.
"I think Texas is a great team," Carleton said. "It's kind of like a little rivalry the past couple of years, I think. We always have a good game against them. It's always an intense game. It's a little rivalry within the league within the league that you really wouldn't have thought about. It's a lot of fun and I hope we get to that point."
There's a lot riding on the team's trip to OKC.
If Iowa State does well enough, a four seed or better could be waiting for them come Selection Monday. That would put the Cyclones back into Hilton Coliseum to host the first two rounds with the way the national tournament is set up on the women's side.
For the Cyclones to clinch that, they'll probably need at least one win this weekend, to make sure another bad loss doesn't pop up on an impressive resume.
Although, if the team drops a game in the wrong manner, it could push the Cyclones outside of that spot on the bracket, and essentially into a road setting in the second round.
Iowa State will play its first game on Saturday night at 6:00 p.m. The game will be televised on Fox Sports Network.
"This group believes in itself," Fennelly said. "They believe in what's possible, and I think they're really excited to continue to play and do some things in March. We're excited to start that on Saturday night."