Jan 8, 2016; Knoxville, TN, USA; Tennessee Lady Volunteers guard Alexa Middleton (33) reacts against the Mississippi State Lady Bulldogs at Thompson-Boling Arena. Mandatory Credit: Saul Young/ Knoxville News Sentinel via USA TODAY NETWORK
It was Alexa Middleton's first day at Riverdale High School. That was by far the biggest school she had ever gone to  — one that she was attending for the purpose of basketball.
Middleton was set to begin her high school career in the fall of 2010, but first she had to get comfortable with her new surroundings.
She ate lunch in the bathroom. 
"I didn't know anybody," Middleton said. "There was a freshman wing where all the freshman ate, but I didn't know any of them. It was a rough transition."
As is the case for many, the high school experience was filled with ups and downs, as was Middleton's college career.
Specifically, the one that she ended with her senior year at Iowa State.
****
After a three-year career at Tennessee, Middleton decided to transfer to Iowa State and sit out for a season before playing her final year of basketball for Bill Fennelly and his staff.
The Cyclones, to Middleton, were no strangers.
"I remembered watching her on the AAU circuit before she went to Tennessee," Bill said. "The thing that we saw in her was that she was a great leader. She has a high basketball IQ. We knew [that spot] was going to be a position of need."
Transferring is more unique in women's basketball, especially when you consider how many were on some of  Fred Hoiberg's men's teams at Iowa State. An example, Hoiberg's 2013-14 team included seven of them.
"It's a market that isn't as big [on the women's side] as it is on the men's side, but it's getting to be more and more that way," assistant coach Billy Fennelly said. "Fred [Hoiberg] and Steve [Prohm] and those guys have done a really good job with transfers."
Billy said that when they're pitching recruits, Iowa State's history makes it easy.
"When people have given us an opportunity for a second chance, whether it's football, men's basketball, whatever [sport] it is, we've had success, Billy said. "People have liked it. People love basketball here."
That's an understatement.
Iowa State has ranked in the top four in the nation in attendance for women's basketball in each of the past 11 seasons. That was part of what Middleton looked at when picking out a school and part of what she talked to her high school coach and mentor, John Wild, about.
*******
Believe it or not, the path that led Middleton to Ames for her senior season goes back to the late 1980s.
Wild was playing for the men's basketball team at Lipscomb University and at the same time, Middleton's mother — Celeste — was playing for the women's squad.
Wild and Celeste got to know each other and kept in touch over the years, until Middleton was eventually playing on the AAU circuit leading up to her high school career.
"I'd see them at the state tournament every year," Wild said. "I guess it got to be about 2008 or 2009 and I knew they had a kid in sixth grade that was going to have a chance to be really good. She was going to a private school at the time."
As the years went on, Middleton began competing on the AAU circuit. It's something that most college players will do at some point either while in or before their high school careers.
Some of Middleton's AAU teammates were players that would go on to Murfreesboro Riverdale High School. The head coach there? None other than Wild.
The next thing he knew, Middleton was transferring from the private school of Middle Tennessee Christian to Riverdale, where she would spend her high school career.
Aside from her first day, Middleton's time at Riverdale brimmed with success.
Middleton led the school (with the help of Wild) to two state championships in her junior and senior seasons. She was rated as a five-star prospect and even played in the McDonalds All-American game.
There was a lot to like about Middleton, which was what led her to being recruited and eventually committing to become a Lady Vol at Tennessee.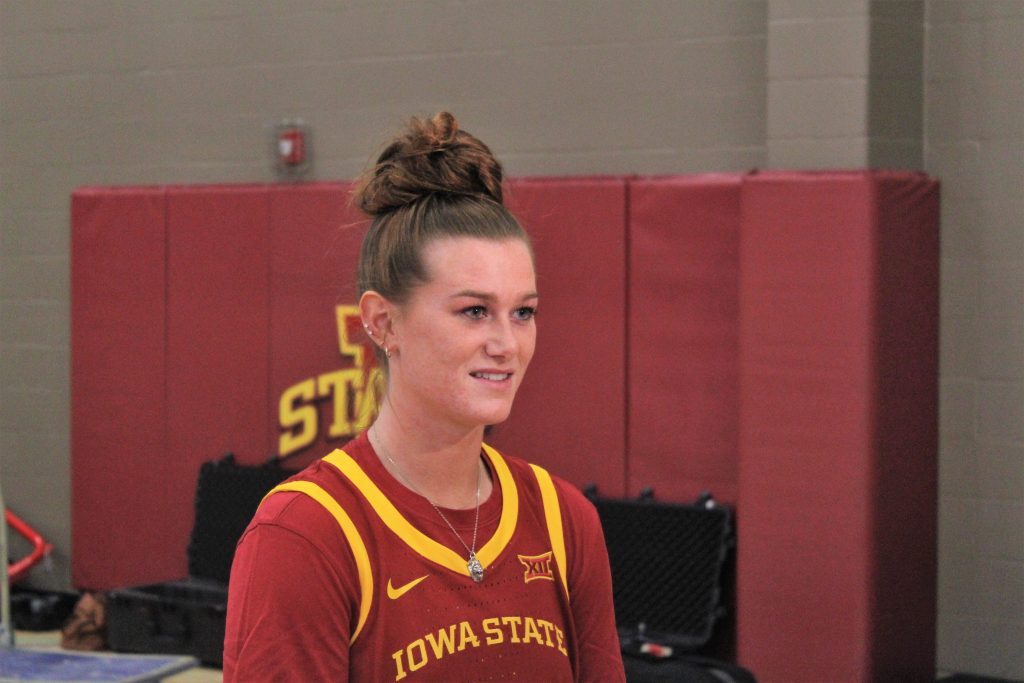 ****
Middleton's junior year at Tennessee was winding down and the Lady Vols had just been upset by the SEC's 12th seeded Alabama Crimson Tide with the NCAA Tournament looming. That's when Middleton reached out to Wild about the possibility of transferring schools.
"I said, 'Look, this has got to be what you want to do,'" Wild said. "'Not what John Wild wants you to do. Not what [your parents] want you to do. Not what your brother wants you to do. It's got to be your decision. Any kind of questions along the way or any guidance I can give you, I'm here for you. I'm not going to step over that line and tell you what do, because that's on you.'"
Middleton knew what she wanted.
"There were more expectations I had from my coach," Middleton said. "I wanted more of that from a coach, so I decided to transfer."
It was as simple as that.
"I feel like she wanted to be developed more as a player, and I don't feel like she was getting that at Tennessee," Wild said.
Middleton eventually sent in her release and the first coach she talked to was Billy Fennelly. That quickly got the ball rolling.
Her transfer became public on April 21 and just over two months later, Iowa State announced they had landed the Murfreesboro, Tennessee native.
*****
Even before the Cyclones were recruiting Middleton, they had gotten a head start to things.
"I had a good friend of mine send me a text and say, 'Hey, check Twitter here in about 20 minutes,'" Billy said. "I had already had her number and before the 20 minutes hit, I had already talked to her."
Billy and the rest of the staff were instantly in love with Alexa Middleton. They took every measure to make sure that Middleton would end her career while wearing the cardinal and gold.
Things were winding down, which is when Bill reached out to Wild.
"I remember Coach Bill Fennelly calling me." Wild said. "I was on my way home from school and there was a rain storm on the way."
Wild pulled off of the road because of how hard it was raining in Murfreesboro. He pulled into a small church off to the side of the road that had a wrap-around drive and a huge awning over the front door of the building. Wild sat under that awning where he talked to Bill for the first time.
"[Bill] said, 'First off, I want to know if you feel like we have a chance,'" Wild said.
"I knew a little about Iowa State and their system of play," Wild said. "I knew how long he had been there and the success that he had. I knew a little bit about the type of person he was outside of basketball. I think he had all of those things going in his favor because he was a family guy and a high character guy. I think that meant a lot to her."
The high school coach, to Bill's advantage, is a basketball fanatic.
"I said, 'Coach I'm a college basketball guru,'" Wild recalled. "I know the type of system that y'all play and I do think that would be to Alexa's liking as a player. I think that's kind of how it started. It just kind of moved forward from there."
Wild sent Billy a text as well. He was the lead recruiter on Middleton, of course. Billy made his final pitch.
"When you're making a second chance to go play college basketball [work], the mindset changes a little bit," Billy said. "It's not all the glitz and glamor. It's, 'Where are people going to appreciate me? Where can I play? Where can I fit in? Where can my degree take me? And if I can play professionally where am I going to go from there?'"
It turned out to be exactly what Middleton was looking for.
Billy said she wanted it to be straight to the point – Iowa State put up what they had to offer and basically left Middleton to take it or leave it.
"Billy is the reason that [Middleton] is here," said Wild. " He worked it as hard as he could work it. I think he did a great job of presenting a model and a picture to her of being an environment where she is appreciated."
****
Middleton made it to Iowa State ahead of the 2017-18 year and due to transfer rules, would have to sit out a season.
That meant no games. No playing in front of the Hilton Coliseum fateful. All she had to motivate her were the banner-filled walls at the Sukup Practice Facility to dream about during practice for a full year.
"It's really tough," Middleton said. "I was on practice squad every day last year. I had to play against my teammates. I work hard in practice. I do everything they do. You don't get to play."
Middleton used the year off to her advantage. According to Billy, it was nothing but productive and the would-be senior got better as her confidence grew.
"When she came here from Tennessee, she needed to get little bit more of her swagger back," Billy said. "The year off actually benefited her and I think all of last year on the scout team did. She got stronger every day. She was a beast."
If she has the same impact over the next two months as she did at this time last year, it's going to be a lot of fun to watch," Billy said.
Things were going great for Middleton — all things considered.
Then, her career took a detour, and she would have to take a step back.
****
"We started to get ready for postseason workouts and we didn't really know what was going on," Billy said.
Middleton came to the staff and said an injury to her left knee was flaring up again. It wasn't anything that happened in one day, but rather over a span of a month or so near the end of the season.
After getting things checked out, the coaching staff was presented with two options for the transfer point guard who was supposed to be essential to the Cyclones offense during the next season.
"One of them was to rest her [in June], take care of it now, so that hopefully by September we'll be full go," Billy said.
The other was to risk pushing the injury.
It was a no brainer for the staff.
"Whatever we had to do to get to that point, that's what we were going to do," Bill said. "It didn't matter. The last thing you want is a kid who is ultra-competitive, who wants to be good, who can't do the things that they feel they can do because they're hurt."
That meant another sit-out period for Middleton.
This time, she would miss out on playing in the team's summer trip of tune up games in Costa Rica.
It was frustrating for her.
This was her last year of her college career and she wanted everything to go right. Because of the injury, she would miss the summer workouts and conditioning with the team.
"I was still there, but not getting to participate in them is frustrating, because you want to be at your best at the beginning of the season and not doing what I [was doing at the start of the year]: trying to catch up," Middleton said.
Ultimately, it was the best decision for the Cyclones. Bill wanted Middleton at her absolute best during January, February, and March for the Big 12 Conference season.
"Whatever days she has left needed to be the best days we can give her," Fennelly said.
Middleton's first day back at practice following her injury lined up with Iowa State's first practice of the season on October 8. It was one month before the team would play its season opener against Niagara on November 9.
That's a short period to try and get back into "game shape." Keep in mind that she hadn't played in a competitive game for a year and a half.
"Game shape is completely different than anything you can ever do outside of games," Middleton said. "You do the best you can. You do extra conditioning. It's just a catchup game. You can't make up for lost time. You just have to keep going until it gets there."
Middleton suited up and started for the Cyclones in the first game of the season as she has in every game at the point guard spot this year.
Because of the lost time and conditioning opportunities during the season, she was playing limited minutes at the start of the year. In the first month of the season, she averaged just 21 minutes per game, and it showed on the court.
"She was frustrated early in the year," Billy said. "She'll be the first one to tell you she wasn't in the shape she wanted to be in."
"It's true," Middleton said. "I would fatigue very easily. I was trying to give everything I had in my tank for my team. I wasn't going to give a half [effort]. I'd give everything I have, take a break, and get back in there and do the best I can."
It was easy to see from the stands. Middleton said the fatigue was setting in and leading to some bad passes and decisions early on.
"We talked about the more fatigued I get, the smarter I have to play," Middleton said. "The better decisions I have to make. I can't let fatigue take over. I try to focus on that and make that my main [thought] going into games."
She knew that Fennelly wanted her on the floor more, but her body wasn't ready to give much more at that point in the season.
Another challenge she was facing was the difference between her role at Tennessee and what she would be doing for the Cyclones. While playing in Knoxville, Middleton was the sharp shooter on the roster. She led her squad during her junior year in 3-point percentage playing as a No. 2 guard.
At Iowa State, though, there would be fewer chances to shoot the deep ball, due to the position change and also the team's system.
Fennelly said that that part came quickly for her.
"Some kids need the reps to learn the system and to feel comfortable because they just need to practice," Fennelly said. "Middleton is a kid that I think could literally go out and play a game with no practice. She just has that sense about her. She thinks like a coach. She watches the game like a coach. For her, the repetition to learn is not as necessary to learn as it is for other kids."
Middleton has learned the system exceptionally well.
She's currently fourth in the Big 12 in assists per game, dishing 4.6 on average through the first 20 contests of the season.
However, the 3-point statistics faltered, especially early on.
"I hadn't felt confident in my 3-point shot," Middleton said. "I still don't know why my shot felt off for so long, whether it was the injury or whether it had to do with conditioning, but I'm starting to feel a lot more confident and I feel like I'm finding that shot again in taking those shots."
Middleton hasn't shot nearly as many threes as she did at Tennessee. During her junior year, she attempted 108 compared to the 49 she has shot two-thirds of the way through this season.
The glaring number there is that she has only made 17 threes through 21 games.
"I've got to get people in the right position to get looks for them first, and when I have the open shot trust myself and know that my teammates trust me to knock down those shots," Middleton said.
She got into the gym with Billy a lot. Instead of working on just shooting, she mixed in game-speed shots coming off of screens. That was, after all, where she has gotten most of her looks.
"Our system is tough," Billy said. "If you look at the freshman that come in here, it takes a long time, and that's essentially what she [was]. Even though she's a senior, it's her first year playing point guard here at Iowa State. As she is getting more and more comfortable, her shots are coming to her and she is taking them in rhythm. I think she seems to be getting better every game, and I think she's probably one of the more underrated defenders in our league."
It seemingly has been working. After a bit of a dry spell from the 3-point line entering Big 12 play, Middleton has made a long-ball in each of the last three games, shooting 6-13 (46.2 percent) in that time.
"She has more in the tank," Billy said. "If we get to see that, it's going to be a lot of fun."
Middleton, and her teammates, think that the sky is the limit as far as the success of this team goes.
"Our kids are excited to play everybody," Billy said. "We're not going to be scared of anybody."
The next step for Middleton will be turning Iowa State's success into something much bigger in Ames.
"We want to have a championship mentality, and that's something that's definitely attainable for us," Middleton said.
Halfway through the Big 12 season, the Cyclones own a 16-5 record as well as a 6-3 mark in Big 12 play. They could be well on their way to hosting the first two rounds of the NCAA Tournament at Hilton Coliseum.
But regardless of how the season turns out for Middleton, it will be remembered as a successful one to a lot of people.
That includes Wild, who knew all along Middleton's time in Ames would be time well spent.
"I thought she would be successful for three reasons," Wild explained. "Number one: Iowa State's system of play. Number two: She wanted a family type atmosphere and that's exactly what the Fennelly's give off. Number three: I thought both were guys that would further develop her skill at the guard position which she so terribly wanted."
Middleton just kept on working.
"I feel more and more confident each day with what I can do on the court and understanding what coach needs from me at the point guard position. I feel like I'm progressing every day. That's really good for me," Middleton said.
The only chapter left to write is the one that Middleton will be remembered by the most.
"[Middleton's] the hardest worker I've ever had in 29 years," Wild said. "She's the most coachable kid I've ever had in 29 years – the kid with the highest character level and integrity I've ever seen in my coaching days."