Jan 5, 2019; Ames, IA, USA; The Iowa State Cyclones bench reacts during the second half against the Kansas Jayhawks at Hilton Coliseum. Mandatory Credit: Jeffrey Becker-USA TODAY Sports

AMES — The unique aspect of Iowa State's 77-60 beatdown of No. 5 Kansas is that it never felt like the Cyclones were going to lose. Like, ever, even when the game was still close during the first half. 
From the opening tip, it was quite clear to any reasonable person watching  that the Cyclones were the better team. Iowa State was more organized. Iowa State played with more energy. Iowa State had better chemistry. Other than keeping Kansas off of the offensive glass in the first half, you name it, Iowa State was better on this first Saturday of 2019. 
Of course, playing at Hilton Coliseum had something to do with all of the above. There is a reason why Las Vegas had unranked Iowa State tabbed as a favorite over the top five Jayhawks before the game. 
Kansas playing without stud center Udoka Azubuike (wrist injury) didn't hurt Iowa State's cause. 
But as I've been saying for weeks, the ceiling for this version of Iowa State basketball is incredibly high. They Cyclones are versatile on offense and dynamite on defense. This style of ball travels better than those Cyclone teams we fell in love with in the past. 
It's still really early. But Iowa State is now 2-0 in league play and should be favored in its next two contests (vs. Baylor on Tuesday and a struggling Kansas State squad next weekend). 
Feel free to get fired up.
Bill Self on Iowa State's roster in this CFTV. pic.twitter.com/xhv7uZRrDn

— CycloneFanatic.com (@cyclonefanatic) January 6, 2019
Ames has Tyrese Haliburton fever
When Lindell Wigginton hurt his foot in the season opener and Tyrese Haliburton admirably stepped up in an important win over Missouri, it was a cute story. The charismatic youngster had a nice game, smiled a lot and instantly became a fan favorite thanks to his persona. 
This is no longer just a fun story. This young man is for real.
Haliburton, who has quickly become one of Iowa State's most valuable players (if not the most valuable), has played 76 of Iowa State's 80 minutes so far during the conference slate and is a guy who Steve Prohm simply can't keep off of the floor. 
"Tyrese has an infectious personality," Prohm said Saturday night. "He's got a pure heart. That's why he has been successful. He is just enjoying the journey."
Haliburton went 4-of-6 from the floor for 14 points to go with three assists and four steals in the win. He's 8-for-11 from 3-point range so far this season in Big 12 play. 
"Sometimes things happen for a reason. The injuries, the suspensions, I think it gave these guys the opportunity to play and play through mistakes and play free and loose," Prohm said. "He's gotten better. He's starting to grow on the defensive end too. He has great length."
Keep smiling Tyrese. Just keep smiling. Oh, and keep shooting too. 
Iowa State's identity
When Wigginton returned to the lineup a few weeks ago, the story of the season quickly turned to how well this team would do at sharing the basketball with so many capable studs in the lineup. 
I'll get to Wigginton momentarily, but Prohm summed up what he's been preaching to his team behind closed doors well following the win. 
"The big thing that I keep telling our guys is that we need to sell out to being great defensively and be selfless offensively," Prohm said. "I think you have four or five guys on that perimeter that on a single night can get 20. Can we continue to share the ball and be happy for one another? I like our group and the thing about it is that this is game two. We have nine more weeks of this."
For what it's worth, Iowa State is currently ranked 16th in offensive efficiency via KenPom.com. The Cyclones are 23rd on defense. To be in the top 25 in both is incredibly impressive. 
Where's Wiggy?
With all of the talk about Iowa State's depth, it's interesting that Prohm has seemingly settled on a rotation of only seven guys so far during Big 12 play. 
Note the minutes from Saturday's win over Kansas:
Weiler-Babb, 38
Shayok, 34
Horton-Tucker, 30
Jacobson, 30
Haliburton, 37
Wigginton, 17
Lard, 9
Zion Griffin, George Conditt, Zoran Talley, Terrence Lewis and Solomon Young all saw one minute of action in mop up duty. 
How crazy would it have been if somebody had told last season that a year from now, Iowa State would be 2-0 in conference play with Wigginton and Lard coming off the bench?
It's a marathon not a sprint. Stay patient, says Prohm. 
"Cameron was huge the other night. Lindell was great the other night. Both of them did some really good things for us today. That's the thing. If we can stay true to the team process then everybody will get rewarded."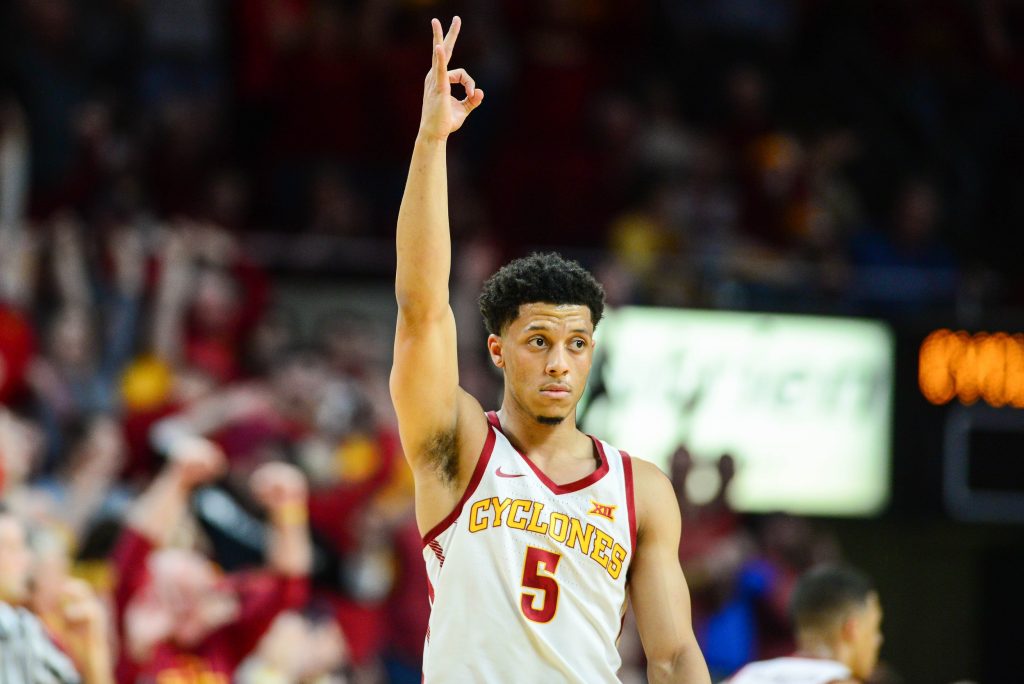 MORE MUSINGS
DEFENSE: Just a little more on how defense can make up for subpar offense … Iowa State forced seven Kansas turnovers before the second media timeout in the first half. It was a good thing too, considering the Cyclones began the game 5-of-14 from the field.  
According to the Kansas City Star's Jesse Newell, Kansas' turnover performance was the sixth worth in Bill Self's tenure in Lawrence. The Jayhawks turned the ball over on 32.4 percent of their possessions on Saturday. 
KU turned it over on 32.4% of possessions vs. Iowa State. Seventh-worst mark in Self's 557 games at KU.

— Jesse Newell (@jessenewell) January 6, 2019
Iowa Sate capitalized to score 20 points off of the 24 KU turnovers. Kansas in return scored four points off of Iowa State's 12 turnovers. 
ON FIRE: Marial Shayok's 5-for-5 night from 3-point range was historic … It was only the sixth time that a Cyclone has gone 5-for-5 from long range and the first since Naz Mitrou-Long did it against Baylor in 2015. 
Shayok's 24-points marked a game-high.
SMART: It was a good move by Iowa State to allow students to purchase tickets for this game if they wanted to. They just bring so much energy to the arena. Saturday's crowd was amazing. 
NOTABLE: The 17 point win was the largest in school history over a top-five team.
HE SAID IT: Bill Self on the Cyclones: "Give them credit. They manhandled us."