Jan 5, 2019; Ames, IA, USA; Iowa State Cyclones guard Marial Shayok (3) controls the ball against the Kansas Jayhawks at Hilton Coliseum. Mandatory Credit: Jeffrey Becker-USA TODAY Sports

AMES — When Iowa State went on the rough road last season, Marial Shayok and Michael Jacobson scurried back to work.
 The eligible Cyclones played — and lost a lot of close games — while sit-out transfers such as Shayok and Jacobson toiled, eventually joining together to form a firm foundation for success in 2018-19.
 One came from Canada, then Virginia. The other hailed from Waukee, wandered west to Lincoln, Nebraska, then traveled home to central Iowa. 
 Now they're both starters and key contributors for a burgeoning ISU renaissance that continues to gain steam in advance of Saturday's oddly-timed 11 a.m. showdown between the No. 20 Cyclones and Bruce Weber-led Kansas State at Hilton Coliseum. 
 "The team goes out of town, we're back, going out to eat or whatever," Jacobson said of the bond that was built with Shayok during their sit-out year. "Watching the games on TV together. Homework, stuff like that — working out. Team's gone, when they went to South Carolina for the (relocated Puerto Rico Classic) tournament, we worked out every day together. So just stuff like that. Basketball, school, hanging out. Whatever it may be."
 And whatever it takes.
 Basketball is life, but the whole is more important than its parts — in sports and anything else.
 Relationships precede devotion, which, in turn, spikes achievement. 
 That's how it's worked for the *rookie* veterans who lead the Cyclones against the injury-riddled Wildcats and beyond.
 "We lived together — last year and this year," Shayok, ISU's leading scorer, said of his bond with Jacobson, the team's leading rebounder. "We challenge each other. We played one on one a lot of the time to get each other better. We just held each other accountable and we got to grow as people and basketball players, so it was really fun having Mike sit out with me."
 They chose to stand, though, then run. And shoot. And dare each other to be the best versions of themselves they could be.
 This season's gains — despite losing a winnable game Tuesday at Baylor, 73-70 — has a lot to do with what Shayok and Jacobson did previously.
 "Those guys have become really close," Cyclones coach Steve Prohm said. "I would guess, if I would have made them write down who your best friend is on the team, I would guess they'd write each other. They spend a lot of time together. The great thing that (Shayok) did — and it's kind of like what Nader did, and Nader wasn't sitting out, but all Nader did his senior year after he graduated was come in here at 10 a.m. and shoot every day. Marial put a lot of time in the gym and he's got to where he can really shoot the basketball."
 No kidding.
 Shayok never played more than half a game at Virginia — and never shot close to 52 percent from the field. The 6-6 senior has doubled his best assist average to 2.2 (as well as turnovers, given more usage). He's never been a double figure scorer, but in 30.1 minutes per game this season, he's leading the Big 12 at 20.1 points per game. 
 Jacobson, meanwhile, is shooting a sizzling 61 percent from the field, has drilled more threes in 15 games than he had previously in his two-year career as a Husker and is on pace for a career-best 6.3 rebounds per game.
 "We've both played in big games, both played on some big stages against other good teams," Jacobson said in advance of the big statistical spikes.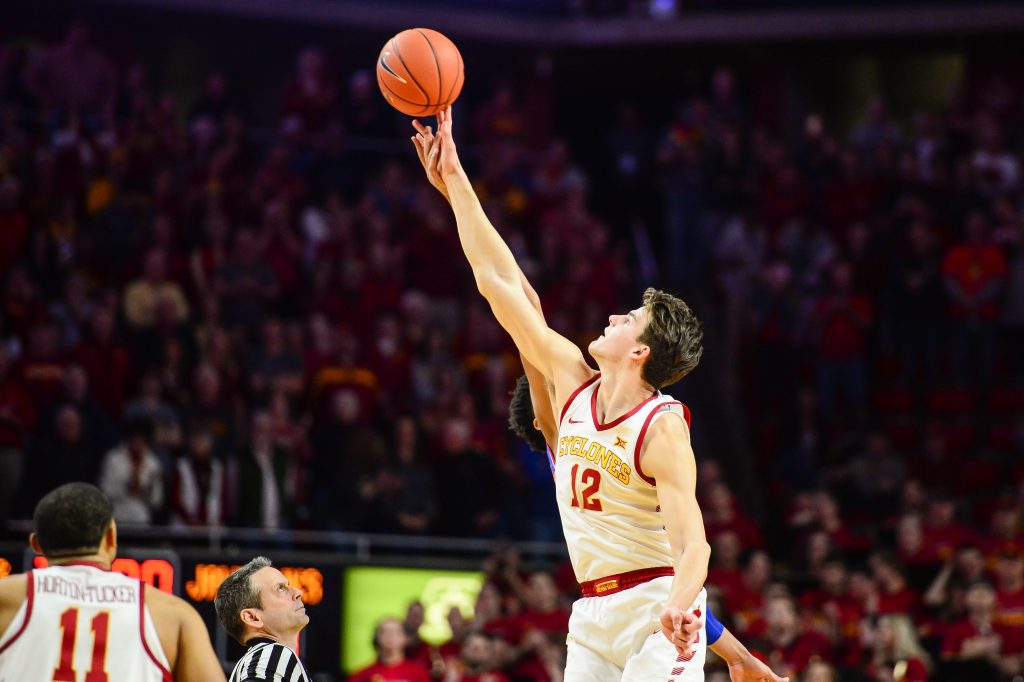 Also big for Shayok: His dad's mentorship. Markur Shayok played for Dayton in the early 1990s. Two of Marial's four siblings competed at the Division 1 level, as well.
 "He's taught me a lot," Shayok said of his father. "Just to love it. Appreciate that I'm blessed to play it and really play to win. That's what he's really preached to me all the time and I really appreciate it."
Markur coached Marial and his brother as they climbed the ranks towards college careers. The ongoing theme hinged on constant improvement. Never looking ahead, when there's work to do right now. 
 "I've always been a nerd about the game," Shayok said. "I've always watched the NBA, I've always watched the old-school games — Jordan, Penny and all those guys. He kind of just put the love of the game in my heart and I just ran with it."
 Now here we are.
 ISU vs. Dean Wade-less (probably) K-State, a game the Cyclones need to win at home to maximize this season's success.
 Who do the young guns such as Tyrese Haliborton and Talen Horton-Tucker  look toward?
 Shayok, Jacobson, Nick Weiler-Babb, and Solomon Young.
 "They know what it takes to win at this level," the multi-talented Haliburton said. "I'm sure Marial's been through a situation like this where you come off a loss where you feel like you should have won, so he's just keeping our spirits high. And Mike, the same (thing) — Babb, and the other guys, they've been through it, so this is my first crack at it. They just tell me to get ready for the next one."
 Just like last season. Couldn't play, so definitely worked. Day after day, night after night. Preparing for these moments, for these shots. To heck with the layoff. On with the mission. 
 "When you've played basketball probably nonstop since you were 11 or 12-years-old and then you have to sit out, it's a tough, tough — it's a mental challenge," ISU assistant coach Daniyal Robinson said. "But for (Shayok), he had another guy sitting out with him, so it was a little bit better. He didn't have to do it alone. He and Mike, they developed a good chemistry, a good bond. And those are two of our hardest workers."