Jan 8, 2019; Waco, TX, USA; Iowa State Cyclones guard Lindell Wigginton (5) and guard Tyrese Haliburton (22) and forward Michael Jacobson (12) and guard Nick Weiler-Babb (1) huddle after a made basket against the Baylor Bears during the first half at Ferrell Center. Mandatory Credit: Ray Carlin-USA TODAY Sports

The loss in Waco on Tuesday night seemed to incite a minor meltdown of some sorts in the land of Iowa State Twitter and from where I sit this seemed to occur because of a perfect storm created by the convergence of three topics. Three topics that the casual fan may not follow or even more simply, the average human struggles to understand because we are all inherently biased and susceptible to the "confirmation bias" trap.
Topic one – Road games are hard
In general, fans tend to not fully understand or account for how difficult road games are. On the shallow level, it is something that is accepted but not fully understood.
In this instance, another caveat is that Baylor was overall a better team than perception would lead the casual fan to believe. Prior to tipoff on Tuesday night, KenPom.com ranked Baylor as the 58th best team in the country despite their 8-5 (0-1) record. (Keep in mind, that whatever your opinions exactly are on KenPom that his rating system would very closely align to those in Las Vegas that do this for money, and only money, so the KenPom ratings should probably carry similar weight.)
Regardless, Iowa State was given about a 61 percent chance to win the game versus the #58 team which is roughly equivalent to playing the #15 KenPom team in a home game. Think about that, the strength of the opponent by ranking is about 40 to 45 spots different just based on where the game is played. Now think of how differently your perception is about a team that is around #15 in the KenPom ratings versus #58. For reference, the teams in the rating slots from 13 to 17 on KenPom: Wisconsin, Nevada, Iowa State, Nebraska, and Purdue; five really good teams.
Further, let's look at the difference in probability to beat a certain team on Iowa State's schedule and how it changes in home games versus road games: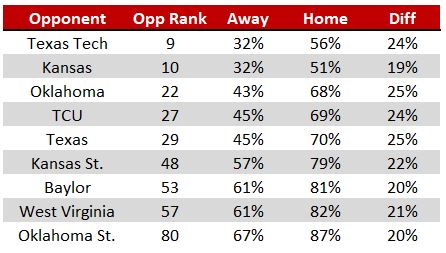 As you can see, Iowa State increases its probability of beating a Big 12 team on average of about 22 percent just by playing them at home instead of on the road. That is a big swing that I don't believe we fully and accurately account for with how we perceive wins, losses, and performances.
Topic two – Close games can be fickle
Here's the thing, if a game between two reasonably even teams comes down to the wire it is largely a toss-up and almost a matter of random chance to win the game. This is a topic that was delved into here almost four years ago. The basic gist is that this data looks at how KenPom top 25 teams performed against top 50 teams compared to teams outside of the top 50 in close games. Here is the data with some supporting text from the link: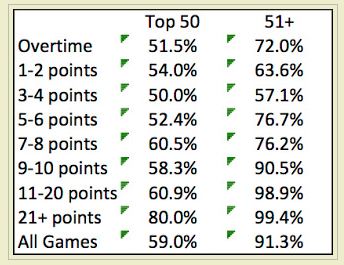 "The first observation that I have is that games between similar quality opponents are pretty much 50/50 toss-ups for scoring margins fewer than 6 points or in overtime. For games decided by 7 to 20 points, the win probability is closer to 60%. For 21+ point blowouts, the win probability is a firm 80%.
For games between mismatched opponents, however, quality teams do have a clear advantage in close games, though it's only around 60% for games decided by 4 points or fewer. For games decided by 9 or more points, the Pomeroy Top 25 teams won more than 90% of the time. It's worth noting that games against weaker opponents are more likely than not happening on the home court, which means that if there is a crucial referee call in the final minute that it's probably going in their favor, which also partially explains the >60% winning percentage."
Now let's put that in context for a couple of recent Iowa State games and how that impacted the result of the game.
The Cyclones were ahead 61-58 in Stillwater with 1:17 to play when Lindell Wigginton hit a 3-pointer to go ahead by six. Wigginton was a 40 percent shooter last season so that isn't a rare occurrence, but he had missed his previous ten 3-point attempts since returning to action after his injury. If that one shot is missed, how does the outcome of the game change?
Or more recently and painfully, consider the game at Baylor. In a game knotted at 66 with 0:51 on the clock, Marial Shayok secured a defensive rebound to give Iowa State a chance to take the lead. However, a tough whistle went against Iowa State and the officials called for a jump ball which then gave the ball to Baylor where ISU had to survive an extra Baylor possession.
With 0:38 remaining, Makai Mason missed a free throw with a 67-66 Baylor lead only for Baylor to grab an offensive rebound and call for a timeout before falling out of bounds. While the execution wasn't there to rebound the sequence of events for Baylor to retain possession there was very much a small probability event with how it occurred.
Or consider that this season Baylor has made 66 percent of their free throw attempts but in its game versus Iowa State they made 17 out of 20 for 85 percent. Had they shot their season average percentage they would have had four fewer points (without considering one-and-one trips to the free throw line). That's a big deal.
Anecdotes like that can be found at the end of almost every close game. That isn't to say teams must get lucky to win them or that better teams don't win more often than not, but it illustrates just how fine the margin between winning and losing can be.
Topic three – Inherent fandom bias
We obviously all want Iowa State to do well, really well—like dethrone Kansas well—so any information taken in and used to project the future will possibly be through inaccurate lenses. And in this case, I'm not even sure it was avoidable because of the national hysteria that beating Kansas 77-60 last Saturday brought on. There was no way that there could be any reaction other than an overreaction.
But here's the thing, there were two major abnormalities; Kansas turned the ball over on 33 percent of their possessions and Iowa State made 52 percent of their 3-point attempts.
In the last nine and a half seasons back to the start of the 2009-10 season, the Kansas Jayhawks have played 348 games and there is only one other instance where they registered turnovers so frequently in a game.
In the last nine and a half seasons back to the start of the 2009-10 season, Iowa State has made greater than 50 percent of their 3-point attempts 29 times in 319 games. A far more frequent occurrence but keep in mind the quality of shooting on many of those rosters the past ten years versus the roster this year is a bit different.
By simple frequency, that rate of Kansas turnovers has occurred in less than one percent of their games and Iowa State makes more than 50 percent of their 3-point attempts just nine percent of the time. By simple probability, those two events hypothetically occurring in the same game is right around 0.05%.
The point being, that game was very much an earned victory for the Cyclones but the margin of victory has some noise because of extremes on very impactful stats so it needs to be tempered when projecting the rest of the season.
Within this, it is important to try and grasp that a team's quality is never what they were in a single performance, good or bad. Their quality is a bell curve with all of the varying quality data points (games) within and accounted for.
One final thing to this already too windy column, there was a lot of angst over the loss in Waco in large part because it was one of the most winnable road games remaining on the Big 12 schedule. That is a point that I fully agree with but "most winnable" can be deceiving when it is piled up next to all of the conference road games that are all very tough to win. The fact that an away game versus the 58th best KenPom team is a top three "easiest" conference road game speaks more to the difficulty of the league than the fact that Iowa State lost.
In 2017, Iowa State won five conference road games and they were not the five "easiest" road games. By conference finish, the wins came against 1st, 5th, 6th, 7th, and 9th. There are seven Big 12 road games to go and whatever your hope or expectation is, I will personally be pleased if they finish 4-5 in road games and that can still very much be achieved.