Oct 13, 2018; Ames, IA, USA; Iowa State Cyclones tight end Charlie Kolar (88) outruns West Virginia Mountaineers safety Dravon Askew-Henry (6) to the end zone at Jack Trice Stadium. Mandatory Credit: Reese Strickland-USA TODAY Sports

The late Marquette basketball coach Al McGuire once quipped, "The best thing about freshmen is that they become sophomores." The old-school line of thinking was that freshman generally weren't ready physically or mentally to play at a high level. Heck, up until 1972, the NCAA mandated that freshmen weren't even allowed to compete on the varsity teams in football or men's basketball. That's right, for decades Iowa State and other major programs had freshmen teams.
Even when permissible, most coaches opted to not play their youngest players. This held true for Iowa State for decades. Even as late as the Paul Rhoads era, Iowa State rarely, if ever, played true freshmen. In fact, in Rhoads' seven years at the helm, Iowa State played a total of 10 true freshmen. Yes, 10 true freshmen played in seven years. On Saturday, in a win over West Virginia, Iowa State played six true freshmen. The Cyclones started a true freshman at quarterback (Brock Purdy) and middle linebacker (Mike Rose), arguably the two most important positions on the football field. Four other true freshmen saw action on Saturday night (Anthony Johnson, Zach Petersen, Isaiah Lee and Will McDonald). True freshman Gerry Vaughn has also seen snaps on special teams this year.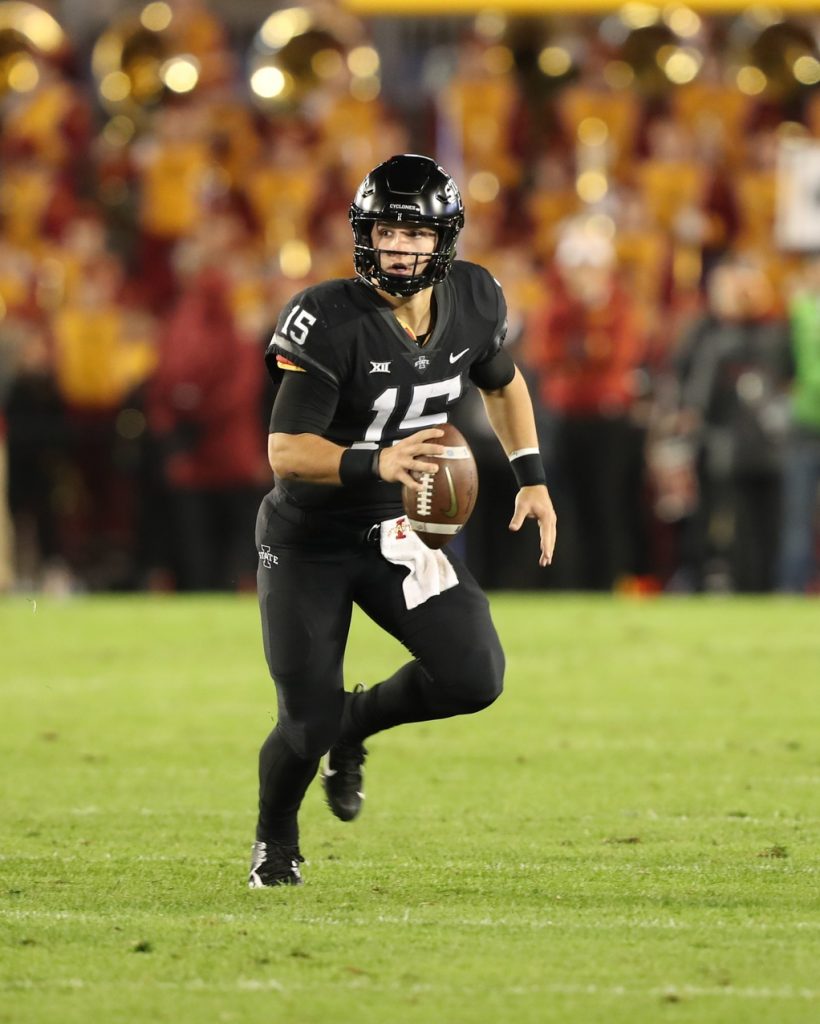 That's not to mention the multitude of redshirt freshmen that have impacted the Cyclones this year. Iowa State started redshirts Charlie Kolar, Colin Newell and Datrone Young on Saturday night. Redshirts Tarique Milton, Josh Johnson, Johnnie Lang, O'Rien Vance, Tucker Robertson, Richard Bowens and Cordarrius Bailey also saw time. In other words, 15 freshmen played in a dominating win over a top 10 West Virginia team. The freshmen accounted for roughly 30 percent of the Cyclones that saw the field.
This is what is most exciting to me about the future of Iowa State Football. As much progress as Iowa State has made in the 2.5 years under Matt Campbell, the Cyclones are still ridiculously young and have impact players at significant positions. Logic says they are only going to get better.
Colin Newell is starting as a freshman at center and has grown tremendously in his five starts. Better yet, there isn't a senior starter on the offensive line.
Brock Purdy became the first true freshman to start at quarterback at Iowa State since Todd Bandhauer in 1995. All he has done is throw for 572 yards and seven touchdowns in his two games of action. Per ESPN's Total QB rating system, of the quarterbacks who have thrown more than 40 passes, he has the 3rd best rating in college football, trailing only Tua Tagovailoa and Kyler Murray. It is impossible for him to continue at that pace, but it doesn't take a quarterback guru to see that he has a unique skill-set and great poise that should serve him well as a Cyclone for 3+ years to come.
On the defensive side of the ball, Iowa State gave snaps to multiple freshmen at all three levels on Saturday. Will McDonald and Isaiah Lee both played on the defensive line as true freshmen. The rumblings internally are that McDonald is the most talented player Campbell has ever recruited. McDonald won the discus and was third in the high jump in high school in Wisconsin. He also averaged 18 points and 12 rebounds on the basketball floor in one of Wisconsin's largest high school divisions.
Mike Rose is fourth on the Cyclones in tackles with 31 and looks right at home in the middle of the Iowa State defense at linebacker. O'Rien Vance has come on strong, piling up 1.5 sacks and three tackles for loss in the last two weeks.
On the back end, Datrone Young got his first start at corner and played very well on Saturday night. Anthony Johnson also got meaningful action and acclimated himself superbly against maybe the best receiving group in the Big 12. The staff feels Johnson has big-time talent and is right there with McDonald as a player with the most potential on the roster.
Everywhere you look on the Iowa State roster there is young talent emerging. It is as encouraging of roster setup in Cyclone Football as there has ever been in the last 40 years. It is no mystery that Iowa State has had two of its best ever recruiting classes in the first two years under Matt Campbell. The dividends are already paying off.
It also sends a signal to players Iowa State is recruiting that if you are good enough, you can play and make an impact right away. The cycle only continues. It's a mindset that is new at Iowa State, but is working on the field and on the recruiting trail. Iowa State's February recruiting class is ranked even higher than the previous two. The foundation is only getting stronger to build a program that is sustainable.
The present is pretty good right now for the Cyclones, but the future looks even better. The best is yet to come.