I had an epiphany over the weekend. 
It started during the first half of Iowa State's victory over Akron. I elected to watch the first half from the sidelines, mainly because I wanted to be down on the field to stream the Celia Barquin Arozamena tribute for our viewers on Facebook Live. 
Along with former Cyclone Jeff Woody and another friend that works within Iowa State's athletic department, I stuck around for the first few quarters, which was an eye-opening experience for a digital media geek like myself. 
Without a computer and cell phone hindering me, it was amazing how much more clearly I watched the game.
Granted, I wasn't tweeting immediate thoughts to those fans on Twitter during games. But if I'm being honest with myself, does it really matter?
My approach to covering the Cyclones over the last decade and a half has been pretty simple: Be everywhere all of the time. 
However, the problem with that mindset is that it often hinders us (media) from producing the quality of work that my guess probably occurred 30 years ago before the invention of the laptop computer. 
How valuable are in-game tweets?
I understand score updates from the Cyclone Fanatic feed. Those are valuable for fans who might be traveling or unable to watch/listen to the game. We will always do that.
But do you really need me analyzing third down play calls during the second quarter in a September game vs. Akron?
What I learned on Saturday during the first half was that my sensors were overloaded with a perspective that I could later pass onto my readers. That's real value that you just don't get inside of a stuffy press box while staring at a computer. 
Coincidently, on Sunday morning I received an odd alert from my iPhone, which I had recently updated on Thursday night. It gave me a "screen time report."
Talk about a humbling notification…
Yikes.
We all spend way too much time on our phones.
I'm still going to cover the hell out of Iowa State for you guys here at Cyclone Fanatic, but you're going to see me tweeting less and less during games. Instead, I'm going to give you more measured thoughts and analysis after the game, just like the good ole days. 
You cool with that?
I would love feedback on this.
Final thoughts on Iowa State vs. Akron
We all should have seen a somewhat sluggish performance coming from the Cyclones. That was not an ordinary week on campus. The feeling on the field Saturday morning was unlike anything I had experienced at Iowa State. It was so, so sad. I don't even know how else to describe it.
There are something like 36,000 students that currently attend Iowa State and around 450 student-athletes. It's a fraternity of sorts.
Remember that these football players are human beings. There was real emotion after a real tragedy that they were feeling before the game and all week long during preparation for it.
I just wanted to make that point. We have the rest of the week to analyze x's and o's. 
Early thoughts on Iowa State vs. TCU
Gary Patterson's talented Horned Frogs are on a two-game losing streak. 
Is that a good or bad thing for Iowa State, who will invade Fort Worth on Saturday night at 6 as a 12.5 point underdog? Does it even matter?
Who knows. 
I do know that Iowa State's defense will be a significant challenge for TCU's sophomore quarterback Shawn Robinson, who is completing 61 percent of his passes this season but has thrown five interceptions. Robinson, once a blue-chip recruit, threw two interceptions on Saturday in a loss at Texas. The Longhorns play a similar defensive scheme to Iowa State. 
I'm confident in Iowa State's defense. The Cyclones currently rank in the top 40 in rushing yards per game and points per game. 
The offense absolutely has to pick up though. 
I am anxious to get a few minutes with Matt Campbell on Tuesday at his press conference. 
The one thing I have learned about him over the years is that there is usually some method to his madness. He reminds me a lot of Jamie Pollard, actually. Usually, when the public starts thinking and asking about something, Pollard has been working on it for weeks, if not months. 
He won't admit it, but I do think Campbell was playing around with a few things on Saturday vs. Akron. What, exactly? I don't know. But the drop-off from the previous week's loss to Oklahoma, where Zeb Noland threw for almost 400 yards, compared to the Akron game was stark. 
How will things change on Saturday at TCU?
What kind of game will this be in general? Last year we saw a defensive struggle between these two squads. Are we in for another game like that or will these two teams go all Big 12 on us?
Should be a fun week. 
Big 12 Musings
K-State: We've all been here and second-guessed Bill Snyder many times. But seriously, is K-State football as we know it done?
"I can't coach a team that can't get six inches on a play," an agitated Snyder told reporters following his team's 35-6 loss at West Virginia on Saturday. 
Strong stuff.
Kansas State is currently 2-2 on the season and realistically could be 1-3 after barely escaping a near disaster in week one vs. South Dakota. 
Snyder's teams ALWAYS get better as the fall rolls along, but there are real questions to be asked in Manhattan. Things won't get any easier for K-State with a surging Texas program coming to town on Saturday.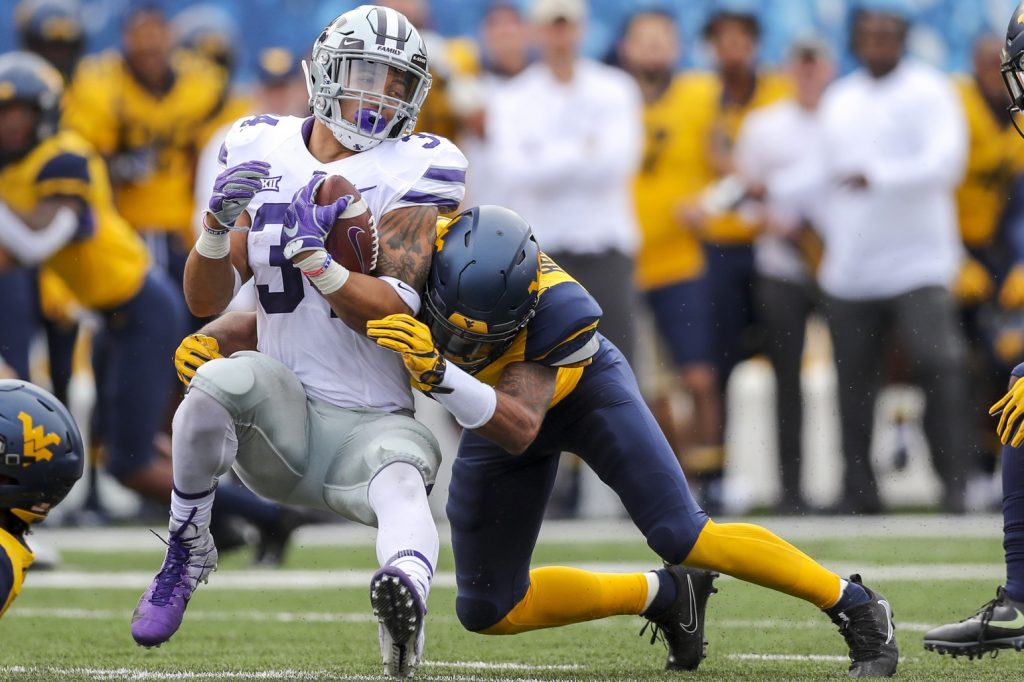 Tech blasts OSU: Last week in this column, I praised Oklahoma State – a team I thought would have to rebuild in 2018 – for performing ahead of expectations via a convincing win over a good Boise State team. 
Did I speak too soon?
Texas Tech absolutely took it to the Cowboys on Saturday night in the 41-17 clobbering. The most impressive part of Tech's win was what it did defensively vs. Mike Gundy's offense. Oklahoma State quarterback Taylor Cornelius completed only 47 percent of his passes (18-38) in the loss. 
Is Tech's defense getting better or is Oklahoma State just average this year?
Let's learn something:  It's pointless to take the results of one week and clump them together for a solid understanding of where things currently stand in the Big 12, but we should learn a lot this upcoming weekend. 
West Virginia will travel to Texas Tech. If the Mountaineers can pick up this road win (Vegas has WVU listed as a 3.5 point favorite), then I think we can safely put them as the league's current No. 2 behind Oklahoma. 
What about Texas? Tom Herman's Longhorns have strung together two impressive wins in a row vs. USC and TCU. They will travel to Manhattan for an always tricky game at K-State. It's a big opportunity for both teams – Texas to really stamp its spot near the top of the league – and K-State to prove that they aren't done yet. 
Iowa State at TCU provides an opportunity for the Horned Frogs to stop some bleeding and the Cyclones to assert themselves in the middle of the pack. 
Bring on week five!
Honored to be calling women's basketball
 this season 
You might have seen last week that Iowa State announced Brent Blum and I would be doing play-by-play during Iowa State women's basketball contests for the upcoming season. 
We are excited to welcome @ChrisMWilliams and @brentblum as radio announcers for Cyclone Women's Basketball! 📻🌪️🏀 pic.twitter.com/wiXgeQbA28

— Cyclone Basketball (@CycloneWBB) September 19, 2018
I'm not sure I have ever been more excited about an opportunity in my life. 
First of all, I'm just a huge fan of Bill Fennelly's program. Since I started covering Iowa State, women's basketball has always provided an opportunity for me to still be a fan of something and not always associate work with it. 
Having a three-year-old daughter, I'm excited to show her that daddy promotes women's sports too and they are important. I plan to bring her to as many games as possible. 
Logistically, it will be a busy fall and winter for me, no doubt. However, this will not affect my current position at Cyclone Fanatic or hosting the afternoon drive show on 1460 KXnO. Blum and I will be splitting up games around each of our schedules, allowing me to still closely cover the men. Molly Parrott will provide analysis on most home games. Blum and I will work together as well. 
Hopefully, we can somehow fill a little bit of the void following the great Rich Fellingham's retirement after last season.
I'm going to write more about this in the coming weeks but wanted to address it with the loyal Fanatics here on Monday Musings who have read my work from day one.