AMES — It was a crisp Friday night in Hudson, Ohio and Iowa State's coaches took in a high school football game on the eve of the Cyclones' non-conference matchup with Akron.
Their focal point: Linebacker recruit Mike Rose of Brecksville-Broadview.
The general impression the three-star recruit created?
"The one thing that stood out with Mike — we got a chance to see him live when we went over to play Akron," ISU linebackers coach Tyson Veidt said. "We got a chance to see him play live that night and I've never seen anybody live play that hard every single play and it has carried over to here, too."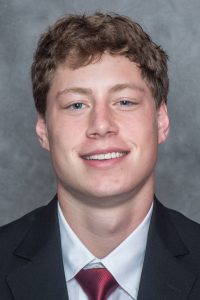 So much so that Rose, 6-3, 210, is among three players in torrid pursuit of the starting MIKE linebacker slot.
He's joined by spring favorite O'Rien Vance and special teams standout Bobby McMillen — and Vance would seem the favorite to emerge as the main guy, but things don't always work out according to form.
"Up through today, we've played six different guys at the middle linebacker spot, so really trying to figure out who that's going to be," Veidt said. "Today, it was more narrowed down to three guys that really took all of those reps in there today. So we're starting to narrow it down. There's still certainly not a bona fide starter in there. We think we have it down to three guys at this point and we're still working other guys."
So the race remains wide-open — as it should be — in mid-August.
Here's a snapshot look, via Veidt, at each of the current top three players at MIKE:
** More from Veidt on Rose: "Plays really fast. Understands things really well. Has a high football IQ. Really sharp guy and plays really hard."
** Veidt on Vance: "I think he understands what we're doing better. Naturally he's getting more reps so he's physically getting more reps that way. He's not a first-time guy at this point, coming through a spring to at this point, where we are through however many practices it is at this point, I guess. But there's still things he needs to work on. He's a big, physical guy. I think the thing we've noticed more now than in the spring is the condition that he's in. He's in better shape. His body is different, so that's helped him."
** Veidt on McMillen (who's coming off an injury): "You never know how anybody's going to react coming back from an injury, but through the spring we knew as he was progressing that he was really ahead of schedule and that's naturally encouraging. He has been a really good player for us on special teams, a guy we've counted on to be a four-phase guy on special teams and he — and Mark Coberley will tell you this — sometimes guys come off injuries in better shape than they were before it happened, and that's happened for Bobby. It's helped him."
So lots to like among all three — and others, too, including Reggan Northrup, Jake Hummel and Tymar Sutton, who all remain valuable wildcards at the position.
Lots to learn going forward, too — for the guys vying for the top spot as well as those who'll be selecting the opening night starter.
"If we played tomorrow, I don't know who we would run out there," Veidt said. "It would have to be a (Matt Campbell) decision right now, who he felt comfortable with. I don't know who it would be coming off of where we are right now. So it's certainly up in the air. It is a fight for who is going to be that first guy."
It's also saying something for Rose that he's even in the running for the spot, given his youth, but that Friday night under the lights last fall foreshadowed his rapid climb up the depth chart.
"That was the one thing you knew gave the guy a chance," Veidt said. "That he was going to play hard every single play and he's even bigger and stronger than he was a year ago. Had a really good summer here and is developing physically."