Matt Eaton at first fall practice of 2018. (Rob Gray – Cyclone Fanatic)
AMES — Landen Akers only had one opportunity to play major Division I football.
The former standout out of Cedar Rapids (Washington) could have gone to play at a Division II school or for a handful of FCS programs, but he had a dream to play at the sport's highest level. That meant when Iowa State approached Akers with a grayshirt opportunity in Dec. 2014, he jumped at the chance and made his commitment.
But, taking the grayshirt also meant when his friends, including high school teammate and fellow Iowa State signee Julian Good-Jones, went off to school ready to start their college careers, Akers was enrolling as a part-time student, waiting for his opportunity to join the program the following December.
"It was a tough process," Akers told Cyclone Fanatic during Iowa State's annual media day on Tuesday. "I had to sit out so I was just working out on my own kind of. Kind of just staying patient waiting to get on the team, but it was pretty tough because you're just going to school and watching everyone else play football."
While Akers was in Ames patiently waiting until he could join the program, halfway across the country, another wide receiver was realizing it was time to find a new home.
****
Matt Eaton's offer list was not a mile long, but there were more than a few schools battling for his talents at the collegiate level.
The two-star recruit in the class of 2014 from Pascagoula, Miss., signed with Temple over offers from Appalachian State, Arkansas State, Lousiana-Monroe, Georgia Southern, Miami (OH), Navy and a handful of FCS programs. After playing in four games and starting one as a true freshman, an injury forced Eaton to take a medical redshirt year.
He came back in 2015 ready to compete for a contributing role. The season became a breakout year for the Owls under third-year head coach Matt Rhule as they started the year 7-0, including a win over Penn State, earned their first AP ranking since 1979 and won the American Athletic Conference East Division. They advanced to the Boca Raton Bowl but lost to a Toledo team led by an interim head coach named Jason Candle.
It was not a breakout year for Eaton. He played in only two games, catching one pass for 11 yards while sitting behind future NFL undrafted free agents Brandon Shippen and Robby Anderson.
"It was a great time looking back at it," Eaton said about his time at Temple. "I don't regret one moment of it. I was able to learn and develop as a player under Coach (Matt) Rhule. Yeah, man, I was able to play under guys and with guys that were really successful in college and took it to the next level, obviously. I still have relationships with those guys now to this day. They always tell me, they'll give me little pointers and things and try to be a mentor to me. I'm eternally grateful for the whole Temple experience."
Even while he will be forever grateful, Eaton needed to move on. Enter, Pearl River Community College in Poplarville, Miss.
****
When Bryan Gasser took over as the wide receivers coach at Iowa State in December of 2015, Landen Akers was preparing to finally join the program. Matt Campbell had just been hired as the Cyclones' new head coach and the staff that had offered Akers his only FBS opportunity was gone.
"My first day and (Akers') first day weren't too far apart in terms of with the football program," Gasser said. "I think Landen's a guy that probably has been very overlooked and, maybe, doubted or questioned at times. He's very unfazed by it."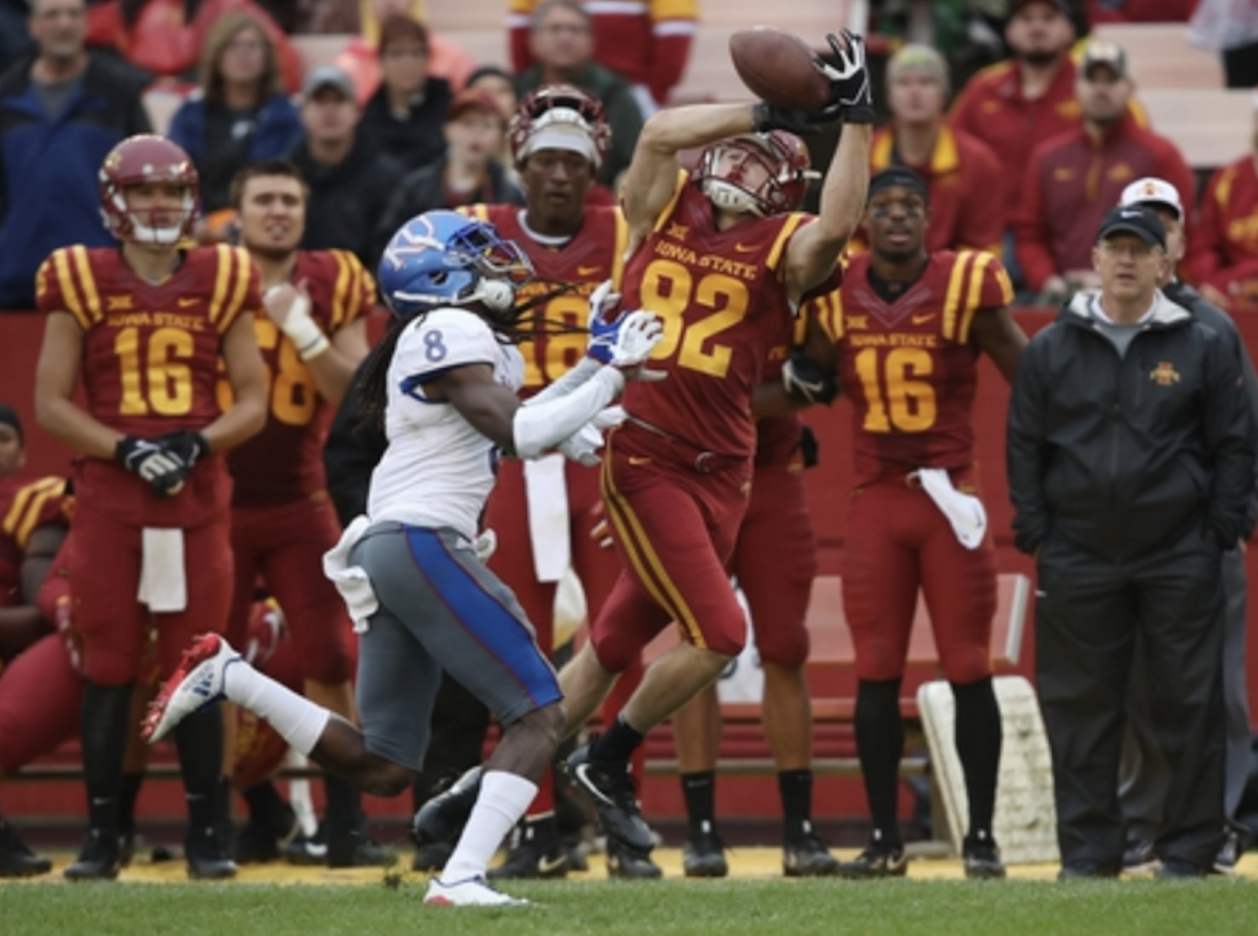 Akers impressed the new staff with his athletic ability and the unique speed that had made him a star on the track at the high school level. Even with that athletic ability, Akers felt like he was having a hard time adjusting to football at a new level.
"It was a little bit of a struggle for me," Akers said. "I didn't really understand the playbook. I was a little behind on that. I knew I was fast but I didn't really know how to use it."
"Eventually, I learned."
****
Roughly 166 miles of Interstate-59 separate Poplarville and Scooba, Miss., the home of East Mississippi Community College and the original setting for popular Netflix documentary series, Last Chance U. Eaton had just finished watching the show's first season when he made the decision to transfer to Pearl River.
He quickly found out there is a big difference between East Mississippi, one of the powerhouses of JUCO football, and Pearl River, a program that has not won a conference title since 2006. Eaton put it this way, "There isn't much glitz or glam at Pearl River."
That made Eaton's experience in Poplarville a humbling one, especially once his friend and the team's starting quarterback, D.J. Gillins, tore his ACL in the first game of the year. The Wildcats finished the season 2-7 while rotating between four different quarterbacks.
Even with the quarterback carousel, Eaton caught 37 passes for 392 yards and four touchdowns. He was the team's leader in every receiving category and caught nearly three times as many passes as the team's second-leading receiver.
"It definitely was frustrating, but that's just part of life," Eaton said. "I think football kind of embodies that and it teaches you life experiences because you go through hardships and things of that nature. You've just got to deal with it."
It did not matter much for Eaton's future. He had already caught the eyes of Gasser and Iowa State tight ends coach Alex Golesh the previous May and committed to the program sight unseen.
Eaton eventually picked up one other Power 5 offer from West Virginia, but he was coming to Ames to be a Cyclone.
"When you go to JUCO, a lot of people don't know, you don't think you could go to a bigger school," Eaton said. "The fact that Coach Campbell gave me an opportunity to come here, I'm eternally grateful. I grew up watching the Big 12 all the time. Playing against teams like Texas and Oklahoma, you know, I never thought I would come to Iowa State, but when they presented the opportunity, it was a no-brainer for me."
****
Eaton arrived on campus in January of  2017 prepared to battle for a spot in a crowded Iowa State receivers room. That same room included Akers, who coming off his redshirt season that saw the Cyclones go 3-9 in Campbell's first year at the helm.
The start in Ames was somewhat rocky for Eaton. He injured his knee and was limited for spring practice. Those limitations continued throughout the summer and into fall camp.
He fought through that adversity and was able to play in all 13 games for the Cyclones in 2017 tallying 208 yards and four touchdowns on 21 catches. His breakout performance came midway through the season with a pair of touchdown catches in the win over Texas Tech.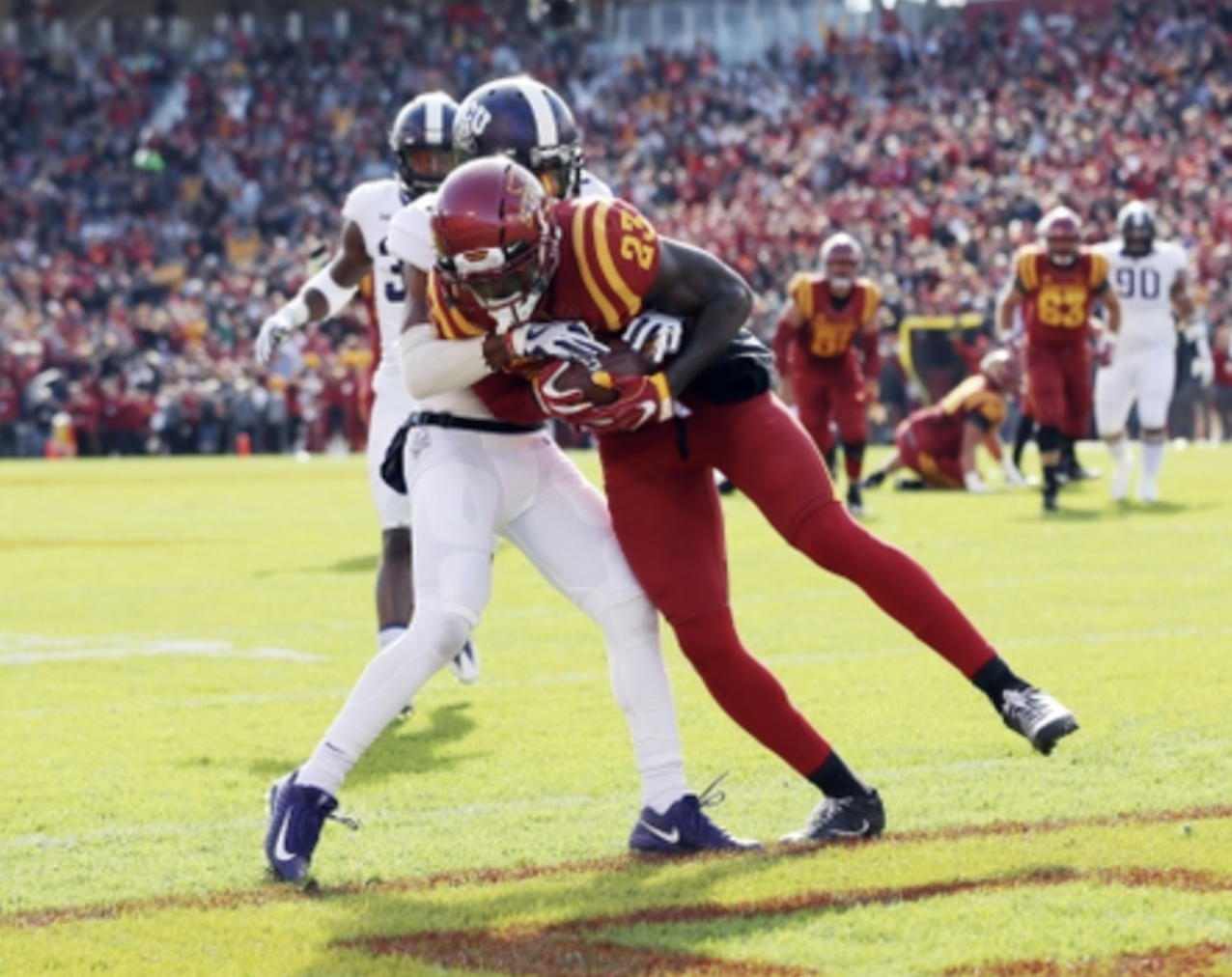 Meanwhile, Akers was largely an unknown member of the program battling for any sort of opportunity to see the field when the season started. After three games, he took over as the team's primary kickoff returner and finished the season averaging 20.9 yards per return.
"I think both those kids, Matt and Landen, over the last 12 to 18 months, have worked tirelessly to put themselves in a position to compete," Gasser said. "I think both those guys have a tremendous amount of pride in what they do. They both have an incredible work ethic to what they do. They both have phenomenal strain and attack every single day. It's funny because over and over again I just say that those two guys are really steady guys. Every day, you know who they're going to be. You know what you're going to get. You know they're going to show up when you need them to. It's been really fun to watch."
****
It may have come as a surprise to some when Iowa State released its pre-fall camp depth chart and Landen Akers was listed alongside Matt Eaton as the starter at the team's z-receiver position. The spot in the two-deep was the result of a spring practice performance that finally saw Akers put being an elite athlete together with being a good wide receiver.
"Football's really important to Landen Akers and he has something that we can't coach. That's high-end speed," Campbell said. "One of the things that's been really fun is to watch him gaining that confidence in playing the receiver position. Now, not just being a fast guy, but being a fast guy that is a really good wide receiver."
The two players with incredibly different paths to the top of Iowa State's depth chart will enter the season splitting reps. They each bring a different piece to the puzzle with Eaton being the steady all-around receiver and Akers being the elite athlete with top-end speed.
"Landen is an incredible football player. He's a crazy athlete. He's probably the most explosive player in college football, to be honest," Eaton said. "He's a tremendous talent. He has incredible hands, incredible route-running ability and he's bringing that to the table every day. Obviously, in our whole room, not to take away from anyone else because we have talent all across the room, everybody continues to compete every day and force everyone else to get better. That's just positive reinforcement for me. Obviously, Landen's a great guy and he will be making a lot of plays this year."
It is clear from that quote how much mutual respect there is between these two guys who are competing for snaps and receptions. They know they make each other better. If they make each other better, they make the team better.
"Matt's just a great receiver all around. I don't think I've seen him drop a ball yet," Akers said. "He's just an all-around great receiver out of his breaks. His speed has improved a lot. He's gotten a lot better. I don't know, I think we both bring something different to the table so we can both put that out on the field when the time comes."
The time is coming quickly with the Cyclones' season-opener against South Dakota State a little more than three weeks away. When it does arrive, the paths of two players from completely different parts of the country will have finally converged on the football field in an FBS game.
Akers, the former grayshirt from Cedar Rapids and Eaton, the former Temple Owl turned JUCO product. Two unique skillsets with two completely different stories.
"Both those guys I think are really unique stories, but both those guys are guys that have just stayed the course," Gasser said. "Believed and trusted in the process. Now, things are starting to pay off for them."