The 2017 season for the Big 12 saw a stable conference with established quarterbacks. Predicting the outcome of conference play was not difficult with one primary exception — Iowa State.
Iowa State bucked expectations, answered questions, and pulled off upsets that re-ordered the middle of the conference standings. Iowa State did not have the luxury of stable quarterback play, but instead used a resurgent defense and the outstanding ability of its running back to open up the passing game and squeak out enough wins to become bowl eligible.
The 2018 season will present very different prospects for the conference at large. Questions abound for all the programs and who answers those questions will determine the winners and losers during conference play.
As I view the conference prospects, post spring practice, I cannot find a predictable order. Nor can I find a predictable place in which to slot Iowa State. No team experienced as small a margin of error as Iowa State did.  Therefore, in answering its own questions, Iowa State will find its place within the conference.
In many ways, this is a re-building year for the conference as a whole. That does not mean that every team will take a step back. Instead, it means that there is opportunity for programs to answer questions and surge up the conference hierarchy.
Oklahoma
The defending champs lose massive production on both sides of the ball. The absence of Mayfield, Andrews, Badet, and Brown leave some holes on the offensive side. The defense loses some key play makers as well from a perennially underachieving unit.
How does Murray or player B perform at QB?
Can Sermon and Anderson carry the torch for the offense?
Can Mike Stoops revitalize an underachieving defense?
Murray is considered a transcendent talent by some. But, is that a given? Accuracy and ball control were two of the hallmarks of the Mayfield era. Will Murray take care of the ball and complete third down passes with as much efficiency as Mayfield did?
The Oklahoma defense will reload with high level talent, but has that helped them in the recent past to be as dominant as their expected talent level suggests? I believe the defense suffered from a reliance on the offensive capabilities of the team and that hurt them in big games such as the CFP. I am not confident that their scheme is conducive to slowing down Big 12 offenses to the degree required to overcome inevitable mistakes by the new offensive skill players.
I suspect Sermon and Anderson will be the lynchpin of the Oklahoma offense. Lincoln Riley will need to retool his brilliant offensive scheme to play to the strength of his compliment of skill players. I suspect he will do so and Oklahoma will be a player in the championship picture of the Big 12, but it is less than a given and requires some faith to hold that view with confidence.
TCU
Last year's dominant team loses its quarterback, key elements on its offensive line, and key leaders on its defense. The good news for TCU is that they return a fantastic, if underrated, running game and they will always be near the top in defensive efficiency.
How does the TCU secondary incorporate new playmakers?
Who is the quarterback and if it is first year starter Robinson, the grad transfer, or freshman Rogers, can they take care of the ball?
Will Cumbie orient the offense around the running game and is the offensive line competent to accomodate it?
There is tremendous and surprising talent on the TCU roster. Any of the quarterbacks are likely to be better than Hill was in 2016 and 2017. However, the adjustment period and the possibility of an increase in turnovers can be hard to overcome.  2016 was a mediocre season for TCU and was largely the result of a negative turnover margin. Whoever ends up as the starting quarterback will have to establish that they can take care of the football in addition to making plays.
Defensively, TCU will be stout, as they always are. The stability in their scheme emanates from Gary Patterson and his understanding of playing defense in the Big 12. TCU consistently finds a way to be difficult to run on and to provide pressure on the quarterback. Even though there may be a question as to how those two elements are accomplished, I suspect the questions will be answered quickly and positively.
What I find most intriguing is the inquiry involving the offensive coordinator. It is very often a great temptation to keep the same scheme in place even when the players available dictate a variant. It seems TCU would be well served to run the ball with an increased frequency, very similar to the way they defeated Oklahoma State in 2017. It will be interesting to see how TCU proceeds and what path they choose.
Oklahoma State
Oklahoma State boasts the most consistently excellent program in the conference over the last 10 years, other than their in-state rival. That consistency has largely been the product of remarkable stability at the quarterback position. The 2018 season will not offer that luxury.
Will Spencer Sanders, the true frosh, establish another long run for an OSU quarterback?
Whoever the quarterback ends up being, will they stay the quarterback, and how well can move the ball?
Will the new defensive scheme and the new defensive coordinator provide a defense that plays up to its talent level and softens the blow of reduced offensive production?
OSU has a wide variant in its expected results and their prospects boil down to how they adapt to the loss of a legendary skill position battery and a new defensive scheme. Those are HUGE questions. If Iowa State had the same dynamics, a winless season would be predicted. As it is, Oklahoma State has established enough talent and credibility to cushion the blow from such major losses.
OSU boasts the best running back in the conference. Their offensive line is a secondary question mark and must improve if they are to rely on the legs of Justice Hill.
OSU has issues in its secondary, but boasts significant talent on the balance of the defense. In my opinion, they have been a sleeping giant on the defensive side of the ball. It will be very interesting to see if the new 4-2-5 scheme will assist them in living up to their talent based expectations.
West Virginia
Not many questions here. Hint, hint. West Virginia had a tough season and finished with a flop after Will Grier was injured. WVU was rebuilding and re-tooling their defense which was apparent in their results. However, it may be that they have the least questions and did their rebuilding a year early.
Will the lack of depth created by 14 departures from the program have a negative effect on the team?
Will a challenging (bravo!!) non-conference schedule derail their Big 12 prospects?
That's about it. We know what WVU is, and that is good. I expect the defense to be somewhere between its 2016 and 2017 level and the offense to be dynamic behind Grier and Sills.
West Virginia does not boast the best talent in the conference, but they are very difficult to defeat (unless you are Oklahoma). They catch Tennessee at a good time and a decent NC State squad replacing the loss of a significant amount of talent. If WVU builds some momentum coming out of the non-conference schedule and stays relatively healthy, they will be in the mix for the championship game.
Stable quarterback, experienced defense, few questions = a formula for success in the 2018 Big `12 Conference.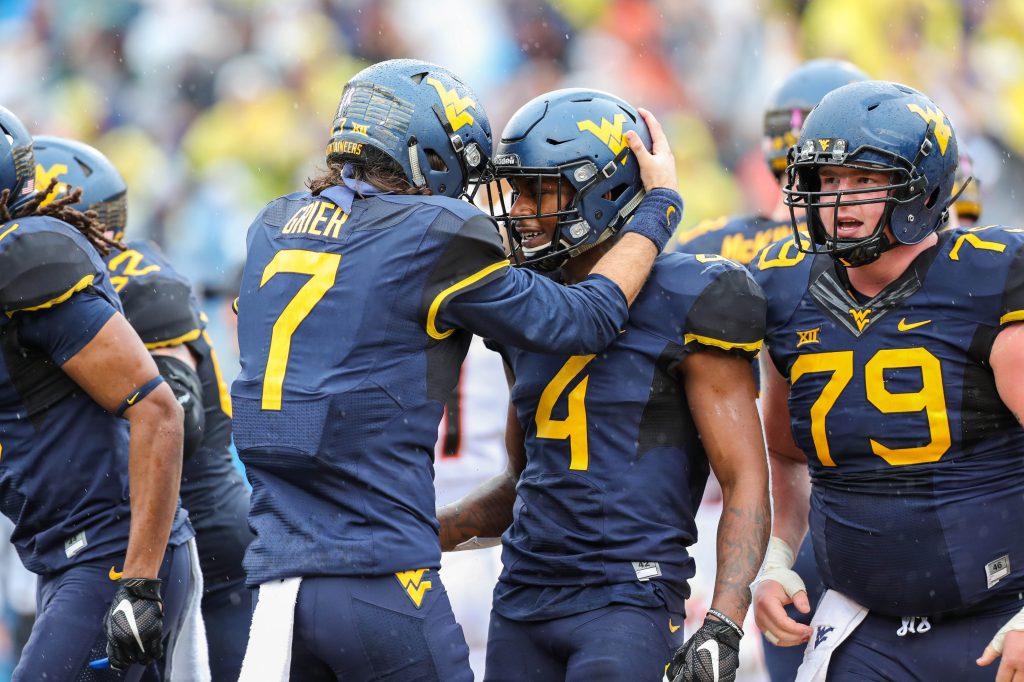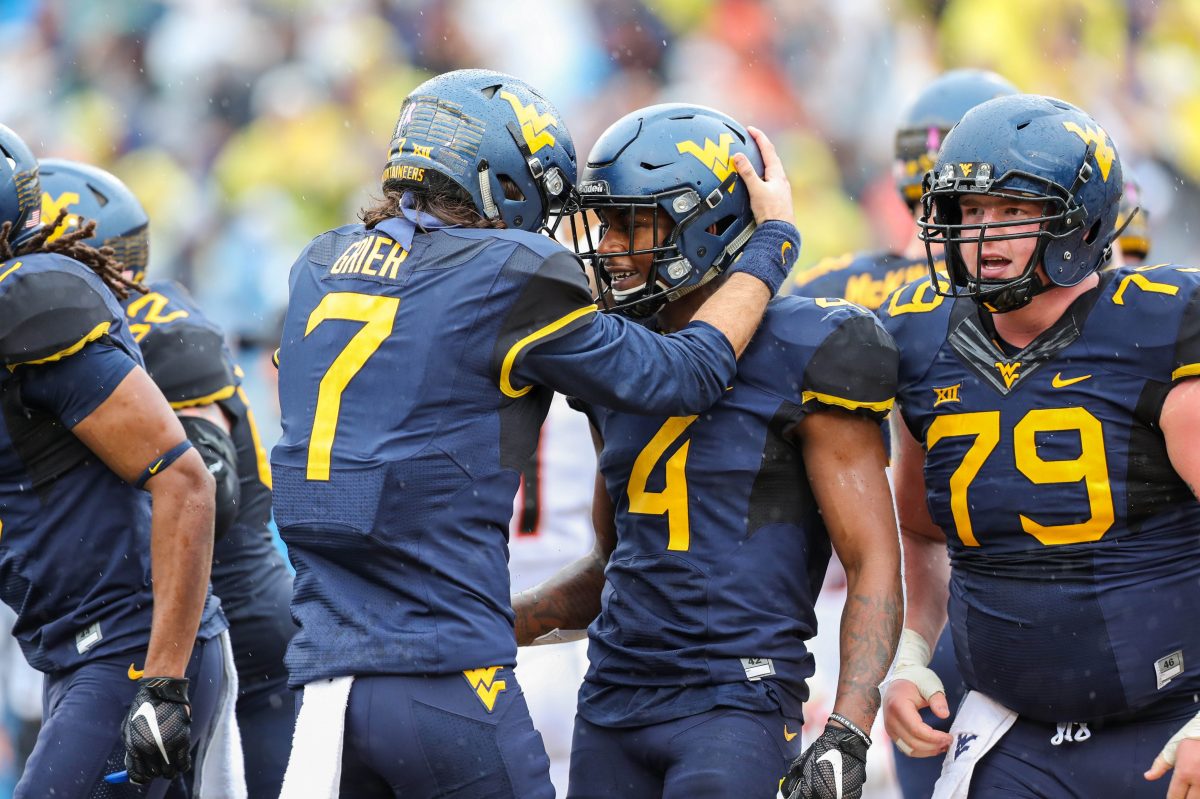 Texas
Well, let's talk about what we do know. Ehlinger/Buechele will be back at quarterback. They had a great recruiting class. Tom Herman is in his second year. Collin Johnson is an underperforming freak.
How does Texas fix its offensive line?
Do they have a running back that can take pressure off the QB's?
How do they replace the core of their defense (Jefferson, Ford, Elliot, Hill)?
Can Ehlinger/Buechele make enough strides to increase offensive output and are they fits in the Herman system?
Do the talented freshmen make a difference?
Those are huge questions. Many expect Texas to challenge for the Big 12 title. That is either an over enthusiastic faith in Tom Herman or adding too much weight to recruiting rankings.
No question that Texas has outstanding expected talent, but nothing in last year's performance indicates that the talent is yet being realized in Austin. The bottom line to me is that Ehlinger and Buechele are not Herman's quarterbacks. They don't fit his system and Texas will be reliant on its defense once again.
Todd Orlando is the most talented defensive coordinator in the country in my opinion. He will have the Texas defense cranked up, but they will be young in key positions.
Texas will "talent" its way to bowl eligibility, but there are too many questions to be answered for them to expect to be at the top of the conference. They are at Maryland and at home against USC who is equally talented. There is a longer process than most expect afoot in Austin.
Kansas State
Are there ever any questions about Kansas State?  We get the same thing every year. They are tough, run the ball, and win more than they lose. That said, 2018 is different.
How does Kansas State adjust to the loss of eight transfers?
Who is the starting QB?
Can they improve their pass rush?
How do they replace the play makers they lost to the draft and transfer?
Is the Wizard losing a step?
While these may be innocuous questions for most programs, they are significant for Kansas State. The loss of eight transfers is unusual and devastating for a program that is thin on a deep talent base.
The 2017 lack of a pass rush was a handicap for the intended defensive performance of Kansas State. There is no apparent improvement expected from the cast of players that will succeed to those duties. Add in a weak secondary and losses in that unit, and you have a difficult formula for the KSU process.
The Wizard is the Wizard and Iowa State knows it more than other programs. But, you have to question whether or not the speculation regarding his tenure and retirement is germane to the on-field performance. Perhaps, finally, there is a step back and the time has come.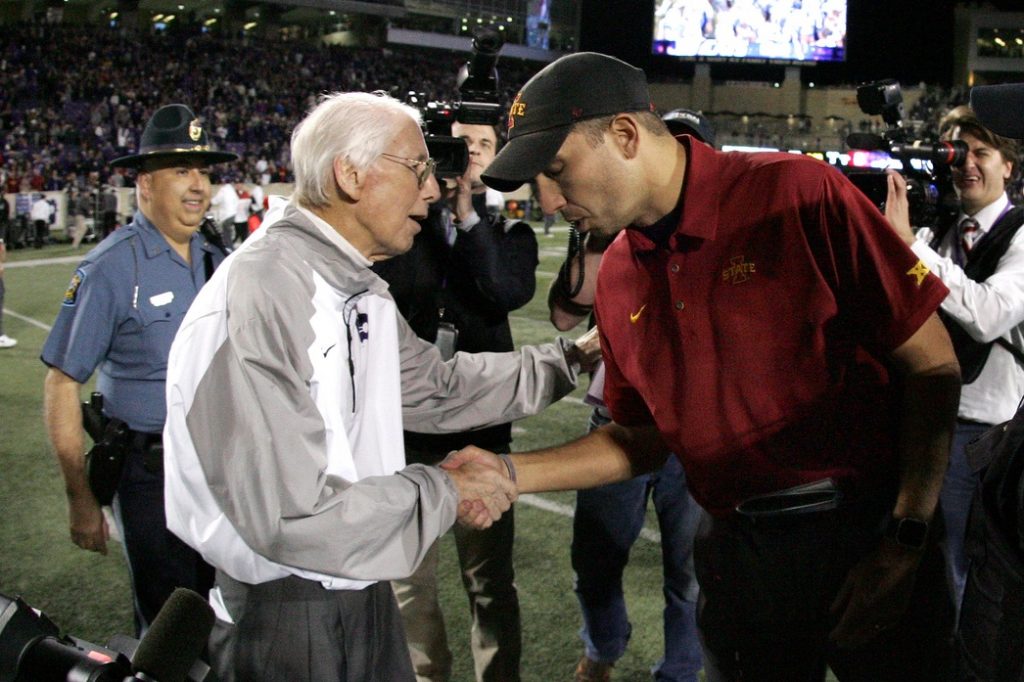 Texas Tech
Poor Coach Bro'. No Mahomes, no Shimonek. Instead, the strength of Tech is its returning defense. The defense was better, but still required an offense that was unstoppable.
Who plays QB, the true frosh?
Who runs the ball, and will they run the ball?
If things go wrong early, does the team quit?
The QB question matters more for Tech than it does for other teams. Their ability to pivot and protect a young signal caller with the run game and defensive play is limited. That is not how they are designed. Tech is designed to be quarterback centric, and that is an element that is decidedly up in the air.
Bowman, the freshman, has some talent, and Carter has some poor play under his belt. The skill positions are solid, but there is no connection between the Kingsbury system and the ability to account for erratic quarterback play.
This is a "hot seat" year for Kingsbury and that is tough position for a team to be in. A lot of questions with few obvious answers.
Kansas
Well, KU is experienced. They have returning QB's, though they remain unsettled on who will be QB1, an experienced line and running back, and some solid pieces coming in as true freshman.
Who will play QB and will they play well?
Can the defense continue to improve and slow down opponents?
Will the four star true freshman make an impact?
Kansas had a solid recruiting year and there may be hope in Lawrence. They return a majority of their key contributors, so experience is a factor. However, experience as a multi-digit loss team is not necessarily what it is cracked up to be.
The lack of QB answer with Stanley and Bender is disturbing. Until Kansas has an answer at QB, they will remain in their current tranche.
They should be able to run the ball better. They should be able to defend better. But, the margin for success is so great that these incremental improvements are unlikely to result in wins.
Baylor
I hate having to discuss this program because it is my firm belief that they deserve sanctions similar to what SMU received in the 80's.
Will Brewer progress at QB, or will frosh Bohannon take the reigns?
Can they stop the run?
Will the youthful play makers mature quickly, or is this another year of growth?
Brewer is a pretty good quarterback. Bohannon may be special. The Baylor recruiting class was very good and some of their recruits can be impact players immediately.
But, with any young team, turnovers are an issue. It was an issue last year as the team ended -14. While that number may improve, it is hard to conceive that number flips to the positive.
Baylor was often competitive, and more wins may be around the corner for them, but the formula for defeating them is likely to remain solid. Run the ball and force the QB to throw in to coverage. Baylor seems to be a year away from being a legitimate threat.
Iowa State
After a breakthrough 2017 season, Iowa State still has questions to answer.
Can the offensive line improve to allow Montgomery to show his true potential?
How good was Lanning and can he be replaced at middle linebacker?
Will the young safeties play up to the level of the departed seniors?
Will the league adjust to the ISU defensive scheme and can Iowa State maintain its high bar?
How does Matt Campbell adjust to be the HC and the OC?
That is a lot of questions, but none of them have to do with the QB. Kempt and Noland with a sprinkling of Mitchell is the most stable QB core outside of West Virginia.
David Montgomery is 1a in quality of running backs in the league, but the team gets derailed if the offensive line cannot grow to complement the talent in the back field. That is the single largest question that Iowa State has to answer.
Defensively, Iowa State was remarkable in 2017. The 2018 unit will be less experienced but more athletic and talented. There is depth and based on that, there is no reason to believe that the defensive questions cannot be answered.
In my analysis, Iowa State has more ready answers to its questions than the rest of the league outside of West Virginia. At the very least, this seems to indicate that they will be able to maintain their position in the conference. If they are able to answer their questions resoundingly, there could be a special season in store for the Cyclones.
Summary Thoughts
At least 7 of the 10 teams (OU, TCU, OSU, KSU, TEX, KU, TT) in the Big 12 have significant questions at the quarterback position. I don't think it can be overstated how significant that is. Some of those quarterbacks will likely be very good, but it is reasonable to assume that turnovers will increase and those turnovers will change the outcome of games.
I find it very interesting that, given the lack of quarterback experience, and the presence of solid running backs, it seems that many teams would be well served to focus their offense on a power running game. Most of those teams have an offensive philosophy that is oriented on the passing game. Who will adjust? Who will exploit their strengths?  Will it be ISU?
Defense is also an interesting topic in evaluating the Big 12. Iowa State and West Virginia has utilized the 3-3-5/3-5-3 versatile scheme to limit their opponents in both the running and passing game. The TCU 4-2-5 has been the gold standard and Kansas State's run stuffing 4-3 has been the historical norm. This year, OSU moves to the 4-2-5 and Iowa State is giving lip service to moving back to their preferred 4-2-5.
I expect more teams to incorporate elements of the Iowa State defensive scheme in to their base defenses. The "accordion" effect that ISU utilized is effective against Big 12 offenses and I expect to see more of it throughout the league. The OC's who adjust to it, will end up propelling their teams to the top of the league.
Based on the severity and the ability to answer the questions for each program, I would handicap the league (way too early) as follows:
West Virginia
Oklahoma
Iowa State
TCU
Oklahoma State
Texas
Baylor
Kansas State
Texas Tech
Kansas
The bottom line for ISU is that the league is wide open. While close victories and close losses were the norm for 2017, the league landscape in 2018 is much different. Iowa State is in the second most stable position in the league. The question is if the talent level has raised to a level to allow them to exploit the vulnerabilities of their Big 12 bunk mates.