That was bizarre. I'm speaking of Iowa State's recent spring football session that wrapped up a few weeks ago, of course. 
The Cyclones went through drills with six new assistant coaches leading the way. Two starters at defensive tackle (Rodney Coe and David Irving) were dismissed from the program and as always, there were the ordinary spring speed bumps (working in inexperienced players, newcomers, etc.) to overcome as well. 
Even so, we do know more about the 2014 Iowa State football program now than we did two months ago. Because of that, here are some projected position rankings within the program leading into fall camp, which will begin in August.
The rankings are pretty self-explanatory. They are based off of talent, depth and potential. I'll explain why I placed each group where throughout the piece.
POSITION RANKINGS (1-8) 
1 – Wide receiver 
Year after year, Iowa State fans  place high expectations on wide receivers and end up being disappointed once the season rolls around. However for multiple reasons, 2014 might be different. Quenton Bundrage, who tied the school record for receiving touchdowns as a sophomore, is obviously a big part of that. There is more to this group than just "Q" though. Jarvis West is healthy and if used correctly, a weapon every time he touches the ball. D'Vario Montgomery brings some much-needed size to the position. Dondre Daley (pictured below) and P.J. Harris looked solid at the end of last season (and for what it's worth, both clearly pass the eye-test as Big 12 receivers). I have heard nothing but good things about redshirt freshman Bryan Ajumobi. That Lazard kid is coming to town this summer too.
Receivers are generally only as good as the people around them. Quarterback play has to be better and the rest of the offense has to be clicking for these guys to really shine. With experienced signal callers returning – what appears to be a much better offensive line and an improved scheme – this group has the potential to be Iowa State's "best" in 2014.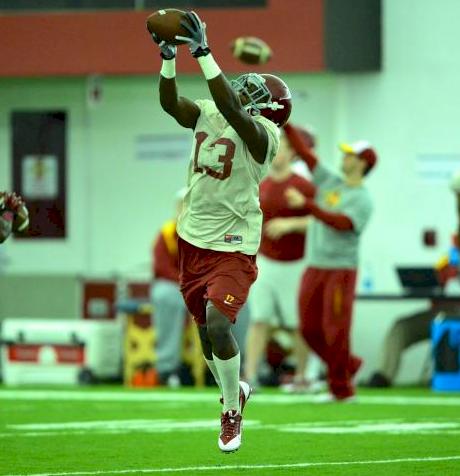 2 – Offensive line
Wait, what? 
Clearly, this is a bit of a curve ball. This group was downright bad a season ago but the feeling in Ames is that last year's weakness could be a strength in 2014 and as of now, I'm buying that.With this group, we know the following:
— Tom Farniok is an All-Big 12 caliber center and possible future pro. 
— Jacob Gannon is now a seasoned veteran at right tackle and possible future pro. 
— When healthy, Brock Dagel (junior) and Daniel Burton (sophomore) were actually pretty good in 2013.
— Ben Loth (center), Jacob Dunning (tackle), Jamison Lalk (guard) and Oni Omoile (guard) all got a ton of playing time last season and should be more Big 12 ready this time around.
Is ranking Iowa State's offensive line No. 2 blind faith? Perhaps. But don't forget that last year's group started nine different offensive line combinations in 12 contests. That's tough for any program to overcome, especially one that was going to be green before the onslaught of injuries occured.                      
3 – Tight end
E.J. Bibbs (below) was one of the best in the Big 12 last season and with Mark Mangino calling the shots, expect the senior tight end to be even more of a focal part of Iowa State's offense in 2014. As we all saw in the spring game, Bibbs should see time split out wide too. 
"I love being out wide, I played wide receiver in high school," Bibbs said. "I'm comfortable out there."
Ben Boesen is a formidable backup. The jury is still out on Alex Leslie and Quan West.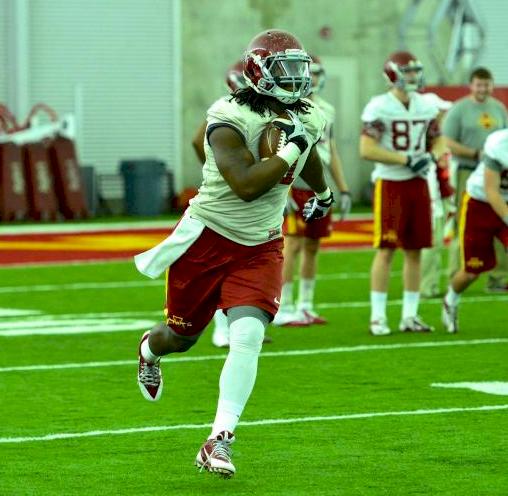 4 – Running back
Depth is down from a year ago but that might not be a bad thing from the standpoint of offensive rhythm. Aaron Wimberly and DeVondrick Nealy will clearly be the featured backs and are both good enough for Iowa State to win with. I would have put this group ahead of the offensive line but the fact that backups Rob Standard and Tyler Brown bring little to no experience to the table is concerning, especially considering the injury issues that Wimberly has had in the past.
5 – Quarterback
The good news here is that Mangino will have two experienced options at the most important position on the field. The bad news is that Grant Rohach/Sam Richardson's only Big 12 wins have been against Kansas and West Virginia (note that in Richardson's win over Kansas in 2012, he did not start the game). In all fairness, Rohach was a freshman quarterback playing behind a depleted line last season. According to Rhoads, Richardson was hurt a lot worse than any of us actually knew about too. Word out of Ames is that Joel Lanning has a bright future. On the surface, Iowa State has three legitimate options here. Unfortunately, none of them are proven Big 12 quarterbacks at this point in their careers so I am hesitant to place this group any higher in the rankings.
6 – Linebacker
Iowa State will look to replace an All-Big 12 linebacker for the second year in a row. Paul Rhoads put it well late in the spring when he noted that there is plenty of talent here and the Cyclones have options at linebacker, but not necessarily depth. Luke Knott is a quality starter just because you know he will always be in the right spot (which is a huge deal to Wally Burnham). It's now or never for senior Jevohn Miller. Jared Brackens has the athletic ability to be a Big 12 playmaker at strong side linebacker. Jordan Harris, Alton Meeks and Kane Seeley are battling it out at middle linebacker (my guess is that Harris eventually wins it). The future looks brighter than the present day when you look at Iowa State's depth chart at linebacker, that's for sure. It's a group that could be good down the road but should struggle quite a bit next season. 
7 – Secondary
Nigel Tribune has a TON of potential but he'll also take more licks as Iowa State's premier cornerback as a true sophomore. The other corner spot might be a little more consistent, but the upside's of Sam Richardson and Kenneth Lynn (both juniors) is lower. The real question regarding Iowa State's secondary comes at both safety spots. The coaches have been raving about redshirt freshman free safety Kamari Cotton-Moya for months now but he's still a rookie. The potential loss of junior-college signee Devron Moore would leave a dent but even if he decides to come back this summer, Cotton-Moya will probably still be the man on Aug. 30. At strong safety, it appears to be T.J. Mutcherson's time but I'm still hearing that he has yet to grasp the game mentally the way that needs to be done at this level. Summing this group up, these guys are athletic and talented but green as a floret of broccoli.
8 – Defensive line 
No surprise here. It's hard to recover from losing two senior defensive tackles in the offseason. However, Brandon Jensen's return to the team last week did help in a big way. Cory Morrissey is a solid defensive end but is far from being a proven game-changer. With three JUCO's coming in this summer, it is a hard group to get a great grasp on but it is difficult to imagine a scenario in which those guys are Big 12 ready on Aug. 30. Summer JUCO's rarely are.