Ellis Hobbs (11) celebrates ISU's win in the 2004 Independence Bowl with his teammates. The former Cyclones and NFL star is in Ames again this weekend to serve as a honorary captain at the spring game. Photo courtesy Iowa State Athletics Communications. 
 AMES — As former Iowa State great Ellis Hobbs spoke, his words sounded eerily (and cheerily) familiar.
 He stressed "falling in love with the process." The need for continual growth. Of forever "raising the standard."
Iowa State honorary captain, Ellis Hobbs touches on the new culture at Iowa State. #CFTV #Cyclones pic.twitter.com/pbQSQ5CSkW

— CycloneFanatic.com (@cyclonefanatic) April 14, 2018
So the former star cornerback as a Cyclone and a pro, clearly speaks ISU coach Matt Campbell's language — and shares the myriad aphorisms and common-sense elements that gird the framework for success.
"The best part about it is I feel it," said Hobbs, who returned to Ames this weekend for the first time in several years to serve as an honorary captain for the weather-altered spring game. "I feel the culture and the lifestyle now. I said it earlier to the guys, to the team, that everything that we presented or inwardly felt back in my years and even previous years, you outwardly see it now. You see it through the facilities. You see it through the uniforms. You see it through the players. It's such an amazing feeling to understand that now there's a culture and a lifestyle of excellence. That sign they have out there: "Raise the Standard" — there's a level of standard now and if you fall below that, you will be excommunicated. You'll be removed. Or you'll just naturally phase out. But I just like the fact that everything we felt, everything that we believed in, is outwardly coming out in the present."
Case in point: the development of standout Cyclone corner, Brian Peavy, who obtained and processed valuable feedback from NFL reps during the offseason.
Hobbs — who played for the New England Patriots and Philadelphia Eagles from 2005-10 before effects of a spinal disease ended his career — sees a lot of himself in Peavy as the latter prepares to shine in his senior season.
Ellis Hobbs discusses on the similarities between him and Brian Peavy. #CFTV #Cyclones pic.twitter.com/auQwB7kwGt

— CycloneFanatic.com (@cyclonefanatic) April 14, 2018
"Stature," Hobbs said to point out one similarity. "Those things are obvious, right? But from what I understand and from what I've heard, the mentality is there. There's a certain level of thinking, of mentality, of cerebral-ness that you have to have for guys like us. That will to win, yes, but then understanding that opposition is going to be there regardless of what you do and continually proving yourself over and over again and to some people, that gets very daunting. That's a very debilitating task, that I have to mentally bring my A-game because I'm already two steps behind, so from what I understand, he has that sort of mentality and the great thing about that is, hey, we're talking about sports, but he's going to be able to use that in life, over and over again, because I do."
Hobbs has achieved success post-football, too. He's in-demand as a motivational speaker. He's a husband and father, giving him perspective that carries over from the locker room to executive board rooms.
"The success you see now, whatever, the watch, the chain, the shoes, whatever this and that — I didn't have money," said Hobbs, who was featured in a Cyclone Fanatic Where are they Now article in 2016. "I came to school for an education. I came to school to play for a football team in the Big 12. So don't tell me it can't happen to the next person. Don't tell me that this is some moment that, once in a lifetime. No, no, no, no, no. Everybody can do it, but there has to be a process to it and you have to appreciate that process."
Hobbs's advice for aspiring pros is steeped in that word and what it truly means.
"There's levels to this," Hobbs said. "And the process. You have to fall in love with the process  before you can enjoy the results. If you have no process, if you have no details to your craft, you're going to fail — and not only fail, you're going to fail miserably. Because the sun shines on a dog every now and then, right? But when it all goes away, what do you fall back on? How do you learn from your mistakes? How do you learn from your successes? The process. So that when those times do come, there's something to look at and understand, 'OK, this is how I get back to it.' 
"So I would say that — fall in love with the process — and then treat it like a business. Treat it like you're making money before you make the money, because when you make the money, you always expected the money. To where, it's now all of a sudden — 'Ahh, I got this money, Ahh, I got this success. I didn't even expect that.' Well, if you didn't expect it, what were you doing in the first place. Why are you doing the work? To get to the goal, right? So when you treat it like a business from the very beginning, you just naturally gravitate, or transition into the natural flow of things."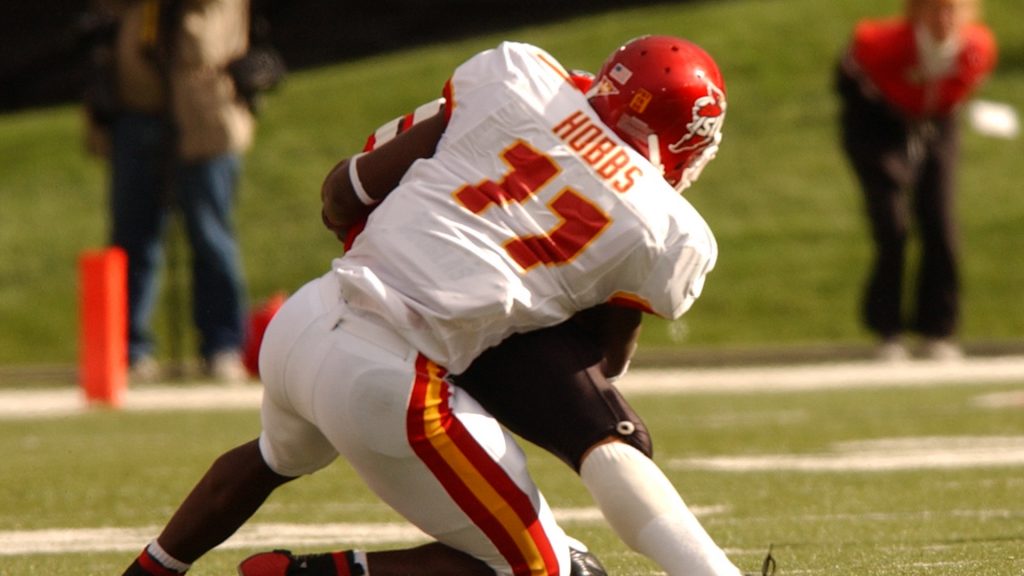 Hobbs, like Campbell, defensive coordinator Jon Heacock, and numerous others on ISU's staff, is more about "hows" and "whys" than "whats."
And he sees attributed in Campbell that he's certain would translate well to the NFL, while making it clear he's not advocating for that sort of ascension anytime soon.
"Yeah, someone like him — I don't want to start putting bugs in people's ears, because I don't want him to go anywhere, but he would transition into the league excellently," Hobbs said. "Very, very well."
That's a "someday" proposition. Hobbs has seen what "raising the standard" means on the field at his alma mater and is eager to see more of it.
Now. Next season. And on it goes.
"Now there's a level of expectation of an uptick," Hobbs said. "There should be an uptick every year, to where I would say, for some time there was complacency, right? Like, 'Ahh, the goal is just to have a winning season.' That should no longer be the goal. Winning seasons should be the standard. Moving forward to plus 10 wins should be a level of standard now, to where now, when we're beating teams like Oklahoma _ and we were talking about this offline, as well — to where no one should be shocked at this. No. We've built the program. We've done what we're supposed to do. We should expect this amount of success, so every year I'm expecting an uptick, which I'm seeing every year."
RUBIN'S PRAISE FOR JOEL LANNING
Former Iowa State defensive tackle and 10-year NFL veteran Ahtyba Rubin was an honorary captain Saturday as well — and shared high praise for linebacker Joel Lanning.
"The linebacker you all had here, No. 7, he was phenomenal," said Rubin, who is a free agent. "All the positions he could play. Like how you hear he was from here, he's a local guy, and now he's just versatile and it seems like unselfish — that's the kind of guy you want to play with and you'll go to bat for and you'll put it all on the line for. I thought that was pretty cool watching him as a fan."
WASHINGTON WOWED BY UPGRADES
Back in the 1980s, Cyclone linebacker Chris Washington turned heads by punishing opposing running backs, quarterbacks, tight ends and receivers. He's ISU's all-time leading tackler with 457 stops — and now his head has been turned by the program's many physical upgrades.
"I remember when I first came back and saw this stadium and the (South end zone) construction they've done, the improvements they've made, I thought, 'Gosh, I wish we had that when I was there,' but that's how it's supposed to be," Washington said. "We help the program grow, which allows them to do things like this. I love it. I'm very proud to have been a part of it."