AMES — One great play would win the game.
That's what echoed through Ellis Hobbs III's mind as the pass drifted toward him.
He pounced. He leaped, stood out, and ensured Iowa State's ninth-ever bowl game would end in a somewhat rare triumph.
Then, he grinned. A DeSoto (Texas) High School youth who had become a Big 12, bowl-winning man.
From Dallas to Ames. A journey worth reliving.
"I had seen that play so many times prior to even playing Miami of Ohio because of so much film study, so much repetition leading up that week to that play, it literally was just me reacting to something that I'd seen every day, so when you talk about those things, that's where the great separate themselves from the (average)," Hobbs told Cyclone Fanatic. "Being able to slow that game down so much to where understanding if something has to go in, something has to go out. If there's something high, there's something low… That's a very difficult task and a credit to myself and everyone around me who helped me really slow that game down and make me the best player that I could possibly be."
Mom and dad laid the groundwork. Hobbs's dad served more than thirty years in the military. He instilled the can-do attitude required for a life that glided upon the fast trails toward success.
"That's as fitting as it gets," McCarney told reporters after the final Hobbs pick. "He made a great play. But it's like I've said many times, he's a better young man."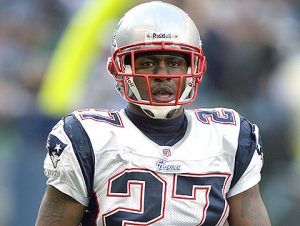 Hate your alarm clock? You'd loathe the one that belonged — and belongs —  to Hobbs.
"To this very day, I'm waking up at 3:30, 4 o'clock every morning starting my day," Hobbs said. "Not because I have to, but it's because that's what keeps my structure, that's what keeps my edge."
Hobbs danced on that "edge" as a Cyclone and later with New England and Philadelphia in the NFL.
"Real recognize real," said friend and former ISU standout safety Steve Paris. "He gonna make it."
But make what?
Hobbs joined the Cyclones after passing on offers from Texas A&M, Notre Dame and Northwestern, among others. He marveled at Seneca Wallace's talent eventually, and at the 9-3 insight.com Bowl-winning team initially. That and the coach. ISU seemed special. A launching pad. Perhaps obscure, by Texas standards, but a special stage, nonetheless.
"What sold me on Iowa State was Dan McCarney, who was an excellent, excellent coach, and I'm so excited that he's going into the Hall of Fame this year," said Hobbs, who began his ISU career with an interception against UNI, then closed it with the pick against the RedHawks. "Well deserved, because of everything he did with so little — meaning the resources, the budgeting at the time and the talent. To see, at the time, the group of guys that came through there in that 9-3 season and the insight.com Bowl (in 2000), I couldn't name one person off that team until I met him. I take that back: The one person I could name was Ennis Haywood. That's only because he was from my area."

Still, McCarney and his staff made inroads deep in that heart of enviable and seemingly limitless talents. They ID'd and lured Hobbs. They found others, such as Paris, as well. Paris was a wide receiver at the time. Hobbs was a running back. And they'd already met (without really knowing it).
"No. 34 is all they had," Paris said, recalling facing a rival suburban Dallas team as a youth. "He ran so hard, but that's all they had. Not knowing then that running back was Ellis Hobbs."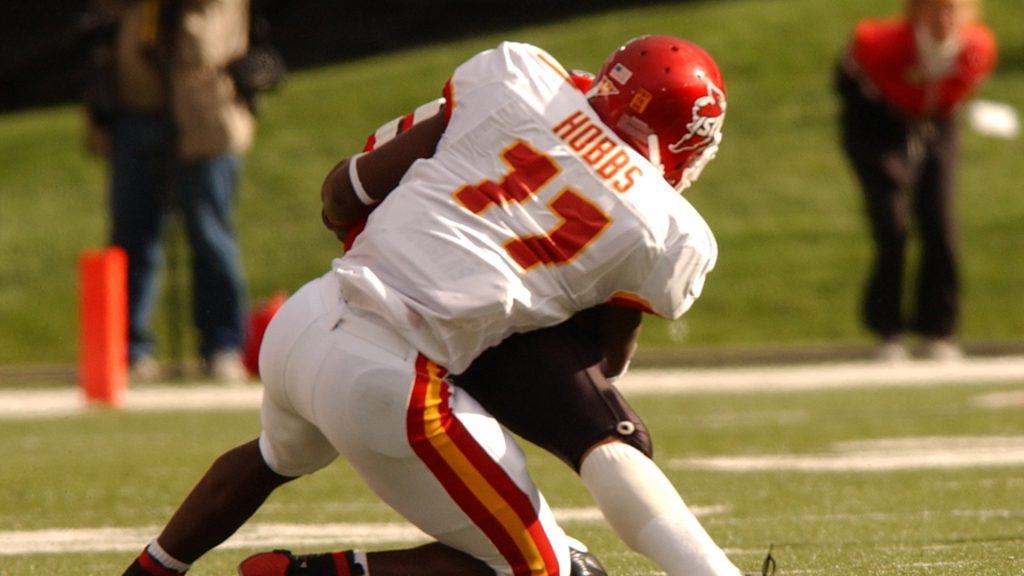 Yeah, Hobbs could run. Back at DeSoto, they've named a track meet after him. But at ISU, a position change loomed — as long as he bought in. It meant immediate playing time. Now, not tomorrow.
"When I saw that opportunity of the no-name guys being successful and they're able to play in the big 12 against all these Texas school and all this, I said, 'That's where I want to go," said Hobbs, who once shared the NFL record for longest kickoff return for a touchdown at 108 yards. "I can play with the best of them. And not only am I going to play with the best of them, but I'm going to play with the underdogs and come back and beat these guys. That was really my whole mentality."
Reality tracked with that mentality in his adopted home state. Hobbs went 3-1 against Iowa. Other than a forgettable — but instructive — 2-10 junior season, he went bowling often, as well. After the 2-10 crucible, Hobbs looked squarely in the mirror.
"I sat down by myself and I really embraced the realty of where we were as a team," Hobbs said. "Sometimes, what we try to do to ourselves is trick ourselves into thinking that we're better than what we are, or we proceed to think that people are thinking we are better than what we are, so hype is what it is: it's just hype."
So he shunned that hype and made the team better. A 7-5 finish with a bowl win set the stage for greater personal gains.
An NFL career. A perfect regular season. A Super Bowl trip that didn't go as planned for the Patriots' No. 34. What might have been — then and beyond?
"It's never over," Hobbs said of a pro career ultimately cut short by injuries. "Some people think my career was 6-7 years. My career was 24-25 years, from the age of four. Here you are, playing a game or whatever. So I say that until I even reach 25 years out of the league, I'm not going to be fine. So every day is a battle, but it gets easier and easier when you continue to fill that void elsewhere."
Hobbs did that by helping to found the Prive Society, which helps current and former athletes navigate the often mind-spinning world of finance and its myriad services. The business has expanded since.
"Approaching the game with a business mindset: showing up on time, working hard, doing what you're supposed to consistently, has really helped me in the now, mainly because everything that I do, or I feel that I do, is all about discipline, self-management, persistence, consistency, working hard, outworking your opponent, beating them to the punch — everything that you would do with sports," Hobbs said about the transition. "To where what you lack in I would say talent in the business world — and I didn't necessarily have the background of it, or, say, the pedigree, where all my family and friends or whatever come from this sort of background — I make up for in the will and determination of learning and continuing to hone on on a craft until I perfect it and/or get better at it."
That's how he approached life at ISU. Film study led to that game and career-sealing interception. He credits then-assistants DeMontie Cross and Chris Ash. His natural ability allowed him to run fast. Their guidance allowed him to do the same, in reverse.
"Just imagine," Hobbs said.  "I'd been running forward for so long and now I'm actually playing a position that you have to run backwards. So trying to learn that on the fly is kind of like learning how to throw left-handed. So how do you do that?"
By trying. Hard. By working. By beating the odds.
"I honed in on it," Hobbs said. "I beat that craft and I continually worked on that skill. Lo and behold, it works out for the better."
On Hobbs went to the pros, where he scored three touchdowns on returns and snared 10 career interceptions. That seemingly majestic arc ended after the Philadelphia Eagles discovered a spinal disease, and attempts to play past it proved fruitless. Hobbs once lie motionless — paralyzed — for a half-minute on the field.
An all-Pro career ended. A top starter (again, he picked off a pass in his first game against Northern Iowa, too) and finisher faced a crossroads. Football was over. Life remained. And the same underlying factors that made him an all-Big 12 cornerback accompanied him as life went on.
"How ironic is that?" Hobbs said. "I start my career off with an interception and I end it with an interception. But not just any interception but it wins the game. So to do those things and to have those moments, no one can take those away from me."
No they can't. Hobbs excelled as a Big 12, then NFL corner. He's been a special guest — deservingly — at the NFL Hall of Fame. He's a husband to Monique and a father of two (yes, there is an Ellis Hobbs IV). He also wants to come back — and soon (though his third child is due in September). The last ISU game Hobbs attended was the infamous matchup with Texas a short while back in which, ahem, the Longhorns won after a fumble was deemed not to be one.
Not a visit to end on. Not for Hobbs, nor any Cyclone who climbed the ladder from also-ran to front-runner. Especially not for a Texan who beat the odds — and came back to finish his degree while a member of the Patriots.
"Iowa State was four years of some of the greatest years of my life," Hobbs said. "From the beginning to the end. So many life lessons. People really embraced you from a community standpoint and I can never really thank them enough."
He'll still try. It's what Hobbs does. But how would he address Matt Campbell's first-year Cyclones team?
"Embrace the reality, but change the perception," he concluded. "And that's in your mind and everyone else's minds, because this is what it is. Now how do we change that? There is no perfect solution or lightning that goes off in your head, but every day you come to work. That's what it is. You come to work with the mentality that, 'I'm going to be the one to change this program.' That's how I looked at and approached every day: I'm going to set the bar and I'm going to lead.' And like anyone who leads, you're going to be tested. You're going to be tested on all levels. You're going to be tested by your teammates, you're going to be tested by your opponents, by your coaches, and for all the glory. There were a lot of down times. A lot of doubt. but every day I came with the same approach … All of sudden it all clicked together and it all made sense. And that doesn't happen overnight."