Former Iowa State star guard Tyrus McGee in action. He led the nation in 3-point field goal percentage in 2012-13. (Photo courtesy ISU Athletics Communications)
Tyrus McGee glanced at his phone and recognized the number.
On the other end sat former Iowa State teammate, Melvin Ejim, who shared an urgent message from his current team's coach: We need you here.
The fateful exchange happened nearly 5,000 miles from Ames.
McGee and Ejim had stayed close, but this latest mobile connection would bind them even more tightly as reunited teammates in one of Europe's most popular, picturesque and storied cities: Venice, Italy.
They'd also face a bitter foe with the initials A.C. — one ISU fans remember well — as they chased an historic championship. But no one saw that coming. All McGee knew was that he'd be working with Ejim again for a common cause and he eagerly accepted the opportunity.
"He contacted me and was like, 'Hey, you know, the coach loves you, he wants you to come here,'" McGee — or 'McThree' as he came to be known by adoring Cyclones fans — said from his current home in Pistoia, Tuscany, Italy. "It was wonderful."
Ah, the gondolas. The magnificent architecture. Those iconic canals.
But beyond the bustling tourist havens of Piazza San Marco and the Rialto Bridge, basketball beckoned and a chance for redemption crystallized for the sharp-shooting and now trans-Atlantic fan favorite from sparsely-populated Stringtown, Okla.
"Just coming from a population of 400 people and getting to see a different part of the world is just amazing," McGee said. "When you're here and you're living here for nine or 10 months out of the year, you have to learn to eat, sleep and breathe their culture. There's nothing you can do about it. You can't live the American way over here. You have no choice but to do it, but it makes you become a better person. You see things different."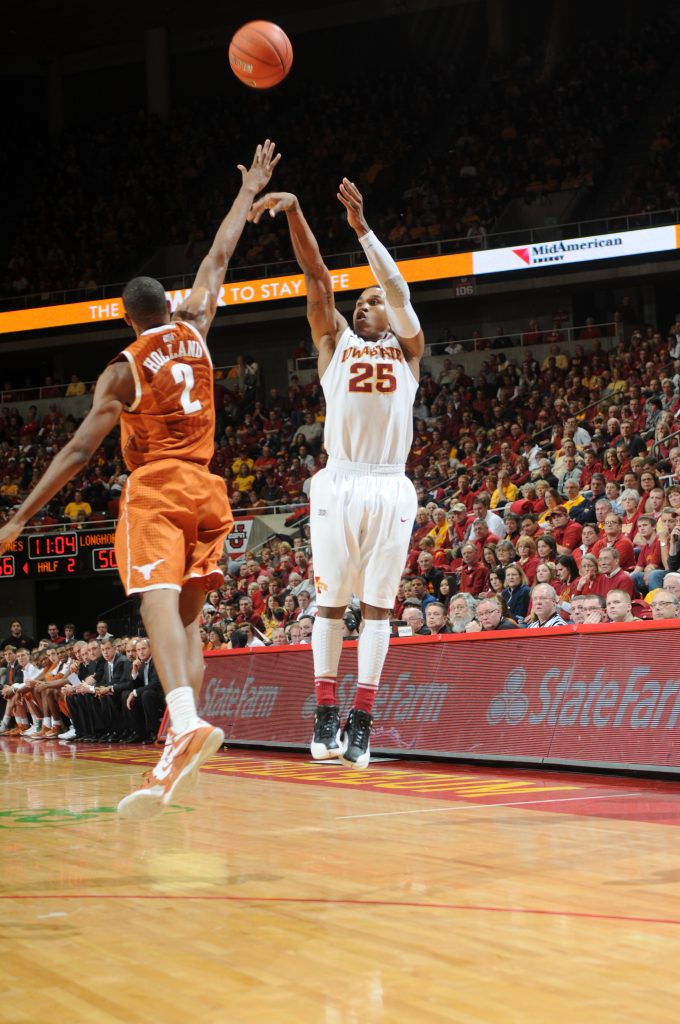 It's been both an unexpected and delightful journey abroad for McGee, who shot a blistering 46.4 percent from 3-point range in the 2012-13 season to become ISU's first national leader in a statistical category in school history.
It began in Spain, wound through Germany and now flourishes amid the famous frescoes, beloved countrysides and cosmopolitan cityscapes of Italy — where he shared the aforementioned championship experience for the first time with Ejim in June of 2017.
And precisely how it went down should bring a smile to your face.
After Ejim successfully courted McGee to Reyer Venezia, both became key players during a stirring run to the team's first Italian Lega Basket Serie A title in 74 years.
The championship ran through a team to the North: Aquila Basket Trento.
It also required besting another one of Ejim's former ISU teammates, the scrappy and sinewy New Yorker, Dustin Hogue, who joined the Cyclones one year after McGee left.
But the "small world" aspect of this title run took on a decidedly redemptive layer, as well.
One of Trento's other key players was a man that will live in ISU NCAA Tournament infamy: former Ohio State point guard Aaron Craft.
Seriously.
"So it was like a little rivalry, you know?" McGee said. "Some Cyclones on the court. Some Big 12 players on the court. It was wonderful. We ended up going to game six against them. It was a very difficult game, let me tell you. It was very difficult."
Game six played out in a roiling-hot Trento arena. The standing-room-only home crowd packed the tiny gym and tirggered airhorns, pulsing with energy in an effort to help their team avert elimination.
But the victor's hearts pounded stronger — and not just because a championship teetered in the balance.
"Playing against Aaron Craft, man, me and Melvin talked about that," said McGee, who'd seen his senior season at ISU ended in the Tournament's round of 32 because of Craft's unlikely 3-pointer at the buzzer and a controversial (read: bad) charge call against Will Clyburn. "I said, 'Look. We might not have got him in college, but this is our opportunity to get him.' I was like, 'This is revenge and this is for a championship. This ain't to get to the championship. This is to win the championship. This is completely different — and we're getting paid for this. Money's on the line.' You know what I mean? So we had a good talk about that."
Craft, Hogue and everyone else associated with Trento didn't stand a chance.
Once the clock waned to zeroes, McGee, Ejim and their teammates exulted. Take that Craft (and sorry, Dustin)! — but with a twist for Ejim, who along with Hogue (and unlike McGee) experienced a Big 12 Tournament championship and a Sweet 16 appearance in Madison Square Garden in his senior season.
"The funny thing about that is after we won the game, Melvin kind of went off from everyone," said McGee, who despite playing just two seasons with the Cyclones ranks among the top 10 all-time in nine shooting-based statistical categories. "He's standing in front of the stage, kind of like off, and I walked up to him and I said, 'Hey, bro. Don't worry. You're gonna to get MVP.' He had a big old smile on his face. He didn't think he was gonna get it, but I knew he was because he started the game off so good. He hit like four 3s in a row, all back to back."
Sure enough, Ejim clutched the MVP award — and now he's off playing high-level ball in Russia.
McGee, who turns 27 next Wednesday, recently called him to wish him a happy birthday.
"I told him hopefully this summer I get to see him, because for sure I'm coming back to Ames," McGee said. "I did last summer for (Coach Steve Prohm's) alumni thing, so each summer I'm going to always try to come up there for (that). But yeah, man, I couldn't ask for anything better than this."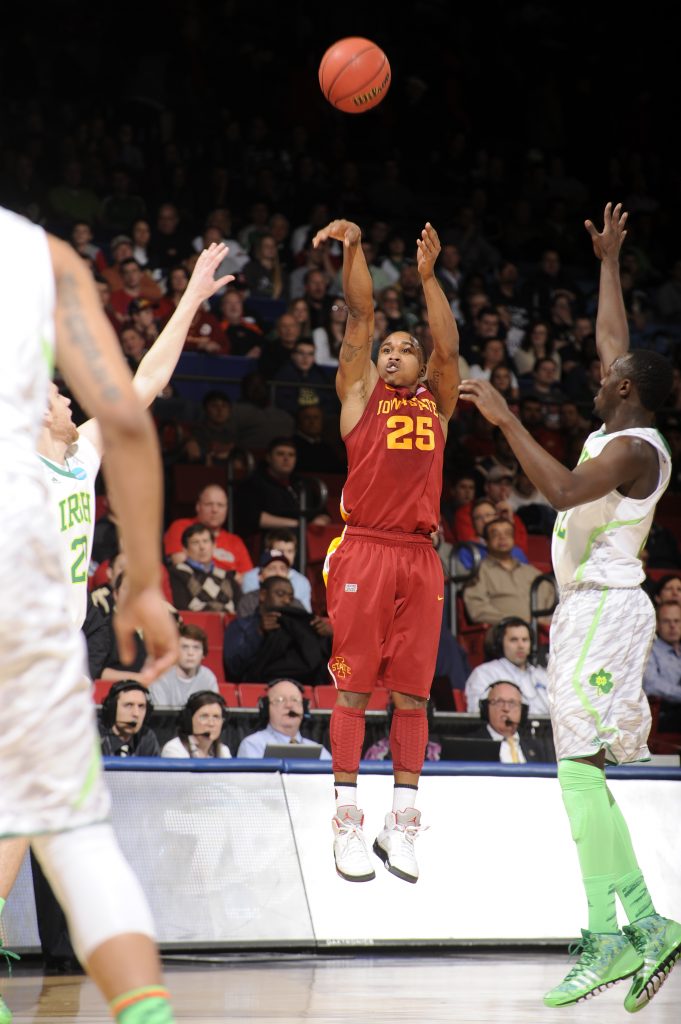 McGee is truly a citizen of the world.
Last season as a part of the Champion's League, games took him to Turkey, Russia and Israel … anywhere else?
"Romania, Ukraine, Finland — where else did I go?" McGee said. "Man. Man, man, man. Latvia. Germany again. I've been a lot of places, man. It's incredible because each country's completely different. The all do their own thing, their own lifestyle."
Just as McGee's always done it with magnetic flair. While playing for Cowley (Kan.) Community College, he caught the eye of then-Cyclones coach Fred Hoiberg, who vowed to his staff he'd draw McGee to campus.
"I said, 'Guys, I'm chasing this guy,'" Hoiberg told me for a 2013 Cedar Rapids Gazette feature I wrote on McGee. "We've got to have him."
So McGee's first big move entailed packing up for Ames, but it's one that's shaped his life ever since. For one, it established his friendship with Ejim — and many others.
"In college, me and Melvin, we were really close," McGee said. "I was really close with Melvin, Bubu Palo, Korie Lucious, Chris Allen and Chris Babb — and Will Clyburn of course. Really liked the starting five. I was really close to them because we related to (each other) on a lot of things. When I found out Melvin was playing in Venice, I was like, 'Man, this is amazing.' Me and him (have) been boys since we met each other. So when I was in Venice, Melvin used to come to my house, cook, we'd have a good time, talk about the college days. We'd watch the young guys for Iowa State play. We'd talk about this, talk about that and it was wonderful. It was even more wonderful watching him get MVP as somebody I know who's worked just as hard as me to get to where we're at now."
Small world. Big game. But some thing's never change.
"I'm a hustler, too," McGee said of his approach to the game now (and then). "I like to dive on the floor and fight for the ball and every opportunity I had against Dustin Hogue, I was taking it. You know what I mean? We were going at it, but I loved it, though. I love when someone else competes. It makes you play harder."
That's McGee personified. Beyond the stellar shooting, the soaring long-range jumpers that barely graze the net, lies an implacable desire to win, to grow, to stride through this world with one abiding intention: Be the best in every given moment, regardless of geographical location.
"I like (Italy), but I think it's time for me to move on to try different countries," McGee said. "I'm still young in basketball terms, you know? I just want to see the world when I can. Enjoy it."
This season's involved gritting through piercing pain. McGee aggravated an old hand injury while trying to break his fall during a preseason game collision. He broke a bone in his hand and underwent surgery last Halloween. Doctors said he's be out until January. He came back in early December — a screw still in his hand — and already has helped his inconsistent team maintain its spot in the first league next season.
But there's always something more to achieve and in this case, it hinges on climbing the standings with 10 regular season games to go. A decent finish would allow McGee's team to creep into the playoff picture.
And if there's anything he's learned — from Stringtown, to Ames, to this vast world that now seems quite small — nothing is certain until all hope is exhausted.
"Usually at this time of the year, a lot of teams you expect to go to the playoffs end up losing," said McGee, who expects to play summer ball with the San Antonio Spurs. "It happens every year, some underdog team is always going to come in and play for the playoffs, so hopefully that will be us."
Count on McGee coupling 'hope' with dogged tenacity. With each sweet, but pain-framed shot, he remains the same guy who as a kid fashioned temporary hoops from milk crates in Stringtown.
The man who carried his cylinder-based hopes and dreams to central Iowa and then made the world his title-bound playground.
The man who makes one call every day, without fail — at the same time, to the same person.
Her initials are W.M.
"I'm very blessed," said McGee, whose mother, Wilma, is a cook at a local high school. "I don't take it for granted. I just take each day day by day. I talk to my momma every day at two o'clock (Italy time), because that's the time she wakes up to go to work."
Small world. Big game. Something has changed.
"Not too long ago on Wikipedia they just put me as a famous person from Stringtown," McGee said. "There's only three of us, really. A guy who played for the Kansas City Royals, U.L. Washington, and Reba McEntire, she's a country singer. And then they had me there and it gave me the chills, you know? To see myself … "
He paused, thinking about his favorite daily phone call. His rock. The beginning of this remarkable journey.
"My mom was very proud," McGee said.