It was so odd to be in central Iowa this past weekend watching the NCAA Tournament with absolute zero rooting interest whatsoever…
Let's not make this a habit.
What a tournament though! From a 16-seed beating a one for the first time to four Big 12 teams advancing to the Sweet 16, I had an absolute blast watching games and hope that you guys did too.
Believe it or not, football is about to take center stage once again here in Cyclone Land. Spring ball starts on Wednesday for Matt Campbell's squad. With that, here are five questions that are on my mind heading into the spring season.
1 – What is the offensive line going to look like?
This is the only big question left to answer when discussing Iowa State's 2018 offense. Matt Campbell, however, seems awfully optimistic.
"We actually look like an offensive line going into a football season," Campbell recently told cyclones.com. "The reality of that is it's the first time since we've been here that we actually have multiple starters coming back, which is huge."
For what it's worth, I currently have Sean Foster (T), Julian Good-Jones (C), Josh Knipfel (G), and Bryce Meeker (T) penciled in as starters right now. The opposite guard spot is a big question. Is that Robert Hudson's to lose or can Oge Udeogu bounce back from an injury and claim the spot? Where is Jacob Bolton at in his readiness to start in the Big 12?
I get that this isn't a "sexy" first question to ask but what I see here are a bunch of talented dudes with a ton of potential.  Good-Jones and Knipfel are the only "sure things" I see.
This is my top question because I think the rest of the offense is really poised to take a major step forward next season. Iowa State absolutely has to get better up front though. The days of not run blocking and praying that David Montgomery can stumble ahead for a 10-yard gain have to be in the past if this program is going to take yet another large step in the positive direction.
The building blocks seem to be there but a lot still needs to come together.
2 – How good can the defensive line be?
Compared to the offensive line, my mindset could not be more different on the defensive side entering 2018. I think this has the potential to be the best defensive line in modern day history of Iowa State football, dating back to Berryman, Leaders, Curvey and Moorehead in 2005.
Ray Lima, JaQuan Bailey and Enyi Uwazurike are future pros in my estimation. That leaves guys like Jamahl Johnson, Matt Leo and Kamilo Tongamoa as huge wild cards with a massive amount of upside.
I'm chugging this glass of Cyclone Kool-Aid and am bullish on the defensive line. That's something we NEVER get to say around Ames in March.
The big story to watch this spring: My eyes are on Tongamoa and Leo. For different reasons (one got here too late and the other simply hasn't played much football in his life) were non-existent in 2017. How does Leo bounce back after what I've heard was a much-needed redshirt year? Tongamoa got into some trouble off the field this past winter. Is his head on straight and if it is, how good can this guy realistically be?
If those guys produce, this group's production could be off the charts next season. Man, I'm excited to watch them play.
3 – What does the back end of the secondary look like?
I have yet to really dig into the rest of the Big 12, but have to believe that Iowa State's combination of Brian Peavy and DeAndre Payne is at the very least top three in the league heading into next season.
But what's going on behind them?
A bunch of young guys will be competing for two open safety spots  in what should be the most compelling defensive storyline of the offseason.
Keep an eye on JUCO transfer and mid-year enrollee Greg Eisworth at strong safety. Him getting on campus in December was critical. Still, he's a JUCO which in my mind, makes him an unknown. 

At free safety, Lawrence White showed some real potential last season while Keontae Jones is an exciting young player as well.
4 – Which young linebackers will stand out?
Willie Harvey and Marcel Spears were anchors on last year's surprisingly stout defense and thankfully for Iowa State, they'll be back in 2018. Still though, replacing Joel Lanning and his 114 tackles will be quite the chore. It will probably be done by committee to an extent and it sounds like plenty of young men are capable of stepping up and being big time contributors right away.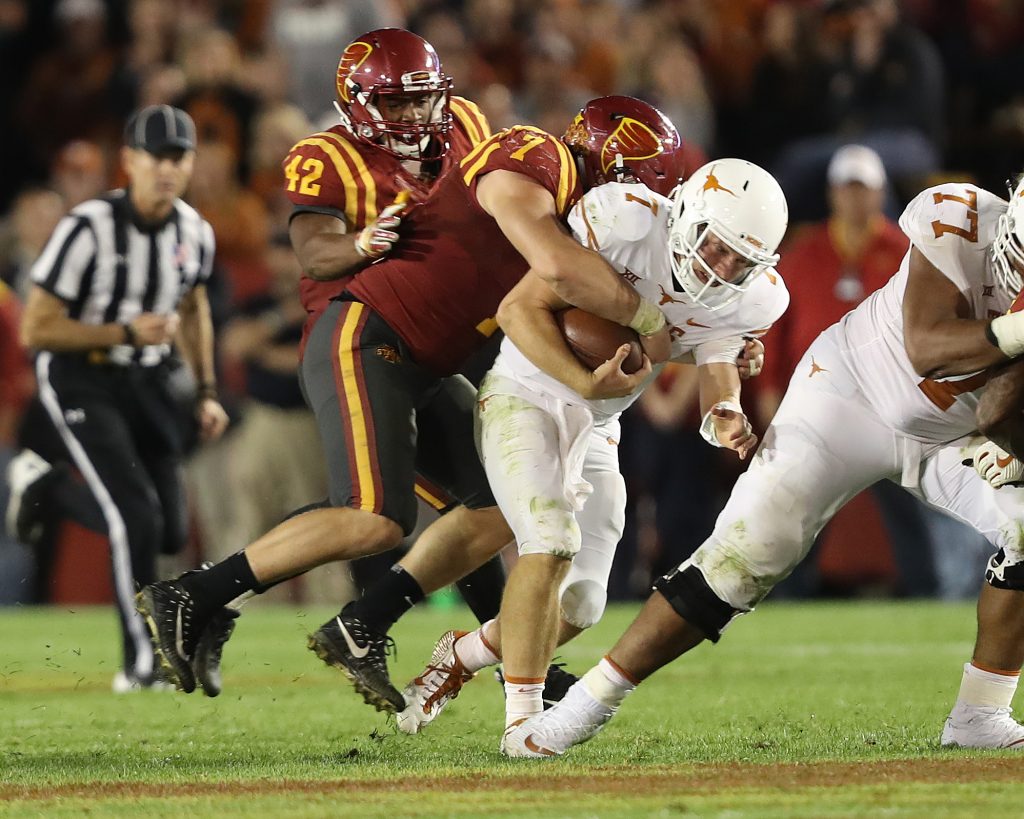 Is Tymar Sutton, who we saw flashes from last year, ready to grow his game?
What about a couple of guys we haven't seen yet, but have heard amazing things about, in Jake Hummel and O'Rien Vance? Not to put too much pressure on a couple of youngsters but as far as upside goes, I don't think Iowa State has had two young linebackers with as much upside since Knott and Klein.
My sleeper pick for a big 2018 though is senior Reggan Northrup. He's a guy who has played a lot of ball in Ames but finally has a body capable of playing linebacker in the Big 12. He has stayed the course and my guess is that the "process" rewards him next season.
5 – How does Campbell approach the quarterback situation?
With Kyle Kempt being granted a rare sixth year from the NCAA, Iowa State's quarterback room is in good of shape as it has been in quite a while.When it comes to Kempt vs. Zeb Noland for No. 1 on the depth chart, I honestly don't care who starts next season.
If it's Kempt, it's because of his high-end ability to lead a team and impeccable decision making. He might only be a "game manager," but that's exactly what Campbell is looking for in this offense.
If it's Noland, that means he grew significantly as a leader in the offseason truly beat out the guy who led Iowa State to its first bowl win in almost a decade. When it comes to physical tools, there is no doubt that Noland gets an edge over Kempt. That's not what the head coach is looking for right now though.
I do wonder how Campbell will discuss the quarterback room in public. Is this Kempt's job to lose? Is it a wide open quarterback competition? How will Campbell phrase this when he meets with the media for the first time on Wednesday?
Also remember that despite his age, this is the first spring of Kempt's career where he is "the man" heading into offeason drills.
I love quarterbacks and there is a lot to chew on here.